Netflix's adaptation of Chilling Adventures of Sabrina is like the ultra-goth cousin of Riverdale, with which it shares a showrunner and universe. It's set in the fictional town of Greendale, just over the Sweetwater River from our beloved murder town Riverdale. But if Riverdale can be called a murder town, Greendale is something much more sinister. Here, witches and warlocks live — witches and warlocks beholden to an ancient religion that worships the Dark Lord, literally the devil. Chilling Adventures of Sabrina is a stylish supernatural drama steeped in Satanism, cannibalism, necromancy, possession, and just about every kind of dark magic you can imagine. And within all the grim yet still campy horror, it tells compelling stories about power, consent, patriarchy, and identity.
Unfortunately, Sabrina is easily the least interesting character on the show, which hinges — sometimes too much — on the tug-of-war between Sabrina's mortal life and her witch one. As a half-mortal/half-witch, she must choose between the worlds, a choice complicated by her attachment to her friends Roz and Susie but also to her mortal boyfriend Harvey who, frankly, is not worth the lengths she goes to to keep around. Yep, just another milquetoast boy getting in the way of a powerful woman's journey toward self-discovery.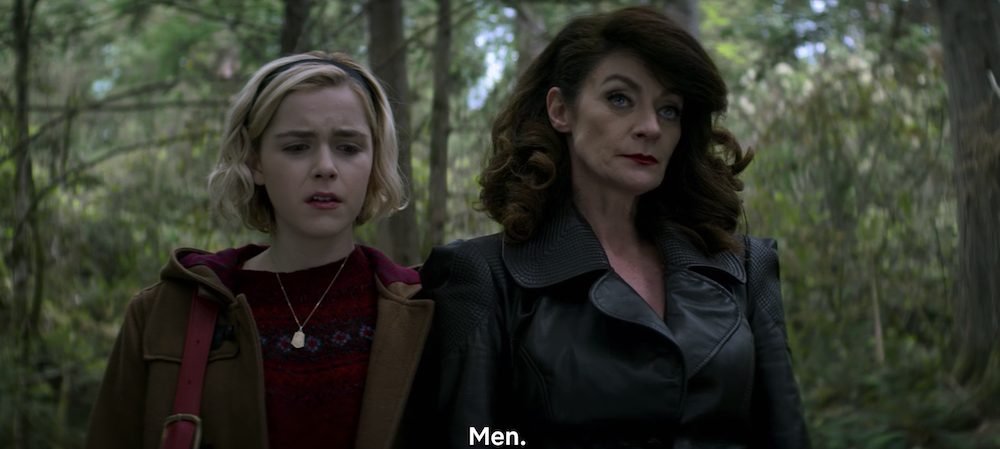 Sabrina is tellingly most interesting in her darkest moments, an insidious pull toward evil bubbling just beneath the surface, seen in terrifying glimpses like when a small smile creeps in as she slits one witch's throat with a knife and when she tortures her high school's principal (who certainly deserves it) with glee. Kiernan Shipka does her best work in these moments. Sometimes, the mortal drama Sabrina goes through — as with her relationship stuff with Harvey — doesn't stand on as firm of ground.
Sabrina herself is torn between two worlds, which unfortunately causes a similar but frustrating schism within the show, which at times feels like several shows Frankenstein'd together, unsure of its strengths. Those strengths rest in the Academy of Unseen Arts, the school of witchcraft Sabrina attends only on the weekends. There, teen witches and warlocks are brought up in a Satanic religion diametrically opposed to and yet bearing a lot of similarities to certain sects of Catholicism in the way it indoctrinates its youth and enforces rules punitively. Traditions in the Church of Night are followed merely because they're traditions. It isn't until Sabrina starts to question them that the church's facade starts to crumble.
What's much more convincing than Sabrina's ties to her mortal boyfriend is her struggle to reclaim ownership of her life, to push back about the seemingly blurry approach to consent when it comes to participating in one's dark baptism, a coming-of-age ceremony that the show likens to a Quinceañera or Bar Mitzvah… only with more blood and spookiness. In this church, women — even teen girls — are convinced they should be sacrificed and eaten because it's satan's will. The show doesn't hold back on some of these more shocking reveals. The show gets progressively darker though never macabre to the point of lifelessness.
In fact, for all its death and doom, Chilling Adventures of Sabrina is strikingly full-of-life, having a lot of fun with its town of horrors. It pays tribute to other standout supernatural shows like Buffy The Vampire Slayer — one episode bearing such a close resemblance to "Restless" that I'd be shocked if it wasn't intentional. The production design is stunning throughout, that goth-glam look of Riverdale ramped up to extreme levels. Ambrose, Sabrina's gay cousin under lifelong house arrest, has a seemingly endless collection of silk robes — and a quippy retort to everything.
Things really pick up once the supernatural world starts bleeding into the mortal world of Greendale. Sabrina's friend Roz (Jaz Sinclair) has a degenerative eye condition that turns out to have the secret side effect of premonitions. Her other friend Susie, played by non-binary actor Lachlan Watson, starts seeing and communicating with the ghost of a former relative who had a reputation for defying gender expectations.
Here, though, is where the split nature of Chilling Adventures of Sabrina does a disservice. Not enough time is granted to Susie, who certainly seems to be questioning the gender binary and also appears to like when certain people call them boy (Watson, by the way, uses they/them pronouns for the character, even though they/them pronouns haven't been used on the show yet). There's a lot of potential here, but Chilling Adventures of Sabrina sometimes gets so swept up in the horror and mythology that it doesn't quite leave room for its more character-driven narratives — especially when it comes to the mortal characters — to breathe.
Chilling Adventures of Sabrina also deliciously revels in misandry. The weird sisters, a trio of orphaned witches and the academy's mean girls, love tormenting boys — especially Prudence, who basically makes a hobby of it. Male power is a toxic, predatory force on the show, and the church is consumed by patriarchy that Sabrina tries to push back against, occasionally with the help of her aunts, the bubbly Hilda and the certified Witch Mommi Zelda.
Again, there seem to be no bounds to just how dark Chilling Adventures of Sabrina is willing to go, but it has a sense of humor about that darkness, too. Zelda makes a sport of literally killing her own sister and bringing her back to life over and over, a ridiculous yet horrifying game. But there's something deeper, darker, more human underneath her cruelty, and that "Restless"-esque episode pulls back the curtain on the Spellman family's fears in a way that reveals just how human they are.