Pure Poetry Week(s):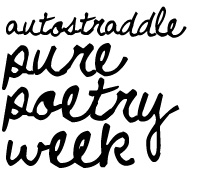 #1 – 2/23/2011 – Intro & Def Poetry Jam, by Riese
#2 – 2/23/2011 – Eileen Myles, by Carmen
#3 – 2/23/2011 – Anis Mojgani, by Crystal
#4 – 2/24/2011 – *Andrea Gibson, by Carmen & Katrina/KC Danger
#5 – 2/25/2011 – Leonard Cohen, by Crystal
#6 – 2/25/2011 – *Staceyann Chin, by Carmen
#7 – 2/25/2011 – e.e. cummings, by Intern Emily
#8 – 2/27/2011 – Louise Glück, by Lindsay
#9 – 2/28/2011 – Shel Silverstein, by Intern Lily & Guest
#10 – 2/28/2011 – *Michelle Tea, by Laneia
#11 – 2/28/2011 – Saul Williams, by Katrina Chicklett Danger
#12 – 3/2/2011 – Maya Angelou, by Laneia
#13 – 3/4/2011 – Jack Spicer, by Riese
#14 – 3/5/2011 – Diane DiPrima, by Sady Doyle
#15 – 3/6/2011 – Pablo Neruda, by Intern Laura
#16 – 3/7/2011 – Vanessa Hidary, by Lindsay
#17 – 3/7/2011 – *Adrienne Rich, by Taylor
#18 – 3/8/2011 – Raymond Carver, by Riese
#19 – 3/9/2011 – Rock WILK, by Gabrielle
#20 – 3/9/2011 – Veronica Franco, by Queerie Bradshaw
#22 – 3/12/2011 – William Carlos Williams & Robert Creeley, by Becky
#23 – 3/13/2011 – NSFW Sunday is Pure Poetry Edition, by Riese
#24 – 3/14/2011 – Charles Bukowski, by Intern Emily
#25 – 3/16/2011 – Rainer Maria Rilke, by Riese
#26 – 3/17/2011 – Lee Harwood by Mari
#27 – 3/18/2011 – Jeffrey McDaniel by Julieanne
#28 – 3/20/2011 – *Dorothy Porter by Julia
#29 – 3/21/2011 – Sylvia Plath, by Riese
#30 – 3/24/2011 – *Poems About Being a Homogay, by Riese
#31 – 3/28/2011 – Mary Oliver by Morgan
#32 – 3/29/2011 – *Gertrude Stein + Mina Loy by Intern Emily
#33 – 3/29/2011 – * Sappho by Marisa Meltzer
#34 – 3/30/2011 – Stephen Dunn by Riese, Rachel, Intern Laura & Intern Emily
#35 – 4/19/2011 – * Kay Ryan Won a Pulitzer, by Carmen
= lesbian

We know that technically Pure Poetry Week (s) is over, but sometimes the need arises to write another Pure Poetry and this is one of those times.
Kay Ryan, a total lezzer, won The Pulitzer Prize! However she's concerned that the Pulitzer People don't have a committee to inform Pulitzer Prize winners that they won the Pulitzer Prize because she found out from her friend, Kay Ryan you won a Pulitzer, on the phone. She won for her volume "The Best of It."
Ryan's accomplishments are many. In fact, according to the Academy of American Poets, the California girl has all of the accomplishments:
Ryan's awards include the Ruth Lilly Poetry Prize, a Guggenheim fellowship, an Ingram Merrill Award, a fellowship from the National Endowment for the Arts, the Union League Poetry Prize, the Maurice English Poetry Award, and three Pushcart Prizes. Her work has been selected four times for The Best American Poetry and was included inThe Best of the Best American Poetry 1988-1997.
Ryan's poems and essays have appeared in The New Yorker, The Atlantic, Poetry, The Yale Review, Paris Review, The American Scholar, The Threepenny Review, Parnassus, among other journals and anthologies. She was named to the "It Listwp_postsby Entertainment Weekly and one of her poems has been permanently installed at New York's Central Park Zoo. Ryan was elected a Chancellor of The Academy of American Poets in 2006. In 2008, Ryan was appointed the Library of Congress's sixteenth Poet Laureate Consultant in Poetry.
But even now, as her Pulitzer Prize is slowly added into that conversation, Kay Ryan seems like more than those accomplishments.
Ryan's work reflects a raw and intense emotionality, and in fact, her winning volume was inspired by some of her strongest feelings: Ryan wrote "The Best of It" because she wanted to stay at home with her partner of 30 years, Carol Adair. She had cancer, and Ryan saw writing the book as a process that could involve spending time with her.  Adair (you should really take a breath before this) passed away before the volume was published.
So, Kay Ryan has all of the feelings, too.
And Ryan may have all the feelings, but she also has all of the talent for forming succulent, short, sweet pieces about them. Some, like my favorite, "Home To Roost," are also sassy. Kay Ryan keeps it real, guys:
Yes,
the sky is dark
with chickens,
dense with them.
They turn and
then they turn
again. These
are the chickens
you let loose
one at a time
and small —
various breeds.
Now they have
come home
to roost—all
the same kind
at the same speed.
And some may surprise you with softness, like "Things Shouldn't Be So Hard:"
Her things should
keep her marks.
The passage
of a life should show;
it should abrade.
And when life stops,
a certain space—
however small —
should be left scarred
by the grand and
damaging parade.
Things shouldn't
be so hard.
What makes Ryan so distinct in her writing style are not emotions that create the words, but the words that express the emotions. What really strikes me is not that I relate to the feeling, but that I relate to her voice. Kay Ryan sounds like me. She writes the way I think, in these short and extremely honest demarcated lines. It could be that we're both hopelessly neurotic or hopelessly sensitive or hopelessly thoughtful, but I would like it instead to mean that Kay Ryan also considers herself bold, brave, and forthright.
I think Kay Ryan's writing sounds like someone talking more to herself than to everyone else.
But I'm very glad everyone is listening.