South of Nowhere was an adorable teen soap that aired from 2005-2008 on Nickelodeon's badass alternative for teens, The N (recently reborn as Teen Nick). The show centered on the Carlin family and mostly revolved around the on-again/off-again romance between Ashley (Mandy Musgrave) and Spencer (Gabrielle Christian). The show helped pave the way for Pretty Little Liars as it featured the first gay teen TV couple in headlining roles.  Does "Save Splashley" mean anything to you?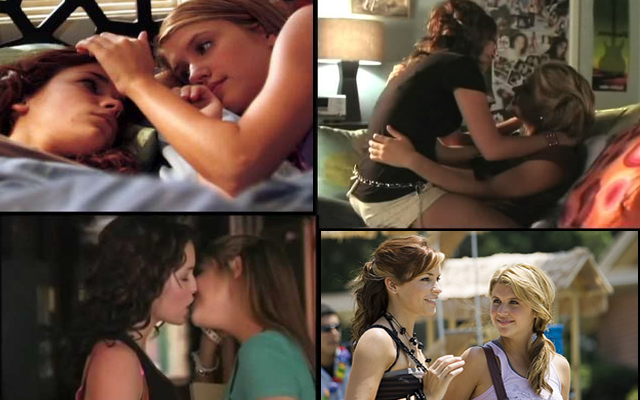 Anyway, SON executive producer Nancylee Myatt has reassembled the cast in a series of videos in an effort to prove to the network that the show still has an audience hungry for a feature film. These videos try to bridge the storyline gap since the show went off the air and give a hint of what could potentially come next. According to the SON Facebook page, they need 100,000 views on YouTube by April 27, as a benchmark to prove the audience still cares.
Hey,  stranger things have happened, like the *OurChart hosted GIRLTRASH web series turning into a feature length musical set to premiere later this year. Seriously though, Girltrash is the brainchild of L Word writer/director Angela Robinson and her writer/director partner Alex Kondracke (the people responsible for the best L Word episodes and DEBS) so we're very excited for this movie! Interestingly, Girltrash: All Night Long also stars Mandy Musgrave and Gabrielle Christian as well as Rose Rollins, Clementine Ford and Kate French.
Our friends at Anyone But Me are offering a sneak preview of the Season Three premiere episode on April 25th for those who would like to live chat with stars Rachael Hip-Flores and Nicole Pacent! Over the past two seasons Vivian and Aster, together with their high school friends and family, have experienced a whole lotta drama. Last season, Vivian and Aster's relationship took an abrupt turn, leaving audiences hanging about their future together. The brand new 5 episode season will air every other week on anyonebutmeseries.com beginning April 26th.