Pure Poetry Week(s):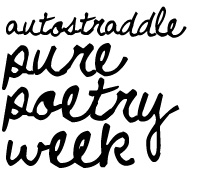 #1 – 2/23/2011 – Intro & Def Poetry Jam, by Riese
#2 – 2/23/2011 – Eileen Myles, by Carmen
#3 – 2/23/2011 – Anis Mojgani, by Crystal
#4 – 2/24/2011 – Andrea Gibson, by Carmen & Katrina/KC Danger
#5 – 2/25/2011 – Leonard Cohen, by Crystal
#6 – 2/25/2011 – Staceyann Chin, by Carmen
#7 – 2/25/2011 – e.e. cummings, by Intern Emily
#8 – 2/27/2011 – Louise Glück, by Lindsay
#9 – 2/28/2011 – Shel Silverstein, by Intern Lily & Guest
#10 – 2/28/2011 – Michelle Tea, by Laneia
#11 – 2/28/2011 – Saul Williams, by Katrina Chicklett Danger
#12 – 3/2/2011 – Maya Angelou, by Laneia
#13 – 3/4/2011 – Jack Spicer, by Riese
#14 – 3/5/2011 – Diane DiPrima, by Sady Doyle
#15 – 3/6/2011 – Pablo Neruda, by Intern Laura
#16 – 3/7/2011 – Vanessa Hidary, by Lindsay
#17 – 3/7/2011 – Adrienne Rich, by Taylor
#18 – 3/8/2011 – Raymond Carver, by Riese
#19 – 3/9/2011 – Rock WILK, by Gabrielle
#20 – 3/9/2011 – Veronica Franco, by Queerie Bradshaw
#22 – 3/12/2011 – William Carlos Williams & Robert Creeley, by Becky
#23 – 3/13/2011 – NSFW Sunday is Pure Poetry Edition, by Riese
#24 – 3/14/2011 – Charles Bukowski, by Intern Emily
#25 – 3/16/2011 – Rainer Maria Rilke, by Riese
#26 – 3/17/2011 – Lee Harwood by Mari
#27 – 3/18/2011 – Jeffrey McDaniel by Julieanne
#28 – 3/20/2011 – Dorothy Porter by Julia
#29 – 3/21/2011 – Sylvia Plath, by Riese
#30 – 3/24/2011 – Poems About Being a Homogay, by Riese
#31 – 3/28/2011 – Mary Oliver by Morgan
#32 – 3/29/2011 – Gertrude Stein + Mina Loy by Intern Emily
#33 – 3/29/2011 – Sappho by Marisa Meltzer

After I told Laneia I wanted to write about Sappho, she made sure to point out that I didn't have to write about a lesbian. Which is really cute; I love how she was trying to let me fully showcase my heterosexuality or something.
Except I kinda only care about lesbian poets — Sappho, Eileen Myles, Adrienne Rich — I mean, what was I supposed to write about, "To His Coy Mistress," or something?
Anyway, my high school had this thing in the yearbook where seniors got a half-page for photos, quotes, whatever. So if you look at the Stevenson School's 1995 senior pages, you'll find a photo of me wearing a Heavens to Betsy shirt on the first day of senior year, a fragment from a Sonic Youth song ("angels are dreaming of you"–so Britney of me), and the lyrics to Beat Happening's "Indian Summer." I was the kind of teenager who was really into the ephemerality of being a teenager. It's not like I wasn't miserable and bored, I was just a little in love with the idea of teenagehood being this short, idealized moment. Obviously I topped it all off with a poem by Sappho.
I had read The Secret History during a particularly impressionable time and had this general obsession with The Classic World. I also spent a lot of time hanging out at a local women's bookstore called Herland (I know: AMAZING, I'm so sad I don't have the purple Herland tee with their kind of tree of life/Gaia logo on it anymore) and might have gotten into Sappho that way. Regardless, it remains the only poem I know by heart:
You will not remember it but
Let me tell you this
Someone in some
Future time
Will think of us
I'm probably getting the line breaks wrong and maybe even misquoting it. I would google it but I like the version in my head, so just go with it. It's perfect, you know? Nostalgic and a little romantic. It spoke both to my desire to leave a mark but also to be cool and self-conscious enough to be a little removed from showing that I cared. I also like that it doesn't rhyme. It's easy to memorize and it has a certain topical flexibility, so you can recite it to someone in bed but also during a crucial pep talk.



Marisa Meltzer is the author of How Sassy Changed my Life and Girl Power: The Nineties Revolution in Music. This is her tumblr.