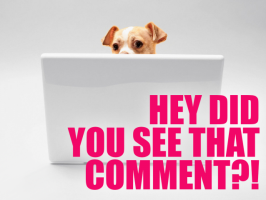 Hello lesbians and straight men pretending to be lesbians on the internet. What a week, eh? (See that? I'm channeling Emily Choo for you). Laneia and Sarah F P*lmer have returned from Bonaroo, appear to have had a ball, and Crystal wants to know your top 5 concert experiences. Grace wrote her very first post about the Tonys and Lizz talked about really cute vintage bathing suits for grrrls and bois. The IFCland, Jess interviewed Romi and Riese recapped The Real L Word and then wrote about why Ilene is such a complete loser.
Abby grilled vegetables and I made falafel and stuff. We had two playlists for you this week: one for when you need to stop looking at your phone and another for hot summer days. Coming soon to a hood near you: Pride! send us your photos. Riese also recapped Pretty Little Liars, Taylor talked about new video games, and you guys discussed the perils of being a first girlfriend.. I'm out of breath but before I turn it over to you, don't forget to join Autostraddle's Summer Book Club!
In related news: ASS Group of the Week
The Great Library of Autostraddle / Autostraddle Summer Book Club 2011
So yesterday you all read about Autostraddle's Summer Book Club Extravaganzathing and about how you might win a tootsie pop or something if you participate – do you know what you're gonna read? As if the massive list of "bestest book lists" isn't enough, there's a group that might give you ideas: The Great Library of Autostraddle. This group is brought to you by Carmen SanDiego, who is a fictional character, so that's appropriate.
---
On Riese's Team Pick: New Trailer for Pariah:
The Very Secret Code Award to Carmen SanDiego: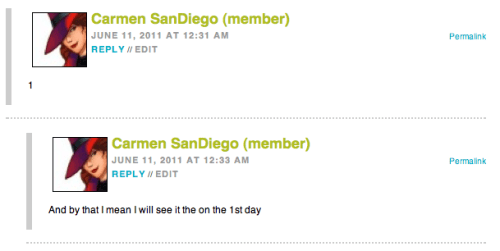 On NSFW Sunday Loves Lesbian Sex on a Micro and a Macro Level:
The Let's Just Get Married Already Award to middlemuse: "I've been learning Tagalog, and teaching English to Filipino students, and I have to say this language is way more equipped to deal with transgender issues than English, at least from what I observe. The pronouns are already gender neutral (which means that Filipinos speaking English are forever saying he instead of she and vice versa), and so are some of the words for family members.
Post full of sexiness, and I glom onto the linguistic issue? HOW I ROLL."
On The L Word Franchise: All I Wanna Say is That They Don't Really Care About Us (Anymore):
The Fantastically Cheeky Award to kat: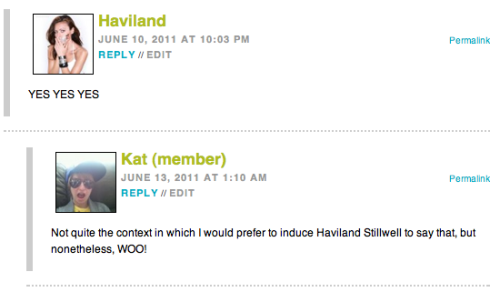 The PARENTHESES (award) to Everyone: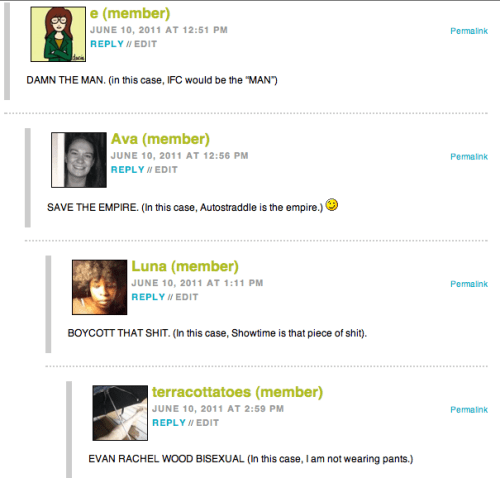 On Real L Word Episode 202 Recap: The Morning After We Got Drunkity Drunk Drunk:
The Harry Potter Memorial Award to mari:

On "Lez Get Real" Editor Paula Brooks is Actually a 58-Year-Old Man in Ohio:
The Nice Boys Award to Taliesin Govannon: "WHAT IS WRONG WITH THESE GUYS?!?!?!?!?
Look, full disclosure: I'm a big hairy straight dude. I've never pretended to be anything but. I started reading After Ellen for the movie reviews, got hooked on the forums (I'm a completely hopeless romantic, so the "Does She Like Me?" threads are SO addictive!), and eventually created an account and started chatting with people because, well, I'm an old-fashioned net-head. I believe that, if you're getting something out of an online community, then you should contribute something back. It's polite, dammit.
I'll admit, I was nervous at first…. I wondered if people were going to be like "this place isn't for you, go away". I am SO glad to say that for every person who didn't like my presence, I found 20 people who welcomed me with open arms and open minds. When someone told me about this site, I created an account right away, joined "Heterostraddlers", and dove in. I've found some wonderful accpetance on here as well.
In fact, I've made some great online friends through both sites… I've struck up extended correspondence with several people, and we've learned a lot from each other. It's scary "coming out" as a straight dude on these sites, sure…. but only maybe 0.0000005% as scary as the coming out you folks have had to do in life.
But it's bloody WORTH it! I've made some great online friends, and am SO happy that I was 100% honest with them from the get-go. So if there are any dudes on here hiding behind a pseudonym, I say come on out… the water's fine."
On The 2011 Tony Awards Were Really Gay, Kinda Awesome:
The It's True, Julia is Pretty Award to Jim: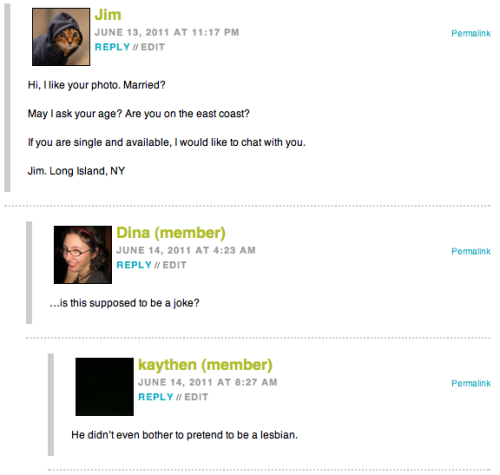 On GOP Presidential Candidates Unanimously Ensure Gay Apocalypse, Bachmann Fears Lesbian Attack:
The Commenters Who Care Award to Idotry: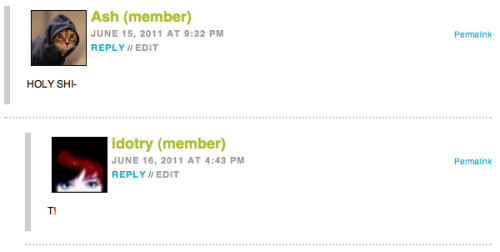 On Get Ready For Autostraddle Summer Book Club Extravaganzaramapalooza:
The Butterfly In The Sky, I Can Go Twice As High Award to mon: "awesomeeee. i don't even care that you're being exclusionary about your northern hemisphere geopositioning and associated season because i bet my winter is warmer than someone's summer somewhere, and reading is for every climate!!!1!"
On NFL Star David Tyree Fears Gay Marriage in NY Will Enable Anarchy, Gender-Confused Children:
The Where Is terracottatoes? I Need A Pun Award to lissi and birobot: