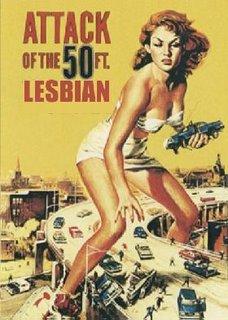 The Daily Beast has a new profile on GOP Presidential contender Michele Bachmann, Enemy Number One of the Gays, and it's really scary. I mean — it's not as scary as being in a bathroom with a lesbian and a nun, but scary.
Speaking of being in a public restroom with a lesbian and a nun — apparently Michele Bachmann has experienced that horror first-hand.
See — back in April 2005, state senator Michele Bachmann held a constituent forum which was attended lesbian named Pamela Arnold (PAM! = lesbian name) who had some questions about Michele's feelings on gay rights. But when same-sex marriage came up, rather than answering the question, Michele made like a nervous twelve-year-old girl and ditched the meeting altogether, running immediately into the bathroom.
Arnold, who'd come to the meeting specifically for these answers, followed her into the bathroom. Arnold was accompanied by another middle-aged woman, a former nun.
I'll let The Daily Beast take it from here:
Bachmann washed her hands and Arnold looked on, the ex-nun tried to talk to her about theology. Suddenly, after less than a minute, Bachmann let out a shriek. "Help!" she screamed. "Help! I'm being held against my will!"
Arnold, who is just over 5 feet tall, was stunned, and hurried to open the door. Bachmann bolted out and fled, crying, to an SUV outside. Then she called the police, saying, according to the police report, that she was "absolutely terrified and has never been that terrorized before as she had no idea what those two women were going to do to her." The Washington County attorney, however, declined to press charges, writing in a memo, "It seems clear from the statements given by both women that they simply wanted to discuss certain issues further with Ms. Bachmann."
Well! I think it's safe to say that Bachmann is probs a closeted homosexual, 'cause anger like that tends to be rooted in self-loathing, but moving on; Michele Bachmann says things that seem crazy to us but make sense to Christian Conservatives, apparently, which seems like not a HUGE deal until you realize how many Evangelicals are out there. According to the PEW Report, 26.3% of Americans are affiliated with "Evangelical Protestant Churches." Next up is 23.9% Catholics, followed by Mainline Protestant Churches (18%), Unaffiliated (16%) and "Historically Black Churches" (6.9%). Jews and Mormons tie at 1.7% each.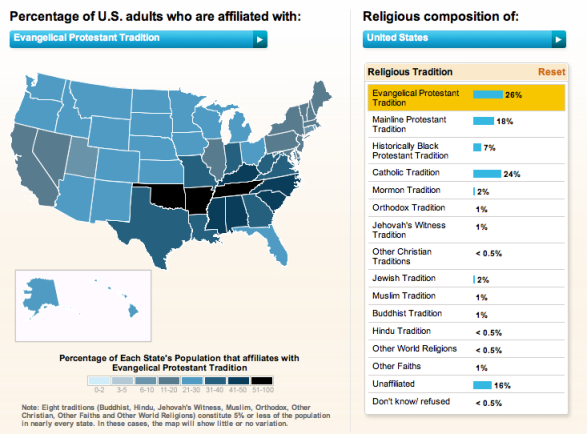 Five out of seven GOP presidential hopefuls spoke out against marriage equality at the debate on Monday night. Furthermore, five out of seven would reinstate Don't Ask, Don't Tell.

++
So! Which of these Republican options scares you the most? So far Mitt Romney's Most Likely to Succeed because that's exactly what we need, a Mormon in charge of the entire freaking country.  The Log Cabin Republicans report that 31% of gay people vote Republican — but that applies to all elections, not just the presidential race. It's worth mentioning that the Republican affiliation with the Extreme Christian Right and its dependence on that voter base is a fairly recent phenomenon. In other words: it doesn't have to be this way. Social conservativism is not an inexorable element of the Republican agenda. It's just become that way.
Michele Bachmann
+ "The immediate consequence, if gay marriage goes through, is that K-12 little children will be forced to learn that homosexuality is normal, natural and perhaps they should try it."
+ Being gay is "not funny. It's a very sad life. It's part of Satan."
+ "Don't misunderstand. I am not here bashing people who are homosexuals, who are lesbians, who are bisexual, who are transgender. We need to have profound compassion for people who are dealing with the very real issue of sexual dysfunction in their life and sexual identity disorders."
+ Michele Bachmann hates gay people SO much that she's no longer close with her lesbian stepsister.
+ Planned Parenthood is "the LensCrafters of abortion."
+
Ron Paul:
+ Pro-life, says abortion is murder and life begins at inception
+ Against federal funding for organizations that "promote abortion"
+ Thinks the government should "stay out of the gay and lesbian agenda."
+ Voted "yes" on banning gay adoptions. (Actually is against all adoptions.)
+ Marriages should be extracted from government involvement altogether.
+
Herman Cain:
+ Pro-life.
+ Describes Planned Parenthood as "planned genocide."
+ "Fierce opponent of same-sex marriage and civil unions" but believes it should be left up to the states.
+
Newt Gingrich:
+ Pro-life
+ Would hold doctors rather than mothers accountable for abortions.
+ Opposes domestic partnership benefits for same-sex couples
+ Opposes gays and lesbians adopting children
+ Wants a constitutional amendment to protect marriage.

+
Mitt Romney:
+ Supports abortion rights in the case of rape or incest
+ Believes the national standard for marriage should be between a man and a woman, but domestic partnerships should be recognized in a way that includes health benefits and rights of survivorship.
+ "Feels that same sex marriage would destroy not only the culture of America but also irreparably damage the education system and thereby children."
+ Is against gays & lesbians serving openly in the military.
+
Rick Santorum:
+ "Santorum is possibly the most fervent top-tier anti-abortionist left in the presidential race."
+ Opposes same-sex marriages because they "crave society's acceptance of gay's 'bad behavior.'"
+ Opposes adoption by same-sex couples.
++
Tim Pawlenty:
+ Pro life, right to life should extend to the unborn.
+ Gay marriage should be banned with a constitutional amendment.


Basically, if a Republican wins in 2012, we're completely and totally fucked. What about the prospective candidates not at Monday's debate?
Tom Miller: Marriage is between one man and one woman.
Vern Wuensche: Believes same-sex marriage should be banned and civil unions should not be allowed. Also against adoption by gay couples and in faovor of a Federal Marriage Ammendment.
Sarah Palin: Doesn't support anything beyond "traditional marriage between a man and a woman" and, puzzlingly, says her "support for same-sex marriage continues only as long as it does not redefine the traditional definition of marriage." Supports Family Research Council and other anti-gay interest groups.

Of course let's not forget our gay boyfriend Fred Karger, my favorite Republican candidate of all Republican candidates who've ever run for president ever. Well, Abe Lincoln did some rad stuff I guess, but I want Fred Karger to be in charge of something.
Even though Fred Karger probs won't be invited to any debates, he's still doing what he can by filing a complaint against Mitt Romney for voter fraud.
I present your moment of Zen: