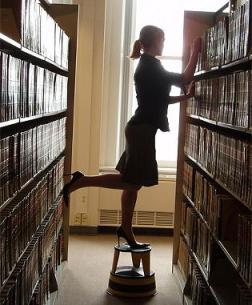 Hello my dearly beloved. We are gathered here today to talk about books – plural. There are a few things going on – we are all just a TAD BIT emotionally drained from finishing Bastard Out Of Carolina, and from the books before that which dealt with addiction and abuse and a vast range of other really special experiences. We are, honestly, kind of stuck in terms of trying to figure out another book to read. It is summer, and we are mostly just ready to eat fudgesicles and get sunburned and turn on the air conditioning and read some motherfucking books. Are you ready? I don't think you're ready.
This is going to be straight up third grade book club, and it's going to be awesome*. There will be some initiative required; we're not assigning books, but we are going to read them together. Starting today and up through August 15, read EVERY BOOK. Are you listening? Every book. Summer of 2011 is about quality AND quantity, and remember when you used to get gold stars every time you read 15 pages? We're bringing it back, motherfuckers. Here's the deal – there's this group on ASS, maybe you've heard of it? It's called Autostraddle Summer Book Club 2011. The 51 of you who were already members as of the writing of this post, congratulations, you're real go-getters. Everyone else, here's what your'e going to do.
1. Join this group. Here. I'll link to it again. It's the Autostraddle Summer Book Club 2011.
2. When you read a book, write about it! Post about it in the group, and make sure you mention me (@internrachel) and my intrepid intern (hi Julia!) (@julia1) so that we know you did your part/can keep track of your progress.
3. Include the following information in your post: title of book, number of pages, and your favorite/least favorite part/ALL YOUR FEELINGS. Your thoughts are important – there will be multiple prizes, and some of them are for things like "creativity" and "good attitude."
4. If for some reason posting on the group really doesn't feel like an option (for instance, The Guide To Getting It On is 928 pages long, but maybe you aren't into announcing that?) then message me and/or Intern Julia and/or both.
5. Also I just decided while writing this that graphic novels will be worth 1/2 pages, because they are great but read hella fast.
Got it? Good.
What are our prizes, you might ask? Well, while some of the awards will be obvious – most pages read, most books read, person who forced themselves to read Kant – some are more mysterious. We want you to read from the heart, not for the prizes. Do what your heart tells you, and you may be surprised by what awards you receive. Speaking of which, what are they? Including but possibly not limited to:
+ Zines!
+ Candy!
+ You Do You Stickers!
+ Books from Rachel's bookshelf because she needs to get rid of them before she moves!
+ Homemade bookmarks, manufactured by unpaid labor/me/interns!
NOW are you ready? You had better be ready because as of right fucking now, June 16th, which is Lewis Bernard's birthday, until August 31, which I have arbitrarily decided is "the end of summer," you are all reading machines. Need ideas for what to start with? WELL WE HAVE SOME FOR YOU.
BESTEST BOOK LISTS:
Read a F*cking Book, Lesbo: This Summer's Newest Bestest Books
Last Summer's Newest Bestest Books
10 LGBT Teen Novels that Tackle Teen Suicide & Bullying
Lambda Literary Award Winners 2010
10 Awesome '00s Books By Queer Women
Feminist Books To Become A Better Womyn
Ten Lesbian/Bisexual Books You Haven't Read Yet
Lesbian Literature: The Classics
BOOKS/REVIEWS:
Persistence: All Ways Butch and Femme
* Full disclosure: this idea credited to my friend Batia, who is running one of these in real life for our real life friends. She is a badass lady.