Hey, remember when we made that exhaustive list of all the feminist books you could ever want to read, and it was really awesome? Hopefully, you added a bunch of those to your summer reading list. But let's get real, a girl can't survive on just A Room of One's Own, especially during the summer. That's where we come in, obvs.
Here are our recommendations for books that you can read this summer without feeling like a jerk/feminist traitor. You don't have to hide these in your latest copy of Ms. like you would a Nicholas Sparks novel (jk, The Notebook was good, right?). These books will entertain you and expand your mind all at the same time. Share your own recommendations in the comments!
---
+
RACHEL RECOMMENDS
by S. Bear Bergman
If I'm going to be completely honest, I have to admit that my initial interest in this book was roughly 40% about the cover and 60% about the title. I'd heard wonderful things about S. Bear Bergman and was intrigued by what a "gender-jammer" might be. But really walking into this, all I was going on was the comfortingly instructional graphics on the cover. Coming from that level of unfamiliarity, and knowing Bergman only as someone who talked about gender identity a lot and didn't use male or female pronouns, I approached The Nearest Exit May Be Behind You as something of a Trans 101.
Don't do that when you read this book, which you are going to do, because you have to read this book. It's true that Bergman talks a lot about gender and trans identities; it's his job. But more than being about trans or gender or even queerness, it's about difference, it's about the ways in which we connect to people who are like us and who are not like us.
"But more than being about trans or gender or even queerness, it's about difference, it's about the ways in which we connect to people who are like us and who are not like us."
I had decided that I was going to say every queer person should read this book because the experiences Bergman talks about will resonate with all of us, but now I'm wondering whether that isn't just queer people. Maybe everyone could read this and think yes, yes, I know. There's a chapter on fucking gay men in the ass, so actually maybe I was overenthusiastic with that idea, but do you know what I mean? You know what I mean.
What really cemented this for me was the longest essay in the book, "The Velveteen Tranny." This is an important thing to read. If you read nothing else in this book, read this essay. If you read nothing else today, read this essay. It deals with the struggle that transpeople in particular are never allowed to forget even for a minute — proving to yourself and those around you that you're a real woman, a real man, a real dyke, a real butch, a real person. It's about the exhaustion of having to insist on yourself to everyone over and over again to no avail and the terror of wondering on bad days if maybe they're right and you've been deluding yourself all this time.
We've had our existence dismissed so many times that someone's skepticism about our identity taps into our deepest fear: they're right, we are all a sham, the naked emperors of the sexual landscape, and everyone but us can see it. But then you read something by someone like S. Bear Bergman, who's like "Listen, girl, it's okay, I know how it is. I know exactly what you are, because I am too, and I know that we're just fine." And then you feel better. So read this, is what I'm saying.
---
+
SARAH RECOMMENDS
by Stieg Larsson
If you've been paying attention to bestseller lists recently, you've probably heard of the Millennium series by Stieg Larsson. Maybe you've been avoiding it like the plague because the popular opinion of Americans usually sucks. But did you know that this book has lesbians who like leather? Yeah, now I have your attention.
I found the books because of the Swedish movie version of The Girl with the Dragon Tattoo. I didn't bother reading the first book 'cause I was told the movie was better anyway. So I dove straight into book two, and I finished it before Amazon had delivered book three to my door. (Don't do that to yourself.)
The Girl Who Played With Fire and The Girl Who Kicked the Hornet's Nest are two halves of the same book, like Larsson ripped the manuscript exactly down the middle. It's a good story — government conspiracy, Cold War spies, gangsters, etc. The female characters are really the heart of the book, though. The main character, Lisbeth Salander, is a kickass queer girl (maybe she'd prefer "label free", but she's not here, so) who likes revenge, hacking, not speaking, pan pizza, and being awesome.
Most women will find plenty to identify with in the book, either in Salander or another female character. Larsson is surprisingly great at describing sexism, sexual assault and the sins of the patriarchy in general — as well the psychological toll that takes on women. His novel is not a perfect feminist work, but you can tell he gets it. If you're looking for a guilt-free summer read with a mix of page-turning action and social commentary, give this series a try.
---
+
RIESE RECOMMENDS
By Lorrie Moore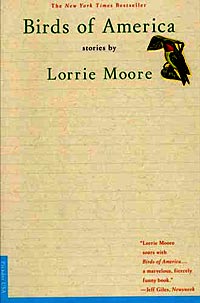 Hi! Have you started reading Lorrie Moore yet? Why not? Look, everyone's been feeling a little crazy lately. Lorrie Moore will remind you that you're just a little crazy, not a lot crazy, and this too shall pass. I dunno how she does it, but she does it with short stories and novels about people.
She wrote this paragraph:
"What makes humans human is precisely that they do not know the future. That is why they do the fateful and amusing things they do: who can say how anything will turn out? Therein lies the only hope for redemption, discovery, and — let's be frank — fun, fun, fun! There might be things people will get away with. And not just motel towels. There might be great illicit loves, enduring joy, faith-shaking accidents with farm machinery. But you have to not know in order to see what stories your life's efforts bring you. The mystery is all."
And many more. Begin with Like Life, her 1991 short story collection. Some passages:
"This is what happened in love. One of you cried a lot and then both of you grew sarcastic."
"She was not good on the phone. She needed the face, the pattern of eyes, nose, trembling mouth… People talking were meant to look at a face, the disastrous cupcake of it, the hide-and-seek of the heart dashing across. With a phone, you said words, but you never watched them go in. You saw them off at the airport but never knew whether there was anyone there to greet them when they got off the plane. "
Then her 1998 collection Birds of America: Stories (Vintage Contemporaries):
"That had been in Agnes's mishmash decade, after college. She had lived improvisationally then, getting this job or that, in restaurants or offices, taking a class or two, not thinking too far ahead, negotiating the precariousness and subway flus and scrimping for an occasional manicure or a play. Such a life required much exaggerated self-esteem. It engaged gross quantities of hope and despair and set them wildly side by side, like a Third World country of the heart."
Then her first collection, 1986's Self-Help, which features her famous oft-xeroxed-for-writing-classes' "How to Become a Writer." Moore wrote most of these stories while getting her M.F.A. from Cornell (after winning Seventeen Magazine's fiction contest at 19 — which used to be a HUGE deal for young writers, is it still? — and then going to St. Lawrence and temping in Manhattan for two years) and was 26 when she sold the book.
But here, from "How to Be An Other Woman," which you can also read the first few pages of at this Amazon page:
"It is like having a book out from the library.
It is like constantly having a book out from the library."
That's a good start.
---
+
TAYLOR RECOMMENDS
by Brandon Graham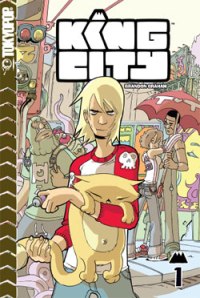 You can get away with reading all kinds of stuff in the summer. Probably even some Dan Brown or Tuesdays With Morrie. So if you had any reservations about reading a post-manga, post-apocalyptic comic about some dudes in mexican-wrestler masks who trade super-powered organs on the black market, then get over them.
Brandon Graham's King City is the most brilliant comic series/graphic novel one-two punch I've read in months. His lunatic opus follows a handful of loosely connected characters, like Joe, a laid back black-belt "catmaster" and the cat he (literally) uses like a Swiss-Army knife. Then there's Maximum Absolute, a vet from the Korean Xombie War who's addicted to chalk, which is like cocaine except it makes your fingers fall off.
But King City is more about its weird, delightfully rendered setting than anything. We don't know a lot about King City itself yet, but we do know it's a bizarre dystopia ruled by some kind of betentacled overlords. Which is sure to be a selling point, right? Naturally, our protagonists are the counter-culture, so that makes for a lot of rollicking and havoc-wreaking perfect for anarchistic, let's f*ck some shit up summer reading.
Graham's got a real knack for weaving a brilliant, addictively weird world. His characters speak in endlessly clever Clockwork Orange-ian wordplay, and every panel is full of intricate doodles you wont notice at first glance. It's the perfect escapist reading for the hotter month. If you feel like escaping to a decaying urban hotbed of cartoon weirdness run my mob bosses with tentacles, that is.
While you might have a hard time tracking down King City online, check out your local comics store — if they don't carry it, they'll be able to order it for you, no prob. It comes out in serial comic book form, and it's currently on issue 10, so there's plenty to keep you busy.