In Why Lesbians Might Object To The Kids Are All Right, Jezebel's Irin Camron unsurprisingly addresses why lesbians might object to The Kids Are All Right:
"If some queer-radical types object to the film on political or ideological grounds, there's a sense in which they're right to do so," writes Salon's Andrew O'Hehir. "This movie definitely isn't aimed at them." Why would they object?
The reason, it appears, lies in a spoiler that's hinted at in the trailer.
+
Camron continues:
The film's marketing is clearly positioning it as a relatable universal tale, centered around two upper-income, middle-aged lesbian moms played by Annette Bening and Julianne Moore. For director and co-writer Lisa Cholodenko, it's also an explicit play for the mainstream — which could clearly benefit from a storyteller of her talents. (O'Hehir casually calls the film "one of the most compelling and rewarding portraits of a middle-class American marriage in cinema history, as well as one of the funniest.")
Worth noting: Focus Features is marketing the film as a relatable universal tale, but they're also specifically reaching out to the GLBT market (if you're in one of the early-release cities, you'll see their ads on this site and other gay sites right now!). This directly contradicts O'Hehir's claim that Focus Features doesn't anticipate the film appealing to us "queer radicals." They're aiming right for us.
But did you watch the aforementioned trailer/spoiler? Are you withholding your guaranteed love with visions of Jessica Stein and Chasing Amy dancing in your head?
The action happens, so to speak, when the couple's children track down the sperm donor that is their biological father — and apparently Julianne Moore has an affair with him. (In the trailer, this looks like chaste kissing.) With this twist, writes O'Hehir, "Cholodenko and co-writer Stuart Blumberg capitulate — in some people's view — to a whole set of 'Celluloid Closet'-type homophobic stereotypes, and possibly lend aid and comfort to the right-wing view of homosexuality as a 'lifestyle choice.'" That, at least, appears to have been the complaints of some of Salon's commenters — not a famously enlightened bunch, alas, but an interesting claim nonetheless.
In other words, does every Hollywood movie involving a lesbian have to suggest she really needs cock?
Oh, the cocks we've endured! From Henry & Tina (The L Word) to Aidan & Spencer/Ashley (South of Nowhere) to the de-gayification of chick flicks like Whip It! and Fried Green Tomatoes or anything from our Top Ten '90s Movies Beloved by Girls Who Turned Out Gay list, we know from cocks in movies we thought would be more about vadge.
When Lesley Goldberg interviewed Cholodenko for AfterEllen, she cut right to the chase:
AE: A lot of lesbian films or films with lesbian story lines are criticized when one of the leads cheats with a man. Are you worried about a lesbian backlash to Kids from within the community?
LC: No, not really. [Laughs] To me, the whole story is coherent and about something very specific and I don't really have an agenda. I never meant for this to be a political film in that sense. It came from a personal place and in that sense it's sort of more an auteur film. What excites me is the possibility that this kind of family can be seen on a wide screen and reach a mainstream.
Eek! The "it's not a political film" claim, used by queers all over the world to defend behaviors like being queer but refusing to stand up for gay rights. Taken out of context, that answer might seem so strange. But Lisa is a killer filmmaker with a resumè that includes High Art and Laurel Canyon, and she's a lesbian mom herself — the woman knows what she's doing.
Why, after all this, do we still expect to really really like this movie?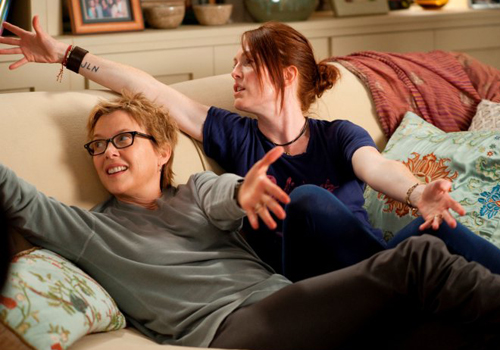 Because Julie Goldman & Brandy Howard saw it, and they really, really, really, really liked it. If you've never seen an episode of Julie & Brandy In Your Box Office, you may not be aware that they hate practically every movie ever.
That's right. Julie & Brandy with the "an anger and rage issue," and "a chip on [their] shoulder that comes from this town which is Hollywood and this business which is the business of show." Julie & Brandy who view films through "glasses colored with vadge-lesbo-angry-rage" and who compared seeing Avatar, Hot Tub Time Machine, Shutter Island and Sex & the City 2 to various unpleasant sexual experiences including but not limiting to a "high school fingering," "a finger up a gay guy's a**hole" and "an empty box," really liked this movie.
Autostraddle.com sent Julie Goldman & Brandy Howard to the Los Angeles premiere a few weeks back (yes, us queer radicals were invited to the premiere & press junket!), and although their double-fisted review hasn't been written yet [UPDATE: HERE IT IS] I talked to Julie about it when we saw her in San Francisco in June. Specifically, I asked her about The Cock. Julie Fucking Goldman told me, "You know, I was very worried about that too. Very concernerd. But it worked. I was expecting that to totally upset me, but they made it work. You'll see."
Other gay websites slightly more on top of their shit than we are have echoed those sentiments:
OUT: "Intimate, though still thoroughly entertaining… a comedy that touches on the real joys and challenges of being a modern family in America."
AfterElton: It absolutely lives up to the hype. It's a flat-out terrific movie, by turns funny, moving, and — most of all — extraordinarily "real."
But since when has a trailer ever appealed to us queer radicals (Wolfe Video releases notwithstanding)? We've developed a keen attention to subtext, favoring girl-power flicks with queer undertones and skeptically eyeing any movie with a lesbian kiss in the trailer. Julie & Brandy gave high marks to The Runaways, in part for the lesbian subtext, just as I was surprised to spot plenty of queer themes in the recent Diablo Cody-penned thriller Jennifer's Body.
If The Cock In the Trailer gets straight audiences into the theater, then hurrah — any time a female-directed female-focused movie that isn't mostly about omg expensive shoes and/or men gets this kind of warm critical reception and hopefully subsequent box office gold, we all win.
So, will you be checking it out this week? Will it live up to the incredible hype?Will this picture of Lisa Cholodenko make you want to see it even more? We think so: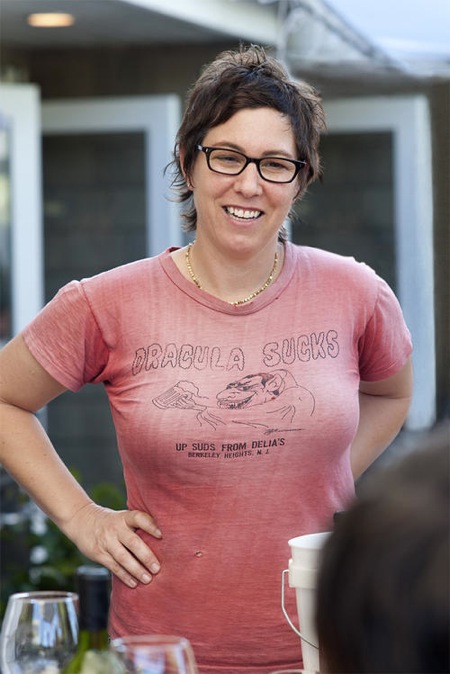 [And no, we weren't paid to write this. If so, it would be labeled as such. We just think it's a really good sign that Julie & Brandy actually liked a movie.]
[Also I have always found Mark Ruffalo really attractive in this Billy Chenoweth kind of way? Is that okay to say?]