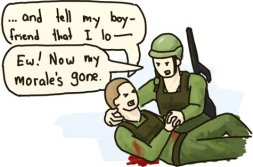 The Pentagon began their Don't Ask Don't Tell survey yesterday. They emailed 400,000 soldiers the link which gives the soldiers until August 15th to answer the questions, which reportedly takes about half an hour. This is the survey that Congress has agreed to wait on before officially repealing Don't Ask Don't Tell.
Today, the Servicemembers Legal Defense Network, one of the leading organizations fighting for the repeal of DADT, voiced some concerns with the survey process.
"A number of service members have contacted SLDN to seek guidance on surveys concerning the repeal of 'Don't Ask, Don't Tell — the discriminatory law barring gay and lesbian service members from serving with integrity. At this time SLDN cannot recommend that lesbian, gay, or bisexual service members participate in any survey being administered by the Department of Defense, the Pentagon Working Group, or any third-party contractors. While the surveys are apparently designed to protect the individual's privacy, there is no guarantee of privacy and DOD has not agreed to provide immunity to service members whose privacy may be inadvertently violated or who inadvertently outs himself or herself. If a service member still wishes to participate, he or she should only do so in a manner that does not reveal sexual orientation."
Though the survey is being conducted by a third party that has promised to remove any identifying information from the survey data, nothing is ever a sure thing. And without a guarantee that they won't be prosecuted, a lot of gay servicemembers may opt out of the survey.  Obviously, that could skew the results, which is why White House officials and the HRC are encouraging LGBT soldiers to participate.
"The Pentagon made clear that the survey is not a referendum on open service but rather is meant to identify problems so that when open service begins, they can have strategies developed to address them," said Fred Sainz of the HRC. "Based on that understanding, we would encourage gay and lesbian service members to take the survey."
So could the wording of the survey questions. Military Times reported that a draft copy of the survey leans "heavily on questions about teamwork, performance, mission completion and morale." Some people think that the survey was clearly written by people who are not pro-repeal. The Pentagon did not work with any anti-DADT groups when forming the questions.
Pam's House Blend had a good post on the topic and pointed to this CNN report:
The survey, which service members can expect to receive via e-mail, asks about such issues as how unit morale or readiness might be affected if a commander is believed to be gay or lesbian; the need to maintain personal standards of conduct; and how repeal might affect willingness to serve in the military.
The survey also asks a number of questions aimed at identifying problems that could occur when troops live and work in close quarters in overseas war zones. For example, the questionnaire asks military members how they would react if they had to share a room, bathrooms, and open-bay showers in a war zone with other service members believed to be gay or lesbian.
The study was billed as a way to find the best repeal strategy, but it sounds like all the DoD will find out is how rampant homophobia is in the military. Seriously, are they going to reconsider repealing the policy if soldiers are uncomfortable showering with gay people? Is that something we actually condone in this country? What happened to"Get Over It & Man Up!" Or will separate bath facilities for the homos be part of the repeal process? As our friend Alice once said, don't drop the soap.
Also this quote really concerns me:
"I'm shocked that DOD refused to work with the pro-repeal groups on this. That tells you something. Some of the questions appear designed to elicit negative responses," said Richard Socarides, a senior adviser to former President Bill Clinton on gay issues. "What the survey makes clear is that the anti-gay contingent at DOD has not given up. They don't think this is over. And they may just be able still to stop or maybe significantly delay repeal. Never underestimate the Pentagon bureaucracy when it comes to this. Just ask Bill Clinton."
If this survey is the basis for the study upon which the repeal is hinging, well this is really freakin' disappointing. No one needed a survey when the military started allowing blacks or women to serve. But I was willing to accept that a study like this might be necessary. After all, homophobia in the military is a big problem, and maybe it would be really helpful to be more prepared for issues like violence and discrimination after the repeal.
But they created a survey but didn't guarantee participants immunity from discharge and then tailored the questions for negative answers, which says to me that they can't possibly expect realistic, accurate or helpful answers. This has become one more political sideshow to try and keep DADT around. Can anything happen for gay people that doesn't involve someone using money/power to scam due process? I'm usually in Obama's corner, but I can't believe he refuses to see through this.