LILITH FAIR / KELLY CLARKSON:
What went wrong with Lilith Fair this summer? Everyone I know has been ecstatic for the return of The Mothership, Miss Sarah McLachlan, back with her first album in 7 years, and finally relaunching the summer music festival that celebrates the power of women in rock.  Maybe it's the high ticket prices, maybe it's the lineup of artists, or maybe it's hard to re-create the pure artistry that happened from 1997-1999 when we're now living in a Ke$ha world. The original tour featured singer-songwriters, girls with guitars and pianos including Sheryl Crow, Fiona Apple, Jewel, the Indigo Girls and Tracy Chapman.  Subsequent years added bands like then-newcomers The Murmurs and Tegan & Sara into the mix.
The 2010 version features many of the same originals with a few big pop production names thrown in like Rihanna and Kelly Clarkson. But then a bunch of dates got canceled:
"We are in the midst of one of the most challenging summer concert seasons with many tours being cancelled outright,wp_postssays Lilith co-founder Terry McBride. "Everyone involved with the tour would like to apologize to the fans and artists scheduled to play in these markets, and express appreciation for all the support for the festival's return. Lilith remains the only tour of its kind, and we are confident that fans will be amazed by what each date has to offer."
They've been forced to cancel 13 shows (Salt Lake City, 7/12; Montreal, 7/23; Raleigh, 8/4; Charlotte, 8/6; West Palm Beach, 8/10; Tampa, 8/11; Birmingham, 8/12; Austin, 8/14; Houston, 8/15; and Dallas, 8/16) on the original 35-date schedule. So what's going on? Everything looks good  on these videos! That being said, omg Houston in August? Someone was gonna die of heatstroke, maybe it's better this way.


.

Kelly Clarkson writes on her blog:
"With the news of canceled Lilith dates and my current progress in the studio, we've made the decision not to tour this summer. I'm going to miss seeing y'all, but I hope that when you hear what we've been working on, you'll be as excited as I am. I've been working with some amazing people and am stoked about this next album!"
On the other side of it all, you can check out their beautiful photostream on flickr and wish they were still coming to your city. It looks like fun!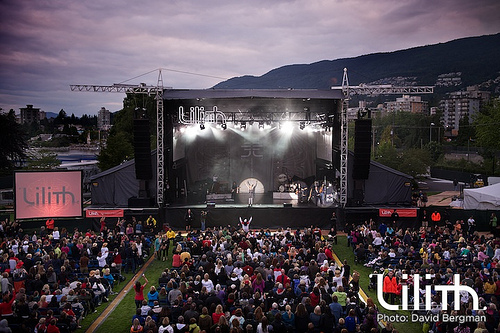 So what went wrong this summer with Lilith Fair? What is keeping you from checking out the show in your city?
GLEE:
To the surprise of no one, everyone who's ever stepped foot on the Glee set got an Emmy nomination this morning including our very own Jane Lynch! Who do ya think has the best shot of winning an Emmy for Glee?
Lea Michele (Actress in a Comedy)
Matthew Morrison (Actor in a Comedy)
Chris Colfer (Supporting Actor in a Comedy)
Jane Lynch (Supporting Actress in a Comedy)
Kristin Chenoweth (Guest Actress in a Comedy)
Neil Patrick Harris (Guest Actor in a Comedy)
Mike O'Malley (Guest Actor in a Comedy)
(@latimes)
MELISSA ETHERIDGE / TAMMY LYNN MICHAELS:
Our hearts really went out to these two, and we hoped that they would work this out privately, but that doesn't appear to be happening. Tammy has written two reactionary blog posts after Melissa filed for divorce last weekend. She also describes, in detail, conversations she had with Melissa in 2001, where they discussed Tammy giving up her career to stay home with Melissa's two children from her prior relationship with Julie Cypher.
"I was always the house wife after that. The only thing i hated about it was not bringing in money- i have made my own money since i started babysitting at 10, and having a newspaper route at 11. having no steady paycheck killed me for those years with her. and now it's really killing me."
Now court documents reveal Etheridge is seeking joint custody of their children and asked the court not to award financial support to Michaels.
They appeared together as recently as last summer in an episode of Kathy Griffin: My Life on the D-List, where they invited the cameras into their home to make cookies and prep Kathy for her big gay rights speech.
.

SCISSOR SISTERS:
Jake Shears, Ana Matronic and the crew are back on the road later this summer in support of their brand new album, Night Work.
ADAM LAMBERT:
Check out outtakes from Glambert's album cover shoot.
LINDSAY LOHAN:
Warning: this is really depressing! The complete guide to Lindsay Lohan's incarceration. (@gawker)
JOHNNY WEIR:
Johnny Weir talks to Out about officially coming out when his book is released in January.
"I've always been comfortable with who I am. When it comes to my sexuality, I just finished the chapter in my book about my sexuality and my idea of it. I haven't discussed it — not because I'm ashamed of anything you'll read about when my book comes out — I just don't want to put it out there in a way where someone can twist my words. While I don't believe in masculinity and femininity, I don't believe in a purely gay person or a purely straight person. I have a very clear opinion of my own sexuality. I'm not saying anything about my sexuality because I want it to be out there in my own words."
(@out)
THE KIDS ARE ALL RIGHT:
This really annoying USA Today article on The Kids Are All Right focuses entirely on the romance between Julianne Moore and Mark Ruffalo, completely ignoring the fact that the movie is centered on the relationship between Moore's character with Annette Benning.