The Kansas Arts Commission closed this week after Governor Sam Brownback slashed funding for the arts. Though artists, parks, schools, and libraries have benefitted from the Commission through grants, the governor used a line item veto to defund the organization. Gov. Brownback says he hopes to see private donations work to fill the gap left in funding.
As expected, this has left everyone in a quandary over whether or not the arts should be publicly funded. Shannon Reilly, the artistic director at the Topeka Civic Theatre and Academy, said her organization has avoided public grants in the past and has appreciated the freedom it's given them.
Her views are echoed by Lawrence Reed, an economist from the Foundation for Economic Education, who believes that "The arts are simply too important to be dependent on the government. When you are dependent even partially on government funding, you always run the risk of being buffeted by changing political winds." Like it or not, he's not wrong about politics swaying support for different projects. Remember when John Boehner and Eric Cantor got the Smithsonian to remove certain pieces from an exhibition because they were deemed offensive? Or the giant political debacle resulting from Mayor Gulliani and the House of Representatives not approving of The Brooklyn Museum of Art's Sensation exhibit? (Fun fact: L Word Season One's art museum-protest storyline was inspired by the Brooklyn Museum's situation)
Others who support the governor's move believe that subsidized art is by definition not widely popular. If a project appeals to a large group of people, they argue, their economic power will keep it running. If you're looking for an economic counter-argument, the Baumol effect shows how despite being paid more, workers in the arts have have not made innovations in labor productivity. While a factory worker can produce lampshades faster today than in 1950, it still takes the same number of musicians the same amount of time to play a symphony. A symphony costs a serious amount of money to produce and ticket sales can't make up the difference.
If you're just concerned about this whole line of thinking that says that the market should dictate every aspect of life, you're not alone. We know we're not the only ones struggling to find a sustainable business model. Ruby Lerner is the executive director of Creative Capital, a private arts funding organization, but even she worries that projects that aren't "flashy" enough will suffer without public funding.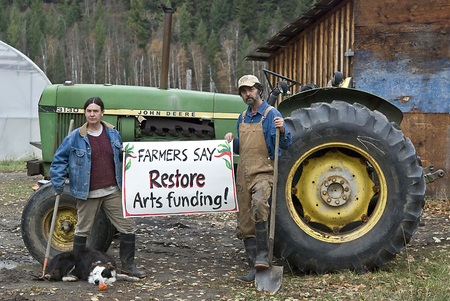 Art speaks to commonalities as well as differences in the American experience. Offering public funding for art affirms its value in our society. Left up to a public vote by dollars, expression suffers from the tyranny of the majority. There's no denying that the economy is suffering and that budgets need revamping, but is this the route to take? If art and progress have historically gone hand and hand, maybe art is too important not to be publicly funded.