Have you ever been to a gay bookstore? If the answer is "no" then YOU BETTER GO NOW because probably it'll get shut down within the next two minutes/years. Seriously! Strap on your Chucks and bike on over to your local Pink Triangle Book Shop of Homo-Homo-Love and buy four copies of The Best Lesbian Erotica of 2010, a first-edition of Gender Outlaw, the complete works of JD Glass, Fun Home and a used book of lesbian love poems from the 70s (worth it for the cover art alone). Bonus points for digging up anything published by semio[text]e!
God I LOVE QUEER BOOKSTORES. But really I like all bookstores except the big ones, which I also like, but not as much. I'm basically addicted. When I spot a bookstore across the street it sucks me in via Jedi Bookstore Mind Control, causing me to unconsciously abandon my traveling companion who will inevitably find me squatting in some back shelf-alley, intently staring at spines as if I'm searching for something specific, but I never am. I JUST WANT TO LOOK AT ALL THE BOOKS!
Anyone who's walked past a bookstore with me does a knee-jerk "Do you wanna go in?" before I can even start passive-aggressively announcing my desire to enter. David Bowie reads, and is bisexual: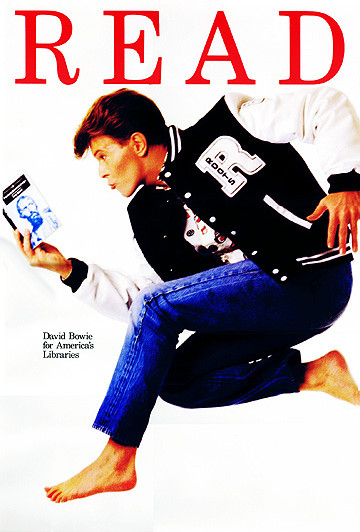 But, says the news, GAY BOOKSTORES ARE DYING. The most recent death is here in The Bay Area — San Francisco's Different Light bookstore closed recently, for which the patrons blame many things but mostly the internet.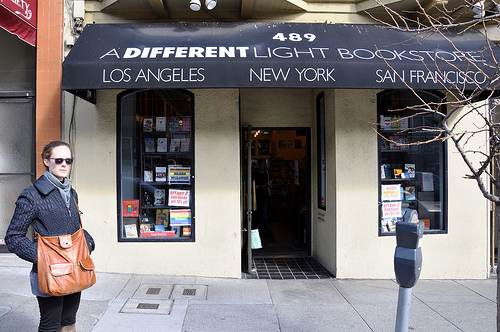 2010 saw the death of Toronto's Glad Days Bookshop, which had become the oldest LGBT bookstore in North America after New York City's Oscar Wilde Bookstore shut its doors in 2009.  Lambda Rising in Washington DC closed in 2009. OutLOUD Bookstore in Nashville, Tennessee closed in 2010. The Word is Out, in Denver, Colorado, went online-only in 2009.
In Philadelphia, residents wonder if this fad will reach their very special Giovanni's Room. Owner Ed Hermance told Philly Mag that, "For many people, the LGBT bookstore was their original 'safe space,' a place in which one might begin to come out to oneself."
The article about Giovanni's Room asks if "younger gays and lesbians" are not visiting LGBT bookstores because they have "mainstream acceptance" or are busy at "monthly circuit parties" and "dive bars around town and indie music venues." They ask:
…when it comes to a "gay bookstore," are more people heading to the web now? Or are they not heading anywhere at all, opting instead to take a more mainstream route when it comes to getting the information they want?
These are valid questions/concerns and they are coincidentally close to my heart. I'm a 29-year-old queer which means I'm still young (more or less). I've been to gay bookstores in New York City, Philadelphia, Vancouver, Halifax, Washington DC, Ann Arbor, Seattle, somewhere in Australia and also in San Francisco. I spend a lot of time day-dreaming about owning my own bookstore one day, like a lesbian/feminist thing (this will never happen I realize), and therefore I read a lot of articles about how independent bookstores are finding ways to get creative in order to survive the recession.
I don't want GLBT bookstores to die. But I've got no nostalgia about it, and nostalgia seems to be the primary source of sadness for much of the bookstore-mourning community. These bookstores changed lives and their legacy is important. But it's possible to respect and pay homage to the gay bookstores' historical social function while transitioning to a new business model, reliant on unique services and products and events rather than the original "safe space."
I don't like GLBT bookstores for "community" — to be honest, I'm one of those shoppers frequently mistaken for a potential shoplifter because I don't acknowledge salespeople or make eye contact with anyone. I just like ALL THE BOOKS!!!
+
Running this website for the last two years has given me a fairly comprehensive view of a certain generation of book-reading lesbians. Therefore I'm fully ready to do that obnoxious thing over-entitled twentysomething web-brats do where I tell you what I like and dislike about the world you've put decades of blood/sweat/tears into.
Let's begin!
Ideas Regarding the Future of Gay Bookstores
+
LGBT Bookstores Will Never Win the Price Wars on New Books

Brett Serwalt of Obelisk Bookstore in San Diego: "We need to be realistic. The writing is on the wall: people LOVE the Internet, and apparently no brick & mortar store can ever compete on price. Not Borders, not Obelisk. At the same time, I still see a market for boutique book selling."
Indeed. Despite my addiction to bookstores and stated preference for radical lesbian socialist shitheadism over corporate monarchy — I buy almost all my books online. It's cheaper/faster. Furthermore, without Amazon, I don't think I would've bought most of the books I do buy. I would've perhaps boarded the BART to pick up Michelle Tea's Rent Girl, but I wouldn't have last-minute shipped Michelle Tea's The Beautiful to a writer who needed it ASAP for a Pure Poetry piece. Furthermore, I decided to bring Julia Serano's Whipping Girl on my 14-hour train ride to Palm Springs about an hour before leaving — I downloaded it for my kindle. Also, Autostraddle's Amazon Associates Account is one of our primary revenue streams, so I encourage others to do the same.
But most indies sell online now, and can even sell ebooks from their websites. Used books are actually cheaper IRL. Stocking tons of magazines works, too, like this independent bookstore in Tulsa. I would've gone anywhere to find Frankie on DIVA UK. I did, actually.
Amazon's #1 Weakness: It's a Robot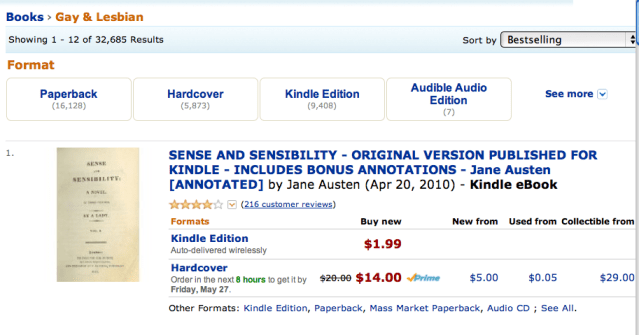 Amazon's placed a Sense & Sensibility e-book, Incidents in the Life of a Slave Girl and The Women's Bible (a 19th century feminist classic) in its Top Ten Bestselling Gay & Lesbian Books. Also, apparently Amazon thinks Augusten Burroughs is the only gay author ever — but LGBT bookstores know better. Those clean, well-organized spaces can work wonders. The Listmania! feature on Amazon is super popular but it also works on the shelves.
Can you imagine a bookstore organized by ideas rather than technical categories? The 5,000 girls who constantly ask me for book recommendations could benefit from sections labeled like "Coming Out" "Books to Give Your Mom" "Feminism 101" "Bisexuality/Sexual Fluidity."
Which leads me to…
+
Buy The Children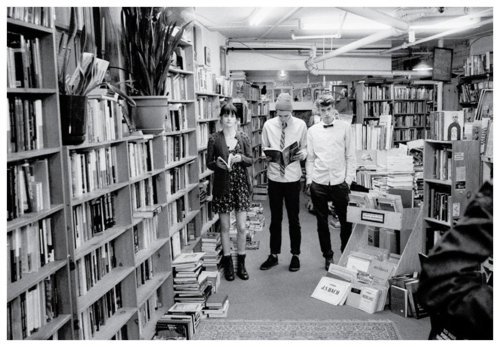 I think a lot of youngsters would walk through the door if you paid them — and by that I mean "hire them." Hire a trans person or a queer person of color so their peers can feel as welcome in your store as you did when you were a babygay and you saw the nice gay man at the counter and felt safe. Hire one social dyke and you'll get her entire Chart in there before long.
++
Porn or Lesbians – Pick One.
Sometimes the "L" in "LGBT bookstore" seems superficial.
A Different Light is a good example of this. In the SF Appeal, writer Thomas Roche shares the "parallel sentiments" he's heard expressed about A Different Light's closing:
"The first one, in public, is always pretty much the same story. It's that A Different Light has for years been a landmark and a centerpiece of SF's gay community."
But other complaints he's heard regard stock:
"Too many straight books."
"Unfriendly to radicalism."
"Caters to bourgeois gay white men."
"The gay porn is boring and gross."
"Not enough lesbian porn."
Last time I visited A Different Light, it felt like half the store was stocked with gay male porn and, along with the two dykes I entered with, we quickly felt like we weren't supposed to be there and subsequently left.
Maybe gay men are different but the one item I'll never ever ever buy anywhere but online? PORN. I'm sure it helped keep ADL in business, but meanwhile I couldn't find Eileen Miles or our book club pick, Ali Liebagott's IHOP Papers, anywhere in San Francisco!
Lots of gay porn and no Eileen Myles? It seems like it'd be more budget friendly to give up the facade and just focus entirely on gay men or you know, stock lesbian shit.
+
Work With the Internet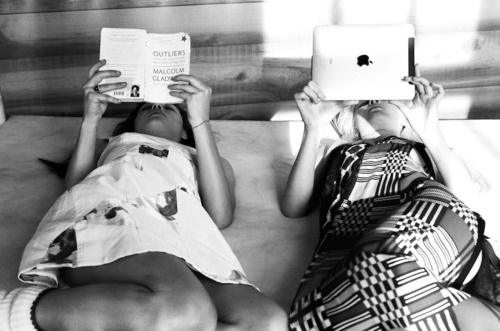 It's convenient that, despite other untraceable locales of abandonment, we know precisely where people who leave you for the internet are: on the internet. They're not in caves, they're reading Effing Dykes!
Seems like there must be a way to develop partnerships/ad swaps with LGBT blogs, ask websites like ours to coordinate our book club with your store, host monthly reading series with online writers, or advertise in magazines like bitch and Stud. We have your target market for online or even IRL sales right here and some of them are shy so they basically need an invitation. Just chase your audience and put up a sign in their new locale to remind them of you. Many net junkies really would like to go out and participate in the world, we just don't know how/where/when and we need to feel welcome.
[Also a lot of bookstore websites could use a redesign!]
+
Build New Community
There's something to learn from what happened to feminist bookstores — between 1993 and 1998 (before the internet became a viable gathering place!), we lost 80 feminist bookstores, and then another 30 between 1998 and 2000. Chain bookstores and the "mainstreaming" of feminism were blamed.
Bluestockings, which survived, says:
"To expect us to compete with large corporations at their own game misses the entire point of our existence, which is precisely to offer an alternative to the value system and economic structure they represent. The needs we meet (or try to meet) are mutually exclusive to those met by the big chains, and are in fact their antidote."
Building on that point, I was interested in this quote from The Bay Citizen from a former employee of A Different Light (1991-2000) who said he left the job when Bill Barker, the present owner, took over:
I didn't like the change in focus from a community-oriented bookstore that nourished queer writers and even held writers conferences each year to a store that featured coffee table soft porn and only popular titles. We were a community space in the 90s, we allowed groups like ACT UP to meet in the office upstairs and in the yard, we sponsored open mics, we carried literature and magazines from around the world and in many languages. Even if it only sold one copy or never sold at all, we stocked it because it was queer.
Independent Bookstores who survived the recession have done so by getting creative with how they involve themselves in the community. I'm always hearing about Bluestockings or Rock Paper Scissors Collective events but never once an LGBT bookstore event. This indie bookstore in Ridgewood survives by hosting super-popular events and readings! We want Michelle Tea and Sister Spit. Screen Bi the Way. Host poetry slams. Bluestockings invites scholars and authors to speak on pressing topics like "Obama and the Gays" and hosts events like "Women's/Trans Poetry Jam & Open Mike."
+
Queer The Space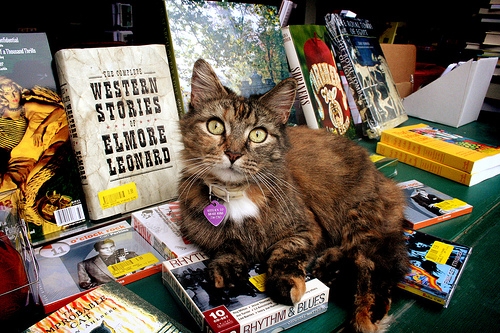 Obviously a cafe w/free wi-fi is key — these girls are fucking petrified of bars but want to meet each other and what if you knew everyone drinking coffee at the bookstore — THE BOOKSTORE! — was a lesbian? RIGHT?
Also? Space. We're no less desperate for space than we were in the 70s. We have book clubs, activist groups and blog meet-ups and no place to hold them. And so many indie bookstores have survived by getting creative with events and meetings:
London Review Bookshop: "More than anything, the LRB's defining achievement of the last five years, if I may modestly boast, has been the events programme."
The Raconteur (New Jersey): "Dawson holds about 80 events a year in the bookstore — author appearances, readings, musical performances (everyone from chamber music to hard-core punk), and film screenings. And let's not forget the annual arm-wrestling competition…"
The Book Seller (Chicago): "The March lineup at the Book Cellar, a popular store in Chicago's Lincoln Square neighborhood, includes speed dating, a Mom's Read Aloud Recommendation Party, comedy performance by the Kates, and "a glorious glimpse into the Chicago underground poster scene."
+
Get a Makeover
One last thing. This is going to make me sound like a pretentious elitist jerkoff squarely centered in the Generation Me mentality — but rainbows everywhere are kitschy, right?
Like let's just cut it out. The rainbows.
There are only two good rainbows: Double Rainbow Oh My God and the Lucky Charms Rainbow.
I understand rainbows indicate homosexuality is welcome inside, but please. Be tasteful.
+
THE RIGHT WAY TO DO A RAINBOW:
(yes this bookstore still closed, but whatever)
+
THE WRONG WAY TO DO A RAINBOW
(I have blacked out any names to protect the decency of those storefronts)
+
+
I love the feeling of being in a room which contains all our histories and futures within it. It makes you feel like you're a part of something big and complicated and VISIBLE. It's not "all new" like the LGBT Community Center or "all old" like in a museum. It's new and old, from Giovanni's Room to Valenica and back. Please don't go, I'm addicted to you.
Do y'all shop at gay bookstores? How has your local gay bookstore stayed afloat? What cool things are happening in your neck of the literary woods? What would make you wanna visit a gay bookstore?