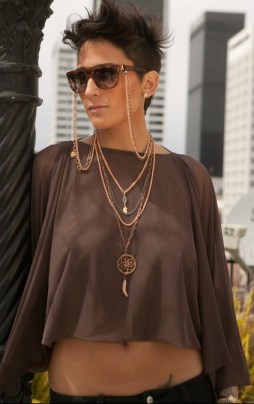 [Ed. note: This interview was conducted before the season premiere of The Real L Word/this]
Of this I am certain: Romi Klinger is a fighter. Last year she was just one of Whitney's satellite pseudo-girlfriends who were filmed, exploited and tossed away for Showtime's pleasure during Season One of The Real L Word. Last summer she confided in Autostraddle about the strap-on scene heard 'round the world (or Lesbian Internet) and received a bevy of mixed to negative feedback in the comments from our readers. Last winter she was christened Miss December as she happily participated in our Calendar Girls photoshoot which inspired an avalanche of critical feedback that even forced her own MOM to defend her against our readers. Why? Because Romi owns her sexuality and feels comfortable enough in her skin to share it with the world… and people have weird feelings about that.
After such a public beating, both on television and the Internet, Romi easily could have retreated back to her normal life and friends and driven into the LA sunset, a reality star never to be heard from again. BUT NO. Romi is BACK as a main cast member on Season Two of The Real L Word, refusing the audience to discard her as a one trick pony. This season she opens up her life, family, girlfriend, and issues as a three-dimensional person, much different from Version 1.0 we were presented with last summer.
Jess chatted with Romi about why she willingly went back for more potential public torture in Season Two, her reaction to the Autostraddle Calendar Girls combustion, her impressions of the new cast, her inspiring beauty-hair-love-advice blog Tenderomi.com and her brand new jewelry line Hija Por Vida.
I think when people see you as a featured cast member on the new season, they're going to be wondering why would you go back for more after the way you were portrayed last year?
That is a good question! [laughing] I went back for more because I felt like I wasn't a main cast member in the first season, so I didn't have a lot of say or enough time with production to really establish who I was… and they weren't supposed to focus on who I was. They were supposed to focus on Whitney and who was in her life and how we revolved around her world. So, what they put me in, as far as the show goes, was something that helped create a story based on another character. Not my choice. When it aired and I was portrayed in the way that I was, which was not in the best light… and it was definitely a really insane thing to go through… watching myself be put out there in a way that I didn't feel represented who I was at all.
So, when season two came around I didn't audition, they called me and said they'd like to consider me for season two and asked if I was interested. I said yes because, number one, The Real L Word is a part of my life and you know, everyone's life; and the first season I didn't necessarily have a problem with the people that I worked for or the process. The thing I didn't realize, because I was new to reality television, is that there's an editing room. Once you give people a certain amount, they ultimately do what they want with it. So, when Ilene [Chaiken] asked me for season two I said "Yes, I would be honored to come back" in the sense that I would like to work with them and they're asking to work with me based on who I am; and they're interested enough in me – obviously they saw something, whatever it was – and they wanted to show my story. I'm not dating Whit so it's not like I was somebody's girlfriend anymore. I think that I can show me absolutely, I needed a chance to show all the viewers and my community who I was because I have a really interesting story and I've had a really interesting life and I've had stuff that I would love to share with people that I feel is so much deeper and more important than what they decided to show.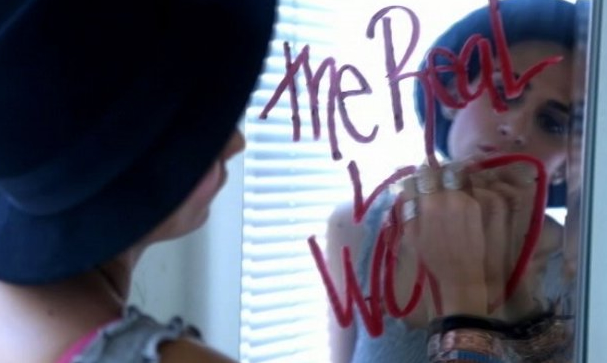 I understand why you did it – in order to redeem yourself in a way, to kind of clear your name.
Yeah, as a woman and a friend and a daughter and girlfriend and somebody in our community, I was portrayed in a way that was just so far from me. Like there's some truth to it, in the sense that did I do those things? Yes. Did anyone force me? Absolutely not. But was that the whole story and did people see the whole story? No. I was chopped into little pieces and I have this incredibly family story and I have so many issues that are relate-able on so many different levels that I've grown up with and am going through. I'm just hoping to god that I can share those with people and they can relate to it and people can see that I'm also human. The way that they'll talk to me or put me down on the blogs, they're pretty brutal, it's pretty hurtful to read people assuming who I am and not having any opportunity to really speak up or show yourself. Other cast members had the opportunity to blog after the episodes or answer questions and I had nothing. I've held my head up pretty high through this whole process, you know, and I just decided that I'm just going to show all the other areas of my life. Like yes, am I a lesbian who has sex and falls in love and gets my heart broken and gets drunk? Yes, but I'm a lot of other things too.
You were talking about the blogs and I wanted to talk to you about the reaction to the Autostraddle Calendar Girls shoot. Why do you think our readers reacted in such an extreme way to you?
I've been trying to figure out why they're reacting. That was a pretty hurtful thing, I mean my mom even spoke up in the comments for me which made me cry. I can handle the criticism; it doesn't break me down, it doesn't hurt me, because I know myself. But it's confusing because I feel like women that are supposed to be empowering and supporting each other – and you have a television show that is about lesbians and our lives and about our community – and I go and do exactly what we all do; which is fall in love with the wrong people at times, get lost in our emotions based on what we're being told by somebody and I had sex with somebody that I'd been sleeping with. All of these things are things that we do. The viewers want sex, right? That's why they're watching. They hope that  they see some sex. And then they get it! And then they're pissed! I was like, are you kidding me!?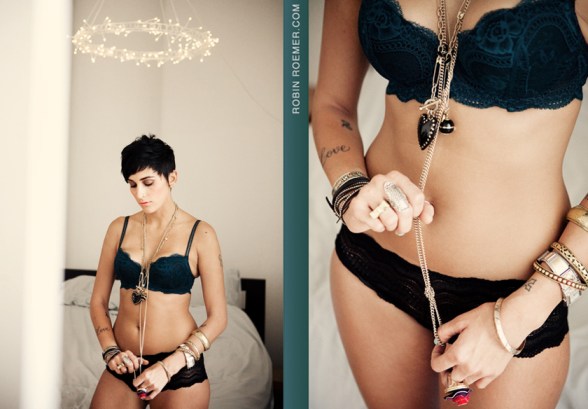 You're right… a lot of people are hypocritical when it comes to sex.
We watched The L Word for so long and they had so many sex scenes and they were naked and they were using strap-ons, and we watched and supported it and we loved these characters. And these are people that were doing it with people they were paid to come in and do it with. I'm doing it with someone that I'm not being paid to do it with; I'm actually in love with her and have been sleeping with her. If you take all the sex away from The Real L Word, then you're not seeing The L Word. I just feel like I got so attacked as this whore for showing the entire world – and I would think that our community would at least stand up for me and be like, "Yes, this is how women have sex. We're allowed to own our bodies and have sex and we're allowed to not feel shamed because we did."  We use strap-ons and we do use toys and it wasn't like it was so graphic and like porn, I'm not like being ripped apart by somebody; I'm sleeping with somebody in a drunken moment that I am in love with. I still to this day don't understand what they want. At the same time you're asking for a reality show and you want real emotions and people that show you more than acting, and I did that. And I will continue to do that. When the cameras came into my life, I don't hold back. I might look stupid, I might be funny, I might be dumb, I might fuck up and that's why you're tuning in to watch a reality show on lesbians. Because, we don't hold back, we don't give you a wall; for some reason, me doing exactly that caused people to just hate me. I don't get it.
It's a perplexing question. You're so articulate and you know exactly how you feel and I think that the way you stated that; I'm very curious to see how people will respond in the comments. Maybe it will force them to sort of question why they were so vocal.
Honestly, I gave up trying to battle the haters and the blogs that go after me. What I'm going to continue to do is just be me and move forward. The people that support me and love me, that's great. If you don't then sorry. I don't want anyone to think I'm coming off harsh but that's just the reality of it. I didn't come into season two holding back and pretending that I was going to be something because I knew I needed to fix something for the audience, you know? I came into it doing everything completely raw and open with all of production. I gave them everything, knowing once again that I don't have control with how this will look in the end.
It's a big risk for you. But at least you've been through it the first time so you're not completely green.
It just really hurt me when I did the Autostraddle calendar and I took my clothes off like everybody else in the shoot. You know, I had underwear on, I'm not naked. I shouldn't be ashamed of my body, first of all. And I have to be completely honest, I could walk around the streets completely naked. I don't really care. I'm just not really hung up on nudity. Even throughout filming you've got people putting lights on you when you're changing. I've worked in the fashion industry for a very long time so I'm used to being around naked people; I'm just not hung up on that. So I think it's coming across to people that I just wanted to take my clothes off. But it's just not one of my things. And I love you guys! So many of you at Autostraddle have become friends of mine… and here I am trying to come together with the community and I'm completely being ripped apart as this whore that's representing lesbians wrong. Seeing those mean responses, I was like "I'd like to see you open yourself up and reveal yourself to everybody in hopes that people can understand that we are just like everybody else." And get up there and do a calendar that I'm doing to help be a part of the online lesbian community and be supportive…  Also, at the time I'd just started a lesbian company [PYT] that was doing very well. I wasn't just some girl that was trying to make a dollar after having sex on television. I work my ass off every single day on my own shit. I create my own stuff, I do my own thing, no one has handed me anything. I feel like people, I hope, from this next season – because I've been given the opportunity, which  I'm so grateful for – will see that I'm so much more than some girl who had sex on season one of The Real L Word.
NEXT: "I'm really proud of this season. I'm really proud of the team. We did it really differently this year. I fell in love with every single person this season."
Pages: 1 2See entire article on one page