HELLO WORLD HELLO NEW YORK HELLO CHICAGO I'm not gonna say "HELLO WEST HOLLYWOOD" because I don't think anyone in West Hollywood watches this show.
Welcome to the very first week of an exercise in extended intellectual torture known as "The Real L Word recaps." This week on The Real L Word, a show about hairstylists who like Whitney; Whitney made love to three girls/one banjo, Romi built a snowman and didn't have sex with it, Kacy and Cori talked about male genitals, and the entire world exploded. It was like the big bang!
Then, back in Los Angeles and/or New York, a bunch of pretty girls in makeup, pants, shirts and sometimes skirts, talked to each other (mostly about vaginas) and did other day-to-day things, like grocery shopping. Then Kacy and Cori changed their names to Kaci and Cory (officially) and everyone took their shirts off. Let's get this over with shall we? Just breathe. You might feel some cold metal but that's perfectly normal.



Oh but FIRST! This year, my dear lambchops, is especially special. If you thought Ilene Chaiken peaked when she killed Dana or when she put us on her blacklist last year (which, to be honest, delighted me), you were very wrong. This year, if anyone in the comments asks "What's your problem with this show/person?" I have a new, superior, fantastically spectacular specific-to-us reason to add to my pre-existing list 'o reasons already long enough to wipe your ass backwards forwards and inside out with. I'll get to that reason later.
Anyhow, in light of recent yet-undisclosed events (later!), I've got mixed feelings about writing these recaps, homos! I mean, it's like so many layers of compromises and lessers of two evils and I'm so tired and sick of thinking about the right paragraphs to describe this and so! Later!
Here's a message for life: large corporations are assholes. Period! Trust your friends and only your friends.
Here's a tip for life: Watch this show like it's a mockumentary and it's actually really fucking funny. Think that this is like The Office except it's lesbian life instead of a paper company!

The opening credits begin and before you can say "OH MY GOD NOT THAT SONG AGAIN" (this is a familiar feeling w/r/t "lesbian teevee shows by Ilene Chaiken, eh?") everything looks really fucking awesome and your heart explodes with happiness over the higher production value of the show. We will harvest these pebbles from your benevolent hand, Showtime. 

We open my slow descent into the firey pits of hell with Whitney in her car, wearing her Princess Lea/UFO-Communicator knitted helmet, listening to Sara leave her a voicemail about how she "feels bad about things being awkward between us," like L.C. and Kristen Cavallari.
It's clear we're gonna get to know Sara a little better this season: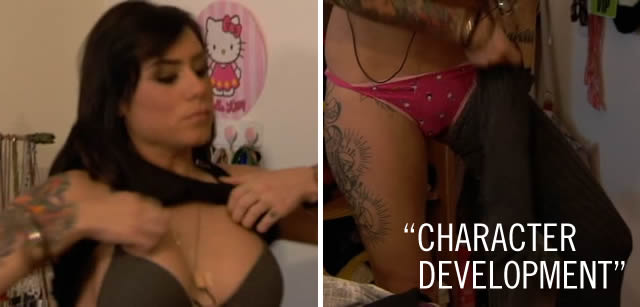 Sara wants to talk about how much Whitney misses her and Whitney wants to talk about how much she misses being on television.
Whitney: "The lesbian wheel is my life. It's lesbians entering and exiting and entering again and exiting in one constant flow. And at the center of that wheel is Sara."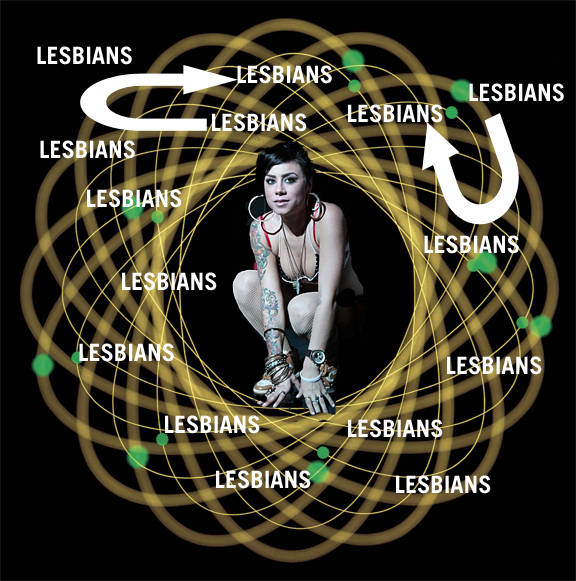 Spooky!

Sara & Whitney drink drinks and suggestively chew on vegetables while Sara tries to hypnotize Whitney with her cleavage. If you watch this scene stoned, it's actually kinda hilarious.
Whitney's friends have warned her about Sara, because Sara is Vampire and Sara/Whitney have got too many tattoos so looking at them both at the same time is hard on the ol' eyeballs. When Whitney resists the power of Sara's clam Sara wants to shake her!  SHAKE HER TO PIECES.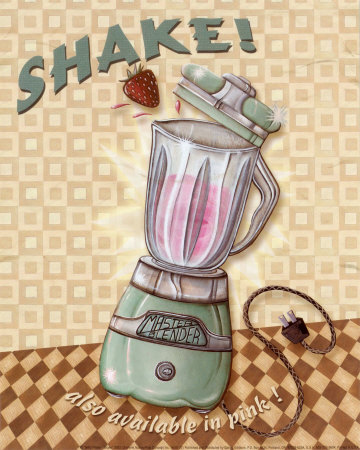 "That's your problem, you're thinking too much," Sara tells Whitney re: Whitney's resistance to loving Sara forever. I'm concerned that if Whitney cut down any more on the amount of time she spends thinking about what she does to women, she might as well just stand on her porch with her strap-on out, waiting for visitors.
Whitney doesn't know what happens next, she'll have to meet with a script supervisor. Sara says she's sick of living in the past. Showtime isn't!
WHAT PAST? FLASHBACK!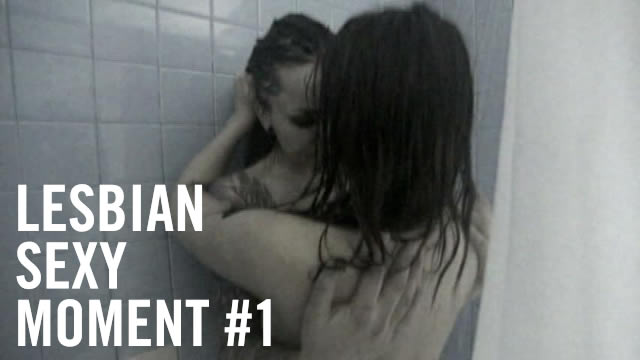 Oh yeah. That past!
Whitney's addicted to Sara and wants to be on Addicted but Sara's worried that's a lot of shows to be on at once and they'll run out of eyeliner.
Sara: "Oh my god really you're comparing this to heroin?"
I think Whit-me is wearing so many hats on purpose so that we can't draw hats on her, like this: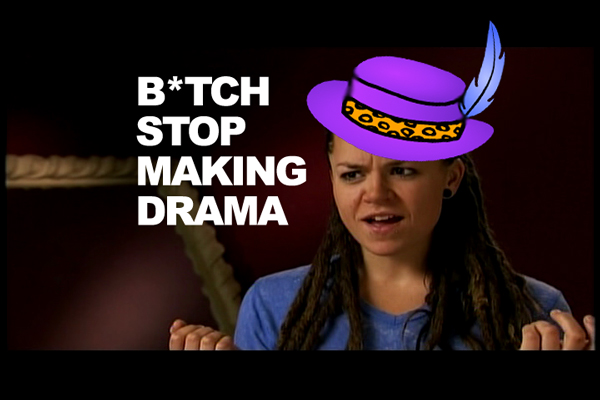 Later on in the episode Whitney will be wearing TWO HATS! TWO! You'll see.
Whitney: "You just get under my soul. Like some form of leprosy slowly eating away at my limbs and my skin."
Sara: "I like those limbs."
Me: "Oh my god you're really comparing her to leprosy?"


In New York, New York, home of the Statue of Liberty, it's Romi's 29th birthday and she's frolicking in the Central Park snow with her new lady-love, Kelsey.
Romi waxes on her history with Whitney, which she now realizes wasn't driven by their incredible intellectual connection or similar opinions on Murakami, but by lust/sexual desire.
Here's evidence in the form of a FLASHBACK!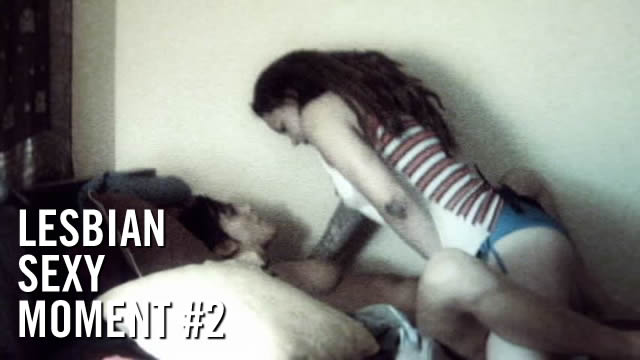 That was pretty much it for Romi right there. After that situation she's sort of just wanted to cuddle. Kelsey wants more lady-kisses but Romi says the moment when she wants to kiss Kelsey will come when she's drunk and Kelsey can take advantage of her. That's not the only kind of sex, Romers.
Romi says "from head to toe [Kelsey is] my type." Here let me clarify that for you:
Also, they haven't had sex in three weeks.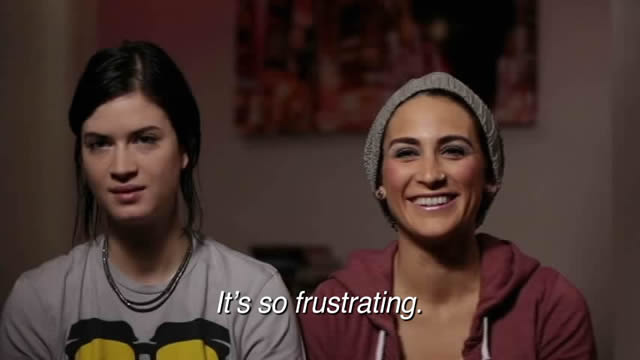 Let's meet Claire!
I black out while Claire explains she's moving to LA to start a "website about lesbian life" to fill the void, because there aren't any websites about lesbians anywhere. Mhm. I agree. Somebody better get on that!
For real though — Claire's moving to Los Angeles because her first girlfriend lives there and she's sick of masturbating to the same fantasy cross-continentally when it'd be so much more efficient to masturbate together in the same room/city/state.
In order to REALLY commit to Vivian, Claire's gotta go see if some other girl is Claire's actual soulmate.
Vivian: "It's kinda hard to just be okay with that."
I'd argue it's "impossible/improbable" to just be okay with that! What is going on here?!
One of Claire's friends at the Last Supper points out that "this is what you're leaving" and she gestures around the table at all of Claire's friends. That's right Claire. You're not just leaving Vivian you're also leaving 12 silverware sets, a table, some chopsticks, and lots of cups. Lots and LOTS of cups.

We arrive at Francine's mystery photo shoot, where Francine is posing — seemingly TOPLESS — for a bunch of unidentified strangers. What is this? Is it LA Fashion Week? School Picture Day? Romi's Tragik School of Makeup?
Luckily I am close personal friends with world renowned fashion photographer Robin Roemer of Robin Roemer Photography and her Stylist Sara Medd and I can tell you with 100% certainty that this photoshoot was in fact for the 2012 Autostraddle Calendar! Francine's been friends with Robin forever-ever and was an obvious choice for the calendar when Robin started setting up the LA shoot. Then Francine got cast on TRLW and now she's Miss June for Autostraddle.com,  Ilene Chaiken's favorite website besides OurChart!
[You'd ALL know this was an AS Calendar Shoot just from watching the show (and more importantly, ppl who've never heard of AS would know this) via verbal/visual mention on the show, but we ultimately lacked the power/money to force Showtime to adhere to the terms of the release contract Autostraddle/Alex and Robin signed with them. At least everyone got to experience the terror of being on television under misleading circumstances, just like the cast of Season One! (Although we actually anticipated said circumstances, thus our fastidiousness with aforementioned contracts.)
Needless to say, we're all genuinely disappointed that only one end of the exchange established between AS/Robin and Showtime was fulfilled (our side!). We're disappointed on a personal level, on a broader level, and on a purely logistical/technical level. It's like a seven-layer dip of disappointment which I'll talk about in a different post.]
Anyhow! Alex and Kelli and Robin and Sara and all the hair/makeup people and additional photographers/helpers/humans/vegan snack-bakers who pooled their resources to make this shoot happen had a great time, the crew from Magical Elves was super sweet, and we're really pumped to have Francine in the calendar.
My intern wrote "Autostraddle.com Photoshoot on this picture" for me, just to be nice:
Robin Roemer is such a good photographer of The Real L Word's Francine photoshoot lesbian photograph lesbian calendar Francine Real L Word Evan Rachel Wood Bisexual photoshoot calendar lesbian sex beautiful lesbian beauties.
The only note I have taken on this scene besides some animal noises of frustration is this quote:
Francine: "I can't believe she's actually moving here."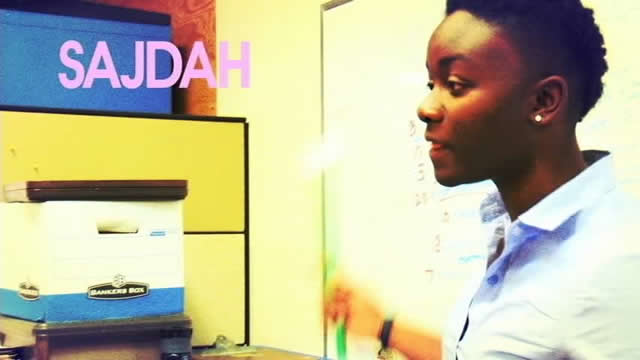 Meanwhile on True Life: I'm a Lesbian in Los Angeles, our fine citizen Sajdah is having creamed-corn-sex with Scarlettor. Just kidding! She's doing her job as a field organizer who recruits students to help reverse Prop 8. Basically they go out to voters, glamour them, suck out their blood, and tell them that Maggie Gallagher never happened.
Sajdah: "I'm new to LA life and LA lesbians — like I've only been out for a year. And I was on the ballot for prom queen in high school — things have changed a lot."
Sajdah's mom thought the gay thing was just a phase, like football and wearing light blue. Here's the thing though:
Sadja's still wearing light blue.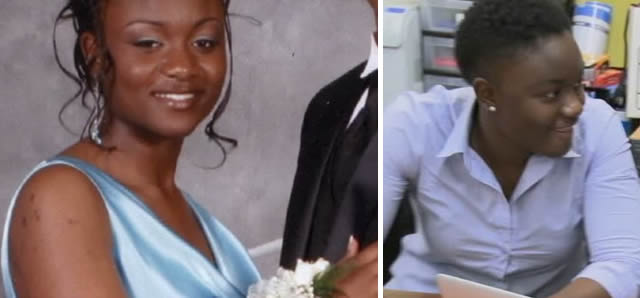 When a straight girl rebuffs Sajdah's game, Sajdah assures her: "You're one pride away from joining the rainbow coalition. We're gonna give you a complementary pack of skittles."

Kacy & Cori are sitting on the couch, talking about ovulation. Just another day in Lesbian Clicheverse!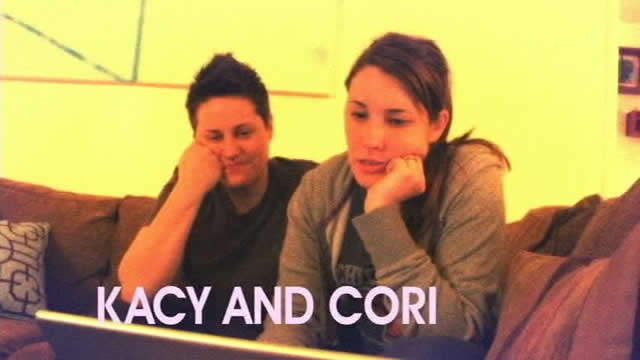 Kacy & Cori make me miss Nikki & Jill because Nikki & Jill were so much easier to make fun of. (Love you guys!)
Kaycor isn't impressed with the internet's donor-related offerings. They wanna "vibe" with someone. Also: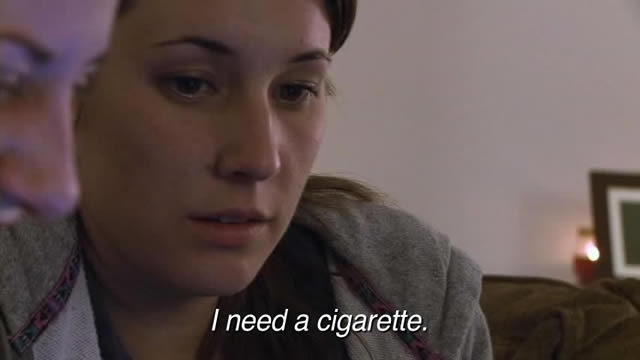 Also:
Cori: "I don't want some Joe Shmoe that needed money for a six-pack so he went and beat off into a cup!"
This brought me to this –> "the penis, the pussy, the baby, pfff!"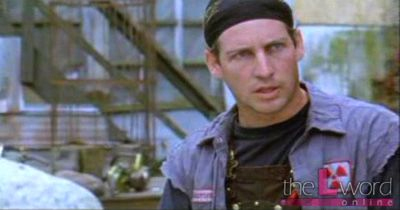 Sara's invited Whitney over 'cause Sara's got a couple of things she needs "done" around her apartment. You know, her lamp, a mirror, a strange voodoo wall ornament, her vagina.
"How many lesbians does it take to change a lightbulb," Whitney asks. I think five — Whitney, three girls to flirt with Whitney and one to change the lightbulb. Probably Alyssa. So maybe just one, as long as it's Alyssa.
Whitney: "I like taking care of people. It makes me feel good or comfortable. And Sara likes being taken care of."
Whitney knows in the depths of her brain that Sara is not good for her. (I was going to make a graphic representing Whitney's brain here but I couldn't think of enough things to fill it with).

Pages: 1 2 3See entire article on one page