HELLO WORLD HELLO NEW YORK HELLO CHICAGO I'm not gonna say "HELLO WEST HOLLYWOOD" because I don't think anyone in West Hollywood watches this show.
Welcome to the very first week of an exercise in extended intellectual torture known as "The Real L Word recaps." This week on The Real L Word, a show about hairstylists who like Whitney; Whitney made love to three girls/one banjo, Romi built a snowman and didn't have sex with it, Kacy and Cori talked about male genitals, and the entire world exploded. It was like the big bang!
Then, back in Los Angeles and/or New York, a bunch of pretty girls in makeup, pants, shirts and sometimes skirts, talked to each other (mostly about vaginas) and did other day-to-day things, like grocery shopping. Then Kacy and Cori changed their names to Kaci and Cory (officially) and everyone took their shirts off. Let's get this over with shall we? Just breathe. You might feel some cold metal but that's perfectly normal.



Oh but FIRST! This year, my dear lambchops, is especially special. If you thought Ilene Chaiken peaked when she killed Dana or when she put us on her blacklist last year (which, to be honest, delighted me), you were very wrong. This year, if anyone in the comments asks "What's your problem with this show/person?" I have a new, superior, fantastically spectacular specific-to-us reason to add to my pre-existing list 'o reasons already long enough to wipe your ass backwards forwards and inside out with. I'll get to that reason later.
Anyhow, in light of recent yet-undisclosed events (later!), I've got mixed feelings about writing these recaps, homos! I mean, it's like so many layers of compromises and lessers of two evils and I'm so tired and sick of thinking about the right paragraphs to describe this and so! Later!
Here's a message for life: large corporations are assholes. Period! Trust your friends and only your friends.
Here's a tip for life: Watch this show like it's a mockumentary and it's actually really fucking funny. Think that this is like The Office except it's lesbian life instead of a paper company!

The opening credits begin and before you can say "OH MY GOD NOT THAT SONG AGAIN" (this is a familiar feeling w/r/t "lesbian teevee shows by Ilene Chaiken, eh?") everything looks really fucking awesome and your heart explodes with happiness over the higher production value of the show. We will harvest these pebbles from your benevolent hand, Showtime. 

We open my slow descent into the firey pits of hell with Whitney in her car, wearing her Princess Lea/UFO-Communicator knitted helmet, listening to Sara leave her a voicemail about how she "feels bad about things being awkward between us," like L.C. and Kristen Cavallari.
It's clear we're gonna get to know Sara a little better this season: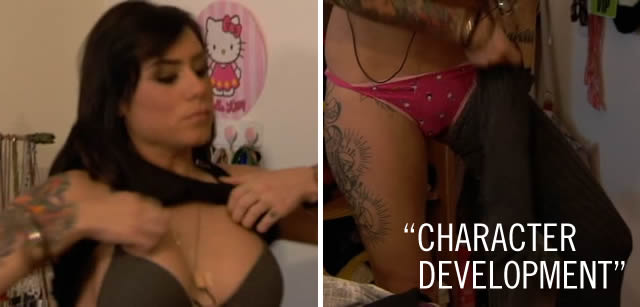 Sara wants to talk about how much Whitney misses her and Whitney wants to talk about how much she misses being on television.
Whitney: "The lesbian wheel is my life. It's lesbians entering and exiting and entering again and exiting in one constant flow. And at the center of that wheel is Sara."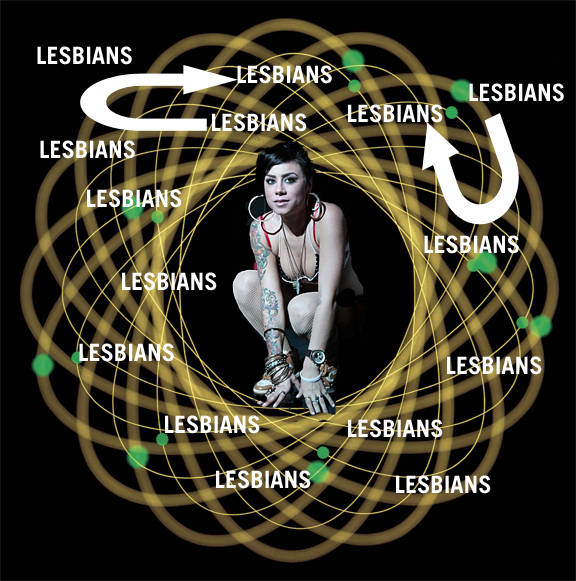 Spooky!

Sara & Whitney drink drinks and suggestively chew on vegetables while Sara tries to hypnotize Whitney with her cleavage. If you watch this scene stoned, it's actually kinda hilarious.
Whitney's friends have warned her about Sara, because Sara is Vampire and Sara/Whitney have got too many tattoos so looking at them both at the same time is hard on the ol' eyeballs. When Whitney resists the power of Sara's clam Sara wants to shake her!  SHAKE HER TO PIECES.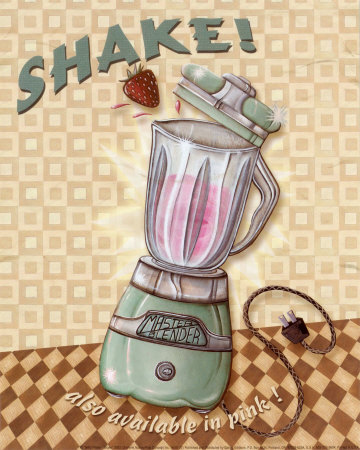 "That's your problem, you're thinking too much," Sara tells Whitney re: Whitney's resistance to loving Sara forever. I'm concerned that if Whitney cut down any more on the amount of time she spends thinking about what she does to women, she might as well just stand on her porch with her strap-on out, waiting for visitors.
Whitney doesn't know what happens next, she'll have to meet with a script supervisor. Sara says she's sick of living in the past. Showtime isn't!
WHAT PAST? FLASHBACK!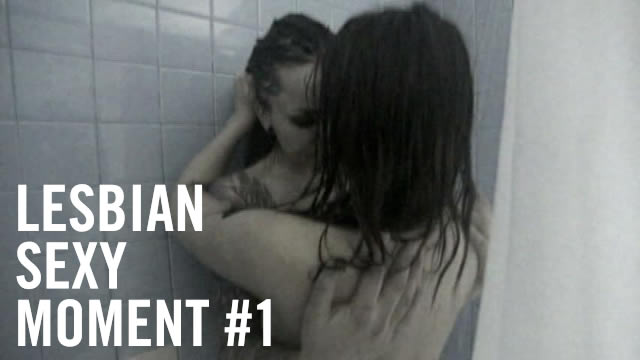 Oh yeah. That past!
Whitney's addicted to Sara and wants to be on Addicted but Sara's worried that's a lot of shows to be on at once and they'll run out of eyeliner.
Sara: "Oh my god really you're comparing this to heroin?"
I think Whit-me is wearing so many hats on purpose so that we can't draw hats on her, like this: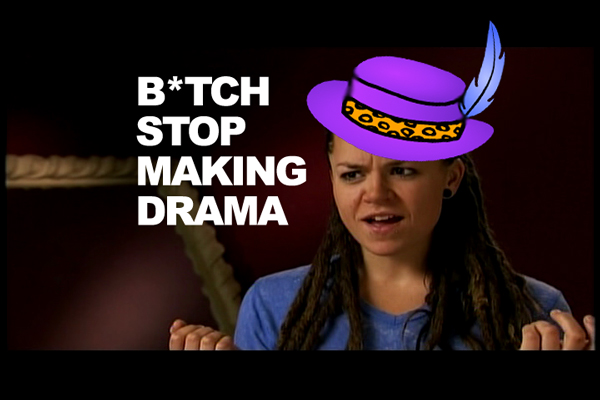 Later on in the episode Whitney will be wearing TWO HATS! TWO! You'll see.
Whitney: "You just get under my soul. Like some form of leprosy slowly eating away at my limbs and my skin."
Sara: "I like those limbs."
Me: "Oh my god you're really comparing her to leprosy?"


In New York, New York, home of the Statue of Liberty, it's Romi's 29th birthday and she's frolicking in the Central Park snow with her new lady-love, Kelsey.
Romi waxes on her history with Whitney, which she now realizes wasn't driven by their incredible intellectual connection or similar opinions on Murakami, but by lust/sexual desire.
Here's evidence in the form of a FLASHBACK!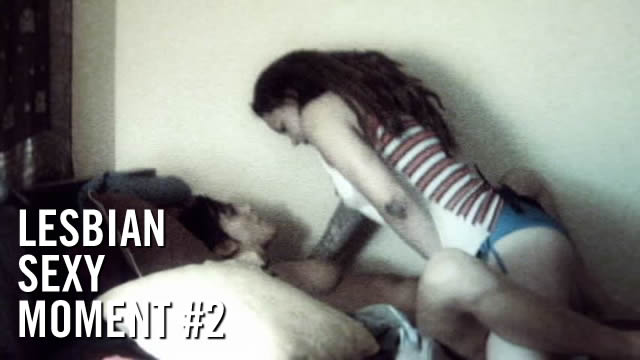 That was pretty much it for Romi right there. After that situation she's sort of just wanted to cuddle. Kelsey wants more lady-kisses but Romi says the moment when she wants to kiss Kelsey will come when she's drunk and Kelsey can take advantage of her. That's not the only kind of sex, Romers.
Romi says "from head to toe [Kelsey is] my type." Here let me clarify that for you:
Also, they haven't had sex in three weeks.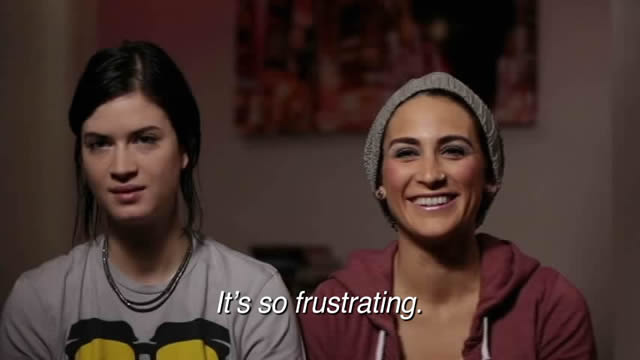 Let's meet Claire!
I black out while Claire explains she's moving to LA to start a "website about lesbian life" to fill the void, because there aren't any websites about lesbians anywhere. Mhm. I agree. Somebody better get on that!
For real though — Claire's moving to Los Angeles because her first girlfriend lives there and she's sick of masturbating to the same fantasy cross-continentally when it'd be so much more efficient to masturbate together in the same room/city/state.
In order to REALLY commit to Vivian, Claire's gotta go see if some other girl is Claire's actual soulmate.
Vivian: "It's kinda hard to just be okay with that."
I'd argue it's "impossible/improbable" to just be okay with that! What is going on here?!
One of Claire's friends at the Last Supper points out that "this is what you're leaving" and she gestures around the table at all of Claire's friends. That's right Claire. You're not just leaving Vivian you're also leaving 12 silverware sets, 10 other Asian girls, a table, some chopsticks, and lots of cups. Lots and LOTS of cups.

We arrive at Francine's mystery photo shoot, where Francine is posing — seemingly TOPLESS — for a bunch of unidentified strangers. What is this? Is it LA Fashion Week? School Picture Day? Romi's Tragik School of Makeup?
Luckily I am close personal friends with world renowned fashion photographer Robin Roemer of Robin Roemer Photography and her Stylist Sara Medd and I can tell you with 100% certainty that this photoshoot was in fact for the 2012 Autostraddle Calendar! Francine's been friends with Robin forever-ever and was an obvious choice for the calendar when Robin started setting up the LA shoot. Then Francine got cast on TRLW and now she's Miss June for Autostraddle.com,  Ilene Chaiken's favorite website besides OurChart!
[You'd ALL know this was an AS Calendar Shoot just from watching the show (and more importantly, ppl who've never heard of AS would know this) via verbal/visual mention on the show, but we ultimately lacked the power/money to force Showtime to adhere to the terms of the release contract Autostraddle/Alex and Robin signed with them. At least everyone got to experience the terror of being on television under misleading circumstances, just like the cast of Season One! (Although we actually anticipated said circumstances, thus our fastidiousness with aforementioned contracts.)
Needless to say, we're all genuinely disappointed that only one end of the exchange established between AS/Robin and Showtime was fulfilled (our side!). We're disappointed on a personal level, on a broader level, and on a purely logistical/technical level. It's like a seven-layer dip of disappointment which I'll talk about in a different post.]
Anyhow! Alex and Kelli and Robin and Sara and all the hair/makeup people and additional photographers/helpers/humans/vegan snack-bakers who pooled their resources to make this shoot happen had a great time, the crew from Magical Elves was super sweet, and we're really pumped to have Francine in the calendar.
My intern wrote "Autostraddle.com Photoshoot on this picture" for me, just to be nice:
Robin Roemer is such a good photographer of The Real L Word's Francine photoshoot lesbian photograph lesbian calendar Francine Real L Word Evan Rachel Wood Bisexual photoshoot calendar lesbian sex beautiful lesbian beauties.
The only note I have taken on this scene besides some animal noises of frustration is this quote:
Francine: "I can't believe she's actually moving here."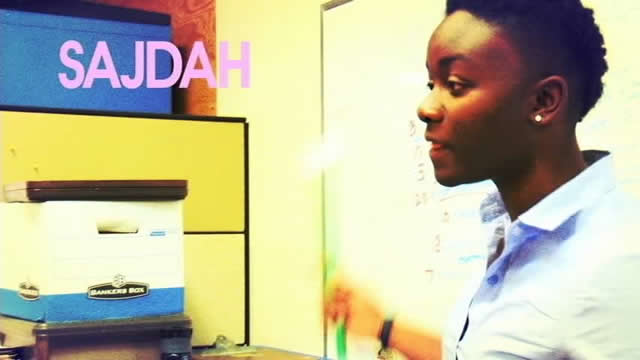 Meanwhile on True Life: I'm a Lesbian in Los Angeles, our fine citizen Sajdah is having creamed-corn-sex with Scarlettor. Just kidding! She's doing her job as a field organizer who recruits students to help reverse Prop 8. Basically they go out to voters, glamour them, suck out their blood, and tell them that Maggie Gallagher never happened.
Sajdah: "I'm new to LA life and LA lesbians — like I've only been out for a year. And I was on the ballot for prom queen in high school — things have changed a lot."
Sajdah's mom thought the gay thing was just a phase, like football and wearing light blue. Here's the thing though:
Sadja's still wearing light blue.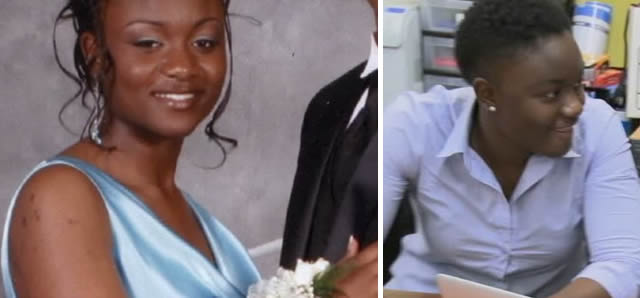 When a straight girl rebuffs Sajdah's game, Sajdah assures her: "You're one pride away from joining the rainbow coalition. We're gonna give you a complementary pack of skittles."

Kacy & Cori are sitting on the couch, talking about ovulation. Just another day in Lesbian Clicheverse!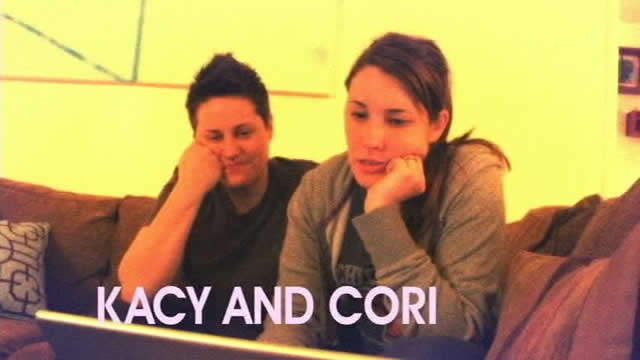 Kacy & Cori make me miss Nikki & Jill because Nikki & Jill were so much easier to make fun of. (Love you guys!)
Kaycor isn't impressed with the internet's donor-related offerings. They wanna "vibe" with someone. Also: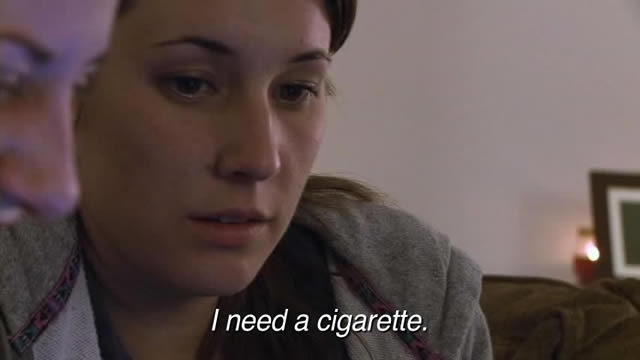 Also:
Cori: "I don't want some Joe Shmoe that needed money for a six-pack so he went and beat off into a cup!"
This brought me to this –> "the penis, the pussy, the baby, pfff!"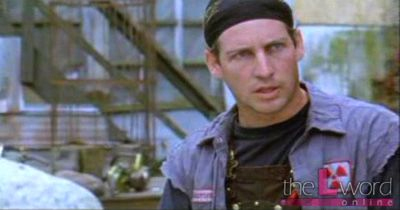 Sara's invited Whitney over 'cause Sara's got a couple of things she needs "done" around her apartment. You know, her lamp, a mirror, a strange voodoo wall ornament, her vagina.
"How many lesbians does it take to change a lightbulb," Whitney asks. I think five — Whitney, three girls to flirt with Whitney and one to change the lightbulb. Probably Alyssa. So maybe just one, as long as it's Alyssa.
Whitney: "I like taking care of people. It makes me feel good or comfortable. And Sara likes being taken care of."
Whitney knows in the depths of her brain that Sara is not good for her. (I was going to make a graphic representing Whitney's brain here but I couldn't think of enough things to fill it with).

Let's return to New York, New York, site of Glee's season finale and the Stonewall Riots of 1969! Here we meet Patient Zero – Rachel – who's getting fashion advice from her gay BFF.
Rachel, who's playing Tor in Season Two, is moving to Los Angeles, because initially they'd planned on setting Season 2 in New York but then had to do it in LA after all but really wanted Rachel to come back. I mean:
Rachel: "I'm moving to LA because I feel like I've DONE IT in New York, I'm at the top of my game here… I'm ready to work it out in LA."
Rachel's gay best friend is a star. He manages to get "cum stain," "pussy juice" and "clitoral stimulator" in about two minutes of screen time.
Rachel and Whitney's storied history includes 4.5 years of courtship, dogs, 3 years of cohabitation, and a contentious breakup relating to Whitney cheating on Rachel, according to Rachel, who says Whitney still insists she didn't cheat on Rachel. Whitney coped by moving to L.A. So already what we have here is a foundation of honesty and strength.
Gay: "I was a little nervous about Rachel moving to LA, just because I've lived with Rachel and I've lived with Whitney and Whitney's crazy in her own like nonchalant [does amazing Whitney voice imitation] 'I don't notice what I'm doing! I'm not doing anything wrong' kinda way. And Rachel's just more emotional."
Speaking of, Sara's ex-girlfriend Hana stops by b/c there are really only 15 lesbians in the whole world, we just switch in and off and come in and out of Whitney's Magical Wheel, and Rachel reveals that Hana's revealed that Sara & Whitney were/are dating.
Rachel: "I know her and I know that no matter who she dates I will always be the Mary and they will always be the Rhoda, and that's just how it is."
Back to Whitneyhouse, where Alyssa and Whitney are working / talking about Whitney's sexual feelings. Sara, because she is nothing if not persistent, just won't stop texting Whitney. Whitney should just thank her lucky stars she's never gotten texts from A.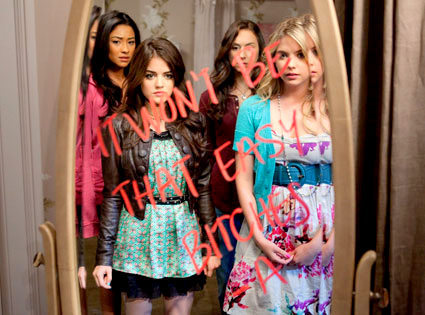 Alyssa: an actual foundation of honesty and strength. God Bless Alyssa.
Alyssa: "I hate sounding like a judgmental asshole, but I've known Whitney for 11 years and I know her enough to know when something isn't going to work. No one wants the two of them together… a few months ago all of her friends were like, 'Dude, we heard Sara say that she thought that Whitney had a big ego and she could never really be in a relationship with her, but that she thought doing the show would be really advantageous to her career as a hairstylist.'"
Well, not anymore! It's hard for Alyssa to understand what Whitney sees in Sara. I think it's this:
Regarding Rachel's imminent arrival in her pimpspace, Alyssa's got two words and they aren't "Dental Dam–"
Alyssa: "TWO WORDS – be careful."
Much to nobody's surprise, Whitney attests she's got great sexual chemistry with Rachel and it'd be worth "revisiting."
Alyssa: "So, do you wanna sleep with Rachel?"
Whitney: "No."
Alyssa: "Really? Two days ago you said you were going to have sex with Rachel."
Whitney: "Oh. My GOD! Alyssa!"
Alyssa: "You did, I'm just saying, I want to know if that changed now."
Whitney: "Fucking ass, dude."
Either Whitney's forgotten her storyline, her lines, her personality, her brain, or all "all of the above."

Claire's leaving New York, like in the song "Leaving New York" by R.E.M.
Claire: "I feel like a jerk because if somebody asked me to be okay with this I wouldn't be okay. But my intention isn't to do anything to hurt her. It's just to figure out myself."
I think the thing you're figuring out for yourself is hurting her! Self-actualization is not actually a defense for potentially damaging the lives of others. "I had to rob that bank in order to find myself!"
Anyhow, Claire's not "consciously trying to get Francine back." It's more like a Matrix/Inception style situation. You follow? It's more than you can see with your eyeballs, dykeathon.

Whitney & Alyssa bring Season Two/Season One full-circle by hitting up LAX to pick up chicks.
Well, just one chick:
Pants handle the luggage:
I feel like Whitney got an extra bedroom in her apartment to ensure every new Los Angeleno will turn to her for a crash pad.
Whitney is a One-Woman Welcome Wagon!
Rachel: "I would definitely say it's inevitable that me and Whitney are going to hook up."
Whitney: "Casual hookup? it's a possibility."


So, in order to explain the presence of full frontal nudity in this week's episode of The Real L Word, it's important to set the scene:
Romi is about to take a shower. She says to Kelsey "Babe, I'm gonna take a shower!" and then she takes off her shirt and steps into the shower. Then she closes the shower curtain. This scene is remarkable in that it employs a sort of unnecessary pan from Romi's naked breasts to Romi's naked vagina as she steps into the shower. I'd like to point out that the camera stays on her vagina as she enters the shower. We've censored it for you: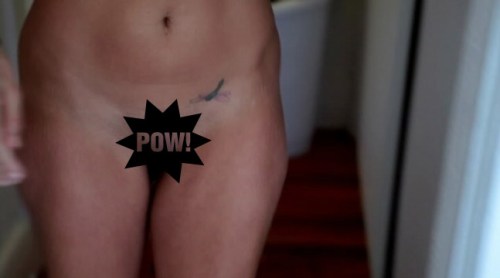 Anyhow, Romi's micromanaging Kelsey's social skills in anticipation of a social outing with three of Romi's bestest friends where it seems she's concerned Kelsey might continue prioritizing our personal entertainment over traditional rules of social interactions.
Kelsey: "When I'm in the moment and I'm doing something and she wants to protect me from looking foolish she'll stop me and like no– let me do that. I don't need her regulating any of that. And it's really frustrating."
Romi wants to know if Kelsey feels better because she showered. Well I can tell you one thing, we all feel much better now that Romi's showered.

Meanwhile somewhere else, Sajdah's using her Macintosh Apple MacBook Pro to have a video chat with her friend back home using Macintosh's iChat Video Chat feature when a girl calls Sajdah on her Apple iPhone, which Sajdah puts on speakers so we can all listen in. Where'd she meet this girl? Well, she thought match.com was only for straights but then she visited match.com and was surprised to find a pretty girl named Chanel on match.com and then Sajdah looked up Chanel on Facebook.com and then added Chanel as a friend on Facebook.com and now they're having a date. It's an open mic, so it's just like chill or whatever.
En route to the date, Sajdah tells her Mom she's already met someone although she hasn't actually met the girl yet, we're told. This is crazy and weird! Mom's concerned and says not to do anything crazy or weird, like…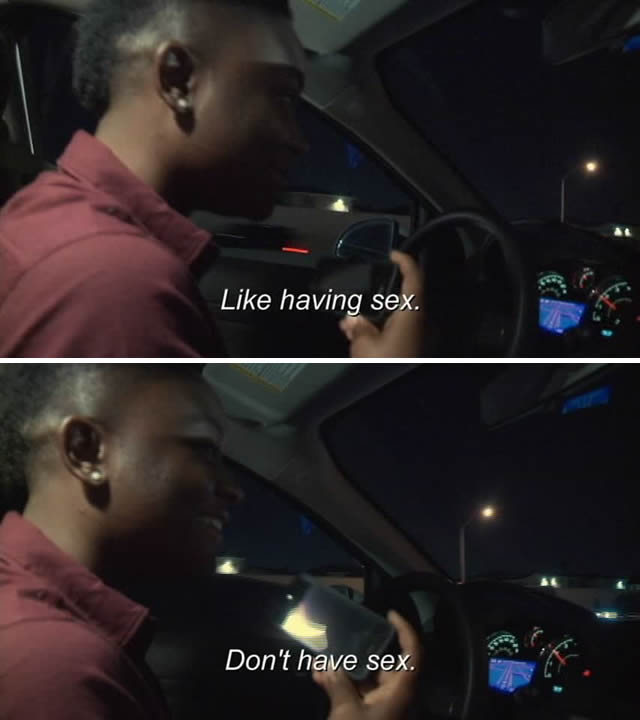 Sajdah laughs "I'm not having sex ma!" or, as Ilene Chaiken would put it, "I'm not forthcoming or open, ma!"
LOOK IT'S CHANEL!
Chanel: "Nice to see you!"
Sajdah: "Nice to meet you!"
Sajdah: "She's beautiful her body's nice, she's the right height, her walk… I mean everything's all there."
Sajdah's got no consideration whatsoever for the fourth wall and I love it. Sajdah doesn't need to do that awkward events-recap-thing in the interview room, the world is her interview room.

Back to New York, New York, home of the world famous Harlem Globetrotters and The Olive Garden's flagship store!
Romi's friend wants Romsley to kiss so Kelsey goes for the makeout and Romi gives her the fakeout: "We're not dying," she points out. Only dead people should tongue kiss.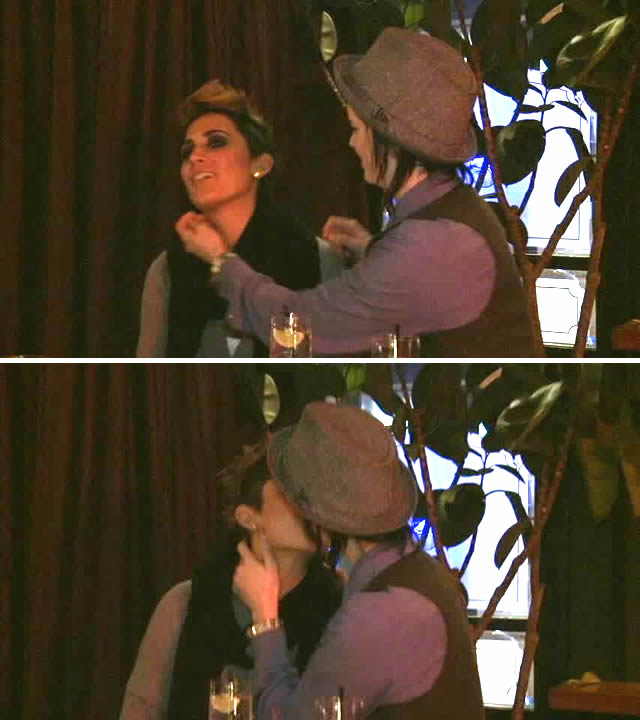 Kelsey wants more attention, Romi tells her friends. Kelsey decides to take this up with the management.
Kelsey: "You want more attention, don't you. I know I want more attention."
Romi: "I don't think he does. I think he's fine."
Kelsey: "Are you content?"
Dude: "No, no. Content's not a good word."
Romi: "No, no — they're not content, they're not just like — satisfied."
Kelsey: "So "content"'s not a good word."
Romi: "Noooo."
Dude: "You're telling me that you're content and you're suggesting that content is a good word. Content's not good. Are you happy?"
Kelsey: "I'm content."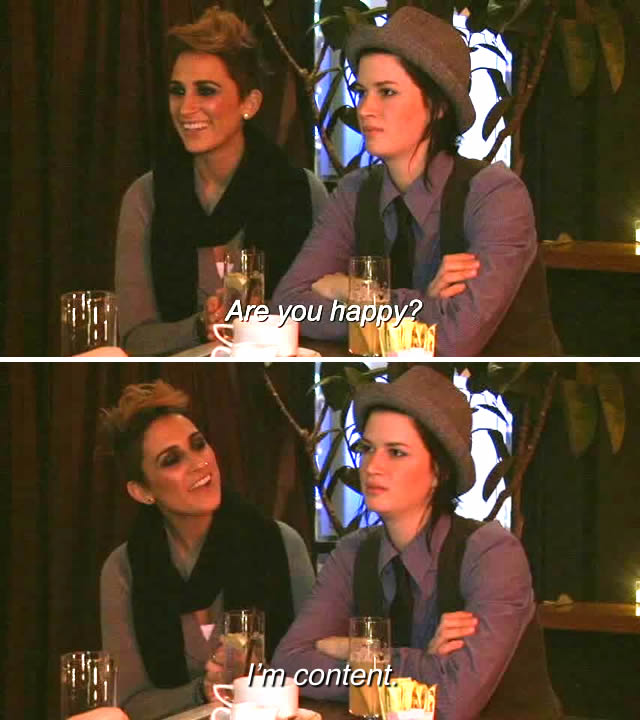 Also:
Dude wants to know what would make Kelsey happy. Kelsey wants Romi to touch her more. Romi thanks her friends for the therapy session and they look at her like paper plates with eyes.
Romi tries to save the scene with a bit of post-awkward humor, and then drags her insolent girlfriend to the bathroom: "We're content and we're going to the bathroom."
Kelsey: "I'm needy."
Romi: "You are!"
Kelsey: "Alright then, we've established that."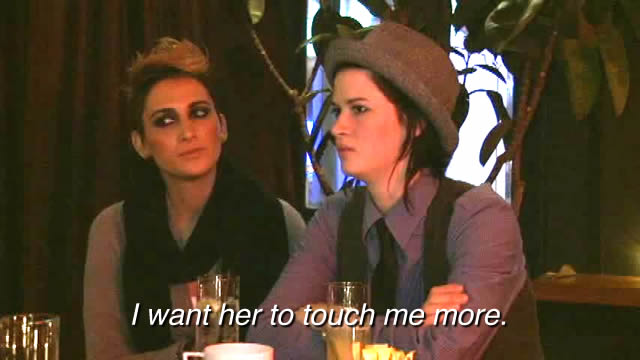 Romi thinks Kelsey should look into the fact that maybe things can be given in different ways, like how you can mail something overnight OR ground mail OR you can just teleport it on a ponyunicorn express.
Kelsey: "The thing is I don't think I'm asking for too much."
Romi: "And I don't think that I'm not giving too much."
Kelsey: "And that's why we're content."

Kacy & Cori are going to a sex shop to talk about injecting sperm into a vagina. They need visuals to accompany the voiceover about their lament that they can't birth the "natural way," which hurts Ilene as much as it hurts them as she'd wanted to be the owner of the first ever lesbian impregnation ever shown on televison.
That doesn't mean she won't try, though.
Kacy: "I can get like a jockstrap and we could just like put something in there that shoots it. Do you think that we could modify one?"
Salesguy: "Try Home Depot."
Kacy: "I thought what we could do is we could do is we could take one that looked reasonable sized. Like drill a hole in the middle and just kinda shove it in."
Cori: "My thinking is that we would get a straw, funnel it in there, and then kind of like a -uh — whaddya call it? A spitball?
Kacy: "Yeah well I–"
Cori: "You would stick it in there"
Kacy: "Spit wad?"
Cori: "I dunno, yeah and then you just go [BLOW FACE]"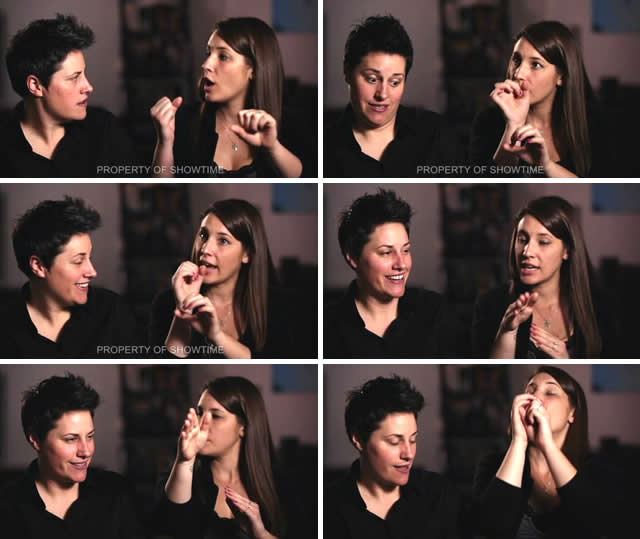 Cori: "I wanna know where the Hello Kitty vibrator is."
Kacy: "Does that by any chance squirt sperm?"
Salesguy: "No but the side that vibrates is actually her face."
Cori: "I think we're gonna try Home Depot."

Back to Whitney's Wild World of Sin and Women!
Rachel doesn't know where anything is in this kitchen. For example:
1. the can opener
2. the forks
3. the strap-on
Whitney says she has a magnetism towards Sara and they cannot get away from each other.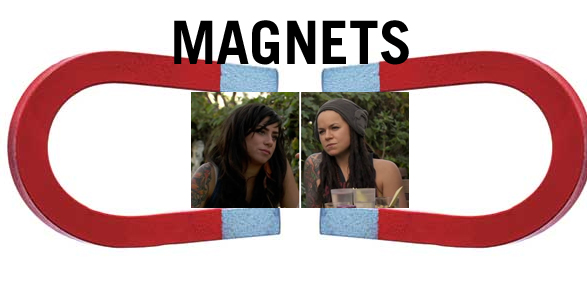 Nor can Whitney get away from analogies about her & Sara's relationship. Whitney's therapist might suggest this is because there's no actual substance to their relationship, only vain attempts to shed light on the mysterious beast that is "lust," which is inexplicable, that's part of lust's charm.
Whitney is the next Lil' Wayne:
Whitney: "I know there's an attraction there with Sara and it's taking a toll.. on my… soul."
The group toasts to a long, prosperous, creamy Season Two:

Cori and Kacy are sharing a meal at a table in a restaurant called Pansita, talking about sperm.
Brent is an ideal donor b/c he's far enough away to be Uncle Brent but not too close to be weird-uncle-always-drunk-saying-inappropriate-things-at-barbecues-close.
Cori: "What if my vagina never goes back the way that it should be, are you still gonna love it?
Kacy: "I cannot take this conversation seriously."
Cori: "Virginia told me — she told me that her Mom gave birth to an 11-pound child and she was all stiched up and she's sitting there in the chair and she lifts up the gown and looks at her vagina and said HOLY FUCK IT'S BROKEN."
Kacy promises Cori that she'll still love her regardless of the eventual state of her vagina: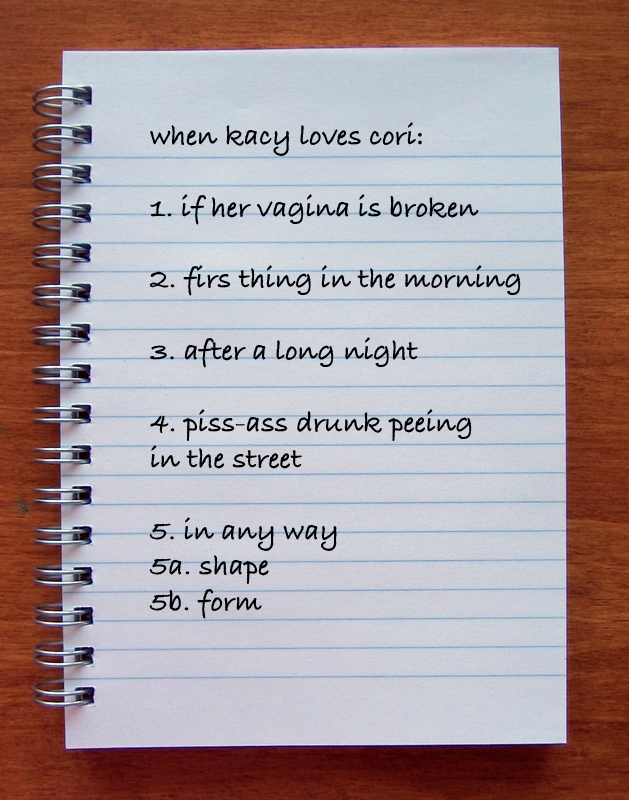 Sajdah and Chanel are in a club, dancing. I thought all black people were good dancers. What the hell is going on here.
So Sajdah really likes Chanel. Like a lot.
They went "from being strangers to that step of getting to know each other just like that!"

Francine couldn't pick up Claire from the airport 'cause she had to stay late at work, so Claire's just been hanging out in Francine's apartment, hopefully reading Francine's email and trying on all her shoes.
Claire reminds us that she left her:
1. life
2. girlfriend
to
1. give this girl a chance.
Claire drops that Francine's apartment looks better than it did last time Claire visited. Yes, let the ex-girlfriend games begin!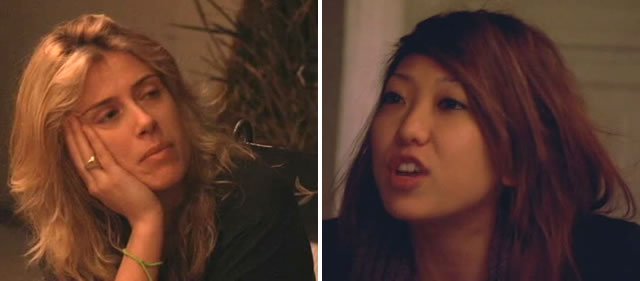 This argument is like pure Shakespeare!
Highlights:
Claire: "You can't just say things like that and then pretend like, that you don't say things like that."
Franny: "Why L.A.? That's so random for you — you always used to talk shit about L.A., why would you — why are you here?"
Franny: "So what are you doing I'm just trying to understand–"
Claire: "I'm not trying to do anything."
Franny: "But you have a girlfriend why are you in L.A., this is awkward — if you're in love with a girl then why are you here–"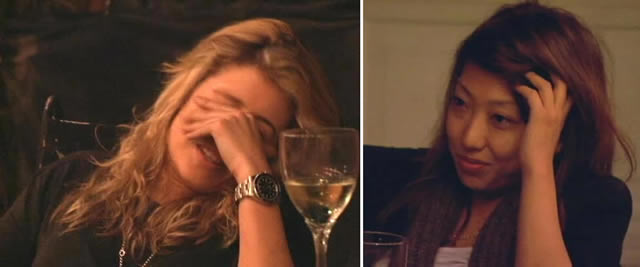 Claire: "Franny, you have every right to be angry with me but don't say mean things –"
Franny: "I'm done, I'm done, I'm not gonna be a fucking pathetic person and wait around for your ass."
Claire: "You know why I'm here."
Franny: "Why?"
Claire: "What did I say that's mean?"
Francine: "All the time when you used to call me and say I have the best girlfriend ever and I'm still in love with a piece of shit like you. That's fucked up."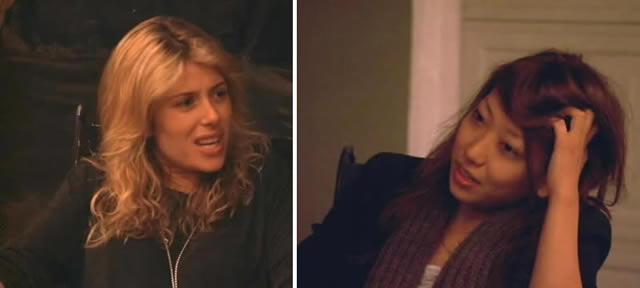 And for the grand finale:
Franny: "You want your cake and you wanna eat it too. You want Vivian but you don't want me to forget about you and you know what that is? That's fucking selfish. You just need to be honest with yourself and the other people around you because you're stomping on other people for your own benefit right now."
This is one of those moments where I'd like to step back, evaluate the scene and declare Claire a complete asshole, but I know that she actually isn't, like, in real life. So I don't have any fucking idea what's going on here.

Romi & Kelsey are out on the town, trying to get drunk enough for Romi to power through her PTSD and fuck on camera again.
After mumbling to each other in a secret language, they head back to the hotel to do it.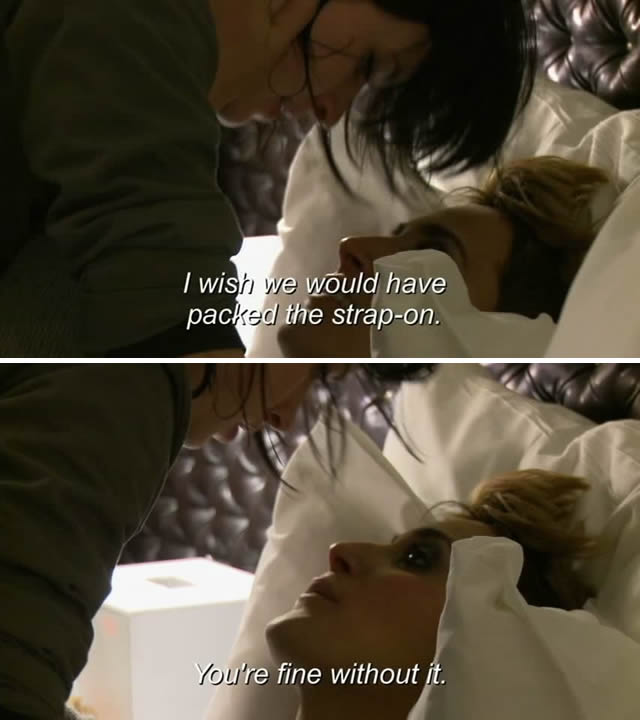 Then Romi just fell asleep.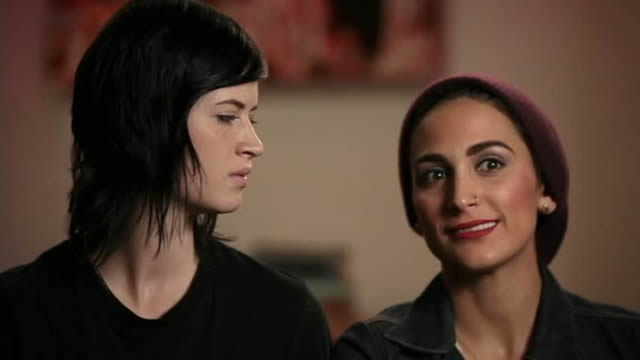 I think the problem is this: Romi says she loves that Kelsey doesn't have eyes for anyone but her and that to Kelsey, Romi is "it." But if she really wants to be everything to one person, she's gotta give that one person a lot of everything, too. It's only fair.

Whitney's sneaking out to go hook up with someone her friends don't want her to hook up with. And who hasn't been there, am I right?
Rachel is totally delirious like in the movie "Lost & Delirious," which like The Real L Word, is about lesbians and totally stupid yet oddly appreciated by about a billion more people than I'd expect.
Whitney: "I didn't even tell Alysssa that I was leaving."
It's time for a WHITNEYISM:
Whitneyism: "Yeah if I'm hiding something I'm probably doing something. But like on who's accord is that? Who says I'm doing something wrong. Is it myself? Do I have a guilty conscious about it? Or is it about the wrath of Alyssa or all of the above? I'm gonna go with C, all of the above."
Seriously the whole episode was worth it just for that one moment.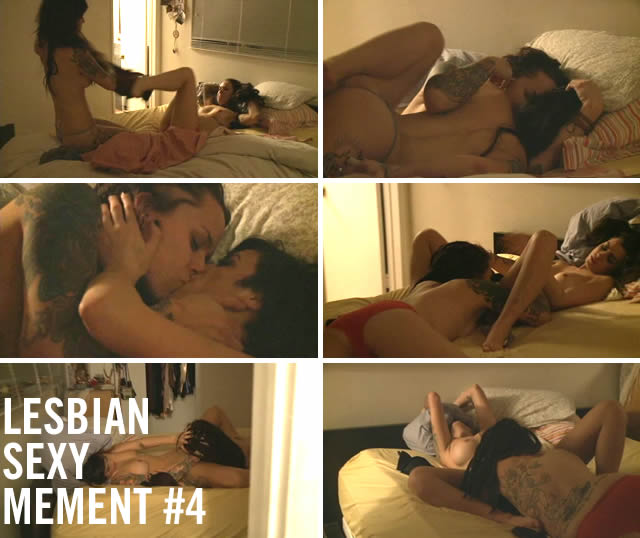 Whitney: "Sara is like a drug to me. It's like putting a big ol bag of heroin in front of a heroin addict and telling them they can't touch it."

Kacy & Cori are lying on a bed, talking about sperm donors. The sperm donor's supposed to call them to chat but he's not calling, which is because he's a boy and boys are mean and evil and they shouldn't get to keep all the sperm!
Kacy: "We're those girls, waiting by the phone for a boy to call."
This guy really wants to  keep his sperm though:
From my heart to Cori's mouth —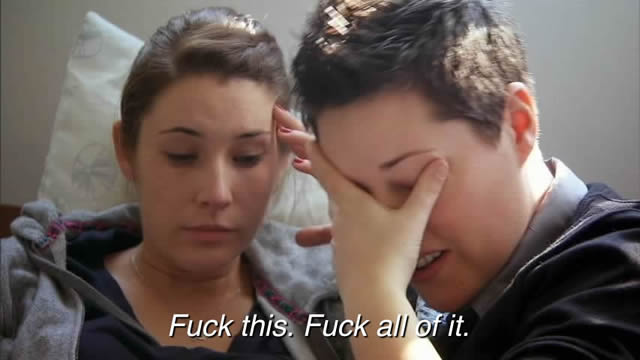 Well, I need a cold shower, a cocktail, a nap and c–all of the above.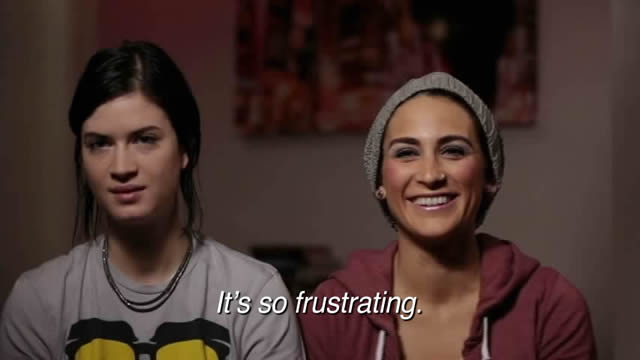 Pages: 1 2 3See entire article on one page