LGBT PRIDE MONTH:
As a president may or may not have informed you last week, June is LGBT History Month. I think. Possibly Pride month. I mean obviously it's Pride month, but you know what I mean. Anyways, what does it mean, you ask? Is that why there are a number of incremental but encouraging stories of progress on LGBT issues this week? It may forever remain a mystery. But we are not ones to look gift months or gift progress in the mouth, so here we are. What's been happening?
+ The Federal Reserve Bank has been flying a rainbow flag over its building for the last week, and will presumably continue for the month of June. Cute, no?
+ In addition to the bill opposing employment discrimination for trans people, the state of Nevada has passed two more trans anti-discrimination bills. The two new bills prevent discrimination in housing, and discrimination in terms of public accomodation – this applies to public buildings as well as places like shelters, which is a huge deal for the disproportionately high number of homeless trans people.
+  In more gender identity news, a gender-inclusive anti-discrimination bill has passed the Connecticut State Senate. The bill finally passed on Friday with a vote of 77-76. "Governor Malloy said of the bill after the Senate's vote, "This bill is another step forward in the fight for equal rights for all of Connecticut's citizens, and it's the right thing to do. It's difficult enough for people who are grappling with the issue of their gender identity, and discrimination against them has no place in our society. Connecticut has lead the way in other civil rights issues and I'm proud to be able to support and sign this bill."
+ The Department of Education is hosting an LGBT Youth Summit, a two-day event called "Creating and Maintaining Safe and Supportive Environments for LGBT Youth."  "[U.S. Secretary of Education Arne Duncan] will highlight the administration's commitment to ensuring equal access to education for LGBT students as it does for all students. He also will discuss the Department's Office for Civil Rights recently released guidance on the protection against harassment in an education setting based on gender, which includes gay, lesbian, bi-sexual, and transgender individuals. The guidance, which was sent to schools, colleges and universities in a "Dear Colleaguewp_postsletter, explains educators' legal obligations to protect students from harassment based on racial and national origin, gender and disability."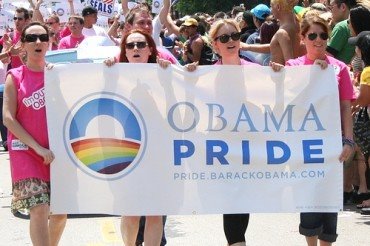 Not a bad start for June! Does anyone else have good news to share with the class?
GAY CONGRESS:
Not only is Tammy Baldwin running for Senate, which would make her the first openly gay Senator in the country's history, but it turns out that the person trying to fill her seat in Wisconsin is also gay. Representative Mark Pocan is an openly gay Democrat, and he wants to pick up where Tammy Baldwin wants to leave off. ""Pocan says he has been asked about his interest in Baldwin's seat by numerous organizations, including the Gay & Lesbian Victory Fund, which provides financial and campaign support to gay and lesbian candidates across the country… Pocan says he and Baldwin have been friends for years — they served together on the Dane County Board and he succeeded her in the state Assembly in the 1990s — and he has no intentions of stepping on her toes."
SCOUTS TOLERANCE:
The Boy Scouts have long been known to straddle the line between open and less-than-open homophobia, but now it looks like they might be trying to change that. "Britain's best-known youth organisation is keen to dispel the myth that homosexuals cannot join the organisation and as part of this it has produced a document entitled 'It's OK to be gay and a Scout!' The leader of the Scout Association has also filmed a video message stating that homophobic bullying will not be tolerated."
SESAME STREET:
Sean Hannity freaked the f*ck out this week because Big Bird is going to turn your children gay. It's true that Katy Perry was on it that one time!
THE WIRE:
The US Attorney General has ordered the writers of The Wire to write more episodes, probably because of Omar. "I want to speak directly to Mr. Burns and Mr. Simon: Do another season of 'The Wire',wp_postsHolder said, drawing laughter and applause from the audience. "That's actually at a minimum. … If you don't do a season, do a movie. We've done HBO movies, this is a series that deserves a movie. I want another season or I want a movie. I have a lot of power Mr. Burns and Mr. Simon.wp_postsMaybe Riese can be the next Attorney General!
GAY CUPCAKE:
It's pretty self-explanatory. Seattle bakery Cupcake Royale is selling a gay cupcake. 50% of cupcake proceeds will go to the It Gets Better project. There is no downside to this cupcake situation.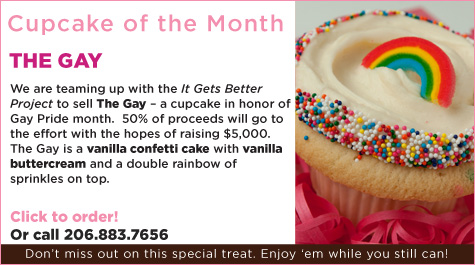 THE X FILES:
This week I found a tumblr that appears to combine Texts From Last Night with stills from The X Files. This seems like it must be relevant to somebody's interests, possibly even mine.
OTTER:
You guys hit the f*cking jackpot this week: this isn't just an otter video, this is a f*cking otter biopic. Enjoy.