Let's return to New York, New York, site of Glee's season finale and the Stonewall Riots of 1969! Here we meet Patient Zero – Rachel – who's getting fashion advice from her gay BFF.
Rachel, who's playing Tor in Season Two, is moving to Los Angeles, because initially they'd planned on setting Season 2 in New York but then had to do it in LA after all but really wanted Rachel to come back. I mean:
Rachel: "I'm moving to LA because I feel like I've DONE IT in New York, I'm at the top of my game here… I'm ready to work it out in LA."
Rachel's gay best friend is a star. He manages to get "cum stain," "pussy juice" and "clitoral stimulator" in about two minutes of screen time.
Rachel and Whitney's storied history includes 4.5 years of courtship, dogs, 3 years of cohabitation, and a contentious breakup relating to Whitney cheating on Rachel, according to Rachel, who says Whitney still insists she didn't cheat on Rachel. Whitney coped by moving to L.A. So already what we have here is a foundation of honesty and strength.
Gay: "I was a little nervous about Rachel moving to LA, just because I've lived with Rachel and I've lived with Whitney and Whitney's crazy in her own like nonchalant [does amazing Whitney voice imitation] 'I don't notice what I'm doing! I'm not doing anything wrong' kinda way. And Rachel's just more emotional."
Speaking of, Sara's ex-girlfriend Hana stops by b/c there are really only 15 lesbians in the whole world, we just switch in and off and come in and out of Whitney's Magical Wheel, and Rachel reveals that Hana's revealed that Sara & Whitney were/are dating.
Rachel: "I know her and I know that no matter who she dates I will always be the Mary and they will always be the Rhoda, and that's just how it is."
Back to Whitneyhouse, where Alyssa and Whitney are working / talking about Whitney's sexual feelings. Sara, because she is nothing if not persistent, just won't stop texting Whitney. Whitney should just thank her lucky stars she's never gotten texts from A.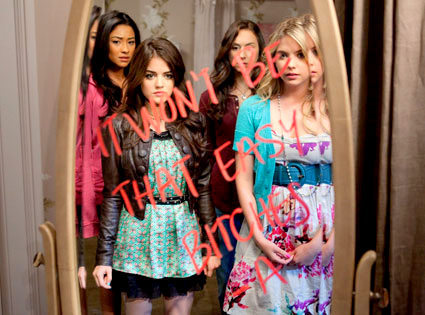 Alyssa: an actual foundation of honesty and strength. God Bless Alyssa.
Alyssa: "I hate sounding like a judgmental asshole, but I've known Whitney for 11 years and I know her enough to know when something isn't going to work. No one wants the two of them together… a few months ago all of her friends were like, 'Dude, we heard Sara say that she thought that Whitney had a big ego and she could never really be in a relationship with her, but that she thought doing the show would be really advantageous to her career as a hairstylist.'"
Well, not anymore! It's hard for Alyssa to understand what Whitney sees in Sara. I think it's this:
Regarding Rachel's imminent arrival in her pimpspace, Alyssa's got two words and they aren't "Dental Dam–"
Alyssa: "TWO WORDS – be careful."
Much to nobody's surprise, Whitney attests she's got great sexual chemistry with Rachel and it'd be worth "revisiting."
Alyssa: "So, do you wanna sleep with Rachel?"
Whitney: "No."
Alyssa: "Really? Two days ago you said you were going to have sex with Rachel."
Whitney: "Oh. My GOD! Alyssa!"
Alyssa: "You did, I'm just saying, I want to know if that changed now."
Whitney: "Fucking ass, dude."
Either Whitney's forgotten her storyline, her lines, her personality, her brain, or all "all of the above."

Claire's leaving New York, like in the song "Leaving New York" by R.E.M.
Claire: "I feel like a jerk because if somebody asked me to be okay with this I wouldn't be okay. But my intention isn't to do anything to hurt her. It's just to figure out myself."
I think the thing you're figuring out for yourself is hurting her! Self-actualization is not actually a defense for potentially damaging the lives of others. "I had to rob that bank in order to find myself!"
Anyhow, Claire's not "consciously trying to get Francine back." It's more like a Matrix/Inception style situation. You follow? It's more than you can see with your eyeballs, dykeathon.

Whitney & Alyssa bring Season Two/Season One full-circle by hitting up LAX to pick up chicks.
Well, just one chick:
Pants handle the luggage:
I feel like Whitney got an extra bedroom in her apartment to ensure every new Los Angeleno will turn to her for a crash pad.
Whitney is a One-Woman Welcome Wagon!
Rachel: "I would definitely say it's inevitable that me and Whitney are going to hook up."
Whitney: "Casual hookup? it's a possibility."


So, in order to explain the presence of full frontal nudity in this week's episode of The Real L Word, it's important to set the scene:
Romi is about to take a shower. She says to Kelsey "Babe, I'm gonna take a shower!" and then she takes off her shirt and steps into the shower. Then she closes the shower curtain. This scene is remarkable in that it employs a sort of unnecessary pan from Romi's naked breasts to Romi's naked vagina as she steps into the shower. I'd like to point out that the camera stays on her vagina as she enters the shower. We've censored it for you: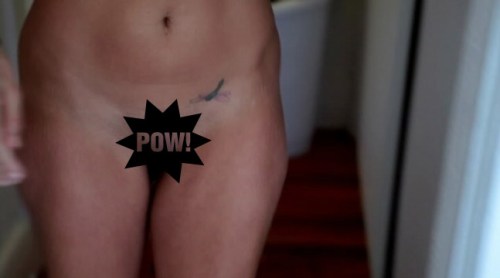 Anyhow, Romi's micromanaging Kelsey's social skills in anticipation of a social outing with three of Romi's bestest friends where it seems she's concerned Kelsey might continue prioritizing our personal entertainment over traditional rules of social interactions.
Kelsey: "When I'm in the moment and I'm doing something and she wants to protect me from looking foolish she'll stop me and like no– let me do that. I don't need her regulating any of that. And it's really frustrating."
Romi wants to know if Kelsey feels better because she showered. Well I can tell you one thing, we all feel much better now that Romi's showered.

Meanwhile somewhere else, Sajdah's using her Macintosh Apple MacBook Pro to have a video chat with her friend back home using Macintosh's iChat Video Chat feature when a girl calls Sajdah on her Apple iPhone, which Sajdah puts on speakers so we can all listen in. Where'd she meet this girl? Well, she thought match.com was only for straights but then she visited match.com and was surprised to find a pretty girl named Chanel on match.com and then Sajdah looked up Chanel on Facebook.com and then added Chanel as a friend on Facebook.com and now they're having a date. It's an open mic, so it's just like chill or whatever.
En route to the date, Sajdah tells her Mom she's already met someone although she hasn't actually met the girl yet, we're told. This is crazy and weird! Mom's concerned and says not to do anything crazy or weird, like…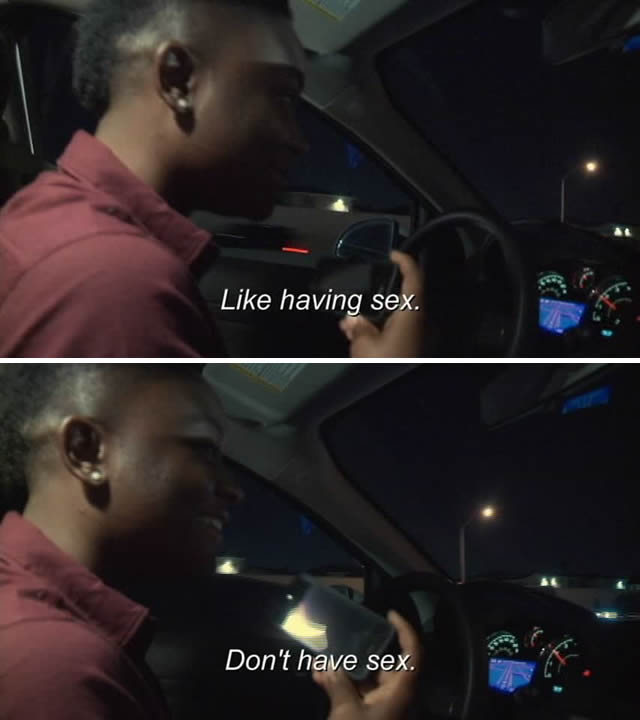 Sajdah laughs "I'm not having sex ma!" or, as Ilene Chaiken would put it, "I'm not forthcoming or open, ma!"
LOOK IT'S CHANEL!
Chanel: "Nice to see you!"
Sajdah: "Nice to meet you!"
Sajdah: "She's beautiful her body's nice, she's the right height, her walk… I mean everything's all there."
Sajdah's got no consideration whatsoever for the fourth wall and I love it. Sajdah doesn't need to do that awkward events-recap-thing in the interview room, the world is her interview room.

Back to New York, New York, home of the world famous Harlem Globetrotters and The Olive Garden's flagship store!
Romi's friend wants Romsley to kiss so Kelsey goes for the makeout and Romi gives her the fakeout: "We're not dying," she points out. Only dead people should tongue kiss.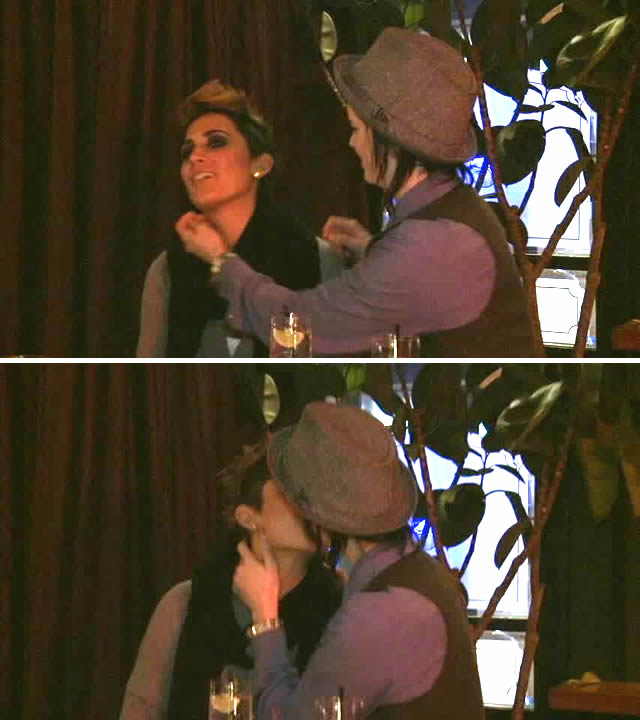 Kelsey wants more attention, Romi tells her friends. Kelsey decides to take this up with the management.
Kelsey: "You want more attention, don't you. I know I want more attention."
Romi: "I don't think he does. I think he's fine."
Kelsey: "Are you content?"
Dude: "No, no. Content's not a good word."
Romi: "No, no — they're not content, they're not just like — satisfied."
Kelsey: "So "content"'s not a good word."
Romi: "Noooo."
Dude: "You're telling me that you're content and you're suggesting that content is a good word. Content's not good. Are you happy?"
Kelsey: "I'm content."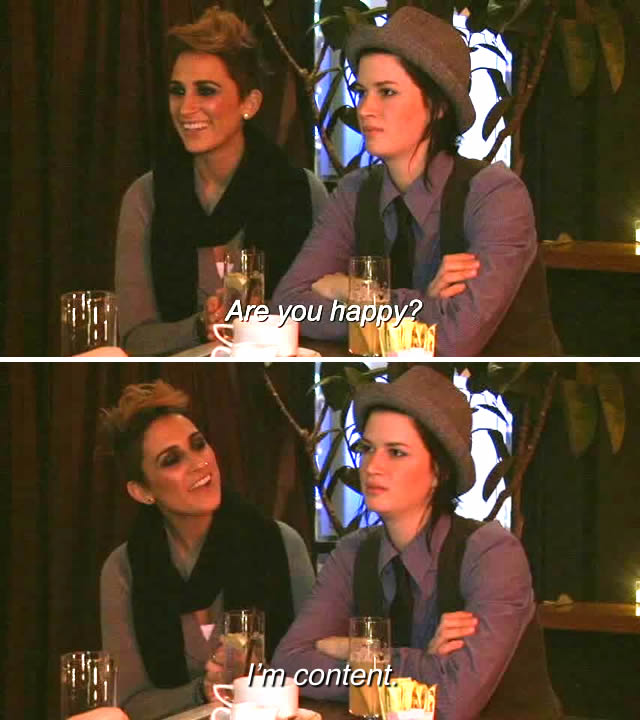 Also:
Dude wants to know what would make Kelsey happy. Kelsey wants Romi to touch her more. Romi thanks her friends for the therapy session and they look at her like paper plates with eyes.
Romi tries to save the scene with a bit of post-awkward humor, and then drags her insolent girlfriend to the bathroom: "We're content and we're going to the bathroom."
Kelsey: "I'm needy."
Romi: "You are!"
Kelsey: "Alright then, we've established that."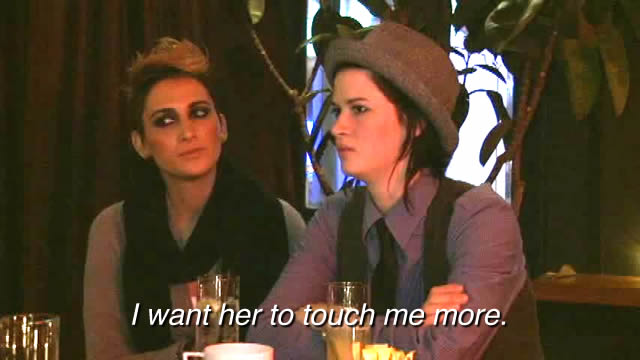 Romi thinks Kelsey should look into the fact that maybe things can be given in different ways, like how you can mail something overnight OR ground mail OR you can just teleport it on a ponyunicorn express.
Kelsey: "The thing is I don't think I'm asking for too much."
Romi: "And I don't think that I'm not giving too much."
Kelsey: "And that's why we're content."

Kacy & Cori are going to a sex shop to talk about injecting sperm into a vagina. They need visuals to accompany the voiceover about their lament that they can't birth the "natural way," which hurts Ilene as much as it hurts them as she'd wanted to be the owner of the first ever lesbian impregnation ever shown on televison.
That doesn't mean she won't try, though.
Kacy: "I can get like a jockstrap and we could just like put something in there that shoots it. Do you think that we could modify one?"
Salesguy: "Try Home Depot."
Kacy: "I thought what we could do is we could do is we could take one that looked reasonable sized. Like drill a hole in the middle and just kinda shove it in."
Cori: "My thinking is that we would get a straw, funnel it in there, and then kind of like a -uh — whaddya call it? A spitball?
Kacy: "Yeah well I–"
Cori: "You would stick it in there"
Kacy: "Spit wad?"
Cori: "I dunno, yeah and then you just go [BLOW FACE]"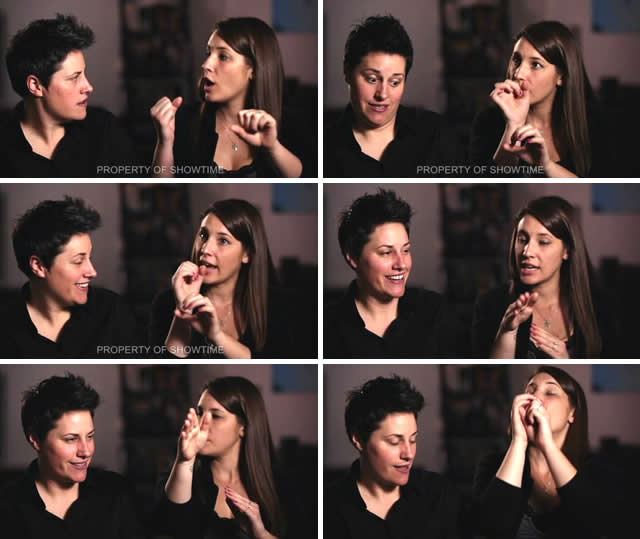 Cori: "I wanna know where the Hello Kitty vibrator is."
Kacy: "Does that by any chance squirt sperm?"
Salesguy: "No but the side that vibrates is actually her face."
Cori: "I think we're gonna try Home Depot."

Back to Whitney's Wild World of Sin and Women!
Rachel doesn't know where anything is in this kitchen. For example:
1. the can opener
2. the forks
3. the strap-on
Whitney says she has a magnetism towards Sara and they cannot get away from each other.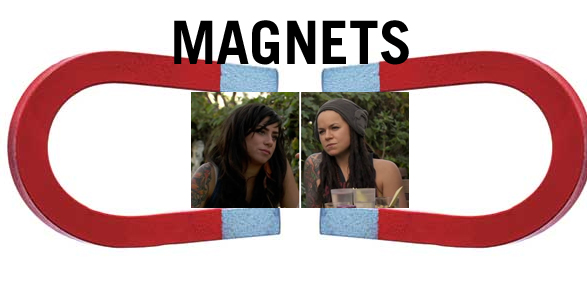 Nor can Whitney get away from analogies about her & Sara's relationship. Whitney's therapist might suggest this is because there's no actual substance to their relationship, only vain attempts to shed light on the mysterious beast that is "lust," which is inexplicable, that's part of lust's charm.
Whitney is the next Lil' Wayne:
Whitney: "I know there's an attraction there with Sara and it's taking a toll.. on my… soul."
The group toasts to a long, prosperous, creamy Season Two:

Cori and Kacy are sharing a meal at a table in a restaurant called Pansita, talking about sperm.
Brent is an ideal donor b/c he's far enough away to be Uncle Brent but not too close to be weird-uncle-always-drunk-saying-inappropriate-things-at-barbecues-close.
Cori: "What if my vagina never goes back the way that it should be, are you still gonna love it?
Kacy: "I cannot take this conversation seriously."
Cori: "Virginia told me — she told me that her Mom gave birth to an 11-pound child and she was all stiched up and she's sitting there in the chair and she lifts up the gown and looks at her vagina and said HOLY FUCK IT'S BROKEN."
Kacy promises Cori that she'll still love her regardless of the eventual state of her vagina: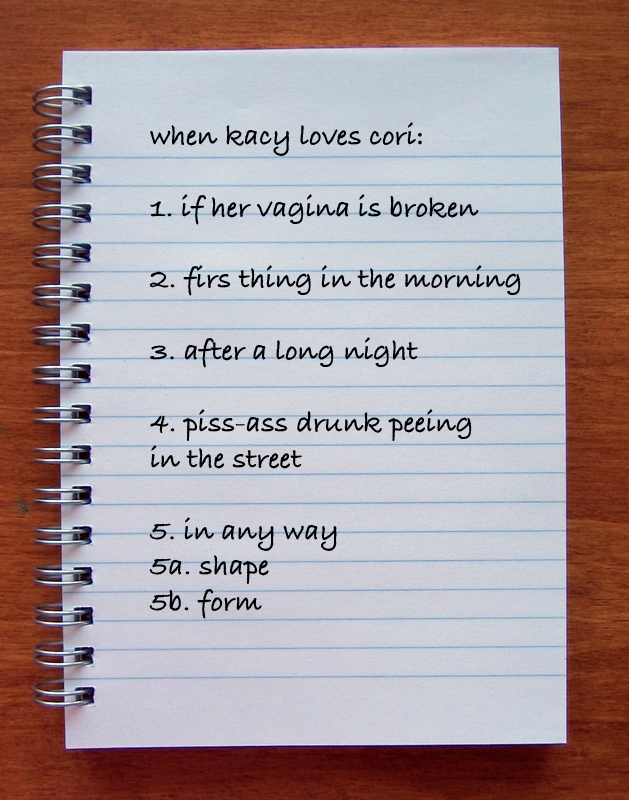 Sajdah and Chanel are in a club, dancing. I thought all black people were good dancers. What the hell is going on here.
So Sajdah really likes Chanel. Like a lot.
They went "from being strangers to that step of getting to know each other just like that!"

Pages: 1 2 3See entire article on one page