+
"No one can claim ownership for the idea of a lesbian ensemble show. It's not brain surgery. Any lesbian that's ever watched TV felt the void. It was the most obvious accident waiting to happen; it was just a matter of who and when."
– Michelle Abbot, co-creator of The L Word
+
"I felt like there's life in that idea [doing a second season of The Real L Word]. First of all, this network has had a long relationship with gay and particularly lesbian audiences that I think is important to protect."
–David Nevins, Showtime President
+
AfterEllen: Who would you say is the ideal audience for [The Real L Word]? A lot of the LGBT community didn't really feel like it was a show for them.

Ilene Chaiken: I don't know about the community. I don't know who the community is who we're talking about.
---
When one of our pre-selected Autostraddle Calendar Girls for 2012 got cast on The Real L Word, we were asked if Real L Word cameras could attend the photo shoot. My knee-jerk reaction was HELL TO THE NO WE ARE NOT PARTICIPATING IN THAT SHIT.
My concerns included:
1. Would it seem hypocritical for Autostraddle representatives to appear in a show that I openly despise?
2. Can we handle the expenses/time we'd have to spend to accommodate the camera crew on what is already a very tightly-scheduled shoot?
3. Do I, even by proxy, want to contribute even more to this franchise?
4. If the cast members have no control over how they're portrayed in the show, we probably won't either.
5. I personally don't ever wanna be on the teevee, but how do Alex/Robin/Sara/etc feel about that?
And most importantly…
6. Would we be credited if our footage was used? Because if not, I think that the only thing really being "used" here is US.
"4" and "6" were my biggest concerns — but especially 6, because there's a lot of stories floating around Hollywood about getting screwed by this franchise.
And Ilene Chaiken is, of course, producer of The Real L Word. Last year Ms.Chaiken prohibited the cast of The Real L Word from doing interviews with us, which I found endlessly amusing and exciting at the time (I believe I called it "my greatest achievement in life"), especially because it was such a stupid move. Allegedly we shared this honor with another, much larger, lesbian website. Preventing two major lesbian websites from promoting your lesbian show? Good idea!
Anyhow, my relationship to the L Word franchise has always been one of mutual exploitation — they use people like me to promote their show for free by writing about it, and I use their show to bolster our traffic, reach and, ideally subsequently, our income.
Couldn't this be like that, after all?
Alex and I talked it out and decided to go for it — but just to be safe, we wanted to ensure IN WRITING that if any of our footage was used, we'd be credited visually/verbally on-screen.
This credit could take a number of forms, all of which you've witnessed in reality shows, often egregiously — a pan up to the sign of a restaurant/club/store…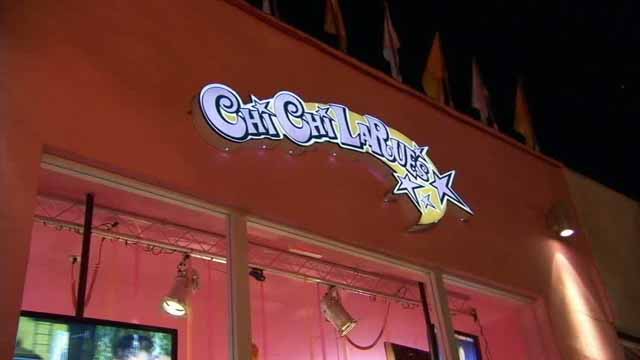 … a swing shot down to the computer screen where a website is visible (there are five shots of websites in the first two episodes)…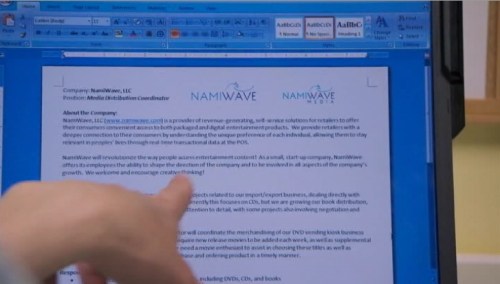 … or, ideally, a "lower third" indicating who the hell those people are that you're seeing on your screen…
Thus, we added this clause to the Autostraddle.com release form:
However, Producer shall be obligated to identify Owner's trademark ("Licensed Material") in the published material should the Autostraddle.com Calendar Photo Shoot be included in the final edit.
Adjustments were made to accommodate the shoot. It went awesomely. The Magical Elves were magical and fun to work with. They assured Alex and Robin that there'd be no feasible way to exclude our mention in the final cut anyhow — "I mean, they can't just have some random photoshoot and not explain what it's for, that'd be weird."
Oh… but indeed they can.
Indeed they did.
When I got my press screener of The Real L Word's first two episodes, I couldn't figure out what shocked me more — seeing Romi's entire vagina onscreen or the fact that the photoshoot scene was pulled off without any credit to Autostraddle whatsoever!
What followed was Alex and I getting riled up followed by me crying on my Mom's couch for 2-3 hours about how the little guy really has no recourse and will always lose to the big guy and the only way to win anything is to become big and how THIS isn't the kind of lesbian community I signed up for. Either we get credit or they pull our footage!, I said.
What followed THAT was a series of conversations/negotiations between us (Alex repping Autostraddle and Robin's lawyer repping Robin), Magical Elves (magic), and Showtime (Ilene Chaiken's side of things).
Magical Elves confirmed that Magical Elves had included credits and acknowledgments for both Autostraddle and Robin in the cuts that they delivered to Showtime.
Showtime removed those credits.
Why?
Unclear.
Magical Elves recognized that we were indeed contractually entitled to our mention and tried to make Showtime care too. But Showtime passed on fixing it, saying it'd be "very costly" to modify at this point, which, honestly, really isn't our problem!
So the negotiations began: would we change the contract to say that a mention in Franny's blog was enough? We said that we'd love/expect the blog mention, but we weren't changing our contract to accept less than what we were entitled to.
After a week of full-court press and another week of dwindling, unpromising verdicts, the network's final offering was an "end credit" for Autostraddle (nothing for Robin) — meaning we'd be referenced for about .005 seconds in the closing credits, smashed at the bottom of the screen during the "scenes from next week," because obviously after watching The Real L Word most people's #1 feeling is "I wonder who made this fantastic television program, let me sit here super-close to the TV during the credits to find out!"
They ended the conversation there, although we never agreed to the adjusted terms.
No hesitation, no regrets, no remorse: this is how you treat the community that still, despite escalating suckage, still supports your lesbian shows?
+
Yes, the photo-shoot scene was only two minutes long, but being on teevee is a big deal (that's why commercials/product placement are so expensive!) and really, it's the principle of it. And while our mention is omitted, brand exposure is given to two (fantastic!) lesbian magazines, one GAY MEN'S MAGAZINE and another lesbian website in an upcoming episode. So it's clearly not an across-the-board policy.
I didn't expect/want a scene about us (although, I guess, if the show really is supposed to be about the LA Lesbian Community — the sex and the glamour of it — isn't Francine's Autostraddle Calendar Girl photo shoot a perfect example? This thought just occurred to me.), but I did expect words that said "Robin Roemer, photographer, Autostraddle.com" on the bottom of any screen she appeared on.
This situation is disappointing/confusing on so many levels.
This website has devoted more webspace to The Real L Word than any other website in the world. I'm not proud of that, I DON'T KNOW HOW THIS HAPPENED. This season there's been nary a peep from the mainstream press, leaving a handful of lesbian sites responsible for all the coverage, despite Ilene's disregard for the community we represent.
Furthermore, up until now, I'd describe our relationship with Showtime itself as "fantastic." I've had a relationship with them since 2007, two years before launching Autostraddle. I've been invited to their offices and met their people, they donated kickass stuff to our 2009 Rodeo Disco raffle, gave Autostraddle exclusives and great interviews, we did an L Word promo — fuck, once upon a time, Showtime even gave me a job hosting an online web-series about The L Word. I've never had trouble getting press screeners. I was a Guestbian writer on OurF-CKINGChart! I invented the piano key skinny tie!
So. Why would Showtime go out of their way not to credit us?
Who, exactly, made that call?
And isn't it really fucking sad that, while we were shocked, we had also anticipated this result by taking direct action to ensure it wouldn't happen?
Because let's be real: despite the fact that The L Word franchise is allegedly devoted to the lesbian community, there are a few things we trust less than this fucking show and its accordant spinoffs and websites.
Ilene's definitely not the only lesbian in Hollywood with a pitch or show runner skills, but perhaps the ease of perpetuating this misconception of her solitary genius isn't her achievement — maybe it's her intention. She's not the Only Person Putting Lesbians On Television and she never has been and she didn't even create The L Word's beloved characters and spectacular first season herself (but she claimed to!),  What she did was connect some very talented storytellers to network money and get an all-lesbian show on the air. She's clearly a talented businesswoman and for that I commend and appreciate her. She was the first woman to prove, in a major way, that lesbians could be profitable.
But the honeymoon is long over, isn't it?
If you weren't already convinced by the fact that Max's storyline was shockingly transphobic, OurChart was epically mishandled, Season Six sucked, Dana died, her best writers were let go and replaced by her girlfriend, she dismissed universal consensus regarding That Betty Theme Song, 608 was the worst most poorly written series finale of all time, existing only to sell a shitty script to Showtime about lesbians in prison, Season One of The Real L Word was terrible and had abysmal ratings, some cast members were practically tricked into participating, Ilene prides herself on manipulating her cast and refuses to give up the spotlight/won't let the shows speak for themselves ("She is never at a loss for words that reveal a narcissism that's usually reserved for sociopaths or people far more successful than she, who can actually deliver on their promises") or that "the great failure of 'The L Word' has and continues to be that Ilene's ego is its unseen yet most insistent character" or that during Season Six, Jennifer Beals "would do the scenes and then go to [her] trailer and yell WHYYY???" or that Showtime's new area of boundary-breaking television seems to be, exclusively, which "real" sexual positions and accessories they can showcase on screen . . . now you know: this show hasn't really cared about us for a few years now.
I kinda think they're trying to tell us something, and it's not "we love/cherish the lesbian community."
This isn't how you "protect" your relationship with the lesbian community. This is how you use us and how you'll lose us.
Hiring a (Razzie Award nominated) lesbian with a storied history of upsetting the lesbian community to put on a show about lesbians isn't enough. And dismissing the concerns of its fan base as just the nature of the lesbian-show beast feels sexist, especially for a network so revered for its dedication to women's stories.
+
All my mentors/colleagues/friends/stuffed animals told me that letting all this happen without writing a post about it would set a precedent none of us could afford. Despite a plethora of similar stories circulating the lesbian media universe, nobody says anything. It's tacky. Nobody wants to be accused of eating their own, even when you've just been eaten by your own.
I was scared and that fear, I realized, is what they were counting on. They are big. We are little. At least ~5 commenters will remind me that "it's just a show" or call me "butthurt."
See, the only story Ilene Chaiken is really telling at this point is how to opportunistically exploit the lesbian community while cultivating an undeserved title of 'trailblazer' and shutting down dissent.
And that's why I'm writing this at all. Because I think that story deserves a recap, too.