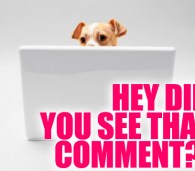 HELLO? I have some news for you. Next week I am not going to be here. I am going to be in England. I would ask if anybody lives near Devon but I am actually really excited to not be around my computer or anything associated with the internet. Happy holigays in advance. I love you, my little babies.
This week Alex and Miss April went to a GLAAD event and made a video and they're pretty and smart and stuff. If you want to meet Alex and see her dance then you should go to the PYT partay that is happening TONIGHT in LA. It is for the launch of the 2011 Autostraddle calendar which you should buy right now.
These are some lessons learned while celebrating Chanukah with your parents who for some reason just don't accept you. It's funny. Read it. Then pick your favourite albums from 2010! AND THEN read this interview with Courtney Trouble. Just do what I say, okay? Have I ever let you down before?
So this is the last we will officially see of each other for a little while. I will miss you and doing the awards at 2am Thursday night. Also someone has to keep terracottatoes in check. She's getting so many comment awards her ego is exploding.
---
On Movie Review: 'Room in Rome' Features Lesbian Sex and a Bunch of Weirdo F*cked Up Shit:
The This Fucking Show Award to Middling:
Is it bad that I instantly thought that was "IFCFilms" for Ilene Fucking Chaiken Films? Autostraddle, you have brainwashed me.
On Case Against Lesbian Tuxedo-Wearing Ceara Sturgis is 'She Wore a Bikini Once.' Really.:
The Oh, Just Move Here Already Award to Isabel, alexamaria:

The Solution Award to Triple D:
That's why I took my yearbook photo naked.
On NSFW Lesbosexy Sunday is Also Quick and Dirty:
The Self-Love Award to e, Jader, terracottatoes:

The Good to Know Award to Ailish:
I saw Taylor Momsen in a gay bar in Manchester last night. True story. She wasn't masturbating at the time.
On Once More With Voting: We Hold Out Hope for DADT Repeal on Sunday Funday:
The Phoques/Fuck Award to persona, terracottatoes, moose: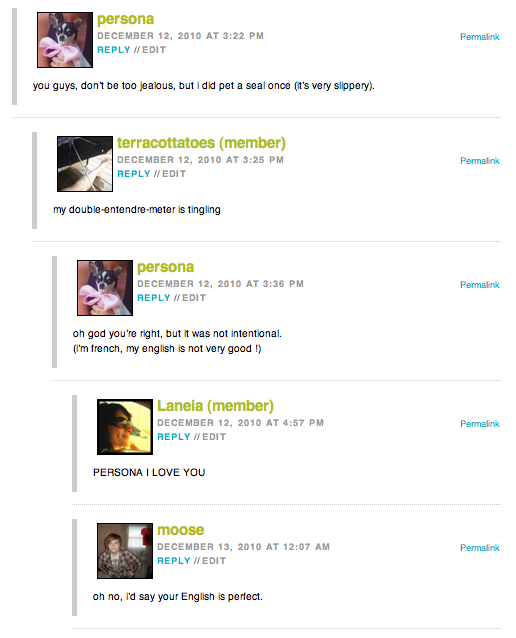 On Being Trans Is So Hot Right Now, At Least for Celebrities and Models, Kinda:
The Laneia Would Probably Say Jeggins Can Be An Emotion Award to Zach:
As a trans person, I just have to say that sometimes I do in fact feel like jeggings, if jeggings could be an emotion.
On Come Party With Us At PYT Productions' HOLIDAY STRADDLE, The 2011 Autostraddle Calendar Girls Release Party:
The Party in wasteunit's Bedroom Award to wasteunit:
Why do all the sweet AS parties happen away from me? Can the next one be in my bedroom? Please? You won't be disappointed.
The ClittyVaginaMcLabia Award to ClittyMclabia, allie, Jader, SomethingClever, terracottatoes:

On "Everybody Knows John Travolta is Gay":
The WTF Do I Name This Award Award to Heather:
"Sometimes I feel like we unknowingly live in a bubble that might be imaginary where we make shit up and then circle-jerk our way into believing our own rumors."
No, no that's Fox News.
On Glee's Darren Criss Conducts an Interview Entirely In Song:
The Please Stay Gay Award to pyrrhic:
Darren Criss, chipping away at Autostraddle's target demographic one chord at a time.
On Movie Review: "Black Swan" Has Mad Chicks, Made Me Feel Crazy:
The Harry Fucking Potter Award to smartypants:
Katrina,
This is the single best film review I have ever read–truly insightful, descriptive, well-crafted, alluring and explanatory without being condescending. Brilliant job ! (50 points to Gryffindor)
And: psychosexual thriller–(and ain't that the story of your life)=BEST