A quick recap, in case you forgot about The Lesbian Tuxedo Incident of 2009/10: Ceara Sturgis didn't feel comfortable in the "drape" she was asked to wear for her senior portrait. The "drape" "gives the appearance of wearing a dress or a blouse," which sounds pretty gnarly, and so Sturgis asked if she could wear a tuxedo. The photographer said SURE! because you know how photographers are, they're all hippie artist types who eat Granola and vote for leftist commie bastards. Because the intention of the artist is always disrespected by the patriarchy, Ceara was excluded from the yearbook because she was wearing a tuxedo.
The American Civil Liberties Union of Mississippi, along with lawyers from Kramer Levin Naftalis & Frankel, is representing Sturgis in the case against the school district.
Bear Atwood, interim Legal Director for the ACLU of Mississippi:
"This should never have been an issue. Title IX and the Constitution prohibit school officials from forcing students to conform to gender stereotypes. Ceara should not have been expected to compromise her everyday appearance and identity for her senior portrait. The school's actions are discriminatory, unlawful and mean-spirited."
Now, the school has come up with a BRILLIANT F*CKING DEFENSE!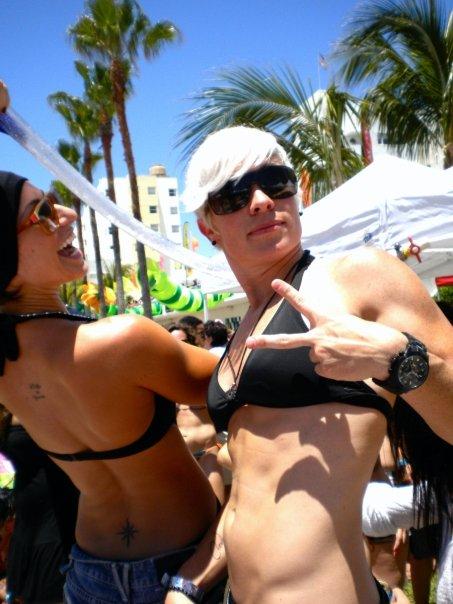 Dani Campbell Approves of This Message
+
Are you ready for this?
Ceara Sturgis wore a bikini to a pool party (a senior class function).
Furthermore there are photographs of this incident — and actually perusing Ceara's facebook, it would appear that LIKE MANY YOUNG BUTCHES, Ceara used to have long hair and wore a bikini with giant board shorts before coming into her own and switching to full-time Justin Bieberdom.
"Indeed, it is hard to conceive of an item of clothing more sexualizing and feminine than a bikini," says the school district.
This seems a tad ridiculous to me and a no-brainer. Clearly Ceara has this in the bag, right? Whenever I'm 100% sure I know what's going on, it's time to ask our in-house Legal Beagle Jessica.
Q: Is there a constitutionally or statutorily protected right for a girl to wear a tuxedo in a yearbook photo?
A: No.

Q: Is there a constitutionally or statutorily protected right for an individual to not face discrimination on the basis of sex?
A: Yes. And telling girls and boys that they have to wear different things based upon their genitals means that you are treating them differently based upon this classification — which in turn warrants heightened review and a good reason for doing it.
It's much like the question of marriage, which is perhaps a framing you have encountered:
Is there a constitutionally protected right to same-sex marriage? No. That's not mentioned.
However, is there a constitutionally protected right to marriage? Yes. And if one is to have the right to marriage, that necessarily implies the right to marry a person of one's choosing, regardless of gender.
Legal Beagle Breaks it All Down For You:
Sturgis's case alleges discrimination based on sex and sex sterotyping (as prohibited by Title IX and the Equal Protection Clause).
The school district seeks to have case dismissed. Their argument? This exact case has already happened in Florida. (Youngblood v. Hillsborough). The case had a very similar fact pattern, and the court held that the case should be dismissed because decisions regarding the yearbook should be decided by the local school board, and "there is no constitutionally protected right for a female to wear a shirt and tie for senior portraits found within the plain meaning of the Constitution of the United States."
But, as the ACLU persuasively argues, that case isn't binding (it's a district court decision in a different circuit – it's persuasive precedent but not controlling precedent). And, it was probably a bad decision.
Why? Because the court in Youngblood built its ruling upon a 1972 decision, Karr v. Schmidt (a case about boys who wanted to wear their hair longer than schools would permit), and decided that much like having long hair, wearing a shirt and tie did not fall within the freedom of speech/expression protected within the first amendment. The Youngblood court dismisses arguments regarding sex discrimination, alleging that the cases they present about sex discrimination were related to employment (which is not the same as school), and that she wasn't denied the right to education.
According to the court, schools have the right to make restrictions about what students have the right to wear.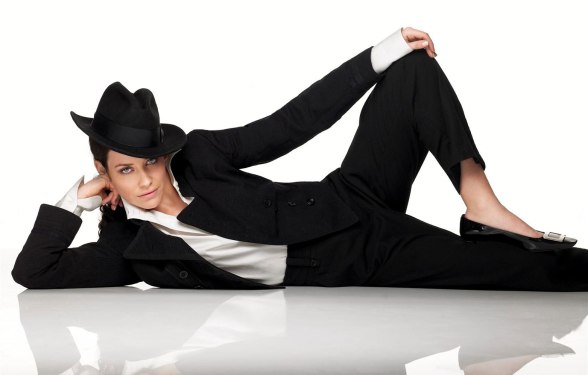 There are problems with relying on Karr, though. Notably, it came before Craig v. Boren – which held that classifications based on gender warranted heightened review. It also doesn't directly address sex discrimination. The Youngblood court wants to treat the fact that this girl wanted to wear a shirt/tie the same as if any random student decided they wanted to wear a t-shirt – when ultimately, the distinction is clearly a question of gender. Ceara wanted to wear clothing within the bounds of what had been deemed acceptable – she just wanted to wear what had been designated for boys rather than girls. I think there's a pretty compelling argument that this is classification based on gender, and warrants heightened scrutiny. (Youngblood didn't address the heightened scrutiny issue, seeing it as a matter of personal preference rather than gender).
Instead of simply accepting the court's position in Youngblood, Sturgis claims the court should consider this discrimination on the basis of sex and sex stereotypes, as prohibited by Title IX and the Equal Protection Clause.
I think she has a really strong claim. I don't know that much about Title IX, but the Equal Protection Clause seems like a pretty clear case. There's a classification based on gender. To withstand heightened scrutiny in this case, the school would have to demonstrate an "exceedingly persuasive justification" and I just don't think they have it.
That said, much like Youngblood, she could have some trouble because a good deal of the case law comes from the context of employment rather than education. But the Supreme Court has noted that sex-based discrimination in the employment context informs what counts as sex-based discrimination in the education context.
That being said, the courts in Mississippi have a history of not agreeing with me very much.
In Conclusion:
This is my favorite part of the case :
From ninth grade until her graduation, Ceara consistently wore conventionally "masculine" clothing. (Id. ¶ 17). Ceara wears such clothing in all aspects of her life, including at school, at home, and at social events. (Id. ¶ 15). She also wears short hair in a style popular among teenage boys. (Id.) Although Ceara identifies as female, she is deeply uncomfortable in traditionally "feminine" clothes. (Id.). Ceara does not recall a time prior to the events alleged in the Amended Complaint when her clothing caused any conflict with her classmates or school officials. Nor did her manner of dress violate the Wesson dress code, which has no gender-based requirements.
Has anyone submitted Ceara to Lesbians Who Look Like Justin Bieber? That's my question.