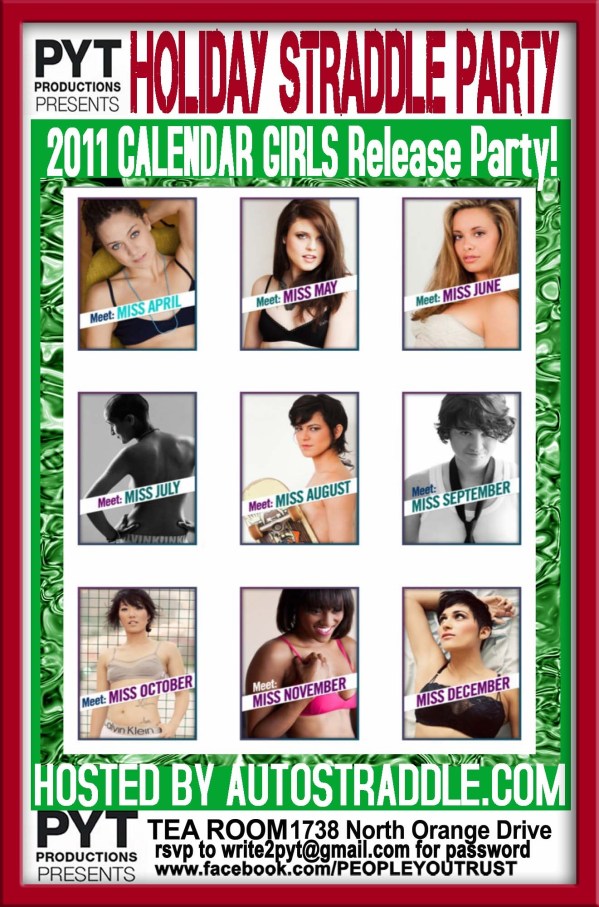 Hey hey gurl do you live in or nearLA? What are you doing Friday night? Whatever it is, you should cancel it, because something way cooler is happening — PYT Productions and Autostraddle.com are throwing a party to celebrate our first-ever Autostraddle Calendar, which you should order this week if you want it in time for the holidays WHICH OF COURSE YOU DO.
When you read these official words from PYT Productions, imagine Charlene is yelling them at you on a megaphone.
FREE COVER! FREE COVER! FREE COVER!
**A PYT TEA ROOM EXCLUSIVE**
2011 CALENDAR GIRLS Release Party!
FRIDAY NIGHT – DECEMBER 17TH
PYT Productions presents…..
"THE HOLIDAY STRADDLE PARTY"
With your special guest hosts AUTOSTRADDLE.COM!
The ladies of PYT team up with the HOTTEST LESBIAN website to date, to bring you the ULTIMATE HOLIDAY WHITE PARTY! The 2011 Autostraddle Calendar is now on sale!! Get your copy on the website or purchase yours at PYT this FRIDAY NIGHT! It's the Sexiest Hottest Lesbian calendar out there!!
It's gonna be quite the debaucherous evening. With old skool jamz, hip hop, dance & house… Music will penetrate your body… HOT SEXY BEAUTIFUL LESBIANS will definitely be in attendance!
*** Resident DJ SARATONIN!! ***
*** Resident DJ EUPHORIC!! ***
***  Holiday straddle photos by ABZ CRUZ ***
Friday nights get craaaaaazy!!! Come on in and see what all the buzz is about. You won't be disappointed!
ATTIRE: It's gonna be a WHITE Christmas. Bust out your WHITE PARTY Attire!!
WHEN: Friday December 17, 2010 @ 9:30pm
Cover: FREE FREE FREE ALL NIGHT!
RSVP to write2pyt@gmail.com
WHERE: "H.WOOD". – Tea Room
@ 1738 N Orange Dr.
Hollywood, CA
So we'll see you there right? Alex's dance moves look even better in person, just saying! THIS WILL BE THE MOST ULTIMATE BEST PARTY IN THE ENTIRE WORLD TO EVER HAPPEN TO THE HOMOGAYSEXUAL COMMUNITY MAYBE SOMEONE WILL EVEN SIGN YOUR CALENDAR!