John Travolta is gay. This came up at some point during a dinnertime "conversation" a few months back at Autostraddle Design Director Alex's family's house when I mentioned off-hand that John Travolta was gay.
"John Travolta is gay," is a thing I thought I could say out loud at a dinner table and it would be about as innocuous and unanimously-agreed-upon as a statement like, "these rolls are delicious!" or "your daughter is a very talented designer!"
I was wrong. It turns out that "John Travolta is gay" is not a thing that everybody knows about or agrees upon. For example, Alex's Dad did not know that John Travolta was gay and was not taking my word for it. Sometimes I feel like we unknowingly live in a bubble that might be imaginary where we make shit up and then circle-jerk our way into believing our own rumors.  But also, this guy from moveline.com said: "Frankly, just about everyone knows John Travolta is gay. I know it. You probably know it. My grandmother knows it and she barely speaks English."
Now the deal has been sealed via Carrie Fisher in The Advocate:
In the September 2009 issue of Out, you participated in its monthly Can I Be Blunt? column by sharing 10 things that gay men should know about straight women. One of those things was, "We don't really care that John Travolta is gay.wp_postsI know you and Travolta go way back, so let's get really blunt here: Does his legal team have any business demanding Gawker remove a recent post suggesting that he's given blow jobs?
Wow! I mean, my feeling about John has always been that we know and we don't care. Look, I'm sorry that he's uncomfortable with it, and that's all I can say. It only draws more attention to it when you make that kind of legal fuss. Just leave it be.
I remember once mentioning John Travolta being gay in an Autostraddle article and a commenter getting pissed at me for my lack of sensitivity towards Travolta when his son had recently died. Obviously I felt that mentioning "John Travolta is gay" would not interfere with John Travolta's grieving process — primarily because John Travolta doesn't read/care about Autostraddle.com (or, probs, any gay media), but mostly 'cause I hate the idea that "gay" = NEGATIVE.
The politics of "outing" are murky, and there's a bit of outrage on both sides regarding Carrie Fisher's statement. Generally, the rule seems to be you can out a hypocrite (e.g., Ted Haggard, Larry Craig) but it's unseemly to out anyone who hasn't talked shit about the gays. John Travolta hasn't necessarily talked shit about gay people. So we should just lay off, right?
But here's the thing: last month a Gawker post (The Secret Sex Life of John Travolta) detailed John Travolta's alleged frequent sexual dalliances at the LA City Spa, according to a possibly completely unreliable source who'd written an entire book on the matter.  One might let this blow over. Or one might enlist your lawyers to shoot Gawker a five-page document threatening to sue. You can read the document here.
When you suggest that gay rumors are "defamation" — um, well, I can't think of anything more negative than that!
Travolta's been antagonistic about gay rumors for some time, but by getting into litigation he's sending a very clear & destructive message to his fans and the world. Because really? I mean really? Does John Travolta honestly think that these unsubstantiated claims are going to effect his career? Does John Travolta need the money? No. There's something far more sinister at work here than that. Remember when Tom Cruise sued over gay rumors? Right.
Memo to John Travolta: Here's how people who are comfortable with their heterosexuality respond to rumors about their sexuality:
Johnny Galecki: "I've never really addressed those rumors because I always figured, why defend yourself against something that's not offensive?"
Daniel Radcliffe: "If people want to say that, they can. But I'm not. I'm straight."
Elijah Wood: "[elijahwoodisveryverygay] is actually a personal favorite of mine, it's absolutely hilarious. It's this kind of joke Web site that maintains that they have proof that I am very, very gay in various photographs — photographic evidence (of me) holding hands with a male… These people have a lot of time on their hands and my hat's off (to them) because it's very good work."
Chace Crawford (on rumors that he's dating his co-star Ed Westwick): "I just throw my head back and laugh. It's not hard to deal with when there's no truth to it."
James Franco: "I'd tell you if I was. I guess the reason I wouldn't is because I'd be worried that it would hurt my career. I suppose that's the reason one wouldn't do that, right? But no, that wouldn't be something that would deter me. I'm going to do projects that I want to do."
Oprah Winfrey: "The reason why it irritates me is because it means somebody must think I'm lying. Why would you want to hide it? That is not the way I run my life."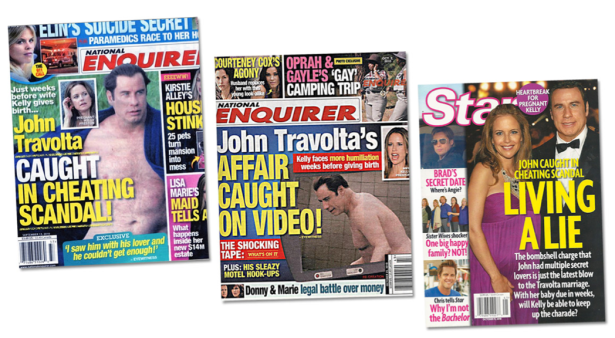 In addition to vehement denial of his homosexuality, such as being married to a woman and getting upset when people think he's gay — Travolta is also a proud Scientologist. Travolta joined the church at 21 because they seemed "so certain and happy" and everyone he knew was "insecure and unhappy."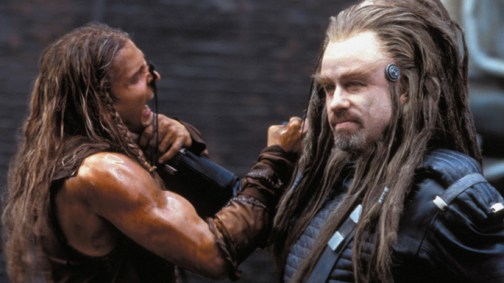 Allegedly, The Church of Scientology is noted for its ability to protect its gay celebrity members — they give big bucks, are promoted to Lord Alien of the 40th Dimension or whatever, and the litigation-happy Church intimidates the world against revealing their member's sexualities. (Will Smith and Tom Cruise are also Scientologists.) OR, if you believe other theories, the church collects such secrets as blackmail against their celebrity followers. As a journalist I've been told never to write about Scientology because they will fuck you up/sue. ABC's 20/20 documentary on Scientology is definitely worth watching, and even Wikipedia details its illegal activities, extensive legal waivers members must sign and its hazardous behavior around members' health and safety. Also, a former Scientologist sued the Church after he'd spent 500K to get cured of his homosexuality — the lawsuit claimed Travolta was held up as an example of how successfully one could be cured of one's homoesxuality.
Okay, here's the thing: Scientology is really f*cked up — you can watch some documentaries about it here. It's super anti-psychiatry while simultaneously exerting control over its minions via severe psychological manipulation, mind control and Stockholm Syndromey conditions while convincing them that the very thing that is making them crazy is actually a solution to insanity. In other words, they switch up the definition of 'sane' and 'insane.' That's dangerous and sketchy and has led to some very serious consequences.
ANYHOO!
So, is it wrong to out John Travolta? Salon.com has a nuanced reaction to the outing and then also there's this one from Movieline:
There's been a fair amount of hand-wringing online about the outing, with most of the vitriol directed at Fisher, claiming she overstepped her bounds, invaded her friend's privacy, and betrayed his trust. The argument goes that, if Travolta truly is gay, it's up to him when to decide to come out, not Carrie Fisher.
Which is a fair argument if Travolta A.)Wasn't married to a woman and B.)Wasn't a prominent member of a notorious cult that claims that homosexuality is a perverse illness that can be cured. There are plenty of movie and television stars who are gay but simply don't talk about it; that's not what Travolta is doing. He's actively participating in a sham, a fraud that further perpetuates the idea that being gay is shameful and should be kept secret and tamped down.
Anyhow, back to my pointless personal anecdote: Alex's Dad rendered all my blind item tips invalid as hearsay. My strongest piece of evidence — besides "common knowledge" — was that I know at least three people who worked with John Travolta on the Hairspray movie who have confirmed his "open secret." Furthermore, everyone I know who works in The Business of Show acknowledge Travolta's sexuality as a FACT.
In order to prove my point to Alex's Dad — the conversation's tones had elevated to the upper echelons of volume because he's a Firefighter/Vietnam Vet and I'm a Radical Feminist Lesbian Hippie and that's how these things go — I did a little internet search and subsequently found several news articles, mostly from The National Enquirer, which confirmed John Travolta's homosexuality. Unfortunately TNE is not considered a bastion of truth.
But Carrie Fisher? She counts and therefore I WIN! I WIN!
Sidenote, this is still one of my favorite movie moments of all time: