When Gay Teen SuicideGate 2010 happened, we were left with a lot of thoughts and feelings. Mostly grief. Also confusion, anger, bewilderment, but mostly grief. After that faded a little, we mostly wondered why – why was this happening, why now, why these kids, why kids at all, why like this. At the time, no one could really tell us. Now someone is.
Stuart Biegel is a professor at the UCLA School of Law, and has a new book called The Right to Be Out that explains how anti-gay prejudice still exists in our schools despite the strides we've made for LGBTQ acceptance. Or is it because of the strides we've made? Well, what did he say in his interview with Salon?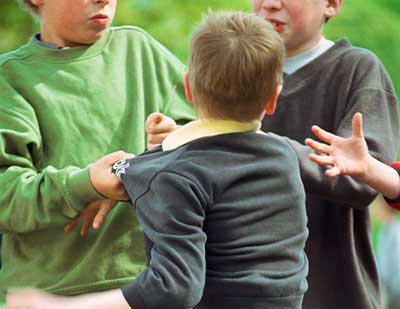 According to Biegel, what we're seeing now is partially a result of more transparency around the suicides of gay kids – we all know that those numbers have always been outrageously high, but that the mainstream media hasn't always cared enough to report on them – but partially also a backlash against the progress we've made as a community in the last few years.
When Howard Dean signed the first civil union legislation in Vermont in 2000, people couldn't believe it. Ten years later we have civil unions in eight or nine states and legal marriage in nine or 10 countries and five states, including Canada, D.C., Mexico City. This amount of change is unsettling for a lot of people, and the schools are a place where a lot of these values issues are heavily contested. In a number of schools, at this point, we see a situation that might actually be worse than 10 years ago.
To support this argument, he notes that "we found in San Francisco, a city that's very gay-friendly, schools that had some really difficult situations with regards to homophobia and peer mistreatment." Each year there are more and more laws on the books that protect our rights in the real world – while we're nowhere near as secure as we should be, there are many states with sexual orientation included in non-discrimination policies, with hate crime legislation, even states where you can be legally married. In contrast, the school environment is murkier in terms of politics; in many schools, even public ones, being out as a teacher is still discouraged, and what to do about things like bullying is still largely left up to the individual school's discretion.
Looking back at the civil rights movement, some of our most visceral collective memories from that time are of the schools, and children; think of George Wallace standing outside the school's double doors in Alabama, think of the Little Rock Nine. This is a pattern we've seen before; when bigoted adults are frustrated about their inability to express their bigotry because society is moving past them, their aggression and hatred come out in their kids, and are visited upon some of the most vulnerable members of our community.
It's not really comforting news. Nor is it comforting to think that, if this is indeed the case, things like the It Gets Better project may not be that helpful – reaching out to gay kids is never a bad idea, but ultimately there's not much gay kids can do to repair this kind of poisonous school climate.
But Biegel's words aren't entirely discouraging; he says another major factor is families' new willingness to be open and honest about their kids, to tell the world that their child was gay and bullied for it and that this is why they're dead now. Ten or twenty years ago, the Seth Walshes and Tyler Clementis were just a small-print obituary with no details, no explanation. It's heartbreaking for us to hear about their lives and deaths, but the fact that we do means that we're living in a time when people can be honest, when they can tell the truth without feeling like it will only make things worse. And speaking of telling the truth – both Biegel and his interviewer at Salon are openly gay. Our progress is slow, but it will not be stopped.