Does your mom smoke a bowl and cry at Brokeback Mountain one night and then have this conversation with you the next night?
Mom: So how's your social life?
Me: Um, good.
Mom: Reeaaallly? How good?
Me: I joined like five meetup groups this week.
Mom: So you have friends?
Me: Well I talked to people on the internet today.
Mom: I'll take that. Are you dating anyone?
Me: Kind of.
Mom: REALLY?!
Me: Please calm down.
Mom: REALLY?!
Me: You're not going to be as happy as you think you're going to be.
Mom: Why?
Me: Her name is Jen.
Mom: Oh god. Really? Wait, really.
Me: I told you not to get excited.
Mom: Ugh, I can't take this anymore.
Me: You're sad now?
Mom: Yeah.
Me: Cool. Happy Chanukah!
As the baby boomers get old and cranky, this special breed of liberal hate is spreading faster than my friend's mono. And her mono is pretty bad. It's, more than anything else, a real disappointment and a bit of a shock – the hate, not the mono. I saw the mono coming a mile away.
I always thought my parents were pretty amazing. I mean, my grandparents curse like sailors. My mom went to Woodstock and even wears that very particular kind of homemade, chunky jewelry that is a guaranteed sign of Jewy, liberal goodness.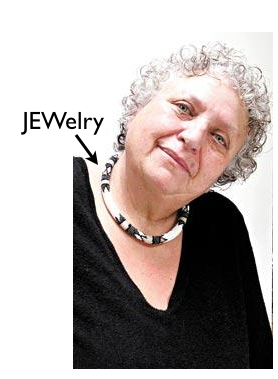 So how did they become such bigots?
I asked my mom this question a few weeks ago and as it turns out Wesleyan in the '70s wasn't as crazy gay as it is now and her parents treated her black boyfriend pretty much the same way she's treated my girlfriends. And even though she now understands that "being gay is acceptable", she still doesn't really know what gay looks like. To her, a lesbian is a fat, ugly, sad little situation that, while she believes it should have equal rights, she sure as shit doesn't want her daughter to be one.
So, now that Chanukah 2010 has come to a close, I've decided to share a few key lessons I've learned about how to maintain your lesbian integrity for the next Jewish Family Holiday. In honor of the menorah I've compiled these lessons into eight simple guidelines.


Lesson #1: Hold your tongue on any sentences that require you to start with "I'm not saying this to be aggressive but…"
The kind of high-intensity argument that this is likely to create is better saved for downtime during hagada readings at Passover. Besides, you don't want to jeopardize your Chanukah gifts. You need to prioritize, what's more important: your parents' acceptance of who you are or gifts. It's a no-brainer.


Lesson #2: Re-visit Chanukah's biblical roots, slyly replacing the role of Antiochus IV Epiphanes with your parents and the Maccabee rebel army with you.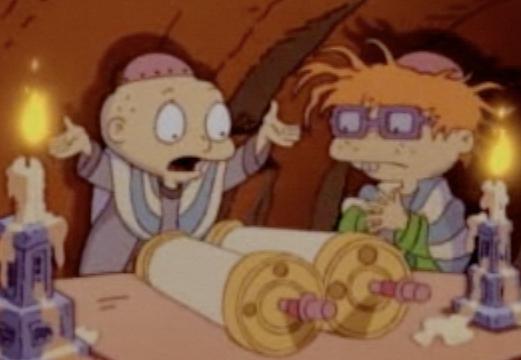 Sure, Chanukah kind of doesn't matter in the hierarchy of high holidays but that doesn't mean its origin story can't help your parents see the error of their ways. The Maccabees are the rebel heroes that took down a patriarchy of religious intolerance. The Macabbes fought for…what? Oh, right. Acceptance of who they are: Jews. And what are you doing when you light those little candles? Celebrating those Maccabee heroes. Your parents are literally celebrating the idea of acceptance and tolerance every night of Chanukah. Now is a good time to remind them of that. Besides, the Maccabees look kind of gay to me.


Lesson #3: Get your parents the Chanukah gift that keeps on giving. A lifetime membership to PFLAG.
A gift is a gift is a gift. Everybody likes gifts. Besides, this works better than my Passover present last year – three free sessions of family therapy. That was a nice big helping of Good Yontif to nobody.


Lesson #4: If you find yourself borrowing a verse from the "gay marriage has a constitutional precedent in Loving v. Virginia" argument as it relates to individual prejudices, that's fine. However, it may be best to have that argument with someone other than the newly adopted cousin from Mali. Otherwise this conversation will make night four slightly awkward:
Sangare: …But people, especially parents and children, always want the other to be a little different than who they are.
Me: I don't want anyone to be a different person, I just want my parents to be more accepting.
Sangare: But that's the same thing. Your parents are wonderful in many ways but you want them to change, to be something different.
Me: That's a really dumb comparison. That's like me saying to you, 'Well we both want each other to change. You want me to be less racist and I want you to be white.' Being less of a bigot is a slightly different request than being less black or less gay.
Sangare: How could I be white? I'm from Mali?
Me: Exactly.

Lesson #5: It's ok for your thirteen year old niece to call her light-up Maccabee socks "gay." Just make sure she knows the proper spelling and pronunciation.
My socks are GHEY, not GAY.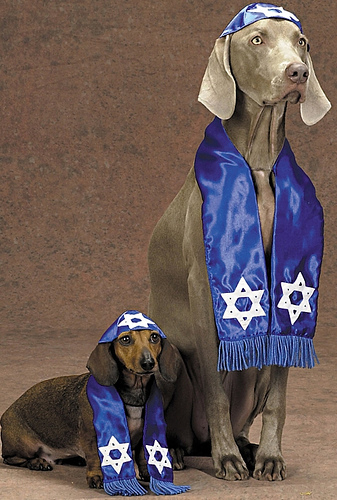 The puppy will serve multiple purposes. First, it will help weed out the people not worth talking to. Anyone who doesn't fully engage with the puppy is a waste of your time because if a person can't immediately love a puppy, then chances are they are a hateful bigot. Move on. Second, leverage the puppy to offer a real life case study of how gays can raise heterosexual beings. However, make sure the puppy isn't too aggressive of a humper because that case study could blow up in your face as an example of how gays foster a hyper-sexualized environment. An adorable, moderate puppy-humper of opposite sexed animals is your golden ticket to acceptance.


Lesson #7: Pick your battles carefully.
Are gender-neutral Chanukah songs really that important to you? Is it really that productive to insert a Lt. Dan Choi quote into every conversation about Don't Ask Don't Tell? He's kind of jumped the shark anyway. Prioritize your needs and attack appropriately. Here's a sample prioritization:
1. Debunking the "all lesbians are 'ugly' and desperate" myth
2. Getting first pick at the Chanukah cookies. The broken menorahs simply don't taste as good as perfectly shaped Dreidel cookies.
3. Minimizing parent's shame, disappointment and embarrassment at your "lifestyle choices."
4. Securing the lead solo over your bratty cousin on the family Chanukah, Oh Chanukah sing-along.


Lesson #8: Instead of trying to change your family into the supportive family that you always wanted, just accept them for their bigoted selves.
This doesn't mean that you have to stop trying to improve your relationship. It just means that instead of trying to explain why they suck at being supportive, try to understand why they hold the judgments they hold. For example, instead of a conversation like this:
Dad: …Yeah but the Maccabees weren't gay.
Me: That's not the point.
Dad: It's just not what we wanted or hoped for you.
Me: You didn't want your daughter to be in a happy, healthy relationship?
Dad: Come on, you know what I mean.
Me: So you specifically only wanted me to be in a happy and healthy relationship with someone with different genitalia?
Dad: You're being ridiculous.
Me: Your face is ridiculous.
Dad: Let's light the candles.
Me: Let's light your face.
Try this:
Dad: …Yeah, but the Maccabees weren't gay
Me: What kind of Hebrew school did you go to that taught you that?
Dad: A normal one
Me: What do you mean by "normal?"
Dad: I mean there is a scope of normalcy, a scope of acceptable behavior that I learned as a child.
Me: I see, and gay Maccabees were not part of that scope?
Dad: No.
Me: I understand. So it's not that you're a narrow-minded dope, it's just that you are unable to break out of the narrow cannon of knowledge that you consumed as a child.
Dad: Exactly.
Me: Let's light the candles.
The baby boomers' babies are actually a lot like the boomers themselves. We're settling down and getting married a lot later in life, like our parents did. We're pushing the "scope of acceptable behavior", like many of our parents did a little wider. And we're protesting for a culture of inclusion, like so many of our parents did.
However, as both sets of babies get older and the boundaries of the norm begins to breakdown, a lot of us are realizing that our parents are not quite as cool as their history might suggest. It's not that this process of kids outrunning their parents in the race towards a truly equal society is anything revolutionary or surprising.
That sort of thing is just as old as homosexuality itself. It's just that this time around it's kind of annoying because the boomers and the hippies were supposed to be different. They were supposed to have been all about a sexual revolution, feminism, civil rights and obviously peace and love. But as it turns out, the reality of who they have become is actually a lot like the movement itself.
In theory, Woodstock was all about a massive group of people celebrating in peace, accepting and loving each other for who they were. In reality, Woodstock was a really big group of mainly middle class, white people doing a lot of drugs, trying to fit in and get laid. Those pretty average, parochial-rooted white people stopped wearing bell bottoms, cut their hair and now they're just the same as they always were: middle class, white people, living in a relatively heterogeneous environment with unsurprisingly narrow definitions of acceptable behavior. Once we accept the limits of our liberal, ex-hippy parents' revolutionary background it's a lot easier to accept them for who they are and all we can do is hope that at some point they will do the same for us.
Good Yontif to all.