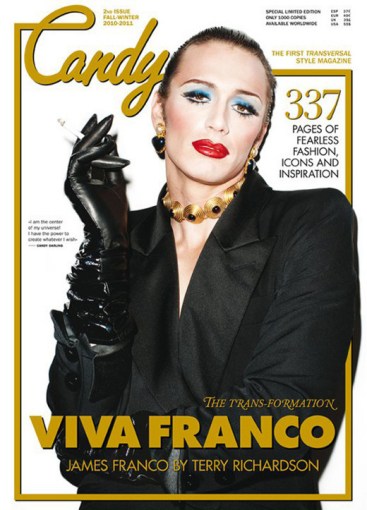 There are a lot of things you could say about 2010 – for instance, that so far Don't Ask Don't Tell hasn't been repealed, that an outrageous number of children committed suicide because of homophobic bullies, that none of our seemingly endless wars in foreign lands ended. But hey, 2010 was also "the year of the transsexual!" At least according to the New York Times!
Or at least, it was the year of transgender people appearing on magazine covers, or at least cis people appearing on magazine covers in drag. Which is the same thing, right? I mean, there's also a mention of a Texas trans student pledging a sorority; Victoria Kowalski, Alameda County's trans superior court judge, and our boyfriend Amos Mac's magazine Original Plumbing. But more importantly, did you know that "Oprah Winfrey welcomed transsexual men to her program?"
Based largely off of James Franco's being featured in trans style magazine Candy in "trowel-applied makeup [and] heavy jewelry," it's declared that trans people (at least MTF trans people, or not-at-all-trans people who happen to be wearing non-gender-normative clothes) are experiencing their Big Moment in fashion. For instance, there's Lea T, whose personal friendship with Riccardo Tisci has led to her becoming "the new face of Givenchy" and appearing at least twice now in French Vogue. Nevermind that, in Ms. T's own words, her modeling career was more or less a gift to her from Tisci in recognition of how much hardship and oppression she faces for being trans.
"He saw that my transitioning process was hard, how prejudiced people are and how I was suffering," Ms. T. said. "He wanted to make me happy to have a nice picture of me… When you are a transsexual, you look for your future, and you can't see it," Ms. T. said. "I thought this would be a nice message for another tranny: 'Look, we can be the same as other girls and boys.' It's small, but it makes you feel like you have a little chance. Maybe a transsexual will open a magazine and think: 'That's cool. We can be whatever we want.' That's why I did the Givenchy campaign."
Actually, that's kind of a recurring theme of the NYT piece; the actual trans people they feature in the article are very willing to talk about the extent to which this kind of social recognition is more than balanced out by the marginalization they experience and the fear they're forced to live with, but the writer of the piece seems doggedly opposed to picking up on it, and blithely continues in his own words about their acting careers.
For instance, he talks about the career of Connie Fleming, who worked as a model alongside Linda Evangelista in the 1990s and who's now working on designing her own clothing line. He uses her story as evidence that trans women have always been the darlings of the fashion industry to some degree, and that at least one lucky trans model is always being blessed with the status of fashion's "it" trans girl. You might buy into his unfettered enthusiasm about it, too, were it not for the chilling and mournful statement from Fleming herself – "There were girls who came before me… It's always come in and out. It's like a flavor of the month, and let's get into it, and then there's always a backlash." But Van Meter has already moved on, is already over it. Did you know the issue of Candy featuring James Franco sold out in two days? What backlash?
There's nothing wrong with recognizing the achievements and accomplishments of trans people. Lea T's career really is inspiring, and attention should be drawn to the careers of women like Connie Fleming and Candy Darling, the trans fashion pioneer of the 1970s. But to write a full-length article gushing over the trans community's having "made it" because of a few modeling contracts without even acknowledging that from January to June of "the year of the transsexual," there were reported 93 murders of trans people, and that that's only a fraction of how many probably really took place, feels like it's willfully misunderstanding the climate. 30% of trans teens will attempt suicide, and 55% will be physically assaulted; 90% report feeling physically unsafe because of their gender expression. Probably they just need to get a subscription to French Vogue, though; then they'll understand that they're actually experiencing their best year to date.