Earlier this year we started a Record Club and geeked out over Janelle Monae's The ArchAndroid and it was lovely, I feel like it brought us all a little closer. So we're going to do it again.
This time I propose we talk about Holly Miranda's solo album, The Magician's Private Library.
For those of you unaware, Holly Miranda is a solo artist and the front woman of the currently on hiatus or possibly broken up Brooklyn-based band The Jealous Girlfriends. Maybe you heard some of the buzz that happened when she released The Magician's Private Library early this year and toured the USA with a few popular acts including Tegan & Sara.
I know this album isn't exactly 'current', but it was when I first wrote this announcement way back in July, after Holly slayed me with two stunning performances at the Sydney Opera House. I never hit 'publish' because the idea of talking about this album gave me unexpected and extreme anxiety, I don't know why, maybe I'll figure it out as we go along. Anyway, hopefully you'll agree late is better than never, and that good music is always relevant.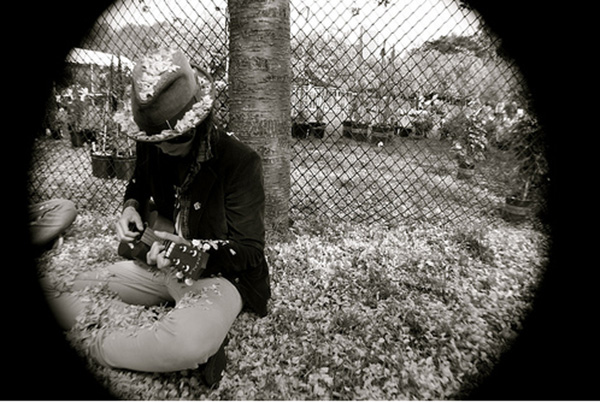 How This Works:
Go listen to the album, and in a few weeks' time we'll sit around my virtual living room and process our feelings about it. That means don't share them just yet! By all means feel free to express your exhilaration or indifference about the impending discussion or this artist in general, but resist commenting on the actual album 'cause we're gonna do that after the holidays.
Where to Get the Album:
If you don't already own The Magician's Private Library, we suggest picking it up at your local independently owned record store, if you have one!
If you like to purchase your music online, consider using the link below – that way you'll be sending some of the proceeds to Autostraddle. It's only a small slice but with operating costs like ours, every cent helps, and who knows if enough people do this then one day I might get paid.
The Magician's Private Library on Amazon.
Recommended reading & listening:
Holly Miranda by Daisy Lowe (notion mag, pg 54) (amazing profile)
Holly Miranda – A Young Singer's Newest Transformation (nytimes)
Who is Holly Miranda? (emusic)
Holly's cover Tool's "Ænima", performed on the Sydney Opera House forecourt for Shoot The Player, is my #1 favorite thing to look at on the internet, even more than this. Check it out:
Holly Miranda: Enema (by Tool) from shoottheplayer.com on Vimeo.
Remember, don't share your feelings just yet. If you have any questions, ideas or specific points that you want to discuss, let me know in the comments. Otherwise we'll reconvene after the holidays.