**WARNING: SPOILERS ABOUND**
Sex sex lesbian sex breasts vadge lesbian sex bang fingerblast sex nudity full frontal nudity lesbian nudity sex real sex real lesbians pretty hot lesbian sex sex sexathon sexville sexology sexternet sexxting lesbian sex sex xxx.
Welcome to Season Two of The Real L Word, a show about vaginas and the bodies attached to said vaginas! Season Two of The Real L Word debuts Sunday, June 5th on Showtime (though some will catch a special sneak peek tomorrow night in West Hollywood), the network famously known as having "no limits."  For example there are no limits inhibiting the inclusion of this particular sex act between two hot sexy lesbians:
The Real L World's first season was critically lamented and relatively unpopular, ratings-wise, and many fans worried it wouldn't get picked up for a second go-'round. But bottom line: it's cheap to make and it keeps lesbians subscribed to Showtime. So onward ho!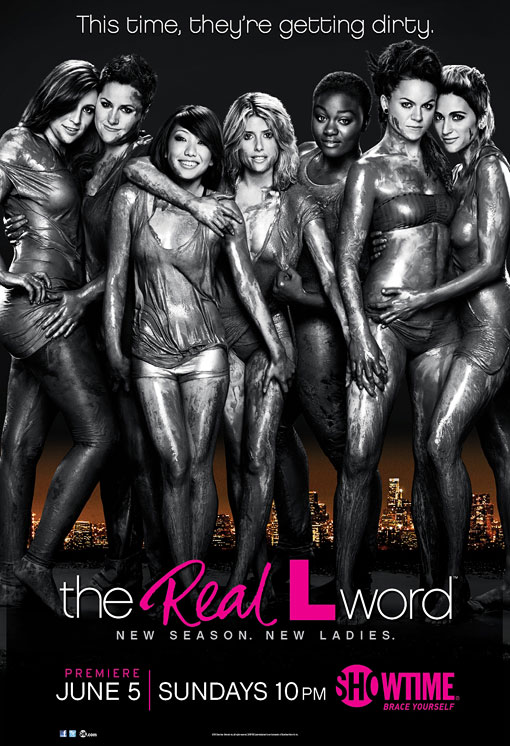 This season many things changed and a few things stayed the same. As the above poster states, there is an increased focus on "getting dirty." In other words, there's a more consistent focus on lesbians and the lesbian sex engaged in by sexy lesbians. Did you catch that? Lesbian sex. It's a thing:
Also? Shit looks good this year. Shit looks real good. The opening credits, in addition to containing at least 6 sex scene clips, are edgier and cuter and make the show seem way better than it did last year. Even the font is better and the cinematography feels fresher and — in a way — just BRIGHTER.
The group is younger and also more racially and gender-presentationally diverse.
Also there's more sex. Did I mention that? Sex sex sex sex. Lesbians have sex and are sexy sexy sex. Sex sex sex! LESBIAN SEX!
Whereas Season One read like a miniseries length episode of MTV True Life: I'm a Lesbian in Los Angeles — telling several un-connected stories, documentary style, with no particular point — Season Two's social fabric is more intertwined and they've discarded those boring Established Couples in favor of Hot Young Things. More importantly, there's no LA Fashion Week.
Also, sex. Have you ever seen a lesbian vadge on the teevee before? Well you will so PREPARE YOURSELF.
So, what's going down this season?
+
Whit-me is Back Again:
Every lesbian's dream is to either date Shane or Be Shane, and that's where the character of Whitney Mixter comes in — again! (ha) Not content to live the dream merely once, Whitney's back for Season Two, reprising her Season One storyline more or less line-by-line but with a new brunette (Rachel) and one of the old brunettes (Sara pronounced SADJJAARONADA). Roommate Alyssa's back as the calm, motherly voice of reason attempting to temper Whitney's roll of sexual terror. There are at least 27 more conversations about girls and feelings on that couch situation Whitney's got on her backyard.
There's a bit more about Whitney's work, it seems like, and I hope that her starring role this season will serve to round out her character a bit more than they did last year because I think Real Whitney is much more complicated than TV Whitney.
During Whitney's scenes I found myself asking questions like: "Did we finish that whole joint earlier?" and "Where's Tinkerbell?"
See — I just wanna see The Character of Whitney Mixter evolve. Is that too much to ask? Shane evolved! Rather than building on perhaps some of the Tough Questions Whitney had to ask herself after last season's fallout, this year just picks up where last season began. It's Double Whitney with several cherries on top. More Whitney, All The Time. Maximum Whitney. Whitney 500. Someone give this girl a character arc! Ideally before she gets called back to outer space via that hat she's wearing.
Oh also there's a scene where Rachel masturbates to orgasm while watching porn. Rachel is a lesbian. A lesbian who has lesbian sex. And masturbates!
Also in the morning, sometimes lesbians like to wake up and you know. Have lesbian sex!
+
Romi Returns:
Our other returning character is Romi, upgraded from "Whitney's fuck-buddy" to a full-on character with a new girlfriend and a Mom and everything!
Wearing slightly more makeup and a slightly larger feather-earring, Romi's now dating Kelsey, a 23-year-old menswear aficionado who I'm told to watch out for because Kelsey is funny. It often seems that she's intentionally fucking with the show's production, like not saying her lines or veering a scene off-topic, which we appreciate.
Much like Francine & Claire (which I'll discuss later), the alleged driving impetus of conflict between these two feels slightly hollow/contrived. Romi and Kelsey are both upset that they haven't had sex in three weeks, a problem that seems easily fixed by having sex. Like if they both want it. What's stopping them. They live together. Who killed Jenny? Anyhow!
I'm pleased as punch over the introduction of Romi's gay Mom, who helps to humanize her dear daughter and acts as a voice of reason to Romi/Kelsey. Near the end of the second episode she also gives us a little more insight into what makes Romi, Romi. I look forward to this and not just because my family history is identical to Romi's (divorce, death, gay mom, etc).
I also watched all of Romi's scenes, which is basically an endorsement.
Don't worry though, there's plenty of nudity (like A LOT!) and also — LESBIAN SEXXXXXX!
+
Meanwhile, Sajdah:
So while all this lesbian sex is going on we've got Sajdah talking about Martin Luther King Jr and Prop 8, marching in gay rights parades and working in the Gay & Lesbian Center. Where does she think she is, The Real World: Washington DC? GET NAKED ON CAMERA!
Just kidding! You can't be mad at Sajdah. She's really earnest, like she's on a different show entirely, and seems genuinely excited to be there, like the kid in The Real World who can't get over how cool the pool table is in the Real World house, except instead of "Pool Tables" we have "hot girls met on match.com."
This is a relatively groundbreaking character — masculine black lesbian women are underrepresented, to say the least, just about everywhere. Aside from Tika Milan, cast member of I'm From Rolling Stone, a show nobody saw, Sajdah's a lone ranger in this particular territory and is positioned to make a real impact by being on this show. I assume at some point she'll probably take off her shirt.
+
In the Other Corner We Have the Lesbians Wanting to Have the Baby
Kacey & Cori are so cute and sweet and funny it's a shame that their storyline is so — um — boring? It's the baby storyline. You know the one. It was in the fictional show (The L Word) this reality show is based on, and is also the plot of several lesbian films.
+
Francine & Claire
Francine's first scene takes place at a mysterious photo shoot, where a beautiful female photographer is taking photos of Francine and other women for no apparent reason.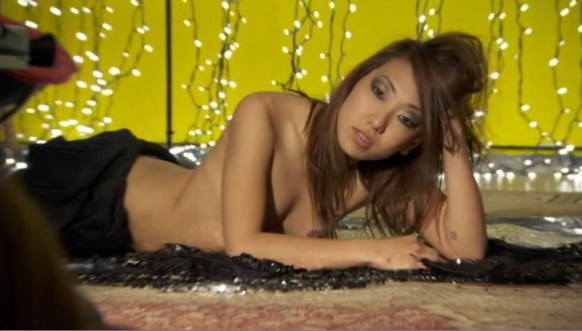 I wonder if this could maybe be Francine's photo shoot for The 2012 Autostraddle Calendar. I wonder if that photographer woman is Robin Roemer, who's been friends with Franny for a long time and says wonderful things about her both in public and private.
Anyhow! Franny, a graduate of NYU's business school, works at Nami Wave Media (this is independently mined information, one gathers via Show that Franny's primary occupation is "thinking about Claire") and isn't out to her Mom and seems like the only cast member totally oblivious to the camera's presence — she's down-to-earth, smart and level-headed, while also open emotionally.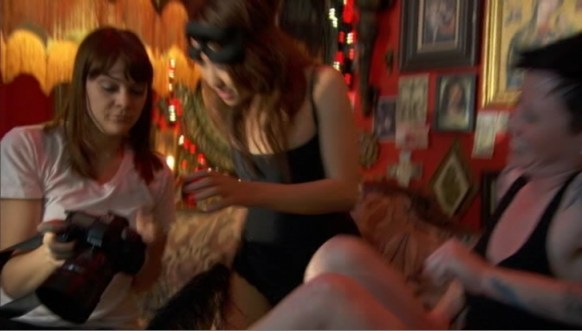 Then there's Claire, a raspy-voiced blonde with a fashion background who is moving to Los Angeles from New York for somewhat confounding reasons — stated purposes include starting a website about the lesbian lifestyle because there isn't one aimed at our generation (AHEM) and figuring out why she's "holding on" to Francine, her ex-girlfriend.
The latter reason has apparently been pre-approved by her girlfriend Vivian. In other words, it seems like maybe Claire came to Los Angeles for this show although her hair suggests a sort of beachy surfer-ish lifestyle.
Anyhow, we like Claire. Claire & Francine feel like whole entire people, flaws and beauty and all. This sort of complicated ex-relationship situation is an interesting contrast to the other's on the show — from those just dating around (Sadjah), those in an almost LTR (Romi/Kelsey), those married with baby dreams (Kacey/Cori) and Whitney (Whitney).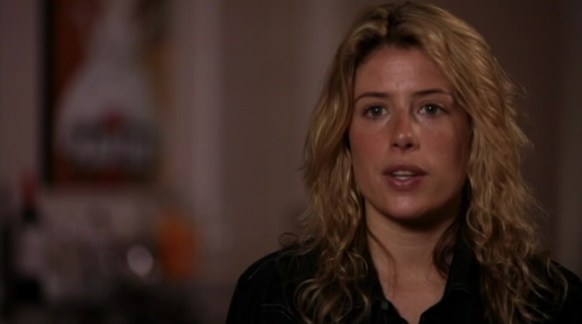 +
Because the lesbian media universe is so teeny-tiny, The Real L Word presents a really special challenge to the lesbian media — chances are good that anyone writing about the show knows one or all of the cast members and/or has friends who are friends with one or all of the cast members. I already feel weird making fun of actual people to begin with. Also chances are good you've been to these bars and to these restaurants and to Dinah Shore. Chances are good you see enough of this kind of dyke drama in your own life that you're not really compelled to witness similar exploits on television. When Claire & Francine start fighting my #1 feeling is "I'm gonna go inside and drink some vodka, you girls work your shit out and let me know when it's time for Yogurt Stop."
I mention this 'cause I'm trying to figure out why this show, though seemingly far better this season, still ranks somewhere between "counting potatoes" and "painting my toenails" on my excitement scale. In addition to obvious reasons like "I hate reality teevee", I think this might be 'cause the show's primary selling point, like The Hills & The Real Housewives (which I've never seen), is the exoticism of good looking people living sexy sex lesbian sex glamour fashion sunshiney California lives.
This isn't without merit — once upon a time The L Word was that kind of show for me and it changed my life by showing me people that seemed more like my friends than lesbians I'd seen in the media before The L Word. For lesbians not lucky enough to live in a gayborhood, it's not just the sunny sexification that seems out of reach but the concept of having a lesbian network so large and diverse to begin with. When you're the only gay in the village, finding one girl to bed let alone three is challenging. So that's a value.
Reality TV isn't ever about our actual lives — it's exotic/aspirational (The Hills) or completely bizarre (Storage Wars) — and I suspect part of the lesbian critical disdain for this show comes from the fact that the show is kinda like our actual lives except you know, prettier.
Are any of these characters sympathetic? Do you care about any of these storylines? Would you prefer a root canal? I look forward to garnering your thoughts as the season premieres, and I'll be saving my jokes and my opinions for the recaps. (In order for us to do things like devote an entire month to talking about our favorite poets and forego SEO/page-view trickery we sometimes have to write about things that people actually care about, like lesbian reality television shows! Apparently a lot of you enjoy or enjoy hating my Real L Word recaps, which get a lot of traffic, although 25% of that traffic would rather see Rose submerge my entire body in a pit of dead vampires than laugh at any of my "jokes" or agree with any of my "commentary", but, as they say on The Wire, it's all in the game.)
Oh also should we talk about lesbian sex? I feel like we should. LESBIAN SEX LESBIAN SEX LESBIAN SEX. This'll be controversial I'm sure — they're pandering to straight men! But nah, I don't think they are. With all the porn out there why would any het guy sit through all the drama just to see Romi's vadge for two seconds? I mean I fast-forwarded through most of the show and I was supposed to write this review. One thing's for sure: lesbians like having lesbian sex. Lesbian lesbian lesbian sex.
Do you wanna watch?