Summertime is synonymous with grilling! So in honor of one of my favorite food seasons, I decided to grill up some veggies and share with y'all. Get your charcoal, lighter fluid, and beverage of choice and get ready to impress your friends with the magic of fire!
Safety first, queers: Get a fire extinguisher! Also, if you haven't lit a grill before, I highly suggest that you enlist some help. Make sure that the grill is clean and lightly oil the racks.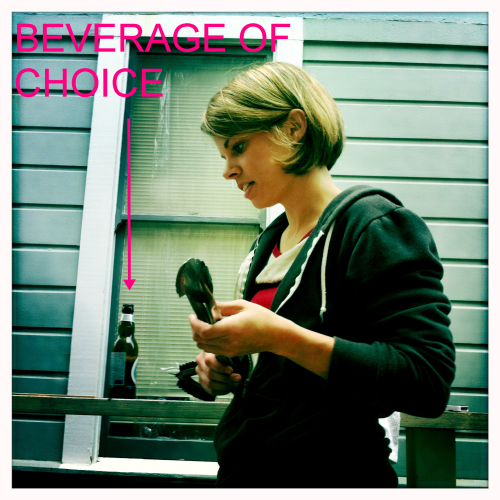 I decided to pick a small variety of things to grill, but since you can basically grill any vegetable, you should pick what looks good at your farmer's market. There are multitudes of ways to grill vegetables; it makes it practically impossible to mess up. Yay!
Grilled Vidalia Onions
(approx ½ onion/person)
I hail from the great state of Georgia, and as any Southerner knows, there's nothing quite like a Vidalia (Vie – dale – ya) onion. You can technically grill ANY onion, but the sweetness imparted through Vidalia onions is something everyone should experience at least once. To my excitement, I was even able to find Vidalia onions in my new home of California (I know, not local, but shh). They are everywhere this time of year; you just have to pay attention in the produce aisle. I suggest starting these first because they will take about 45 minutes to finish.
You will need:
Foil
1.5 tablespoons butter (or oil) per onion
Salt and pepper
1 teaspoon garlic powder per onion
(Vidalia) onions, medium-sized, outer skins removed
Remove the top and bottom to the onion so that it sits flat. Each onion will need its own piece of foil. Top each medium onion with 1.5 tablespoons of butter (or oil), season with salt and pepper, and 1 teaspoon garlic powder. If you skimp on butter the onion will burn, so don't be shy. Completely wrap each onion in foil by bringing all four corners up to a point and twisting. Seal it tightly so that the onion will cook evenly. Place these little nuggets on the back of your grill on medium heat. Let them sit for about 40 minutes, and then open one to check on doneness. The onion is finished when it falls apart and is fork-tender. Yuuuuuumm!
Grilled Corn (with cilantro butter)
For me, grilled corn is to summer as pumpkin pie is to Thanksgiving. If you've never grilled corn before, try it with the husks on and off so you can figure out what your taste buds prefer. Corn tends to have a more smoky/earthy flavor with the husks on, while placing the cob directly on the grill will bring out more of its natural sugars. The possibilities are endless, but here is my favorite way.
You will need:
Corn
Olive Oil (or butter)
Salt and Pepper
Shuck the corn and remove as much silk as you can. Cover the cobs in cold water and allow them to soak for at least 30 minutes before you grill them. This will help remove some of the extra silk and add moisture for cooking. Pat the cobs dry, drizzle them with olive oil or brush them with butter, and season with salt and pepper. Preheat your grill and place the cobs directly on the racks. Give the corn ¼ turn about every 4 minutes. The slower you turn the corn, the more charred the kernels will be, which is up to you. Total cooking time should be about 15-20 minutes, or until the corn is soft to the touch and the kernels are speckled.
I like to serve grilled corn with cilantro butter. I'm seriously obsessed with cilantro and could probably eat cilantro butter plain, but that is besides the fact. Here is the recipe!
Cilantro butter
For about 4 ears of corn:
½ stick butter, softened
½ teaspoon sea salt
4 tablespoons chopped cilantro
½ lime, juiced
Mix all four ingredients in a small bowl and spread over the grilled corn, or you know, just eat it with a spoon.
Grilled Asparagus
You will need:
Skewers (optional, but they will make your grilling session easier, soak in water 5 minutes prior)
Asparagus
Olive oil
Salt and pepper
Balsamic Vinegar (optional)
Asparagus is best when it is super fresh because it toughens over time. When trimming asparagus, each stalk will naturally break at the bottom where it turns from tough to tender. Snap each spear at the bottom and discard the tough ends when prepping. The tougher the asparagus, the harder it will be to skewer, so if the stalks begin to break during your prep, I recommend just grilling them directly. If using skewers, line up about 4-5 asparagus spears and run two pre-soaked skewers through the group, one towards the top and one towards the bottom. Repeat with the remaining asparagus, drizzle with olive oil, and sprinkle with salt and pepper. Place each bundle on the grill, at medium heat. Allow them to cook about 4 minutes per side, and then remove from the heat. If you'd like, finish them by very lightly drizzling with balsamic vinegar.
Grilled Portobellos
For 2 large mushroom caps, you will need:
1/3 cup oil
Salt and Pepper
Ziploc bag
1 tsp dried thyme
1 large garlic clove, minced
Clean the mushroom caps by removing the stem and cleaning out the gills with a spoon. Very gently clean the top of the mushroom with a damp cloth. Put the caps in the Ziploc bag, add the oil, salt, pepper, and thyme. Allow the caps to marinate for an hour before grilling. Right before grilling, toss the caps with the minced garlic, and throw them on a medium-heat grill, tops down. Wait for 4 minutes before turning, allow about 4 more minutes, and then remove from heat when the mushrooms have beautiful grill marks and are soft to the touch.
Ok, now it's your turn to throw a cookout Share your favorite grilled veggie technique / recipe in the comments! Best of luck and happy summer!