Welcome to Real L Word Episode 202, which I'm recapping because I didn't make Intern Grace create 1,000 screencaps and a pie chart about Kelsey's household duties just to quit!
This week on The Real L Word, everyone took turns repeating how they feel about Whitney, Sajdah did a cross-country triathlon to support the research of exotic airborne diseases afflicting super-super-underprivileged populations, Romi considered taking Kelsey to Mommy & Me Yoga to spice things up in the bedroom, Kacy and Cori were sitting in a tree T-A-L-K-I-N-G A-B-O-U-T S-P-E-R-M and then Showtime sent me a check and I bought everybody a trip to Disneyworld. They need a Real L Word Special where they visit Disneyworld, like when The Brady Bunch went to Kings Island.
Even though I don't play video games, I think The Real L Word would be better as a video game, like Leisure Suit Larry.
Anyhow, let's get this show on the road, hopefully it'll get run over! I'm trying really hard to put aside my affections for humanity and treat these people like the "characters" the editors have turned them into, which is taking a toll on my soul. From The Frisky:
A large part of being a lesbian is sex. A large part of being a human is sex. But why does lesbian sex have to be the focus of the only reality show that's on television claiming to be telling lesbian stories? When the women are not in the bedroom, they are discussing otherwise banal topics and quite obviously aren't able to find a story that's worth televising.
Worth noting:


Good morning! Would you like some eggs, waffles, or Sara's tits? All three minus the first two? PERFECT!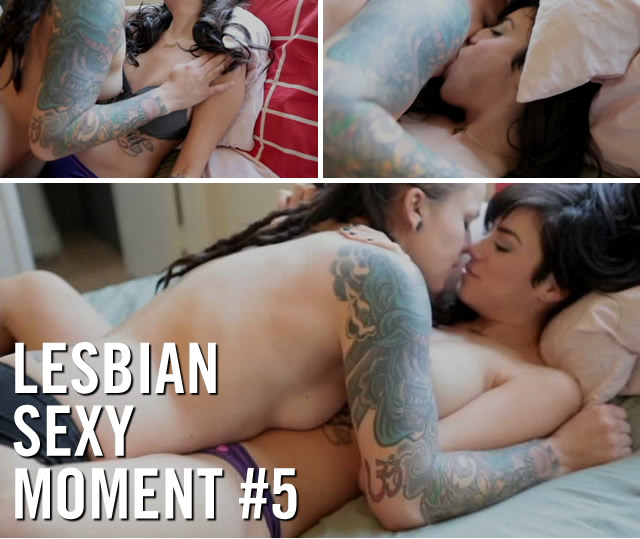 Despite just waking up, Sara's already prepared for a day in the cages:
Whitney muses that, "it always feels good to be intimate with Sara." Sara is the new Skintimate, pronounced "SkAN -TEH- MATE." Also, Whitney is addicted to Sara, heroin and analogies. Today Whitney compares herself to Romeo from Shakespeare's famous Romeo & Juliet.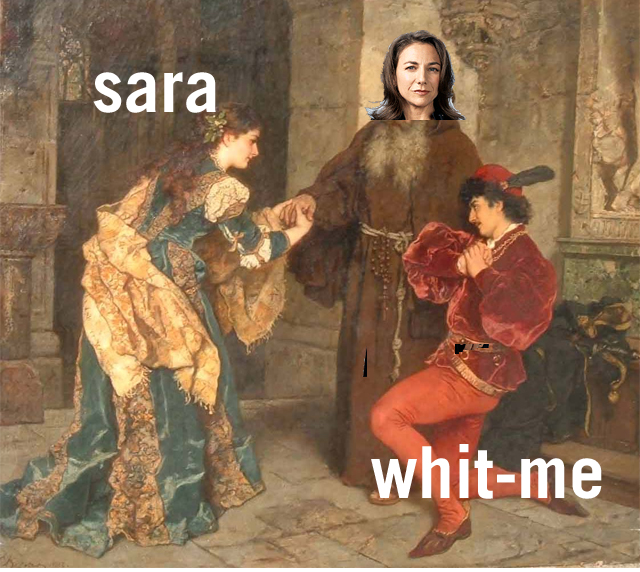 Sara: "So should I like, fake my death sometime soon? Or wait, or you are, because you're Juliet."
Whitney: "Then I'd really die. That sounds actually accurate. Like you would get out alive and I'd be in the bedroom dying. You would be like 'damn, I'm actually just sleeping, yeah bitch don't take it so seriously."

After a morning spent doing it doggy-style, the ladies take their dogs to the park, in style.
Sara and Whitme, looking very homeless chic, describe "the dog park" as "like Disneyland for dogs" except without rides, lines, food, people dressed as cartoon characters, Captain EO, or fireworks. Children, probably also led to this deserted land by adults promising Space Mountain, discover Disney Magic in Sahara's face:
Just in case you'd forgotten and needed an update, Whitney reminds us that she's conflicted about her feelings for Sara!
Rachel and an unidentified girl (probably she works for Autostraddle) brought a dog who wants to taste the Disney Magic/grass and are surprised to see that there's another camera crew already on the land.
After standing around and looking at each other for a little while they decide to go take their dogs somewhere else. Somewhere CLEANER. With FAIRY PRINCESSES.

Claire recaps last night in case it wasn't exciting enough the first time. The way Claire figures it, Francine's being an asshole 'cause she's scared to let Claire in / get hurt again. Silly Francine, trying to protect her little baby heart! Someone get that girl a churro!
Once again Claire addresses the most pressing issue currently facing out nation's lesbians: a lack of a lesbian website/online magazine for people of our generation. My heart — it swells!
Then Claire hops on the telephono with Franny to talk nonsense. When Claire says "your behavior last night was not good," it's difficult to tell if she's talking to Francine or the dog, which I think is a bad sign.

Sadjah's straight friend Marrisa is visiting and Sajdah wants to ensure the week isn't too gay, besides the gay reality show cameras following them everywhere.
For example — before the gay pride march, Indigo Girls concert, flannel-shopping trip and Tomboiswagg party — they're eating. Food! At a table. Just like straight people do every day.
"Did I tell you I'm stalking a girl?" Sajdah asks Marissa. Well she shouldn't tell her that 'cause it's not true, she wouldn't know a real stalker if it was hiding in a bush in her front yard with a machete.
Sajdah says it's Stalker Appreciation Month or Stalker Awareness Month. I think it's the latter because I'm all too aware, but not so appreciative.
"Lesbians fall in love in all of 30 minutes," says Sajdah, who's allegedly been out for one year, never had a girlfriend or a gay scene and is an expert on lesbian life.
I think Sajdah gets the award for getting her fake-story-self and her actual self mixed up most often. Also, her scenes have been tinged with sadness for me after discovering her twitter:


Kacy & Cori have left the privacy of their own home and are in a restaurant, talking about sperm.
Kacy's ovulating in a month and she'll never ever ovulate again if they can't find a guy to jerk off in a cup for them STAT.
What they should do is have a party — a screening of The Real L Word – invite all their straight male friends to come, line the floors with saran wrap, and let the jerkoff juice fall where it may. Then just mop that shit up, drop it into a sippy cup and turkey-baster-blast that baby right into rock 'n roll heaven.
The duo agrees that they'd underestimated the attachment men have to their sperm. I underestimated the attachment Ilene Chaiken has to men who have attachment to their sperm. Cori wants to find a man they know and suggests craigslist. Who edited this scene.
Also, this is Cori & Kacy a few weeks ago:
Just saying.

Romi, who's rocking a Cleopatra/Mother-Hubbard/Ziggy Stardust ensemble, has brought her mother onto the program for a meal with her girlfriend, Kelsey, who still wants more attention/sex, but probs won't get it as long as these cameras/booms are tracking them down.
Romi is lamenting how tough life is for her and Kelsey in West Hollywood, with their home and food and jobs, and when Kelsey mentions making a mistake at work, Romi is like, "heads up to both of us, Kelsey might lose her job soon!" And then what. Then what? Who will feed Sean Jayden? Will everyone have to switch to Cover Girl?
Romi talks about Kelsey while Kelsey stares at the table, like about how Romi's paying for the roof over their heads. Who's paying for the walls, huh? HUH? Kelsey's 23, Romi explains, she's never had to pay rent and pay for her bills. It's really a wonder she even knows how to flush the toilet.
Kelsey: "She used to be so passionate and romantic, and you know, couldn't keep her hands off me and now, she just–"
Romi: "I did. I would just want to rape her every time I saw her. I would just grab her and hug her — I get. I get– I'm — I get in my head, I have a lot going on — and I've been pissed off — and I don't want to rip your clothes off–"
Kelsey: "Really? You've been pissed off at me?"
Romi: "Because of the whole like, money thing –"
Kelsey: "Yeah yeah yeah." [looks down, sighs, looks up] "GOD."
Romi's Mom gives wise words. Someone get this woman a spinoff, it could be like The View, with Ellen's Mom and Debby Navotny.

Back to Whitneyhouse, where girls can be girls, and talk about girls!
I found the dialogue in this scene so captivating and reminiscent of Mamet, Stoppard and Tennessee Williams that I had to transcribe it for you:
Alyssa: "I just heard that you hooked up with Sara again."
Whitney: "And who told you that?"
Alyssa: "Does it matter?"
Whitney: "Yeah, it does matter."
Alyssa: "It doesn't."
Whitney: "It does."
Alyssa: "It doesn't matter."
Whitney: "Who told you that?"
Alyssa: "I'm not telling you it doesn't matter."
Whitney: "Who told you that?"
Alyssa: "I'm not telling you! I said, it doesn't matter."
Whitney: "Who the fuck told you that?"
Alyssa: "I'm not telling you!"
Whitney: "Tell me the person–"
Alyssa: "No, I'm not telling you is what I just said. The point is — is — what happens? I can't believe–"
Whitney: "No, hold on a second—"
Alyssa: "I have this weird feeling that you're like — having an alternate life–"
Whitney: "What the fuck are you talking about dude?"
Alyssa's exhausted from all this nonsense. Us too.
Whitney: "I'm a fucking adult, number one, and number two and I could either get butthurt over shit or I could just take it like I already did because I'm single and i do what I want to do."
Who told Alyssa that Whitney hooked up with Sara? Probably the camera man. Alyssa's got another little metaphor for Sara's intense appeal.
Alyssa: "She liked sprinkled voodoo dust up on Whitney's head!"
Well, nobody will ever find it in there.
The most important piece of information gleaned from this conversation is that Sara has breast implants.
This is how Whitney feels:
This is how Rachel feels: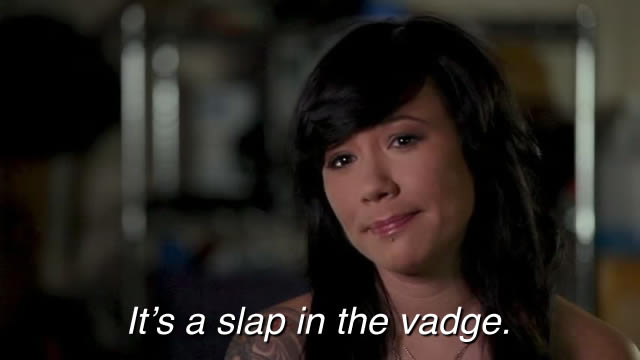 Speaking of SLAPPING THE VADGE!…

In the next scene, Rachel explains that she hasn't seen Whitney much since moving there and therefore she has some pent-up sexual desire. Furthermore, Rachel reveals that she enjoys porn featuring straight girls sucking men's dicks, a.k.a. "blow jobs." (sidenote: many gay girls I know masturbate to straight porn, obvi, we like what we like, not an issue. But in this context — a lesbian show already being accused of going soft-core porn this season to appeal to male viewers — this is all sort of suspicious.)
Rachel then uses an erotic toy to stimulate herself while watching the straight porn of blow jobs. She makes a lot of noises that I believe are cinematic orgasmic sounds. At the end of this scene — no. Not even at the end. About 15 seconds into this scene, I began praying for a Grizzly Bear to smash my eyeballs into my skull like grapes. Little smushed up grapes.
I don't know why this is happening. Why is this happening?

So, now that we've basically lost all hope for the future of lesbian entertainment, let's return to Francine's Love Lounge where Claire and Francine are preparing a meal. There are snags, like where's the cutting board. Claire searched all over for the cutting board but couldn't find it. Where will they cut? This issue is never resolved, unfortunately. How do you misplace a cutting board? Do you take it to your room to dice tomatoes before bed?
Francine: "You know when I was little I used to love Ricky Martin I thought he was so sexy."
Claire: "Now he's gay, just like you."
The "thing" is still there, but it's kinda scary.
Francine: "Your first love will always have a special place in your heart."
For the remainder of the scene Claire alternates between saying something to Francine and then telling Francine why that something she just said is indicative of Claire's status as a "changed woman" who is "older now." She's 26. They dated from 19-23. So it's been three years since they last steamed broccoli together.
Claire: "I like this. Working out, cooking, she's like a changed woman"
Claire points out that she's purchased three lesbian magazines, look see:

We catch up with Sajdah the Boi Scout at, literally, a "Martin Luther King Parade" with her Gay & Lesbian Center Cult-Buddies. Unfortunately for Marrissa, the memory of Martin Luther King Jr is probably the straightest thing at this event and her breakfast pastry knows it.
They catch up with Chanel and Sajdah reports on Chanel's Parade Couture: "her breasts were all up and shit." A rose by any other name…
Sajdah feels gay rights are the new civil rights/"race relations" and this fight is important to her.
Honestly the people marching in this parade in this scene look happier than anyone has ever looked on The Real L Word since the last time Jill and Nikki screamed about bunnies.
Sajdah says having Chanel close by during the parade gave it meaning and the emotional element. Is she talking about the intoxicating scent of Chanel No.5, or about the girl Chanel?  Stay tuned!

Pages: 1 2 3See entire article on one page