I'm about to talk about swimsuits. First, let's not forget that last June we already released Autostraddle's dope Swimsuit Edition . Go read that first. It's okay I'll wait. Okay, now that you've read the swimsuit edition I'm not going to talk about timeless swimwear you can wear all the time. I'm going to talk about what you need to own right now. And you need to own a vintage inspired swimsuit.
Vintage inspired swimsuits have been making a slow creep on the market for a couple of years now. Last summer I spent all of June and July trying to track down the perfect halter, full backed, red polka-dotted rouched Betty Paige swim suit. I failed. I can only assume this is because when I first see something cute on TV/in a magazine either it's a million dollars or you can only buy it in some obscure place like Paris/The Internet.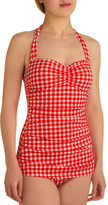 Thus, last summer when I first decided I wanted a 1950s one-piece, they were pretty much just sold online or for over $200. It's not that this bathing suit from Modcloth isn't totes adorbs, it's just that I'm terrified of ordering something online that I can't return to a store in person (for that reason, everything shown in the rest of this post is from an actual store where you can return it).
Similarly, this Oscar de la Renta suit is amazing. It's also almost $600 (boo). If I had an extra $600 around I would probably, I dunno, put it towards something silly like my rent.
But now, luckily, vintage bathing suits are everywhere! 1950s beachwear for everyone! Yay! Especially because, unlike some trends that make me cry all day, throwback swimwear is flattering and inclusive for all sorts of bodies and gender expression. Even the colors/patterns are pretty flattering with lots of blacks, reds, navies and pinks. Plus, you think you know, but you have no idea. This is true life everyone is wearing polka-dots. I love polka dots. Seriously. This is not a test. I want to gay-marry polka dots. So wanna see some of my faves or what?
One-Pieces
The most body conscious type of vintage swimwear is the one piece. I'm in love with the resurgence of the one-piece swimsuit because it starts to put to rest the notion that in order to be cute/sexy/attractive/awesome at the beach you have to basically be naked. The tops of these suits are usually either halter or strapless, while the bottoms are generally either skirted or boy-cut.
The winners here are J. Crew and Anthropologie. I am going to own that Anthropologie suit. Mark my word. It will be mine.
But Target* and Lane Bryant also came out with a bunch of cute suits. Additionally, both stores have stylish, flattering plus size swimsuits that don't have some stupid skirt down to your knees.
Bikinis
Maybe, however, you've noticed how difficult it is to pee in a one piece. Maybe you just have killer abs and the beach is your time to shine. Maybe, like me, you're just really scared of change. If that's the case, you can totally work vintage swimwear in to your normal bikini rotation. This is particularly handy if you constantly wear random tops and bottoms together (which as far as I can tell, is what everyone who isn't a character on ABC Family does).
For bikinis, the 50s style generally translates in to bra-style under-wire or strapless bandeau tops and higher waisted bottoms. Under-wire tops are basically the best thing that could ever happen if you're breasts, like mine, have their own gravitational field. If you're small busted bandeau tops are wicked cute as long as you don't plan on wearing one to play water polo in. Unless I'm invited. The high waisted bottoms are great if, I dunno, you're lower stomach gets cold easily or something. Best of all, if you have an old black bikini, you'll look totes stylish pairing a vintage-inspired top with your old bottoms or high waisted bottoms with an old top.
Marc Jacobs nails the Bandaeu top and, unsurprisingly, American Apparel brings it home for the win with one of the only pairs of high waisted bottoms I'm not the least bit scared to try on.
J. Crew and Anthropologie again show some nice looking styles for bikinis, but I heart the reasonably priced Delia's two-pieces (even if Delia's brings back Junior High Nostalgia for me).
Trunks
So the real reason I love throw-back swimwear is that it's starting to leak in to menswear as well. This is stellar because, um, well I just really like looking at girls wearing sports bras/tank tops and shorty-shorts. It used to be that to find cute vintage-style shorts you had to go digging through the Salvation Army. Not anymore—swim trunks are back on the rise! (Pun intended.) That's right, I'm talking about a 2-6 inch inseam. Here we find less polka-dots but a lot more pastels, stripes and nautical themes. It's also worth mentioning that any of these shorts would look great over a one piece or with a bikini top. If traditional bathingsuit tops aren't your thing, I suggest buying a quick-dry fabric sports bra and pairing it with a white T-shirt/rash guard to get the full 50s look.
Despite being from a website, the RonRobson.com trunks were too perfect for Pride month to pass up. Penguin nails it too with a color thats almost too good to be true.
For whatever reason, Nordstrom has the jump-off on short-inseam trunks with a Deisel pair and a few from companies I've never heard of. Ever Swim? Ezekiel? Did I miss something? Anyways, the Topman's aren't really that retro, but they're a must-have for anyone who's looking to win my heart because fake zippers rule. As always, props to American Apparel for unisex clothing.
| | | |
| --- | --- | --- |
| | | |
| $128 Nordstrom | $95 Lacoste | $46 Nordstrom |
| | | |
| | | |
Alrighty, that about sums it up. So how about I put on my new super neat-o red polka dot swimsuit, you throw on a tank top and some volley-ball shorts and we'll meet at the beach to split a soda-poppy, bask in the sun and play whiffle b– Oh who am I kidding. We can read magazines under a giant umbrella, complain that it's too hot, wear SPF 1000 and thank god we weren't actually born in the 50s.