Astute readers may have noticed that despite our obvious fascination with and obsessive analysis of the Prop 8 case and its aftermath, we've pointedly avoided covering the latest "development:" the accusation by Yes on 8 proponents that Judge Walker's decision should be overturned because he is a gay man ruling on a gay rights case. Although the issue has come up in the news again and again, we've ignored it each time, not willing to waste time or words or resources or brain cells covering something that should never have been "news" in the first place – especially not while there are real issues that, by virtue of not being imaginary problems, actually affect the lives of people in our community.
But today there was an official hearing on the issue of whether or not Judge Walker is qualified to deal with sexual orientation in the course of his profession, being that he himself has a sexual orientation that is not "straight." The judge will make a ruling within 24 hours. From Slate.com:
The hearing today took place in the courtroom of Chief Judge James Ware, who took over the Prop 8 case after Walker's retirement. Both were George H.W. Bush appointees. Ethics experts were quick and nearly unanimous in opining that this effort to overturn Walker's decision on the basis of his relationship is specious as well as desperate. No claim that a federal judge should have been barred from hearing a case because of race, gender, or religion has ever succeeded, a point made by California Attorney General Kamala Harris in her brief opposing the motion to vacate this ruling: "Just as every single one of the attempts to disqualify judges on the basis of their race, gender, or religious affiliation has been rejected by other courts, this Court should similarly reject Defendant-Intervenors' effort to disqualify Judge Walker based on his sexual orientation."
We can't avoid talking about this any longer, but there's also really only one thing that can be said:
This is the absolute last thing we should ever have to waste time talking about, and it's insulting that we're forced to.
You may remember this happening before, in the case of now-Supreme Court Justice Sonia Sotomayor. Because of a (completely true and commendable) comment about how her life experience informs her job skills, and because, if we're being honest, her skin is brown, Sotomayor was subjected to relentless grilling from room after room of old straight white men about whether her "experience" was not really a "bias" that would prevent her from doing her job. Because none of their life experiences as deeply over-privileged (usually white/straight) people ever informs the way they think or legislate in cases that involve poor people or people of color or welfare recipients or women or immigrants or women or religious minorities. Of course.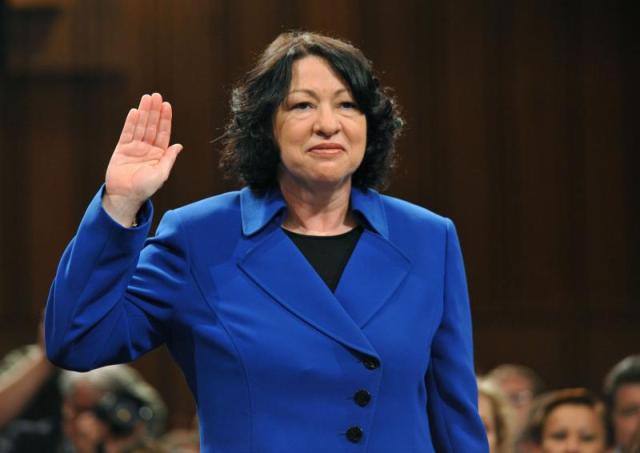 Sonia Sotomayor is now a Supreme Court Justice, though, and it's very unlikely that this case will end up damaging Judge Walker's judicial record or rulings, either. The case is being heard by Judge Ware, the judge who has stepped up to take Judge Walker's vacated seat, and tweets from the courtroom seem to indicate that he doesn't have much more patience with Yes on 8 attorney Charles Cooper than his predecessor did. But that doesn't change how insulting it is that something this absurd has ever made it as far as it has. A helpful analogy from the Atlantic's Andrew Cohen, to illustrate exactly how outrageous a claim is being made:
So let me take you to the baseball diamond. It's the Yankees versus the Red Sox (don't read anything into my selection of teams, pick your own if you'd like). The Red Sox are crushing their opponents. It's 15-0 in the 6th inning. The Yankees' pitchers aren't pitching and the Yankees' hitters aren't hitting. The bases are loaded with Sox and New York manager Joe Girardi decides after a visit to the mound not to replace his pitcher, who has been battered about like a rag doll by Boston's hitters.

"Are you sure about that decision, Joe?" the home plate umpire politely asks Girardi as the manager begins to walk off the field. "I just want to make sure I've given you a chance to try something else."
"We're fine, ump," Girardi responds. And the game continues. It ends 21-0. Eight months later, the Yankees find out that the umpire was dating someone from Boston.
They immediately call Major League Baseball Commissioner Bud Selig and share with him their new evidence.

"The game was rigged!" the Yankees cry. "That ump had it in for us. The fact that he is dating someone from Boston creates a reasonable suspicion that he was unfair and called the game in favor of the Red Sox. The game should be a do-over."
"But you guys got crushed," Selig responds. "It was never a close game. What, possibly, could this umpire have done to influence the impact of this game more than he otherwise would do in the normal course of business?"

"He's from Boston, judge," the Yankees say. "That's all you really need to know."
It's an accurate depiction of the situation for the most part. Except imagine that Selig holds out until finding out that the ump is gay, and then shrugs and says "Well, I guess you can go to court if you want. It's a free country."
This isn't insulting or shameful just because it attempts to make a joke of the legal system, or affects a complete and total lack of understanding about the judicial process. (Although it does.) We've refused to even think about entertaining this story before now because it's about where gay Americans stand, and how much progress we've made. Which is, apparently, not much. While in general the 'oppression olympics' are not something worth engaging in, it's hard to avoid wondering "Could this ever, ever have happened if Judge Walker was anything other than gay?" Cohen's of the opinion that it couldn't:
"No reasonable person in America today would challenge a black judge by claiming he could not fairly judge a civil rights case. No reasonable person in America today would challenge a female judge claiming she could not fairly judge a case about women's health. "
I'm not convinced that's true. While I can't call any examples to mind, they don't actually sound outside the realm of possibility. But the fact is, they're not happening right now, and this is. To those of us who followed the Prop 8 trial in detail, it was one of the most affirming and validating events of this generation. We were vindicated in our long-held belief that the evidence of our own hearts and lives and families is real and is valid, and vindicated also in our belief that the "evidence" of the bigots who attack us is flimsy at best, and laughable at best. At the end, we were given a 138-page decision that explained in detail why we were right to be angry that our rights had been denied for so long, and compiled irrefutable evidence that the slights and injuries we deal with are real.
As seminal as it was, the Prop 8 trial didn't change much on the ground; marriage in California still hasn't actually been re-instated, and the experts seem to agree that this will end in the Supreme Court one way or another. For most of us, the real value of Judge Walker's Prop 8 decision was personal, was emotional, and that's what this is trying to take away. No matter how this hearing turns out – the result will, again, likely be in Walker's favor – the implication of its happening at all is clear: all of that is ultimately meaningless, because we're just a bunch of queers. That isn't hyperbole; that's exactly the intended message.
Maybe in the end this hearing will be a good thing; maybe it will create some kind of precedent that can protect future judges and future decisions from the same attack. Maybe this will, in a roundabout way, make it safer to be an out gay judge. But right now, it's just a slap in the face.