We're closer than ever to getting gay marriage legalized in New York. According to former New York Giants Wide Receiver David Tyree, that means we're closer than ever to complete and total anarchy!
NOM has released a 6-minute interview with Tyree, which is a rare "celebrity" endorsement for  powerful and radically conservative organization. While ex-Giants legend Michael Strahan and Giants co-owner Steve Tisch have come out in support of same-sex marriage and last month and New York Rangers' star Sean Avery became the first New York professional athlete to "publicly support marriage equality," Tyree is becoming the first public figure since Carrie Prejan to ally so strongly with NOM, which former NOM activist Louis Marinelli describes as "a small group of devoutly religious Catholics supported by a couple of undisclosed sources" and "a handful of fringe Catholics."
From the interview:
"If they pass this gay marriage bill, what I know will happen is this will be the beginning of our country sliding toward … it's a strong word, but, anarchy. That will be the moment itself where our country loses its grip with what's right. Marriage is one of those things that is the backbone of society. So if you redefine it, it changes the way we educate our children, it changes the perception of what is good, what is right, what is just."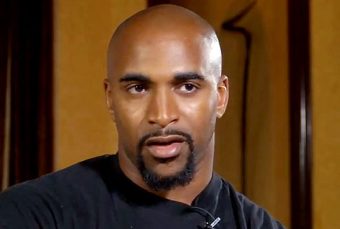 Tyree had battled with crack and alcohol addiction from an early age and was arrested for drug possession in 2004. He says he's been sober since his girlfriend Leilah, who's now his wife, got pregnant with their second child. Leilah and Tyree then became born-again Christians. He's not so sure same-sex couples could handle raising a child:
"This is what I do know. You can't teach something that you don't have. So two men will never be able to show a woman how to be a woman. That's just, for lack of better terms, common sense."
This is probably a huge wake-up call to everyone in this country irrationally obsessed with the perpetuation of traditionally patriarchal gender roles! This is probs a HUGE bummer especially for people like me who experienced the death of a parent at a young age — if only our parental units had thought more about our gender development before they died!
Here's another unpleasant thing Tyree has said, apparently relating to his dissatisfaction with Obama:
"How can marriage be marriage for thousands of years and now all of a sudden because a minority — an influential minority — has a push or an agenda and totally reshapes something that was not founded in our country? It's something that's holy and sacred and I think there's nothing more honorable than fighting for it."
TMZ claims they have an exclusive from The Human Rights Campaign, which seems extraordinarily unlikely, but here it is:
"Anarchy? Hardly. Committed gay and lesbian couples have been able to legally marry in five states and the District of Columbia — not to mention a number of foreign countries — for years now and cows are still giving milk, little boys are still pulling little girls' pig tails, and we still drive on the right side of the street.".
Here's Tyree's six-minute NOM interview:
++

++
(TMZ also points out that "FYI — Tyree's statement comes almost 44 years to the day after interracial marriage was legalized in the United States … thanks, in part, to the agenda of an influential minority.")
This morning a private GOP meeting was held with NYC Mayor Bloomberg, who decided to pay a surprise visit to Albany to chat with State Senators about how they should legalize gay marriage. The bill passed the Assembly on Wednesday (80-63), as expected. Bloomberg's position has some weight amongst the GOP because he's one of their biggest campaign donors.
Republican Senator Martin Golden told the AP that "the collapse of a deal to extend New York City rent control regulations late Wednesday night has complicated the gay marriage issue" and that he expects the marriage bill to be voted on in the Senate, but that might not happen this week. Perhaps to will happen next week on Monday or Tuesday or Wednesday. See, today is Thursday. Tomorrow is Friday. The day after tomorrow is Saturday. And Sunday comes afterwards. (However apparently the legislature adjourns on Monday, so I'm a bit confused how this works?)
On that note, have you called your Senator yet? If you live in New York, take two minutes today to contact Sen Andrew Lanza (Staten Island 518-455-3215) & Sen Jack Martins (Nassau County 518-455-3265) — they're both currently undecided. New York only needs one vote to become the largest state in the country to support marriage equality. The HRC has an interface to connect you to your local politician.