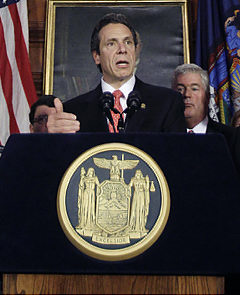 Gay marriage is on the horizon in New York City today as Governor Andrew Cuomo introduces a bill to legalize the state-sanctioned marital union of Adam and Steve. Lawmakers break on Monday so we're expecting a relatively speedy turnaround on this one.
In a statement, Cuomo said:
"For too long, same-sex couples have been denied the freedom to marry, as well as hundreds of rights that other New Yorkers take for granted. From the fight for women's suffrage to the struggle for civil rights, New Yorkers have been on the right side of history. But on the issue of marriage equality, our state has fallen behind."
Bloomberg, who was treated to a lovely protest outside City Hall today in response to his support for gay marriage, had similar sentiments:
"On matters of freedom and equality, history has not remembered obstructionists kindly. Not on abolition. Not on women's suffrage. Not on workers' rights. Not on civil rights. And it will be no different on marriage rights."
What are our chances? Well, the bill is "roughly" the same as the one defeated by Republican senators in 2009, but The New York Times says we're one vote away from cinching marriage equality:
New York is within a single vote of legalizing gay marriage after a second Republican state senator said on Tuesday that he would support the measure should it come to the floor this week.
The senator, Roy J. McDonald, from the capital region, made his comments to reporters amid growing indications that Republican leaders would bring the bill to an up or down vote on Thursday or Friday. Three other Republican state senators, speaking on condition of anonymity because their conference had not yet formally debated the measure, said they believed the bill was almost certain to come up for a vote and that it would likely pass, making New York the sixth and largest state in the nation to legalize same-sex marriage.
The bill Cuomo introduced today includes exemptions which state, according to Capitol Confidential:
– An entity incorporated under the benevolent orders and other organizations formed by religious orders "shall be deemed in its nature distinctly private and therefore, shall not be required to provide accommodations, advantages, facilities or privileges related to the solemnization or celebration of a marriage." In other words, the Knights of Columbus or the Jonesville Hunting Club (which as a Jonesville native I assure you doesn't actually exist, but you get my point) can continue to only rent their hall to members, and they, like the Boy Scouts and other private organizations, can set the criteria for membership.
– Such a refusal "shall not create a civil claim or cause of action." Which means, if you're a gay couple just dying to get married in the Knights of Columbus catering hall, you can't sue them if they say no.
– Nothing in this law should be construed to prevent any organization from limiting employment to someone, or limiting giving someone housing, or "giving preference to persons of the same religion or denomination or from taking such action as is calculated by such organization to promote the religious principals for which it is established or maintained." In other words, if you're a Catholic university, you can give preference to Catholic students.
Fifty-eight percent of New Yorkers support same-sex marriage, and Senator James Alesi (the first Republican to announce his support for legalizing gay marriage) predicted the bill will pass with 35 votes. This new optimism is a result of three Democrats and Alesi changing their minds about being anti-equality . Alesi explained his decision to switch teams thusly:
"I am doing this on my own initiative. I really am not down here because I have been guaranteed that we will have enough votes to pass this. It is my hope, not just here in New York State, but all across the nation that if a Republican senator can stand before his constituents and say that he supports marriage equality, that he supports equality for all Americans without regard for their gender or their sexual preference that we can start here in New York State and look at it as is a national initiative that America is for Freedom and equality."
Ruben Diaz, to nobody's surprise, is the one Democrat going anti-gay-marriage. Other jerks in the gay marriage fight include Timothy Dolan, the Catholic Archbishop, who has "equated the move to allow same-sex marriage to life in China or North Korea, where "government presumes daily to 'redefine' rights, relationships, values and natural law."
According to The Gothamist, New Yorkers United for Marriage has sent Cynthia Nixon (Sex and the City's Miranda) and Sean Avery, a hockey player for the Rangers, to Albany to "push lawmakers to vote their conscience."
With all of these beautiful important people behind the push for Marriage Equality, how could we possibly lose?
++

+
+

+++
+
Having just moved to California, Home of the Fabulous Proposition 8, from New York, where I lived for six years, I'm on the edge of my seat for this one (and by "seat" I mean "bed" because I use my chair as a desk and my bed as a chair) and encourage any perspective homogay couples to hire Robin Roemer as your wedding photographer. Fingers crossed!