Hello and welcome to another feelings-rich Formspring Friday-type thing! On Tuesday!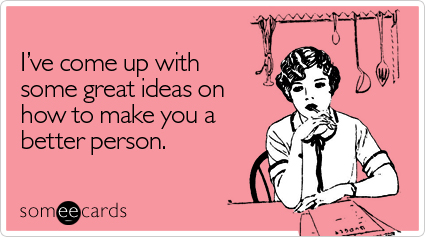 Q:
I'm the first girl my girlfriend has been with. We've been together for a year and a half. Last night she said sometimes she is worried about never having been with another girl and constantly has 'what if' questions. Am I right to be as scared as I am?
A:
Seems that way, yes. I mean, are you still with your first girlfriend..? Yeah, so there's a chance this won't last forever, but let's be realistic – are you having fun with her now? Do you love every minute and look forward to the next one? Are you happy? Because if you're shaking your head YES to these questions, I think you should put all your fears aside and let 'being happy in this moment' be the feeling you put a spotlight on.
Alternatively, you could approach her with the idea of a semi-open relationship, in which she could have physical relationships with other girls while still maintaining her emotional and physical relationship with you. I've seen this work fairly well for more than one couple. I guess it's worth noting that none of those couples are still together, but things didn't end because of any problems with their semi-open arrangement – sometimes relationships just don't work out.
Which is kind of the point, actually. Your relationship has the potential to end due to any number of issues, both known and unknown, and that's just the chance you take when you smash your heart together with someone else's. It's the chance we all take! Fun, right?

Share your advice / stories / feelings for this lady-lovin' question-asker in the comments!
Have a question? Ask Laneia something small or large. Or, you know, Riese, Rachel, Alex, Crystal, Jess or Taylor! But not Tinkerbell because she forgot her password.