Intern Bren's Team Pick: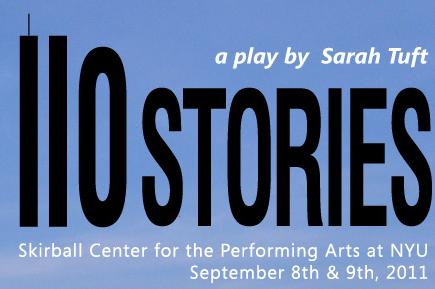 This weekend marks 10 years since September 11, 2001. To commemorate that date and benefit the New York Says Thank You Foundation, a star-studded performance of 110 Stories by playwrite Sarah Tuft is taking place tonight and if you're in the NYU area, you should go.
The New York Says Thank You Foundation is a non-profit organization that sends hundreds of volunteers from New York along with disaster survivors from around the country to help rebuild communities around the United States recovering from disaster. They're all about turning a negative into a positive. From their website:
It's our way of saying "Thank Youwp_postsfor all the love and support Americans from across the country extended to New Yorkers in the days, weeks, and months following September 11.
Sarah Tuft gathered stories of people in healing, who were dealing with the tragedy through storytelling, and created 110 Stories. The play will be performed by celebrities you probably enjoy, like Samuel L. Jackson and Kathleen Turner, to name a few. Stephen Baldwin's in it too, but if you squint really hard and cover your ears you can pretend like its Alec.
So we know the Who and the What, let's get to the When and the Where. This thing is going down at the NYU Skirball Center for Performing Arts at 8 pm sharp. You can get your tickets online or call the box office at (212) 352-3101.
For more info on the play, the stories and the cause check out their website or follow them on the twitter. Or you can support the Foundation directly if you are so inclined.