Today's mini Get Baked is brought to you by the letter B for Bon Iver who's new album is streaming and who I listened to while cooking. I really like "Towers," what about you?
I thought you'd enjoy this Mediterranean-style menu, which is a pretty cheap meal because a lot of the ingredients are typically around-the-house things and the parts you'll be buying are good for more than one recipe (i.e. parsley, chickpeas if you're making hummus).
It's also easy to pace with a little bit of planning. My schedule went like this: dry chickpeas (for falafel) and leave to strain, set bulgur wheat to soak (for tabouli), make pita dough and leave to rise, watch two episodes of "The Good Wife," make tabouli, make falafel "dough" and refrigerate, cook pitas, grill zucchini while cooking falafel.
Let's start with the main deal: falafel. I followed a recipe from Chow Vegan this time but now that I've got the idea down, I'll probably experiment with throwing in different ingredients (Black beans? Sweet potatoes? The possibilities are endless!) next time.
You will need:
1 16-ounce can of Chickpeas
1 small Onion
2-3 Garlic Cloves
3 tablespoons of Fresh Parsley
1 tablespoon of fresh Cilantro
1 teaspoon of Lemon Juice
1 teaspoon of Olive Oil
1 teaspoon of Coriander
1 teaspoon of Cumin
1/2 teaspoon of Chili Powder
2 tablespoons of Flour
1 teaspoon of Baking Powder
Salt and Pepper
Everyone online says that it's a lot easier to make falafel with soaking dry chickpeas because the little guys hold together better, but I found that works just as well if you do the opposite: strain chickpeas from a can and let them sit in a towel for a few hours or over night so that some of the liquid evaporates.
When you feel like the beans are ready, mash them all up. It's pretty tough to do with a fork so either use a mash potato masher or a food processor. Now just stir in the rest of the ingredients. Roll the mixture into little balls and then gently flatten them, it helps to refrigerate the "dough" before you do this. I know that falafel is deep fried in restaurants, but something about actually seeing all that oil with my eyes freak me out so I fried them in a small amount of oil in a pan on medium-high.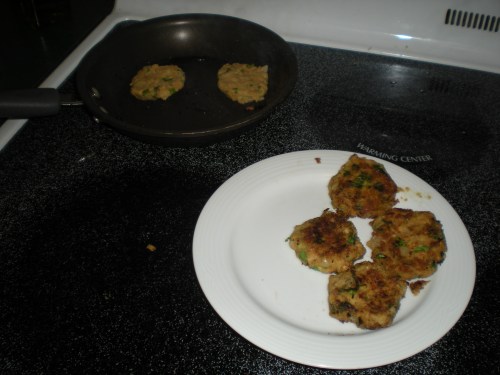 Step 2: Tabouli. This is a recipe based on various internet resources and my friend Simone.
1 cup of Bulgar Wheat
1 cup of Water
2 cups of Parsley
1/2 cup of Mint
1/2 cup of Romaine Lettuce
3 sticks of Green Onion
3 Tomatoes
3 teaspoons of Lemon Juice
3 teaspoons of Olive oil
Salt
Allspice
Soak the bulgar wheat in water until all the water is absorbed, usually about an hour. Basically you just chop up everything until it's really tiny and then mix it together. I cut off half my fingernail because I got distracted during the 37th minute of chopping shit, so you might want to try using a food processor.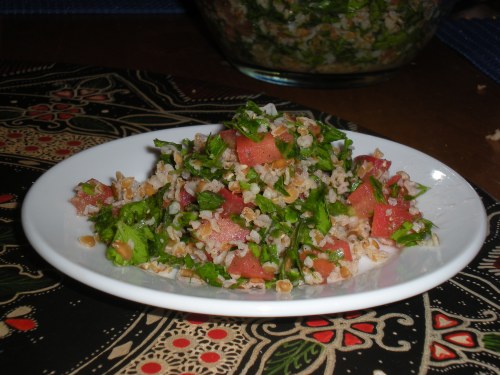 Pita is next! It's pretty similar to naan with just a few differences in ingredient amounts because the dough is a little drier.
1 of cup warm Water (not hot or boiling)
2 teaspoons of Yeast
1 teaspoon of Sugar
3 cups of Flour
2 teaspoons of Salt
2 teaspoons of Olive Oil
Dissolve the sugar and yeast and let it sit for ten minutes to grow. Next mix in the salt, olive oil, and flour until you have a shaggy dough. Knead it for 10 minutes on a floured surface and then let it rise for 1 to 2 hours (or 30 minutes if your mom's coming home then and is hungry). Pinch of a small amount, roll it out using flour, and cook it in a skillet on medium high.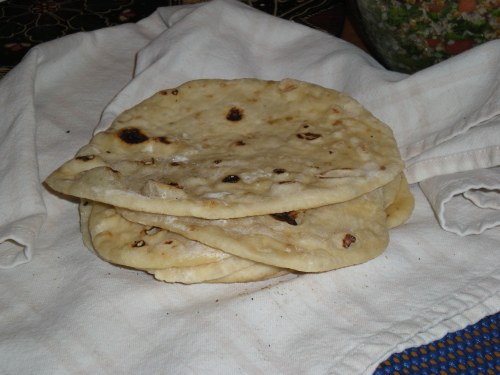 Finally you need things to eat with the falafel. I grilled zucchini, sliced tomatoes, and put out some hummus thatIdidnotmakeshhhh but you can.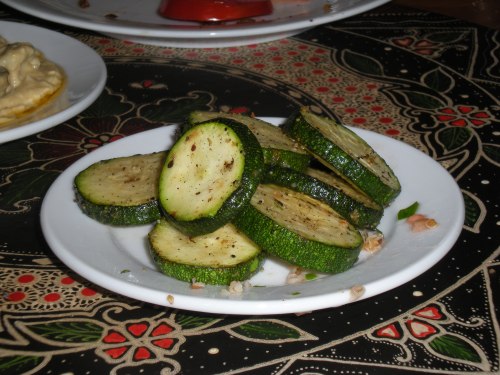 Look at all that food you just made! As I'm finishing this up, I'm realizing that everything here is vegan so here you go, an accidental vegan meal!