Tuesday night was the second season premiere of Pretty Little Liars, brought to you by the letter "A."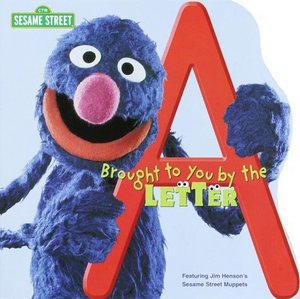 I tuned in eagerly to Tuesday's episode because of lesbians. See, there's this whole like, murder-mystery thing happening, and all these girls have complicated problems and really, really, really just mind-blowingly fantastic flowy heads of hair, but more importantly, there's a lesbian named Emily.
Season One's final episode didn't include any further developments between Emily and her multitude of females paramours in the metro-Rosewood area and I'm sorry to say Season Two's first episode also lacks gay happenings.
However, despite shortchanging us this week on Pretty Little Liars, nothing gay happened.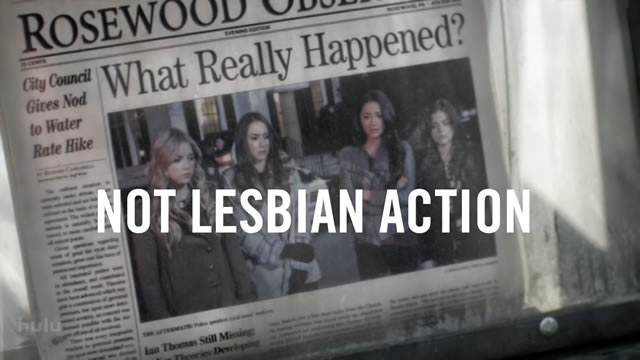 This week on Pretty Little Liars, everybody's obnoxiously good looking parents gathered in a room to confront their daughters, Spoon River Anthology style, regarding the parents' concern that the girls are all "persons of interest."
The subtext is the parents' unanimous suspicion that their assorted progeny have morphed into zombie wolf/Ian-killers, and the actual text includes "y'all need some help. Professional help."
Per ushe, Hanna's hair looked like the sweet waves of summer lashing a sandy, tepid shore.
Aria wore culturally appropriated peacock/feather/bead earrings for at least half of the episode and is still mad at Ezra for something, probably his haircut.
You'll be happy to know that this week Caleb came out as a lesbian, joining Finn Hudson and Aidan from South of Nowhere.
+
+++
Also, Hanna finds out that Mona tried to sabotage their affair by ripping up/failing to deliver Caleb's Epic Poem of Love. Mona claims she was just trying to protect Hanna. CLASSIC lesbian drama. Also Jem of Jem & The Rockers called and wants Mona's earrings back.
Then Hanna goes out and buys a bunch of shoes.
Spencer has a brand new Dad, or the same Dad who somehow looks totally different. New Dad and Olivia Benson once again forbid Spencer to go near Toby because trouble follows Toby and they don't want trouble all over their new hardwood floors.
Toby's got this weird black sheep werewolf incesty vibe going on that petrifies all of Rosewood. I know I've been talking a lot about Vampires lately, but doesn't Toby look like he'd make a good vampire? Like, aesthetically?
Anyhow they secretly hook up anyhow, underneath a canopy of saucepans.
Furthermore Spencer's family is in a hot panic about the disappearance of Ian, because Satan's Spawn is boiling in Melissa's uterus and she cannot raise a demonic child without the assistance of her misogynistic violent stalker creepy tennis-playing sister-assaulting demonic husband who, last we heard, was probably dead but had also, post-mortem, escaped into the knight like a ghost ninja. Which means he's actually probably NOT dead. Because Dead Man Walking is a movie, it's not real life.
Needless to say, we can cut Spencer a little slack for arriving at school dressed like a throw pillow.
So the girls visit this whacko therapist who asks questions regarding the intensity of their psycho-bond in the wake of Allison's murder.
She claims there are "no right or wrong answers," but clearly is unnerved by the aura of complete fucking insanity radiating from the Paranoid Foursome who all seem one text message away from stabbing a stranger with a kitchen knife.
The girls collectively decide to fulfill Emily's lifelong dream of telling an Authority Figure about A., but before they can introduce their film Spencer notices Ezra's diploma on the therapist's shelf, obviously a warning from A. who's now got the key to half-naked Ezra's apartment (don't ask) and tweaks out, saying this meeting was "premature" and bouncing on out of there like the lunatics they are.
The therapist tells the girls' parents that the girls need to all take some distance from one another. This should be easy enough considering they go to school together and live on the same Hollywood backlot.
This forced separation will surely only drive them into the arms of their prospective bad ideas. I'm hoping that for Emily this means Paige. Or the blonde girl. Or Maya. Or Spencer. Or Santana.
I know that everyone in every teevee show is very good looking, but I feel like this show really goes overboard with the Noxzema faces. Even the extras could win America's Next Top Model. Seriously, sometimes it's a lot to handle.
Now let's get to the lesbian parts. As I've already said ~6-7 times, nothing overtly gay occurs in this episode but because Emily is a lesbian, her parts are lesbian parts. You follow? Of course you do. You eat your alphabet soup and follow along.



When we last saw Emily, her Mom was pondering a move to Texas, where lesbianism isn't so chic as it is up in Yankee Rosewood Territory and where her father is stationed with the Army or whatever. This is really depressing, I feel like Emily almost developed a fifth facial expression in honor of this newer, sadder feeling. Look, slumber party:
No, not THAT kind of slumber party.
Next up Emily's sitting on her bed in another one of those drapey shirts she wears, watching her favorite soft-core porn flick, The Real L Word Season Two. Just kidding, it's "The Seduction of Toby Starring Jenna," which is essentially The Real L Word Season Three b/c gayness leads to incest.
Her private time is interrupted by a realtor who pops up out of thin air like the Mad Hatter. He's sporting an Olive Garden Bartender look and Ian Ziering hair.
He surveys the space and recommends Emily remove all her photos and paint over her height-growth chart and otherwise destroy everything sacred to this poor troubled girl in need of grief counseling. Emily's Mom looks almost apologetic. Almost!!
The real estate agent wants prospective residents to be able to "imagine their own stuff" in Emily's room. Really though, I think there's at least 15 tumblrs who've imagined themselves in Emily's room without any interior design adjustments.
Meanwhile Spencer's putting on the ritz:
Spencer pauses, likely to imagine making out with Emily and getting to second-base underneath their respective tent shirts, but Melissa's like, "no you're wearing it for Tobleron" (which is what Toby would be named if Toby was a pre-packaged snack food) and then decides now's the time to listen to Spencer's story about Ian's Maybe Kinda Sorta Death.
Meanwhile, Toby's over at Emily's, walking around with a knife, slicing her walls open as she apologizes for not believing him for possibly the 11th time.
There's a sweet moment that indicates Emily reads Autostraddle and also rings true and YES grasshopper I will take those pebbles from your hand, thank you very much: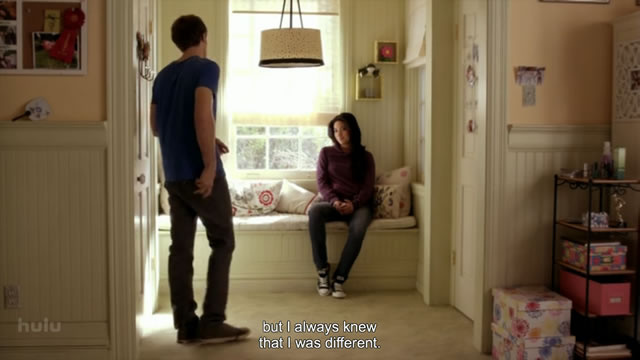 "I never told anyone," Emily tells Tobo (which is what Toby would be named if Toby were a toy for toddlers). "But I always knew I was different."
"You are, that's what's so great about you," says Tobister (which is what Toby would be named if Toby were an antacid).
"I got so good at hiding it, but you saw it," says Emily.
"I saw the way you looked at Maya.  You loved her," says Tobee (which is what Toby would be named if Toby were a flavored bottle of seltzer water).
Speaking of Maya where the hell is that girl? It's gotta be seven months since her marijuana detox, maybe she ran away to become a D.A.R.E counselor.
Later that night, after Spencer's finished playing tonsil hockey with Tobi, The Ice Cream of the Future, and returns to the scented candle wildfire of her living room where Melissa's first generation Nokia is blowin' up like the world trade center with a text Spencer worries is from Ian 'cause it's from a blocked number and says, "Melissa, I'm sorry but it's not safe yet. I can't tell you."
Spencer SOSes her exile friends who trot out of bed — WITH PERFECT HAIR — to rendez-vous at Biosphere 2. They ask the phone how they know for sure that it's Ian. He says 'ask me anything.'
What's something only Ian would know? Melissa's favorite sexual position? Why Allison is dead? The girls go with "what are we naming our baby?"
You know who else knows the baby name? A. Because A knows everything, starting with "who the fuck is A already?"
However, IMDb's got no evidence of Ryan Merriman's return to the show, which is good because Ian is not Paige or Maya or the blond girl.
We end with a sneak peek of A. touring the Fields Home, armed with a sickle and likely dressed in a black cloak with black gloves, which doesn't scare the realtor.
Then A steals everything from Emily's laptop. Hopefully she gets to keep her cute desktop photo.
Tune in next week, it looks like Spencer's gonna be wearing brown leggings!
Please share your feelings now. Thank you.