Welcome to the another installment of Make A Thing, where we make handmade gifts for people. Or ourselves. Who doesn't need something special in their life? Join in on the DIY fun and avoid the unnecessary consumerism of the world (and I promise you'll save a few dollars while you're at it).
Header by Rory Midhani
This week, I have the best treat for you lovely humans. Jessica is going to show us how to make some amazing Mardi Gras crafts! Because I know nothing about Mardi Gras except that it was a great day not to skip high school French class because there was cake with babies in it or something, I figured I'd leave this holiday up to the pros. Enjoy! – Hansen
---
Throw me something, Mister! It's Mardi Gras season in New Orleans. While Mardi Gras can be the epitome of everything wrong with consumerism (measuring success by the amount of trash produced?), it's also a great opportunity to get creative and funky!
Carnival season traditionally begins on or after January 6, the Christian feast day of Epiphany and continues until the day before Ash Wednesday – the eponymous Mardi Gras. The Carnival tradition began in medieval Europe, but the earliest Mardi Gras reference in New Orleans was in a 1781 report to the Spanish colonial government. Street processions became a part of Mardi Gras celebrations in the 1830s, and New Orleans's first Krewe, Krewe of Comus, was founded in 1856. The Twelfth Night Revelers were New Orleans's second Krewe, established in 1870. The Twelfth Night Revelers initiated the tradition of Mardi Gras throws. While processions, parades, and throws are the most visible Mardi Gras traditions, Mardi Gras encompasses much more.
Most Mardi Gras krewes derived their membership from private social clubs with restrictive policies. For members and associates of these krewes, Mardi Gras season includes coming-out balls (of the debutante type), numerous parties, and designing and developing the parade concept, among other tasks. After the parade, krewe members proceed to their annual ball, which is overseen by a king, queen, and court.
While Mardi Gras has a rich and important history within New Orleans, it is also important to situate it in its historical context. Many of the social clubs that would become krewes formed in the Reconstruction-era South, where "secrecy" and "exclusivity" were code words for "white" and "wealthy." The emphasis on pedigree, legacy, and family connections for krewe membership meant that many people of color and white people who were poor never had a chance to be accepted into a Mardi Gras krewe. In 1992, a New Orleans city ordinance passed, requiring clubs to sign an affidavit that they will not discriminate in terms of membership in order to receive a parade permit. The passage of this ordinance caused a great deal of controversy, and three krewes (Comus, Momus, Proteus) withdrew from parading, although Proteus later signed the affidavit.
The Zulu Social Aid and Pleasure Club was founded in 1909 and began parading in 1914 as the first African-American krewe. Zulu's parades satirize the racist views of African-American people held by many white people, and participants often dress in grass skirts and wear blackface. Another important New Orleans tradition is the Mardi Gras Indians. The practice of Mardi Gras Indians represents the solidarity that often existed between African-American and Native American peoples throughout their histories of oppression, particularly the many Native American communities that took in African-American people who escaped from enslavement. The Mardi Gras Indians do not have set parade route or time; each year the logistics are decided by the Big Chiefs. An entire year is devoted to making each year's costume, and the arduous process results in beautiful craftwork, proudly displayed.
This Mardi Gras-themed Make a Thing will focus on one craft for costuming and two crafts to make with all your leftover beads (because trust me, there will always be pounds of beads).
Classy Headband Hat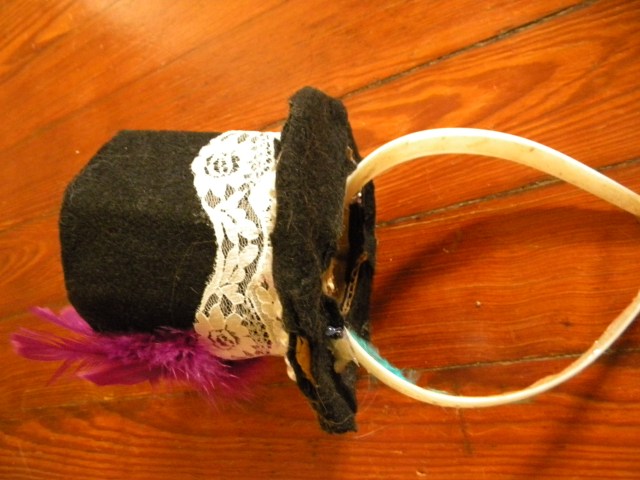 Mardi Gras isn't complete without costumes. I originally made a hat like this as part of my bridesmaid outfit for my friend's steampunk wedding. It's also a great tool for Mardi Gras; fun enough for parades, classy enough for a ball or fancy party.
Supplies Needed: Cardboard, scissors, Sobo glue (or hot glue), felt, feathers, lace, beads, plastic headband
Suggested: Compass and rotary cutter for shaping
Level of Difficulty: Second grader who refuses to eat the paste in arts and crafts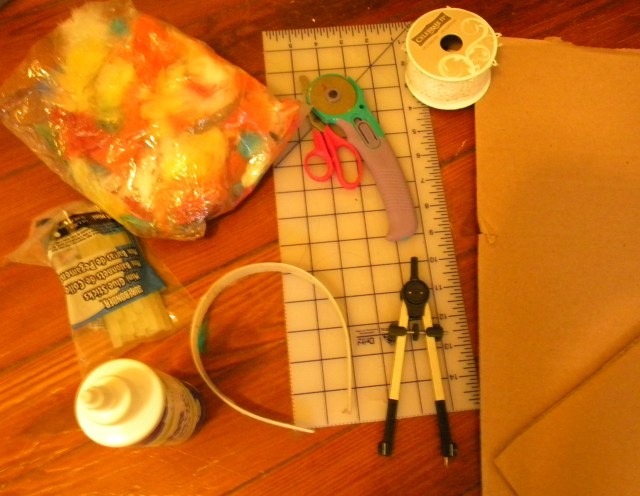 1. Outline the brim of your hat on cardboard. You can use a round object about the right size to trace, do it freehand, or use a compass. Trim any edges.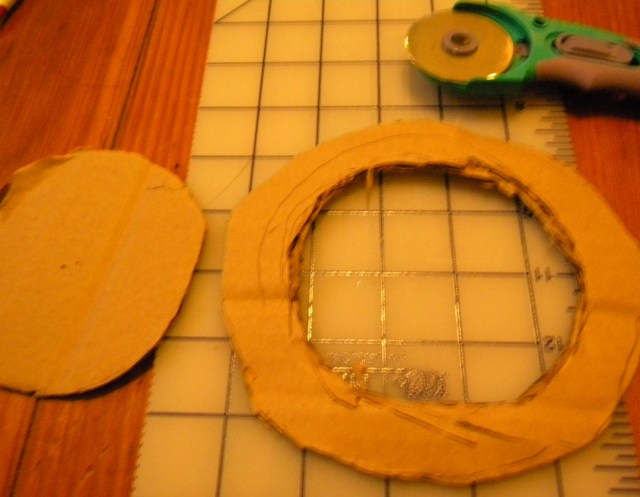 2. Outline the size of the top part of the hat on your brim. Cut the interior out. Now you have a ring of cardboard. Take another piece of cardboard. Measure the necessary length to fit inside the ring. Make sure it also has the height desired for your hat.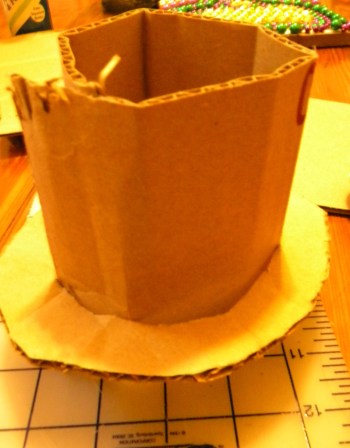 3. Bend the new piece of cardboard to fit into the interior of the ring. The cardboard will be boxy, but handle it until it is less resistant. It will not fit precisely into the ring, but it only needs to be as close as possible; felt will cover the gaps.
4. Glue the ends of the new piece of cardboard together. Put a layer of glue around what will be the hat's brim, and fit the cardboard ring onto it. It may look a mess, but don't worry. You're covering it with felt anyway!
5. Cover with glue, then felt (color of your choosing). I was going for a top hat look, so I used black felt. Trim edges.
6. Add desired decorations (lace, beads, feathers).
7. Use hot glue to attach the bottom of the hat to a sturdy plastic headband.
8. Done! You've got a headband hat!
Mardi Gras Earrings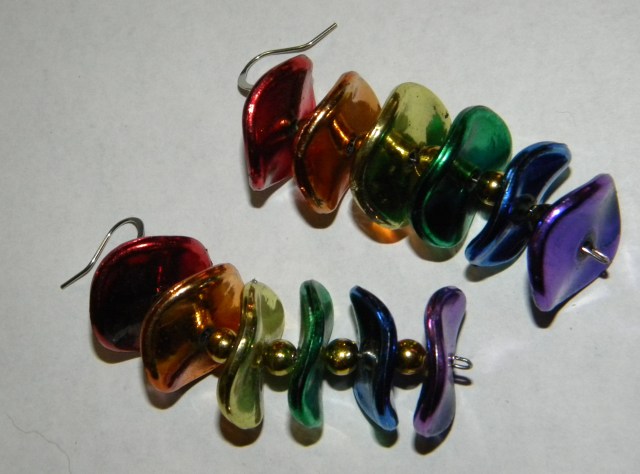 Supplies Needed: Eye pins or head pins, earring heads, jewelry pincer, jewelry cutter, Mardi Gras beads that are individually strung
Level of Difficulty: First grader with an advanced level of dexterity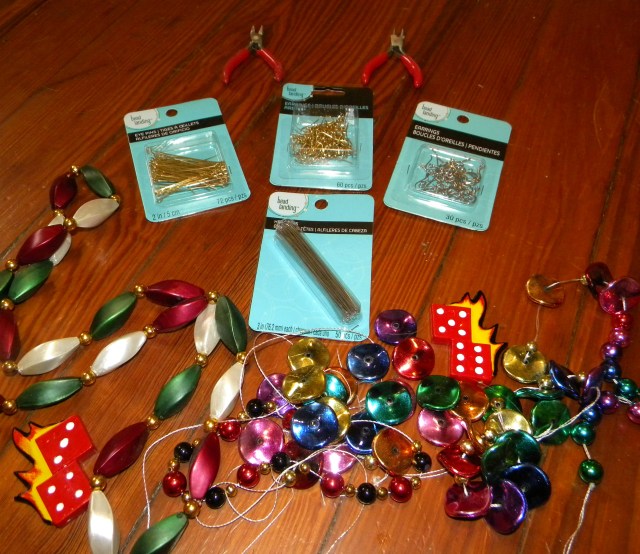 1. Find two head or eye pins that match the size you want your earrings to be.
2. String on the beads you want to include in the earrings. For novelty beads you can fit one large item,, or combine lots of regular beads to make a multi-colored earring. Simply thread the head or eye pin through the bead's holes. Find a space on the necklace where you can snip the thread holding the beads together. Be prepared for the beads to fly everywhere. Leave a quarter to a half-inch of the pin clear at the top.
3. Thread the earring head on to the pin.
4. If the head pin is longer than you want the earring to be, use the jewelry cutters to snip the top off. Remember to leave a quarter inch to half inch clear for the earring head.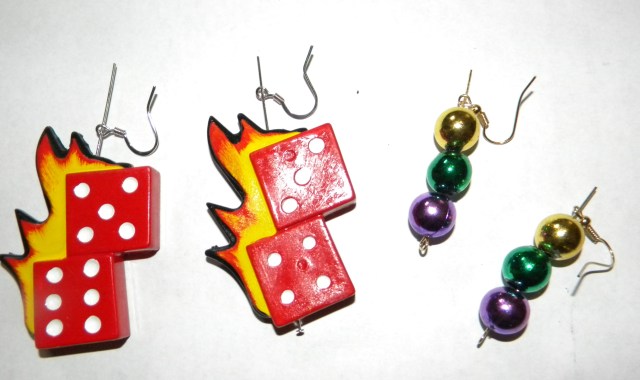 5. Use the jewelry pincers to wind the end of the head or eye pin into a closed circle to hold the earring head. Grab the very tip of the pin with the pincers.
Warning: This step is the worst and will require more time and patience than every other step put together.
Tips: Hold from the bottom of the pin (the eye or the head) and make sure the closed circle is very closed–there's nothing more frustrating than seeing the earring fall off the earring head after all that energy expended.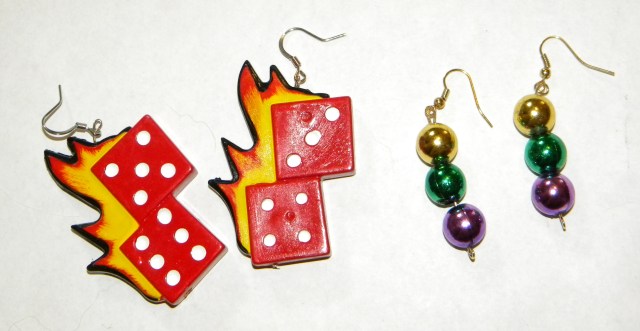 6. Finally, it's done! Ta-Da!
Bead Art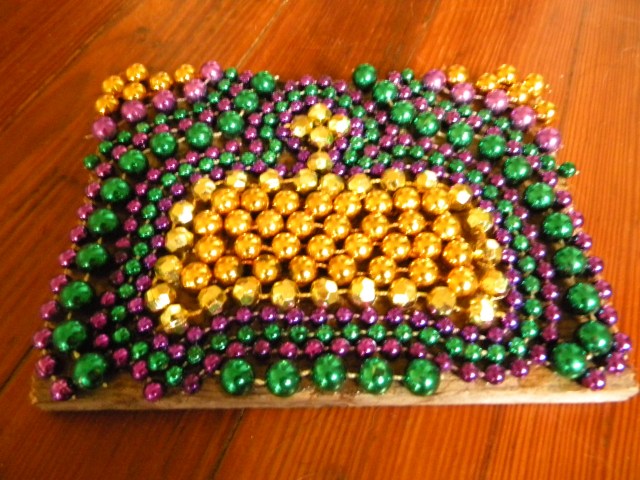 Art markets in the city are full of professional bead art artists, but if you want to make something yourself, it's entirely possible!
Supplies Needed: Wood, Sobo glue, Mardi Gras beads, scissors
Level of Difficulty: Fourth grader with the patience of a saint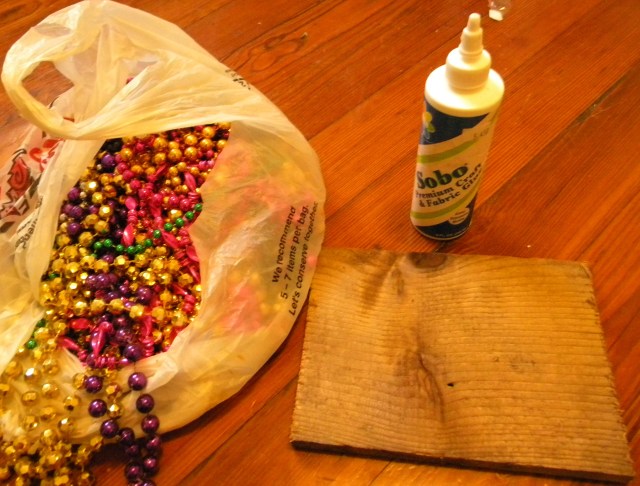 1. Choose a piece of wood of the size and shape you want. I get mine from the New Orleans Green Project on Marais, which sells re-purposed and recycled materials.
Optional: Saw the wood down to desired size with a jig saw.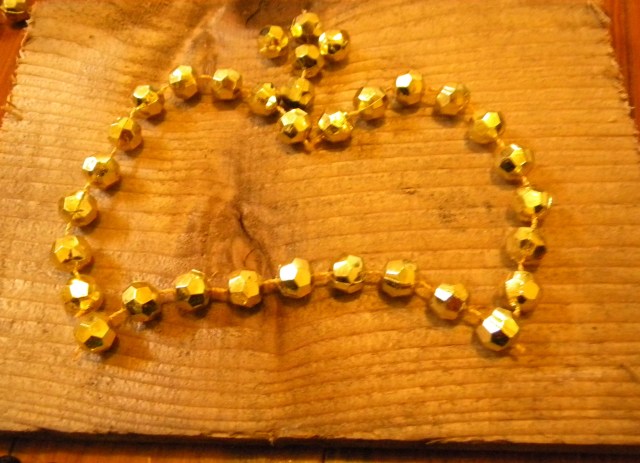 2. Sketch your central design or lay it out with the beads themselves.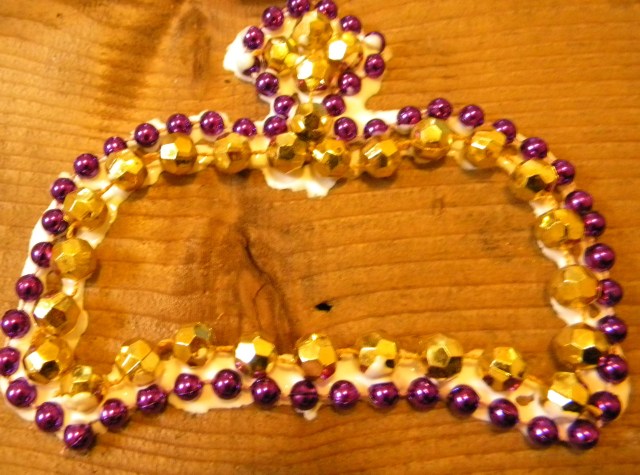 3. Glue the central design in place (don't worry, it dries clear).
4. Glue your layers, starting with the one closest to the central design. Keep the bead layers as close together as possible.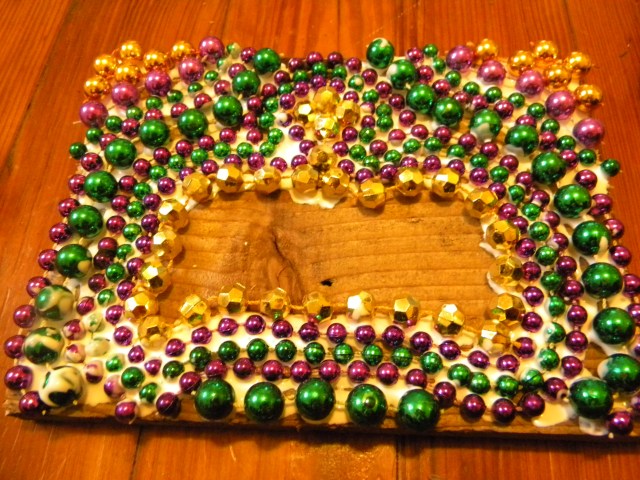 5. Let it dry. Depending on the amount of glue used, it can up to 5-10 hours.
It's ready! And if you don't want to fill in the entire piece of wood with beads, you can make outlined designs or spell out words. For instance, I made my adopted grandmother a bead sign that spelled out "Les Bon Temps" for Christmas this year.
---

Jessica Anne Wheeler is a radical queer athlete anthropologist currently living, loving, and learning in New Orleans, Louisiana.