I have lived in Tampa all of my 20 long years and have traveled a lot in my life, but still always classify Tampa as the best place to call home. When most people think of Florida cities, they seem to think Miami, but always seem to forget about Tampa who just sits up here located on the water like "hey guys I'm pretty fab too!" Tampa is totally fun and fierce and fabulous and is super gay and then there is the beach and you are located like an hour and a half away from Disney! In addition, people living in Tampa are often lovingly called Tampons which is amusing and also the perfect label for this lady-loving city.
Foxy Foxy: Lesbian Nightlife in Tampa
Not gonna lie, the first thing I check for when I am traveling to an unknown city is the club scene. Because come on people, dancing with the ladies is fun! Thankfully Tampa has a pretty good lesbian club scene, so your needs to get out and party are pretty much covered.
Gbar (1401 E 7th Ave.) Open: 9pm-3am – Gbar and Honeypot, two of Ybor's main LGBT clubs, are under the same management and are the top spot for lesbians who are 18+ to club in Tampa. The clubs flip flop with who gets to host the gay boys and who gets to host the queer ladies which night. Friday nights at Gbar are Lesbian "tease" nights and is usually jam packed. Everyone from super femmes in pretty dresses to butches, bois, soft studs, punk rock girls, and everyone in between, all get hot and sweaty on the dance floor together where guest lady-DJ's from Miami frequently spin awesome dance mixes. Gbar also tends to host a pretty good number of wet t-shirt contests where anyone can enter and the winner gets a $200 bar tab. These are my favorite nights because titties. Local tip: go before 11 and get free cover!
Honeypot (1507 E 7th Ave.) Open: 9pm-3am – Honeypot, sister club to Gbar, hosts their lesbian night on Saturday nights. I must say this club is my favorite. It is bigger than Gbar and hosts larger events such as glow, foam, pinup, and fetish parties. There is a drag show with both kings and queens at 12:30 am every Saturday and the casts are usually from Ru-Pauls Drag Race or other noteworthy competitions. Music is generally top 40's with a focus on rap. After the drag show there is generally a bit more techno dance stuff as well. There are always tons of cute girls out in droves and it doesn't hurt to strike up a conversation with that attractive queer leaning over the railing. Like Gbar, cover is free before 11pm.
Georgie's Alibi (3100 3rd Ave North, Saint Petersburg) Open: 11am-3am – Known to natives as "the happiest place on earth," Georgie's Alibi has the best dance-techno music in the area. This club is 21 and up and mostly caters to gay men, but let me tell you, that sure as hell does not stop the ladies. I can safely say that pretty much every queer identified woman I know gets all giddy to go party at Georgie's and come on, who doesn't like a cute go go dancer and a good drag show?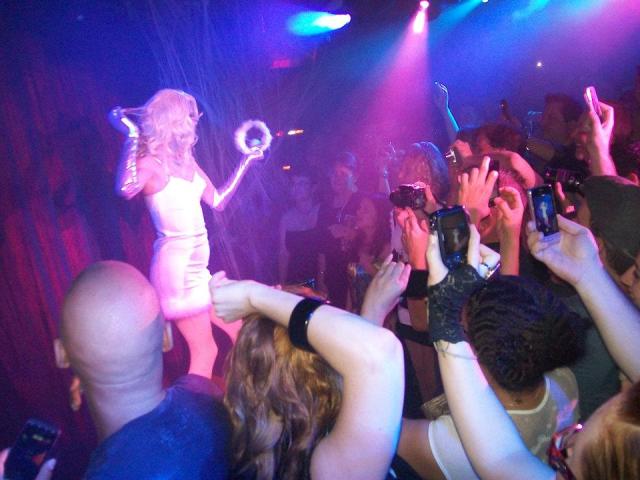 The Ybor City Social Club (1909 North 15th St.) – The Social is usually where Tampa lesbians tend to hang out on Thursday nights. It is a two story club with one floor more dancey and one floor more rap. It's a LGBT club with an emphasis on the boys, but the lesbians have no fear of going out and partying with other like-minded gals. It is 18 and up there's no cover on Thursdays.
The Castle (2004 North 16th St.) – My analysis of the best Tampa clubs would not be complete without a mention of The Castle, which was my first club experience on the day I turned 18. Dark, punky, grunge, and just a little bit goth, The Castle has been a favorite club destination for lesbians in Tampa for years. 80's night on Monday, Pop and Wave night on Thursday, and a variety of industrial themed nights the rest of the week, The Castle is awesome if you want to change up your dance music a little bit. They recently added Sundays as lesbian night although most of the girls I know get down on Thursdays. Thursdays are also the most crowded with the best chance of meeting people.
And the Best Place to get Shitfaced Award Goes to:
If dancing really isn't what you do best and drinking is more your style, Tampa has something for you too.
Coyote Ugly Tampa (1722 East 7th Ave.) – Ladies drink free on Wednesdays which, as you can assume, draws a pretty good female crowd. Any other night of the week, girls who get up and dance on the bar get free drinks too. They play good music, the atmosphere is saloon style, you dance on the bar instead of the floor, and you can take body shots off of one of the hot bartenders.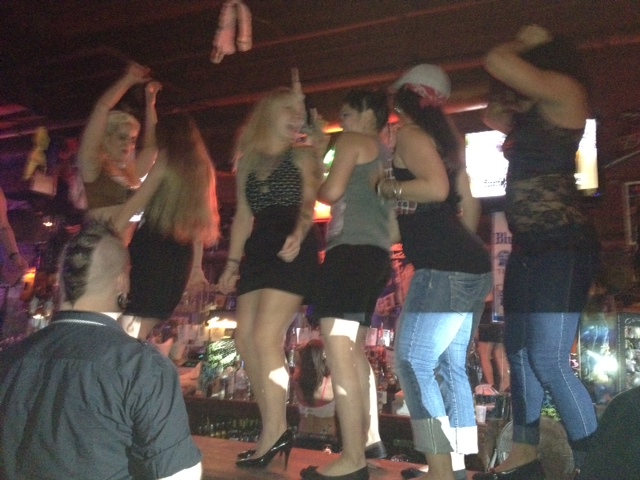 The Dogs Bollocks (1704 East 7th Ave.) – An English style pub, The Dogs Bollocks is a popular drinking destination in Tampa and has hosted derby girl oil wresting in the past. Enough said.
The Hub (716 North Franklin St.) – The Hub is a super awesome local bar known for their triple pours and is a favorite hangout of bicyclists in the area. They also host a variety of local bands.
Dating Scene
Like anywhere, you will meet potential partners usually one of two ways. 1. Doing a lot of stuff and meeting tons of people and being generally friendly in public. 2. Dating websites! Make yourself visible. My suggestion would be to go to fun local events, join your local roller derby team, audition for theatre, host a cooking class, volunteer at an organization close to your heart, talk to people at clubs/bars etc. Or go stand on the Ybor City street corner and you may just end up meeting your girlfriend like I did. If you are more of a dating website kinda gal, plentyoffish.org and OKCupid are the most popular ones used by the lesbians in Tampa. I know a TON of lesbians who use dating websites and have met their friends/partners through them so I have proof that they work too. Not every method of dating is for everyone. Find yours and then run with it!
Lesbians Who Learn
USF P.R.I.D.E. Alliance – University of South Florida is home to the largest pride alliance in the area and is run by a personal friend of mine. Every day of the week, especially Thursdays, you can find a large group of LGBT students gathered together at the college. USF Pride hosts all sorts of awesome events such as a queer proms and formals, Trans* Day of Remembrance, National Coming Out Day parties, and a hate wall smashing on the day of silence.
University of Tampa, Hillsborough Community College, and Saint Petersburg College offer a friendly and safe environment for queer students as well but are a little less active in the pride department.
Let's Play Ball! Or Roller Derby!
If professional sports are your thing, you may like to know that Tampa is home to the Tampa Bay Rays baseball team, the Tampa Bay Buccaneers football team, and the Tampa Bay Lighting hockey team. You can usually purchase tickets to any of these events for as low as $35.
If you are more of a grassroots lady-sport kind of person, then you must check out Tampa Roller Derby.
Hot girls, hard hits and fast skates? Check! I ref for this league and I must say that there is an epic amount of awesome, strong, and queer women who skate for Tampa Roller Derby. The Tampa Tantrums are Tampa's travel team and they are ranked fourth in the region, Quad Killers are where all the new gurls start off (no experience necessary!), and Tampa has three interleague teams as well as a recreational league to boot! Bouts are the first Saturday of every month and perfect for a first date or a night out with friends. Make sure to sit trackside and risk a hot skater being thrown into your lap.
Where to Eat… Out
Tampa really does hold its own in the restaurant scene, and that is coming from me, a vegetarian. There are so many little awesome gems to check out in Tampa and there is no way I could list every single one but let me introduce you to a few of the most popular places around town.
Thai Temple (5306 Palm River Rd.) – There is really no way I can possibly describe to you what Thai Temple is until you go for yourself the first time. Thai Temple, in the simplest of terms, is a giant outdoor event held on every Sunday from 11-2ish (lunch hour). The proceeds go to benefit the real Thai Temple that is on the property. Served by the faithful of the temple, the food includes pretty much every Thai/Asian dish you love as well as a few things you didn't even know existed. My girlfriend and I always get the Pad Thai and fried rice which is ah-mah-zing but there are so many options out there to please every dietary requirement from vegans to die-hard meat eaters. Hipsters, queers with kids, cute lesbian couples, and your mom are all frequently spotted eating lunch on the picnic tables of this riverfront event.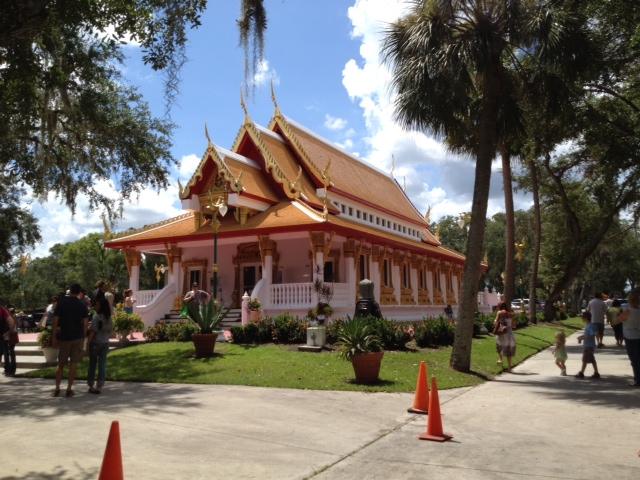 Café Hey (1540 North Franklin St.) – Owned and operated by a local roller derby league member, you know that Café Hey must be all kinds of special. Located in the heart of downtown, Café Hey offers breakfast, lunch, and dinner, as well as a variety of baked yummies and lots of soups. Check out their soup of the day and their giant chocolate chip muffins, which are almost enough for two people. Local activist groups and students meet here often and the wall displays are an ever-changing local art show.
The Bricks of Ybor (1327 East 7th Ave.) – Like to sip beer served by cute lesbian bartenders? Like some dinner or sliders prepared by local chefs to go along with that beer? Want to play games, dance, or jam out with a local band? You do? Well, The Bricks is perfect for you. Located in Ybor city right across the street from one of Tampa's lovely gay clubs, the Bricks is a cute little local bar and restaurant that is housed in a brick building and filled with fun mood lighting. The menu is labeled with a multitude of vegetarian specific items and the friendly wait staff will cater to you vegans as well. While you are there, I would definitely recommend checking out the Bricks' "Peanut Butter Specialty" section of the menu because come on, you don't see stuff like this all the time, as well as the Portabelly burger, because Portobello mushroom burgers are awesome and yummy and should rock your world. The Bricks also have a huge beer, wine and cocktail selection for your sipping pleasure. Don't forget to tip your bartender.
Hamburger Mary's (1600 East 7th Ave.) – Loud, proud, and pink, Hamburger Mary's is about as gay as a restaurant as you have ever been to in your entire life. They have drag shows around dinner hour, drag queen bingo, talent shows, cabarets and all sorts of other events. It is definitely gay boy/drag queen oriented but an LGBT place is fun for everyone! Best item on the menu is the mac and cheese burger. Like, literally, a hamburger, with mac and cheese on it. You can also substitute the meat patty for a number of vegan patty options so yay! For dessert, make sure to order the DIY s'mores where the waiters bring you a little personal flame so you can roast your own marshmallows and build your own smores. Who needs a campfire and the great outdoors when you have Hamburger Marys?
Taco Bus (913 East Hillsbrough Ave.) – Any good Tampa citizen will stare at you in shock if you ever tell them you haven't been to Taco Bus and then will volunteer to escort you on your virgin taco bus trip. The BEST Mexican/Spanish food ever ever ever in the entire area is served out of a legit bus and it is like a food orgasm. I have never met a person who hasn't fallen in love with the place. They have vegan and vegetarian options such as tempeh and vegan steak strips and my favorite is a veggie and tempeh bean burrito. If you get a taco, make sure you get two because they are pretty small. This is THE place to go for late night eats when you're all drunk.
Pages: 1 2See entire article on one page