The Tonys are the perfect award show because there's singing and dancing and it's too gay to function. It's a little bit about the awards, but it's mostly about the performances.
Like any good non-New Yorker theater fan, I set aside a night to watch the Tony Awards every year, and I have to say, this was my favorite in recent memory. Yes, "Spider-man" was boring, "Memphis" was unnecessary, and Chris Rock needed to stop, but whatevs. There were a lot of great things that happened, too, especially if you like men's choruses, which I do but for reasons which would not be appropriate to this situation.
Neil Patrick Harris was totally charming as the host. Everyone knew he was there to sing, and he did.
This year's opening number was called "(Broadway Is) Not Just For Gays Anymore," although a more appropriate titled might be "Not Just For Gay Men Anymore." Not even Brooke Shields could ruin it.
This is one of those times when it's important to separate the "G" from "LGBTetc." Let's be real: Out Lesbians, bisexuals, and trans* people haven't been as visible both in scripts and behind-the-scenes, historically speaking, as the gay men. The Tonys were mostly for guys this year too, except for "Sister Act." It's not that the stories they're telling are unimportant; they were just predominantly male-driven.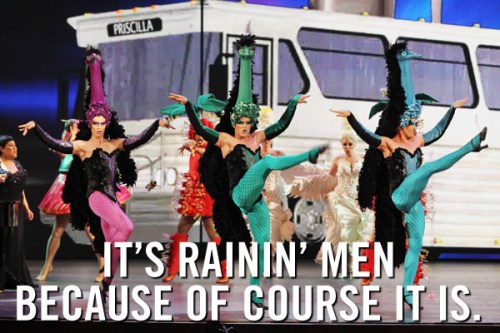 BUT I DIGRESS. Another topic for another day.
Neil Patrick Harris sang a duet with Hugh Jackman, who's hosted the awards before and also was in "Oklahoma!" many moons ago in a far off place. In a night of gay things, this song may have been The Gayest of The Things. And "Priscilla Queen of the Desert" performed, so that's saying something.
Neil Patrick Harris was also a part of this random performance from "Company" that had a bunch of famous people in it, including Christina Hendricks. For like, half a second, it looks like there's a lesbian couple! But there's not, DON'T WORRY.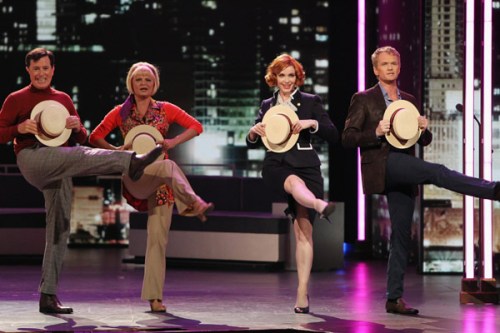 Eve Ensler was given the Isabelle Stevenson Award for "The Vagina Monologues" and for founding V-Day, which is kind of a big deal but they didn't even mention it on TV.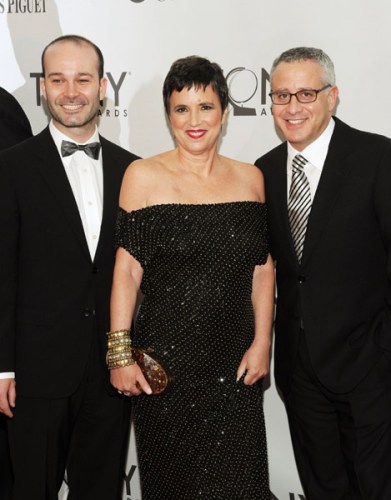 In other news, Sutton Foster is the perfect human.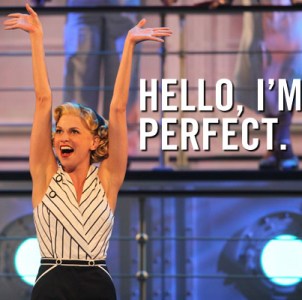 She won for Best Leading Actress in a musical for "Anything Goes" and for being awesome. Seriously, watch her tap dance (and then stand awkwardly at the front of the stage for a verse) and then mix/belt her face off. Woah.
This is how a dream comes true. Also, like she did in her first Tony acceptance speech, she gushed about her dresser. Guys, I teared up. It was great.
But the real star of the night was Frances McDormand, who won for Best Leading Actress in a Play for "Good People" and accepted the award looking like she just got off the subway. She's my hero. She and Mark Rylance because who recites a poem instead of thanking people? Badasses, that's who.
The other great speech of the night was Nikki M. James, who won Best Featured Actress in a Musical for "Book of Mormon" (over Patti LuPone!). She looked gorgeous and cried and refused to leave the stage when they told her to wrap it up.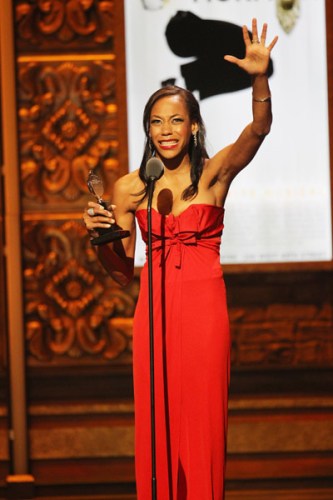 Much to no one's surprise, "Book of Mormon" cleaned up with nine awards, including Best Musical.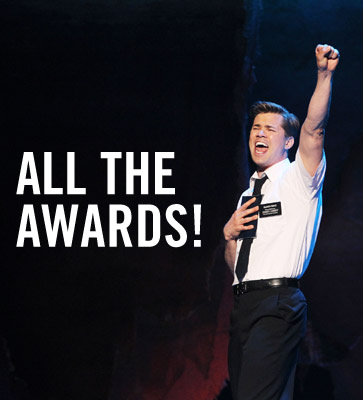 Like it's closest relatives, "The Producers" and "Avenue Q," it's meant to be offensive, but here's the thing: It's really great that this won. The past decade or so of Broadway has become less and less original and more and more based on movies. People don't want to invest in something they aren't sure of, so if they have a choice between "Rocky" the musical and something unknown, "Rocky" will win every time.
"Mormon" has a lot going for it: catchy music, an irreverent story, and most importantly, a well-known creative team. Honestly, "South Park" is probably what gave the show the boost it needed to succeed. But the story is original and smart and funny, and that's what American musical theater has traditionally been. It's a nice change.
Daniel Radcliffe performed with "How To Succeed Without Really Trying" or "How To Succeed On Broadway Without Being a Broadway-Caliber Singer." I know a lot of people liked it, but I was not one of those people. Harry Potter, I love you, but you're not a good enough singer for that role. I'm not apologizing.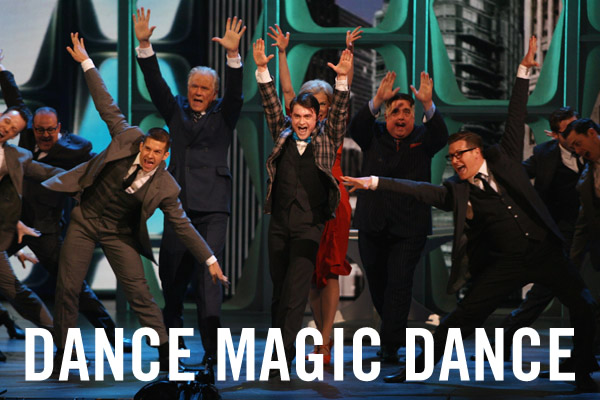 I don't know very much about the plays this year, to be honest. "War Horse" won five awards, including Best Play and also has a giant puppet of a horse that looks like something from "Lion King."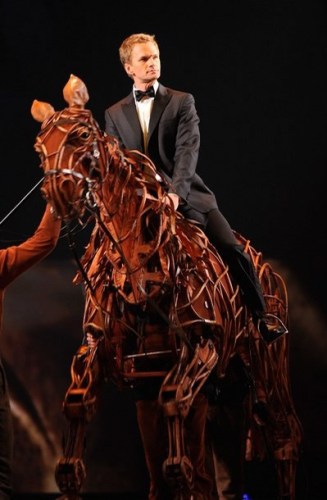 The other big winner among the plays was "Normal Heart," which won Best Revival, Beat Leading Actor in a Play and Best Leading Actress. It's about the AIDS pandemic's effect on the gay community and is really heartbreaking. You should at least read it, I am thinking.
The show closed with Neil Patrick Harris doing a freestyle rap that made me miss "In The Heights" and Lin Manuel Miranda. It was a run-down of the awards, but the end was pretty relevant.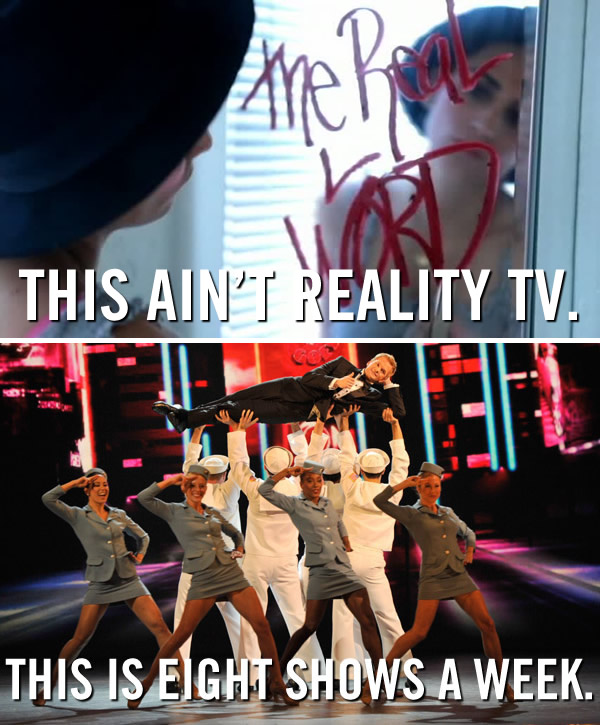 You can find a complete list of the winners here.
So what do you think? Were you OK with how everything went down? Were you following Gavin Creel's drunk tweets? I heard there was also basketball on last night, but that must've been on a different channel.