Let me be frank: I hate musicals. I used to perform in them back in my stellar, beautiful teen years [Editor's Note: Kelsey was also a cheerleader. Discuss].
Then we had a falling out, musicals and I. They were too happy, too polished. And they didn't really go with the whole "edgy" thing I had going on (moved to Brooklyn, wore some ripped-up skinny jeans). But recently I came across a shiny new musical with a whole bunch of queers up in it, Camp Wanatachi. Workshopped in Williamsburg and previewed at various joints throughout Brooklyn, it's finally here and officially taking names in the Off-Broadway scene.
Created, written, and composed by indie performance genius Natalie Elizabeth Weiss from Unicornicopia, Camp Wanatachi is about two girls falling in love at an all-female Christian summer camp. You might be tempted to think, "been there, done that," and wince at those half-forgotten regrets you have about making moves on your friends as a tween. But you'd be wrong to think this musical is just ponies and rainbows and holding out for that teenage feeling.
The innocence and sweetness you'd normally expect from a storyline like this is still present in Camp Wanatachi, but it's woven in (from what I've seen) with serious amounts of wit, irony, hipster-pop, and some pretty self-aware young teens just trying to figure it all out with Jesus Christ as Their Witness. It's also being produced by Bridget Regan (the hottie who played "the Mother Confessor" on ABC's Legend of the Seeker) and Fischerspooner's music director Ian Pai.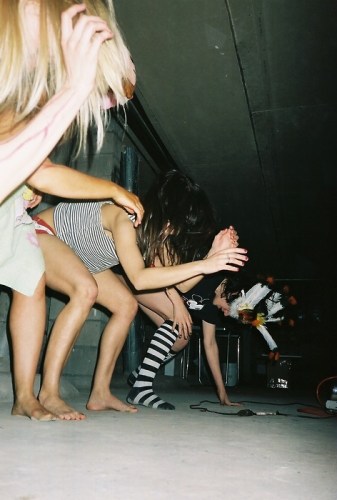 I can't convince you to like (or even re-like) musicals if you don't, but I can convince you to watch this video and then maybe go to the show that is playing for a few more days at La MaMa Experimental Theatre Club in New York. I have a sneaking suspicion (and high hopes) that this run will not be the show's last. So if you dig it, make sure to keep an eye out for future performances and, if we're lucky, maybe even a tour.
Some lyrics for you:
"Let's ride bareback
in your shortest skirts
and I'll go down on you
under the ivy
Rigor without regret
baptized 'til soaking wet
I won't quit
'til I have you"
If you don't live in the area or can't make it or want to make up more excuses for yourself, then at the very least check 'em out, follow them on twitter, and just tell them they're all awesome, special, queer-friendly snowflakes/campers.