It looks like it's unofficially become The Week of Books here on Autostraddle Dot Com. Having just announced our summer book club, we are right now going to — spoiler alert — talk about books again! But I mean, of course we are; gay people love books, are borderline obsessed with them, can practically come to blows over the relative merits of Annie On My Mind versus Rubyfruit Jungle. The experience of furtively reading your Seminal Gay Book under the covers/in the back of the library/at a friend's house/"for a school report" seems universally shared.
This theory is apparently confirmed by journalist Benoit Denizet-Lewis's project to compile "the best gay books of all time." He's gotten in touch with important queer voices like Kate Bornstein and asked them for their top five gay book picks in an effort to move towards answering the question "What's the best gay book of all time?"
His interest is personal; Denizet-Lewis describes coming into a gay identity while feeling alienated from the gay community in his area, and finally finding comfort and a reflection of himself in books. He wonders why, at the point in his life he most needed resources and support, he had to find them basically by accident and on his own in the pages of someone who might well be dead by that point.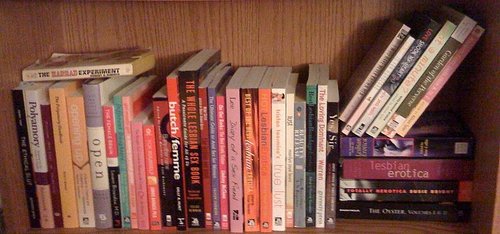 And that's the question that interests me, because to be honest, the way I first stumbled upon Denizet-Lewis's project was through criticism of it. Or namely, criticism of how blithely he waves away the gay community he grew up around (which, for context, was the Castro) (and which, also for context, is specifically encapsulated in the line "I couldn't relate to AIDS or leather chaps, both of which seemed to be afflicting many of the gay men I saw on the corner of Castro and Market") and how sure he seems to feel that his gay teenage salvation was centered around books, and not the people who were living out those stories around him.
From "You're Welcome, Benoit Denizet-Lewis":
I do believe I moved to San Francisco while this person was entering high school, and I'm sorry that apparently five years of age difference created a generational divide so vast that it made him unable "to relate to AIDS," particularly at a time when his neighbors and chaps-wearing strangers on the street were dropping dead all around him.
And chances are quite good that my friends and I were actually guest-teaching HIV prevention at his very school at the time, which one hopes didn't make him shove his fingers in his ears too hard in panic (and also hopes maybe made him "relate to" having sex with condoms)? Because while he was running in horror from the community of people who apparently only ever wore chaps (although, most days I showed up for work in nipple clamps and women's shoes, obviously!), they/we were the ones trying to help raise him and keep him from, you know, dying extremely young.
It's not really a question of one person being right here and another being wrong; it's about a unique internal experience, which is what books are about and which is ultimately pointless to argue. But it raises an interesting question: what is it about books, that we find something so affirming and important in them when we sometimes can't find it anywhere else? It would seem, based on at least anecdotal evidence, that Denizet-Lewis did have plenty of affirmation and support from other avenues. He grew up in San Francisco; based on his story his parents seem perhaps not like the gay teenager cheerleaders one would hope for, but certainly not abusive or homophobic; he had workshops on HIV prevention IN SCHOOL, which is more than (guessing!) 95% of kids can probably claim now (thanks, abstinence-only education!). This isn't to find fault with him for the fact that those experiences apparently didn't resonate, but to ask about the ones that did.
It really does seem universal that we all have at least one, possibly dozens, of books that were our lifeline, that got us through and made the world make sense when nothing else could. As one of Denizet-Lewis's contributors notes:
"I am not being hyperbolic when I say that Good Times, Bad Times saved my life," Mississippi Sissy author Kevin Sessums emailed me to say about James Kirkwood's little-known novel, which is set in a boarding school run by an evil headmaster. "I read this it thrice during my teenage years in which I suddenly began using words like 'thrice.' It's about the nuances of male bonding as well as the price one pays for being different and, yes, defiant. Just typing these sentences makes me want to read it for a fourth time. I'm sure it will speak just as profoundly to me as an adult because somewhere deep within the truest part of myself is still that 16-year-old from Mississippi who longed for romantic love when what he was offered had to be defined as friendship."
I don't have an answer here, just a question (and a similar deep love and indebtedness to James Baldwin): what is it about us, and about books? Why do they speak to us when nothing else does? What's your number one gay book of all time, and why does it mean so much to you? What's the story, morning glory?