In August we bestowed upon you Ten Queer Girl Movies That Don't Suck. Predictably we garnered a healthy dose of appreciation and enjoyment as well as a sharp injection of aggressively/excessively punctuated dictums of disbelief that your favorite lesbian film did not make the list, or, alternatively, that we had included a film you deemed unworthy. Well Autostraddlers, when you use 5+ exclamation points in a sentence, we can't help but pay attention!
No but really, we all like different things, and this list reflects our continued efforts to share some of our — and your — favorite things with you. With a few exceptions, this list reflects most of the films mentioned by two or more commenters that we felt qualified to talk about. This isn't the Lesbian Oscars or The Bible, which we all must live under at least here in America where 53% of the population thinks Jesus Christ is President, when in fact that is not true, he left the White House when Obama was elected.
What are those exceptions? Well; Chasing Amy and Kissing Jessica Stein. I know, I know, it was a big moment for you & your gayness, and we love both of those films, they're awesome fun movies. But we want our list to focus on movies that aren't about women who literally do realize bisexual is just a phase (Kissing Jessica Stein) or that are written, directed and centered around straight white men who want lesbians to give penis a chance (Chasing Amy). Sorry! Also Riese has a special comment at the end about why we refuse to include Lost & Delirious.
Your time has come. We have returned to separate the wheat from the shaft, to extract your suffering lesbionic cinematic soul from the depths of terrible.
Just FYI, our first round picks included Fucking Amal, Boys Don't Cry, But I'm a Cheerleader, Gia, D.E.B.S., All Over Me, Saving Face, Bound, High Art and If These Walls Could Talk 2.

Top Ten More Queer Girl Movies That Don't Suck
A movie needs to major things to work: well written characters, and actors who bring those characters to life, and I Can't Think Straight has both AND a vivid and multifaceted cultural backdrop.
I Can't Think Straight follows the turbulent relationship between independent thrice-engaged Jordanian Tala (Lisa Ray) and shy Leyla (Sheetal Sheth). Whereas Tala keeps getting engaged and calling off her weddings a the last minute, Leyla vacilates between wanting to pleas her family and harboring secret desires to become a writer and bang chicks.
The two first meet through Leyla's current boyfriend, a friend of Tala's. Sparks fly. Leyla's Muslim and Tala isn't into religion (but lives in the Middle East where it's omnipresent) so they end up doing that thing in movies where they argue at each other and throw sultry glances across the room signaling their unknown attraction.
What snowballs into a friendship quickly turns sexy when the two women (on a trip together) end up sleeping together. But (as these things always are) it's complicated; Tala is engaged and getting married in two weeks.
Do these crazy kids get together? I'll just say there's no depressing ending. Just great acting, quick edits, tons of funny moments and compelling political conversation that never verges on tedious.
This is truly a great lesbian film. It did not suck. It did not suck at all. (-Intern X)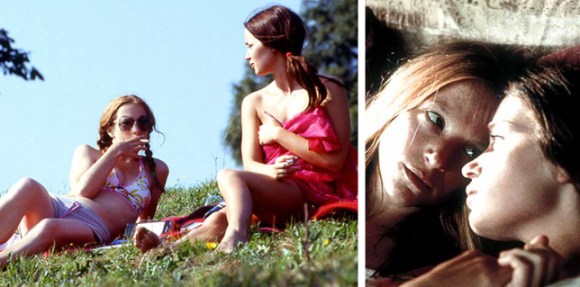 My Summer of Love's poor little rich girl Tamsin [Emily Blunt] spends her boarding school suspension becoming really good friends with bored, working class Mona [Natalie Press]. Their version of friendship includes kissing in rivers, lots of drinking and smoking and acting fancy, a nice little love and death pact, and motor scooters.
The hills are apparently a big deal over in England because there is lots of hill-wandering involved in this love. At one point, these very hills are graced by Tamin/Emily Blunt totally lying there with her breasts out like it's no big deal. It's a big deal.
Like all bad girl stories, this one ends with a bucket full of lies, but it's all the spinning out of control that makes this movie feel a little bit magic and a little bit real. (-Intern Hot Laura)

Unveiled (Fremde Haut/German) is a beautiful film. An Iranian woman, Fariba, is caught having an affair with a married woman. Double no-no for Iran. So she flees to Germany to avoid persecution. Unfortunately she uses forged papers and lies about why she is seeking asylum, so the German authorities threaten to send her back. The only way she can stay is by taking on the identity of a male refugee, living in some sort of hostel, and taking an illegal job in a sauerkraut factory to make money for a fake passport with her actual identity.
It's not as complicated as it sounds. Until Fariba, passing as Siamak, meets a girl. Obvs. Girls always complicate things, yeah? Unveiled is a very moving film with one of the most intense and emotional love scenes I've ever seen, and a hopeful, bittersweet ending. The subtitles are definitely worth it. (-Intern Elizabeth)


Don't write it off because of its silly title – Itty Bitty Titty Committee is a badass lesbian film. Melonie Diaz is especially endearing as Anna, a directionless young lez who finds herself by joining a radical feminist group, called c(l)it. (At least no one can complain "I've seen that plot before!") If you're a die-hard riot grrrl fan, you'll definitely appreciate the film's soundtrack, one its strongest assets.
While the story gets just a tad unbelievable when the group gets into explosives (with some pretty shoddy special FX), it's hard not to have fun as the adorable gays celebrate to the tune of Team Dresch's "Hand Grenade". Oh, they also have sex – with nudity! – to "The Inch" by Peaches. And for your shallow side, the group features a wide array of homosexiness. The film deserves a medal alone for featuring hot butches and bois, who are so woefully underrepresented in film. IBTC may come off over-the-top and esoteric to some, but with its upbeat, empowering attitude, it's a breath of fresh air in lesbian cinema. (-Intern Lola)


What could possibly be more tragic than a film about forbidden lesbian love? Oh, that's right, a film about forbidden lesbian love between a Jewish woman and the wife of a Nazi officer…set in Berlin during World War II. Part love story, part historical drama, and all beautifully filmed, heartbreakingly conveyed storytelling, Aimee and Jaguar is based on a book of the same name that follows the actual lives of devoted mother Lilly Wust and Jewish resistance fighter Felice Schragenheim. The two take on the pseudonyms Aimee and Jaguar to conceal their identities in the series of letters exchanged during their romance.
Putting girl love into the context of one of the most troubling times of our history, Aimee and Jaguar accomplishes what not enough lesbian flicks manage to do: tell a story with layers and layers and layers of depth filmed through a gorgeous, gritty lens. It's not just about love, it's about what we give up for love and the extremes that bring us there. It's what lives in our histories conveyed through a dark encounter. Director Max Farberbock remembers what it is that keeps our community together: stories and experiences. Aimee and Jaguar is an exceptional narrative that reminds us that we've all been through something and that being right or being a hero is complicated. (-Katrina Danger Casino)


NEXT: Loving Annabelle, Tipping the Velvet, Imagine Me & You, Desert Hearts, Incredibly True Adventures of Two Girls in Love, and Lost & Delirious!
Oh wow, it's a lesbian movie set in a Catholic girls' boarding school! How revolutionary. Lucky for you, this one has a twist: the main character, Annabelle, isn't lusting after her roommate. She has her sights on her English teacher, Simone. The boarding school environment gives the two ladies plenty of opportunity for tense encounters, and that's pretty much all that happens for the first half of the movie. But the actresses do such a good job drawing out the tension, you won't even care that no one is making out. Of course, there's some random student-on-student kissing thrown in to keep the audience happy. Don't worry, there's a big payoff at the end.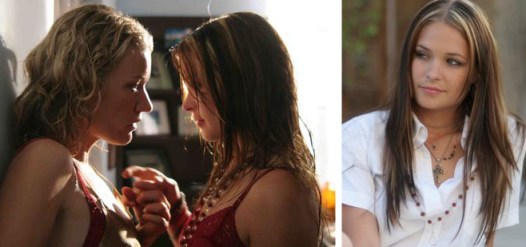 Loving Annabelle is not the greatest movie ever, but it's refreshingly realistic. Unfortunately, that means another sad ending to a lesbian movie. But this story couldn't end happily, anyway. All you need to know is the movie is worth watching because it features not one but TWO types of taboo romance, and it has cute girls in plaid skirts!
(-Intern Sarah)


Tipping the Velvet is a 3-part BBC drama, based on the Sarah Waters novel, about girls who sing, dress as boys, and like other girls. In London. In the 1890s. It follows Nancy Astley from her girlhood of shucking oysters, through many stages (literally and figuratively) of self-discovery and ladyfriends, until she gets her happy ending. And no one dies! And there is a leather(?) dildo. Which doesn't seem sanitary to me. There are also some pretty interesting statements about feminism and socialism that seem a little preachy, but not overbearing. You may recognize actresses Jodhi May (from Last of the Mohicans) and Sally Hawkins (who won an Oscar recently for Happy Go Lucky, but can also be seen playing gay in another Sarah Waters adaptation, Fingersmith). In the end, even though Tipping The Velvet is a historical drama, it has its funny moments as well, and doesn't take itself too seriously. If for nothing else you should watch it for the cute British girls in mens' suits.
(-Intern Elizabeth)

So get this: Rachel and Heck, long time friends and lovers, finally tie the knot. On the big day, Rachel starts a friendship with their florist, Luce. And by "friendship" we mean reluctantly totally madly in love-ship.
Imagine Me & You is a British romantic-comedy about the relationship of two cute girls played by Piper Perabo (Rachel) and the always-gorgeous Lena Headley (Luce – WHAT A HOT NAME). Pretty much the entire film is based around Rachel's reluctance to betray her husband, Heck, by being with a woman she just happened to meet on her wedding day. You pretty much sit there with sweaty palms and baited breath hoping that for christ sake maybe two girls could live happily ever after together in a movie. WILL THEY?  I can't tell you it would be a spoiler!!!
Three reasons this movie did not suck: Piper Perabo, Lena Headley, and most importantly — the girl gets the girl in the end!
(-Alex)



Released in 1985, Desert Hearts was one of the first mainstream films featuring a lesbian storyline, which is why it's a little surprising that it's also one of the most nuanced. When Vivian, straitlaced Columbia professor and divorcée, meets Cay, Reno girl with a sexy voice who sometimes wears cowboy boots without pants, you might expect another woman-is-driven-to-lesbianism-by-bad-heterosexual-relationship story, or a gay-relationship-in-the-Southwest-threatened-by-homophobia plot. Instead, Vivian and Cay's relationship succeeds in being a sweet lesbian love story without being A Lesbian Love Story, you know what I mean?
There is a way in which Vivian and Cay's relationship feels honest and genuine because it's outside of the structures of patriarchy.
Perhaps because it's based on a novel, no one making this movie felt like it was okay to sacrifice things like complex characters or a fully developed plot just because it's gay. We're able to take the romance seriously because the movie takes itself seriously – for instance, Cay's mother throws a fit about her being with Vivian not because she's a crazy Southern homophobe, but because she's kind of possessive and codependent and can't deal with her daughter being committed to anyone else. Cay's gayness isn't a big issue in her community; it's a thing that some people know about and some don't and that her friends support her in and some other people don't.
One of the best and most moving things in the entire movie is the way that, through the voices of all the women in the film, heterosexual relationships are subtly critiqued – not for the sake of some big gay agenda, but because this is set in 1958 and truthfully there was a whole lot the institution of marriage just didn't do for women back then. Being gay isn't presented as the answer to relationship or matrimonial issues, but there is a way in which Vivian and Cay's relationship feels honest and genuine because it's outside of the structures of patriarchy that can sometimes make it hard to really respect or support a partner of the opposite sex.
Bottom line, there's something that resonates when watching this movie; something about it that makes it feel like it could be real. Or maybe just something you wish was real, because the sex scene is generally considered one of the best ever, and Vivian's wide-eyed nervousness is so cute you just want to cheer her on. Also, like any good movie-of-a-book, it's beautifully written and full of quotable quotes which I found myself scribbling down as I watched. "I'm not asking you to be on my side. But if you stand in my way…" (Intern Rachel)

10. Incredibly True Adventures of Two Girls in Love (1995)

Randy Dean (Laurel Holloman) isn't doing so hot in school and her 'relationship' with an older married women seems to be running pretty cold as well, especially cold is the visit the woman's husband makes to the gas station Randy works (and makes out) at. One afternoon Evie (Nicole Ari Parker), drops by the gas station looking for someone to tell her whether her tires need air or not – Randy sorts this out easily and saves Evie from blowing her face off with an over-inflated tire. The pair soon find themselves testing the waters of a lesbian relationship in a small town, drinking some wine, smoking some pot and having incredibly true adventures. All in all it's pretty cute/fun. The Incredibly True Adventure of Two Girls in Love is much like Randy's Aunt Rebecca says life is; "a little rough around the edges", but enjoyable nonetheless! (Jen)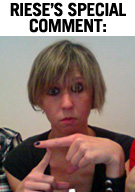 ALSO: Riese's special comment on why Lost & Delirious Sucks
I know why you think Lost & Delirious was good: firstly, there were young hot girls with feelings were making out, alternately disrobing or dressing themselves in hot school uniforms. Secondly it features some of our favorite ladies; Mischa Barton and Piper Perabo — both of whom have nice lesbionic resumès.
I used to go to lesbian movies in the theater by myself a lot, for reasons I never really thought (enough) about. I was one of maybe four or five people in the theater for L&D. And though at first I was entertained — enthralled, even — all of my lust, longing and perhaps budding homosexuality was snatched from my soul about mid-way, when Paulie loses Tory and the entire film transforms into a heavy-handed horse-beating vehicle for Symbolism and Metaphor, often delivered via the TIRED AS FUCK method of linking the poems studied in class to the pain of Paulie's actual heart.
Paulie, when not literally nursing a random wild bird back to health, is gallivanting about campus with zealous baroque literary zeal and trust me — I like a good mental illness movie, but this ain't it. Instead of witnessing anything resembling genuine emotional transformation, pain or complication, we get a litany of Shakespearean allusions.  This isn't an after-school special … but it starts to feel like one, because making your misery intellectual doesn't make it authentic. Lost & Delirious reminds me, at times, of a bad Ilene Chaiken episode and ladies, don't we (and Piper!) deserve better?
If you haven't seen it I won't ruin the terrible ending. I will just say that no one should put Piper in a corner screaming "Blood of the raptor! Blood of the night!" when she could be playing Dance Dance Revolution!
Pages: 1 2See entire article on one page