Lesbian Movies: Here at Autostraddle we want every lesbian, every queer woman, and every non-binary person to know that movies should include us and do include us. We want you all to see our lives on screen with the variety and quality we deserve.
That's why five years after releasing our original "100 Best Bisexual, Queer and Lesbian Movies" list we decided to double it. The past half a decade has brought new films worthy of exciteable gay celebration — and older works that have been rediscovered.
The goal with this list was to create a canon of lesbian+ movies that honor all the different types of work worthy of viewing. There are films that are simply fun for a casual night in, there are deeply thought-provoking films, and there are films that are mostly just here to turn you on.
This list was created through a rigorous multi-step process that involved a lot of lesbian movie watching, a lot of voting, and a lot of weighing factors often ignored on mainstream film lists. It was important to us that we not take into account any metric voted on by institutions composed mostly of cis straight white men. While it's impressive when a film about queer women or nonbinary people manages to get Oscar nominations or a high Rotten Tomatoes score, the films that get those recognitions are not often made by us or specifically for us.
Here are some of the metrics we considered when voting and ranking:
The prominence of the queer character or storyline
Whether or not the work was made by queer people and/or women/nonbinary people
Awards given by queer and women specific film festivals and critics circles
And, most importantly, artistic quality
This list does not include films about trans men (e.g. By Hook or By Crook, Tomboy), films about trans women exclusively interested in men (e.g. Tangerine, A Fantastic Woman), films based on queer books that had their explicit queerness removed (e.g. The Color Purple, Fried Green Tomatoes), or films where the queerness is just subtext (e.g. A League of Their Own, Rebecca). This list also doesn't include short films, documentaries, or porn — with a handful of exceptions where length/genre lines were blurred.
The headline says "Lesbian, Bisexual, and Queer," but for us that means any woman or non-binary person interested romantically or sexually in another woman or non-binary person.
One last note: There are lesbian movies on this list not currently available to stream. Some of the greatest works of queer cinema are not being watched, because people not within our community get to decide which films deserve attention. Many titles on this list were included because I contacted production companies and producers, attended rare screenings, and hunted for DVDs at actual video stores. And still some films — most notably The Fox (1967) and Me siento extraña (1977) — were not included because no one on our team was able to access them.
And these are just the lesbian movies we know about! There is a world of cinema and a world of queer cinema and there are films from the last hundred years waiting to be discovered. But hey, we'll keep searching for lost lesbian classics, the industry will keep making more films that include us, and in the meantime why not start with this little ol' list of TWO HUNDRED movies? By the time you watch them all, we promise there will be more.
[Jump to Movies: 200 | 150 | 100 | 50 | 25 | 10 | All ]
---
200. Girltrash: All Night Long
Directed by Alexandra Kondracke, 2014
Watch It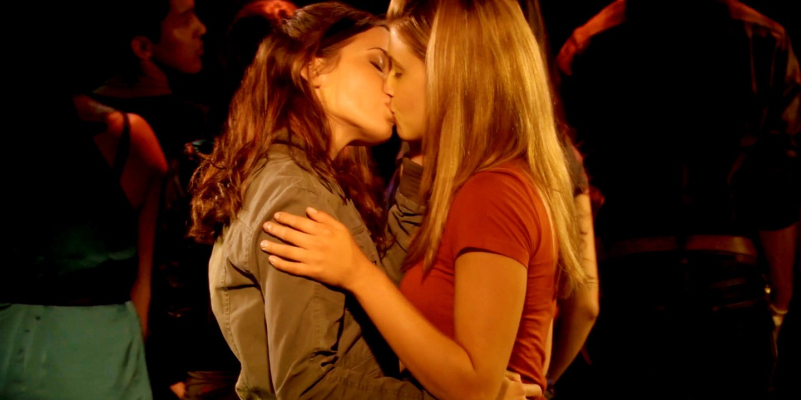 Girltrash! creator Angela Robinson disavowed this lesbian movie and it's easy to see why — her other films are on the opposite end of this list. But that doesn't mean it's not still fun in all its silly, musical glory. Explicit portrayals of queer women have been almost absent from the history of movie musicals, so while we wait for a Fun Home movie we'll take what we can get. To quote Mandy Musgrave's Misty Monroe: Don't shit on my dream it's just a fantasy!
199. The Intervention
dir. Clea Duvall, 2016
Our Review // Watch It
Clea DuVall's directorial debut is an ensemble piece about a group of friends in a house working through their various relationship problems. It's obviously inspired by The Big Chill and it's just as white, but not as poignant. It has some good performances — most significantly from Melanie Lynskey — and reunites DuVall with her But I'm a Cheerleader co-star Natasha Lyonne as the token lesbian couple of the group. Oh and Sara Quinn did the score!
198. Breaking the Girls
dir. Jamie Babbit, 2012
Our Review // Watch It // Also Available on Hulu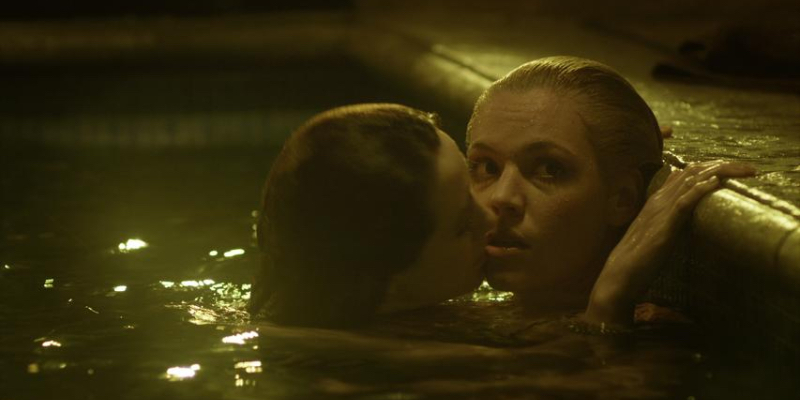 A lesbian remake of Strangers on a Train with even more twists and turns, this erotic thriller is certainly delicious. With direction from Jamie Babbit and a script co-written by Guinevere Turner, this has just the right amount of artistry added to its pulpy trash.
197. Liz in September
dir. Fina Torres, 2014
Our Review // Watch It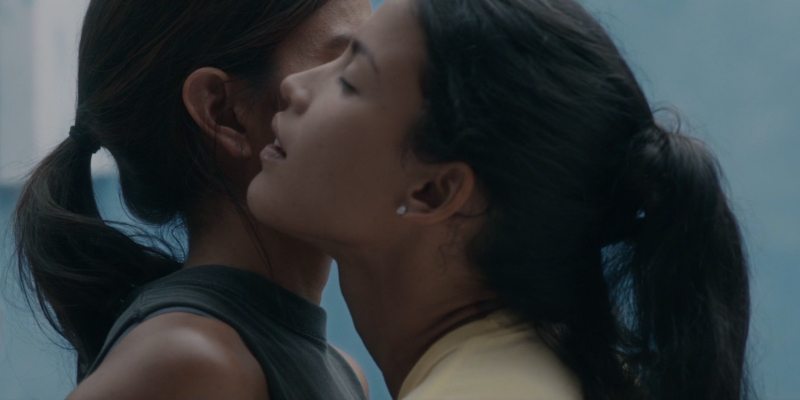 Beautiful beach scenery (and beautiful women) ease the pain of this Venezuelan melodrama that basically has the premise "what if Shane McCutcheon was slowly dying of cancer — but still fell for straight girls." The film is at its best when it focuses on the camaraderie among Liz and her friends, a chosen family of queer women teasing and supporting one another.
196. Elisa & Marcela
dir. Isabel Coixet, 2019
Available on Netflix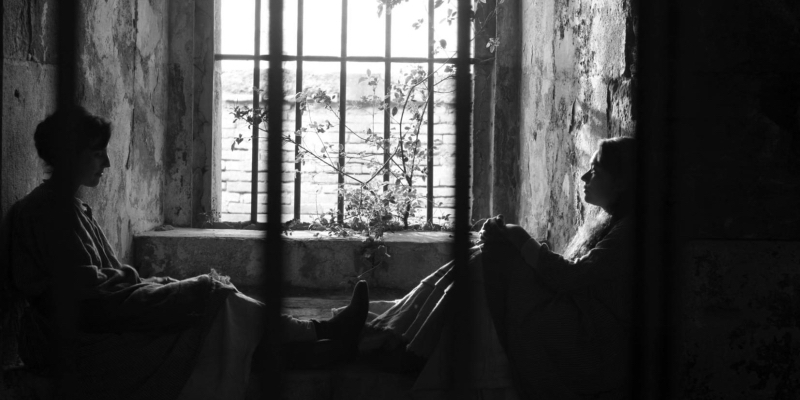 Not the art film its showy Black & White cinematography and more creative flourishes seem to be aspiring for, but nevertheless an enjoyable period romance. Based on the true story of Spain's first same-sex marriage, Isabel Coixet replaces an average looking queer woman and her androgynous love with two beautiful high femmes. It's a bit silly and a bit long, but hey the sex scenes are great.
195. Lizzie
dir. Craig William Macneill, 2018
Our Review // Watch It // Also Available on Vudu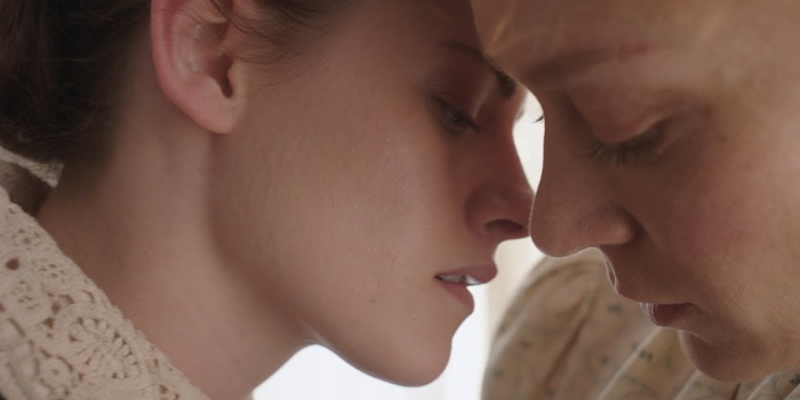 Chloë Sevigny was reportedly disappointed with the final results of this long-gestating project, but any movie focusing on a romance between her and Kristen Stewart can't be all bad. In fact, the movie is pretty good largely because of its two central performances. But as the maudlin tale drags on one is left wondering what might have been if those two performances had a script with a bit more depth and a director with a bit more ingenuity.
194. Angry Indian Goddesses
dir. Pan Nalin, 2015
Unavailable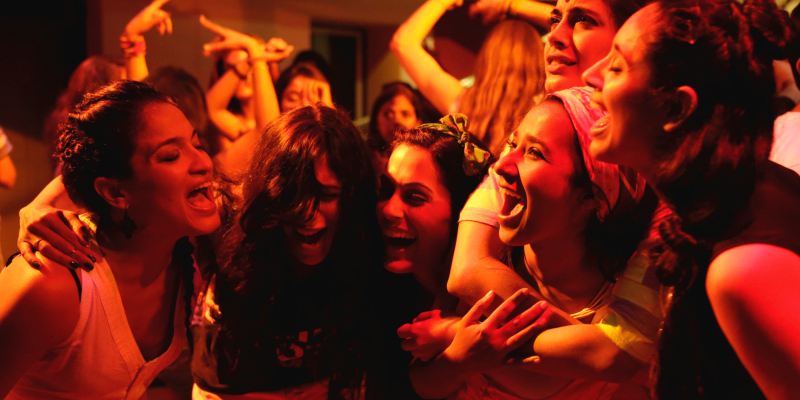 For a movie centered on a lesbian wedding, this movie sure is light on lesbian content. There's a charm to its simple feminism, and the ensemble of actresses have a lovely chemistry together. It's unfortunate that it takes some dark, melodramatic, and borderline exploitive turns, because it's a really fun watch when it just focuses on a group of women hanging out at a pivotal moment in their lives.
193. The Perfection
dir. Richard Shepard, 2018
Our Review // Available on Netflix
This isn't a great film, or even a good film, and it's offensive in a myriad of ways. But what it lacks in quality and morals it sure does make up for in thrills. If you're in the mood for a gory shockfest that also has lesbian sex and cello playing, then this movie won't disappoint.
192. Tell It to the Bees
dir. Annabel Jankel, 2018
Our Review // Watch It
Fluctuating between quiet period drama and soft magical realist melodrama, this story of forbidden 1950s lesbian love in a small British town is redeemed by its two central performances from Anna Paquin and Holliday Grainger. It's well-made, but the tonally imbalanced script never quite matches the achievements of similar films.
191. Lovesong
dir. So Yong Kim, 2016
Watch It // Also Available on Netflix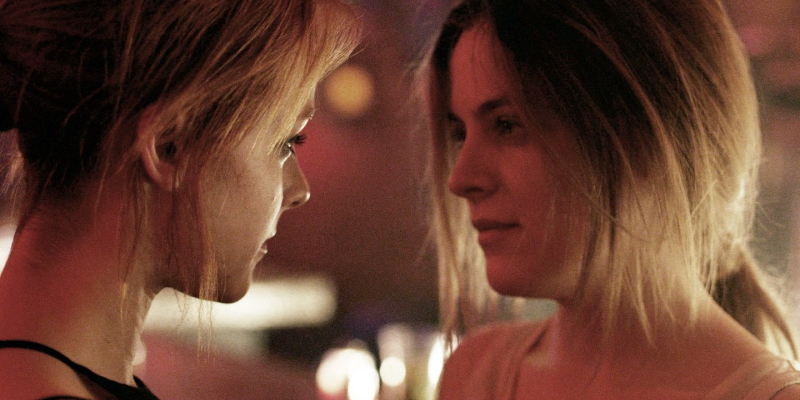 Pretty to look at and grounded by a pair of naturalistic performances from Riley Keough and Jena Malone, this indie drama follows two friends whose connection could be more if they didn't keep turning towards marriages with men. The dramatic turns at times feel forced, but when the women are allowed to simply be together the film is lovely and poignant.
190. Colette
dir. Wash Westmoreland, 2018
Our Review // Watch It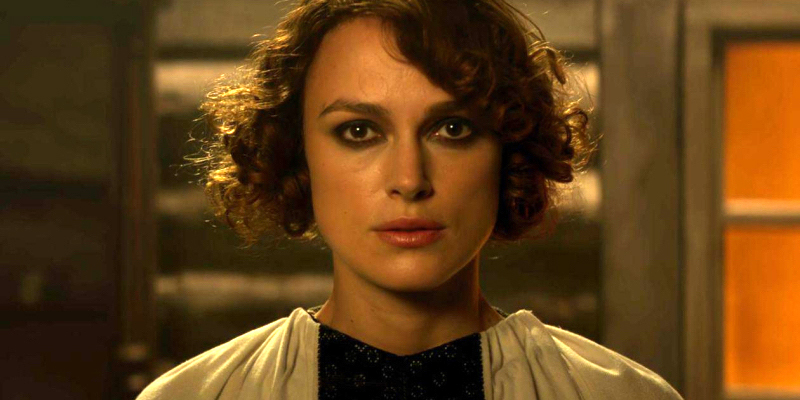 Keira Knightley is known for her period pieces and this movie certainly fits in with the more middling of the bunch. It's handsomely made, well-acted, and pretty to look at — if never as artful as the work of its subject matter. It's unfortunate that the film so poorly handles Colette's lover Max's storyline — casting a cis woman and erasing his transness. It could have been the rare big budget period piece to properly represent queer lives, specifically trans lives, but instead it ends up being rather cringe-worthy for anyone familiar with Colette and Max's story and the pattern of trans erasure in historical narratives.
189. Everything Relative
dir. Sharon Pollack, 1996
Our Review // Available on Vimeo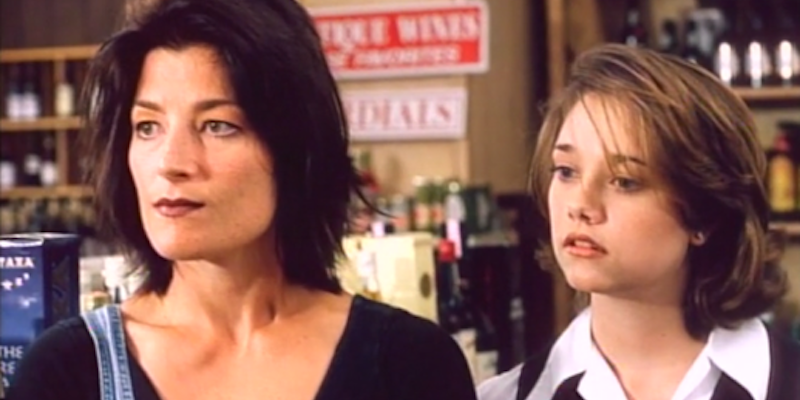 While very of its time, this big ensemble lesbian movie is rare in its casual, nearly plotless look at lesbian lives. The storylines vary in quality but at its best it's a portrait of a specific generation of lesbians — or, at least, the upper middle class white cis lesbians of that generation. The references are charmingly 1996 and it all culminates in a lot of sex.
188. What Keeps You Alive
dir. Colin Minihan, 2018
Our Review // Watch It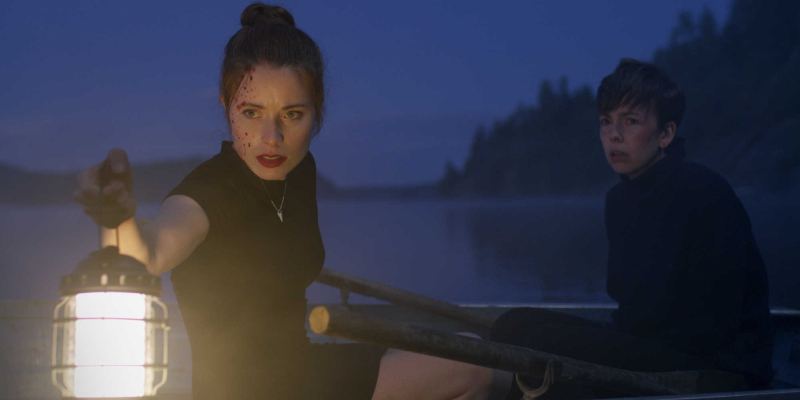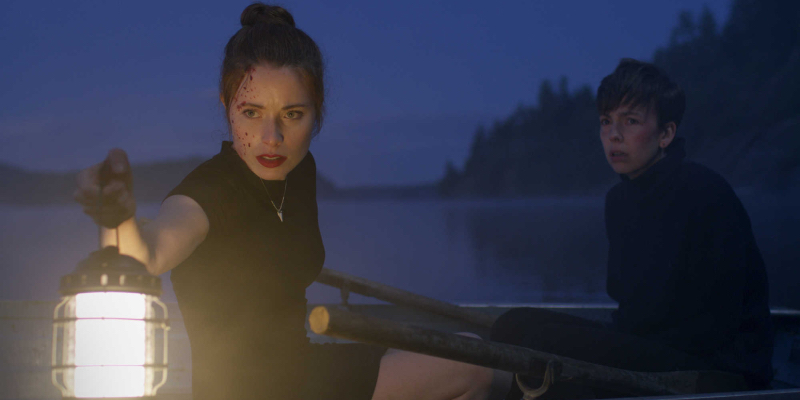 Simple but effective, this lesbian horror movie about a murderous wife makes up for its outlandish premise with a tight style and a great performance from Brittany Allen. The whole charade would've been even scarier with a more logical script, but it's still a fun ride.
187. Loving Annabelle
dir. Katherine Brooks, 2006
Our Review // Watch It // Also Available on Netflix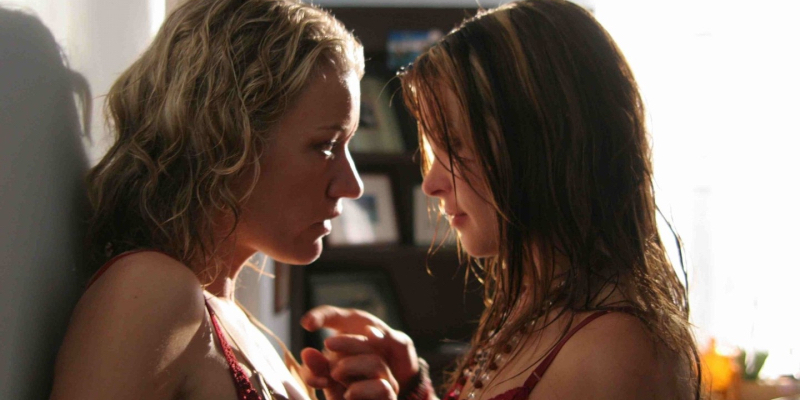 As a trashy reimagining of Mädchen in Uniform, this lesbian movie hits several tropes — but it's fun if you're in the mood for some light teacher/student fantasy. What it lacks in originality or artfulness, it makes up for with a very short runtime.
186. Pretty Persuasion
dir. Marcos Siega, 2005
Our Review // Watch It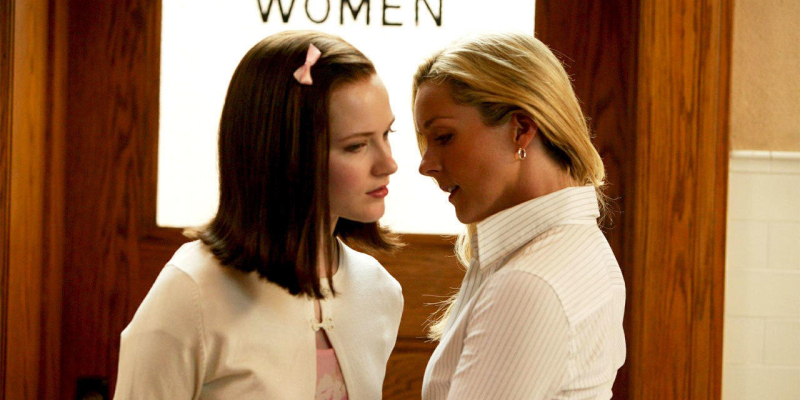 Like Election, but less pointed and with a bigger lesbian subplot (not sure those balance out), this movie about a sociopath teenage girl is very politically incorrect in a very 2005 sort of way. The premise alone — Evan Rachel Wood's Kimberly framing her teacher for sexual assault — is cringe-inducing and it's certainly not handled with any sort of care. But if you want to place morals aside and watch Wood revel in her role as a very anti antihero — and see her hook up with Jane Krakowski — there is fun to be had.
185. Someone Great
dir. Jennifer Kaytin Robinson, 2019
Our Review // Available on Netflix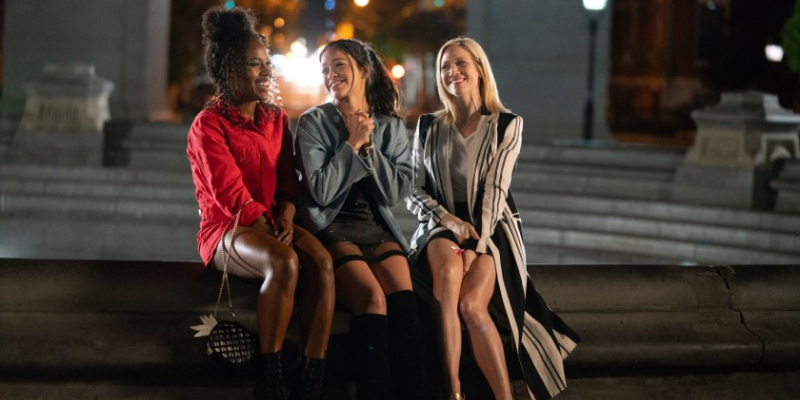 While largely focusing on the hetero romance/breakup of Gina Rodriguez and LaKeith Stanfield, this anti-romcom also focuses on Rodriguez's relationship with her two best friends. And one of them is gay! She's Gotta Have It's DeWanda Wise plays Erin, a real estate agent struggling to commit and admit her feelings for her girlfriend. It's a slick movie with a poppy soundtrack readymade for a Netflix night in.
184. Nina's Heavenly Delights
dir. Pratibha Parmar, 2006
Unavailable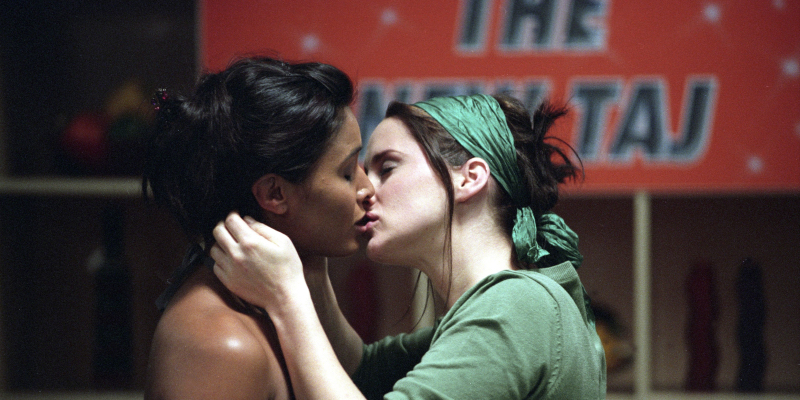 This sweet Indian-Scottish romcom is silly and sentimental, but it's also a pleasure to watch. It has solid performances from Shelley Conn and Laura Fraser, a fun and breezy script, and a few great dance numbers. Beautiful lesbians and food porn are indeed heavenly delights and this movie has plenty of both.
183. Gray Matters
dir. Sue Kramer, 2006
Watch It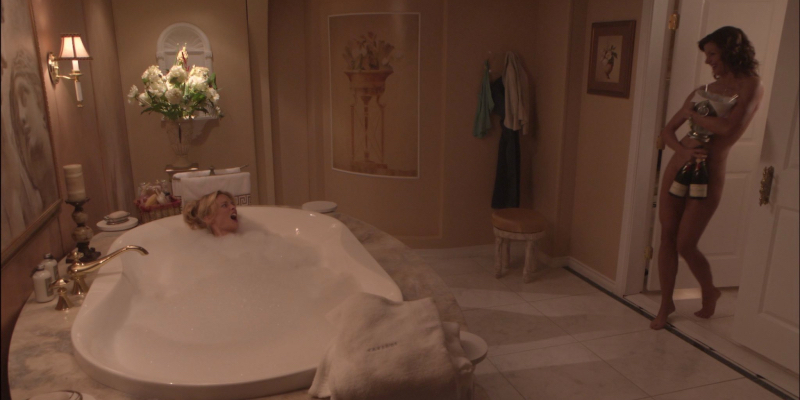 Sometimes you think you're in love with your brother, but actually you're just a lesbian. That's the message of this wild romcom about a codependent sister and brother (Heather Graham and Tom Cavanagh) who fall in love with the same woman (Bridget Moynahan). With supporting performances from Sissy Spacek, Molly Shannon, and the one and only Alan Cumming along with a champagne bath, a spontaneous dance number, and one steamy make out, this movie is a hoot even if it's certainly no masterpiece.
182. Cloudburst
dir. Thom Fitzgerald, 2011
Watch It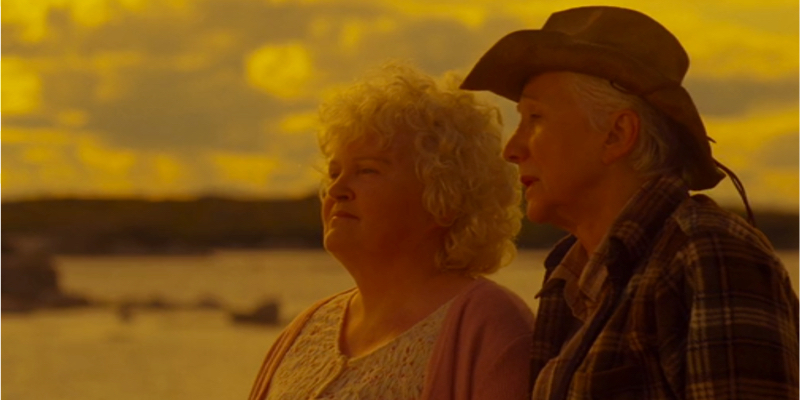 Olympia Dukakis and Brenda Fricker star as longtime partners who flee to Canada to get married. Its take on homophobia is oversimplified, but the romance at its center is lovely. Dukakis also has some really great one-liners.
181. Tru Love
dir. Kate Johnston, Shauna MacDonald, 2013
Watch It
This film might have the least kinky mother-daughter love triangle in cinema history. Its taboo premise gives way to a sweet story about people trying to work through their issues and make the most of life. It's corny and falls into a few tropes, but it's moving to watch Tru (yes, that's her name) work through her mommy issues.
180. Birds of Prey: And the Fantabulous Emancipation of One Harley Quinn
dir. Cathy Yan, 2020
Our Review // Watch It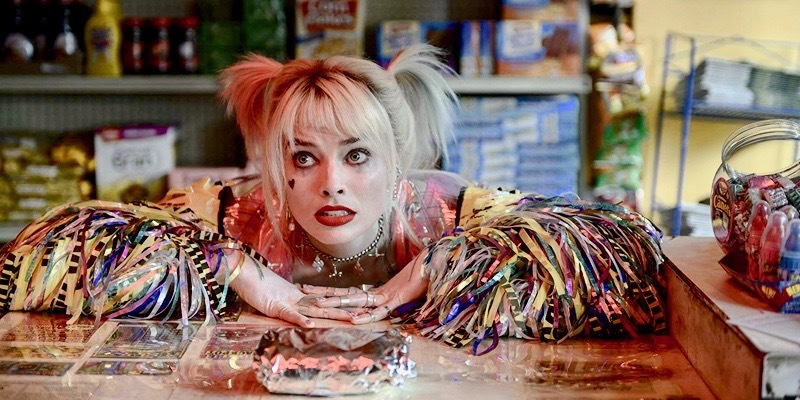 Finally after so much subtext, a big budget superhero movie that explicitly includes queer women — in fact, it's starring one. Cathy Yan's explosive, misandrist, comic book treat may be light on gay sex and romance, but with a mention of an ex-girlfriend Margot Robbie's Harley Quinn is an on-screen canon bisexual. Add Rosie Perez's lesbian Renee Montoya and her ex-girlfriend played by Ali Wong and a nice amount of the usual subtext that accompanies a female-led action movie and you're left with a movie that's gay by any standard and very gay by a Hollywood standard. Montoya also sets a lovely example for lesbian cops across media by doing the right thing — quitting.
179. The Owls
dir. Cheryl Dunye, 2010
Watch It
After a six-year hiatus, icon Cheryl Dunye returned with this flawed but interesting work of lesbian cinema. At only a little over an hour, it acts as a comeback for Dunye, a postmortem on 90s queer cinema, an exploration of generation gaps in the queer community, and an examination of the differences between transmasculine people and butch lesbians. It may not work as well as Dunye's other films appearing further down this list, but it's still fascinating.
178. It's in the Water
dir. Kelli Herd, 1997
Watch It
This 90s satire of small town homophobia is sweet and charming even if its lost its bite in the passing decades. Rumor spreads that the water in Azalea Springs, Texas is turning people gay just as the married Alex reunites with her lesbian high school bestie. Keri Jo Chapman and Teresa Garrett have nice chemistry and make the movie an enjoyable experience.
177. Vita and Virginia
dir. Chanya Button, 2018
Watch It // Also Available on Hulu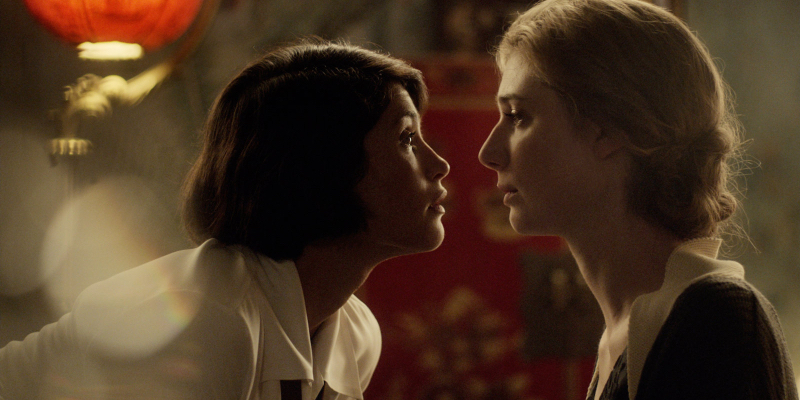 While not quite the masterpiece these two icons deserve, there's still a lot to love about this bold retelling of one of queer history's greatest love stories. With a discordant score from Isobel Waller-Bridge, Chanya Button's film refuses to stay in the past, ensuring its tale of women writers, polyamory, and unsustainable connection feels alive and current. Elizabeth Debicki and Gemma Arterton are a pleasure to watch and ultimately the film is as much about these individuals as writers as it is about them as lovers.
176. Love My Life
dir. Koji Kawano, 2006
Unavailable
If you don't read the plot description for this otherwise low-key lesbian coming-of-age romance, the coming out scene will be one of the most surprising ever filmed. It's a twist that adds a fascinating layer to the story and the movie is at its best when exploring this complexity and Ichiko's relationship to her family. Her chemistry with Eri is really sweet and actors Rei Yoshii and Asami Imajuku are fun to watch in the roles. The plot is a bit convoluted with conflict that feels manufactured, but it's still very enjoyable.
175. High Tension
dir. Alexandre Aja, 2003
Watch It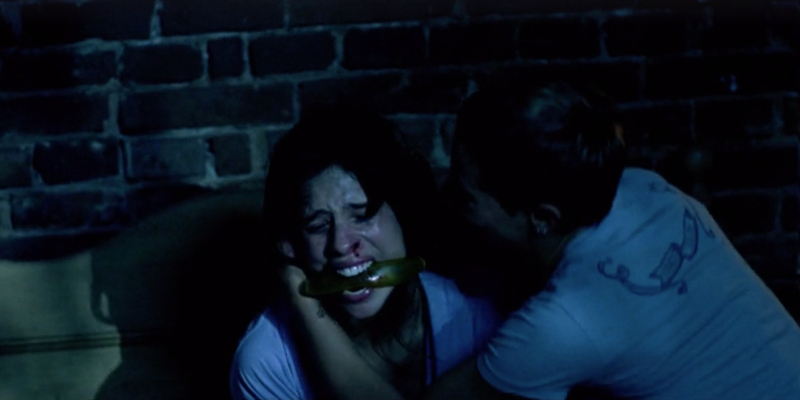 This is a hard movie to describe, because of its nonsensical twist ending. Part of the New French Extreme movement, this horror movie is endless in its brutality and gore. But it's also expertly made and, well, tense. You'll be shouting at the baby butch protagonist (played by Cécile de France who will pop up again on this list) to just give up on her straight best friend she's in love with and save herself. Alas, the ending is universally reviled and pretty homophobic. But you can still enjoy the ride.
174. Salmonberries
dir. Percy Adlon, 1991
Unavailable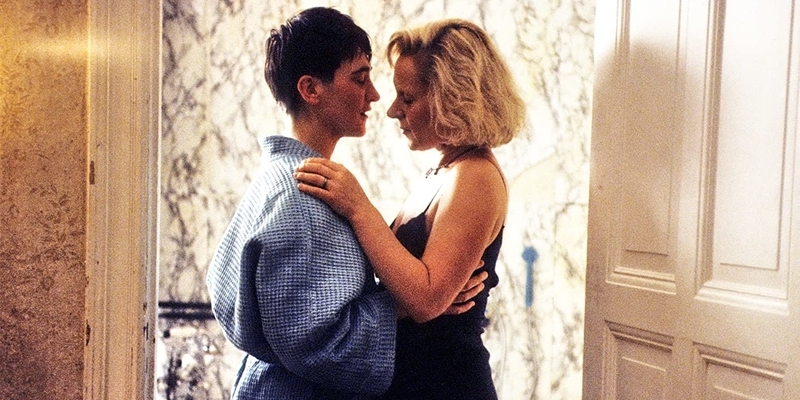 All you really need to know about this movie is it stars kd lang. Yes, that kd lang. She plays an Inuit woman who has taken on a male identity to work as a miner in Alaska. She falls in love with an East German widower librarian much older than her and the two form an unlikely friendship/eventual romance. It's a slow and odd film about identity and the past that doesn't totally work but is endlessly fascinating.
173. Take Me for a Ride
dir. Micaela Rueda, 2016
Watch It
A simple coming-of-age movie about queer teen love in Ecuador, Take Me For a Ride works because of the precise cinematography and the chemistry between lead actors Samanta Caicedo and Maria Juliana Rangel. The drama remains low-key and the film feels like a personal snapshot.
172. The Purple Sea
dir. Donatella Maiorca, 2009
Watch It
Similar to Elisa & Marcela in plot, this Italian film is also better before one of its high femmes pretends to be a man in order to marry her lover. There's something charming and powerful about the character's unwavering commitment to herself and her romance — it's less that she's brave and more that she simply must follow her feelings. The film's darker turns in its second half may be off-putting to some, but this is a melodrama after all.
171. Daphne
dir. Clare Beavan, 2007
Unavailable
This biopic about Rebecca novelist Daphne Du Maurier focuses on two failed loves, her painful crush on her publisher's wife and her affair with a troubled actress. Geraldine Somerville gives a layered performance as Du Maurier capturing her at a time when her private life was increasing in complexity as her public life grew larger.
170. Puccini for Beginners
dir. Maria Maggenti, 2005
Our Review // Unavailable
Maria Maggenti's very New York City romcom about a complicated love triangle is filled with charm due to some witty dialogue and great performances from Elizabeth Reaser and Gretchen Mol. Reaser's Allegra is a self-identified lesbian afraid of commitment who suddenly falls for a man… and his ex-girlfriend. Chaos, of course, ensues. It's not deep, but it is delightful.
169. The Firefly
dir. Ana Maria Hermida, 2013
Watch It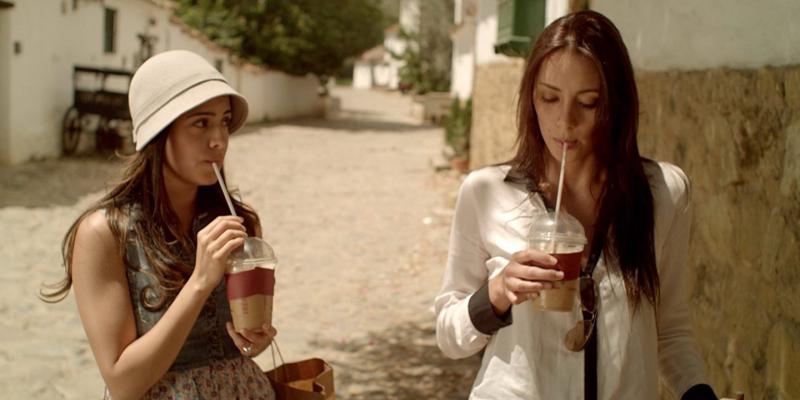 A film as much about grief as it is about queer love, Ana Maria Hermida's debut is about a woman who develops a relationship with her brother's fiancée in the wake of his death. The two women bond over their shared mourning and shared love and eventually find a way forward together. With magic realist touches and a heavy script, the movie is rich in drama, but it mostly earns its earnest ambitions.
168. Entre Nous
dir. Diane Kurys, 1983
Available on Criterion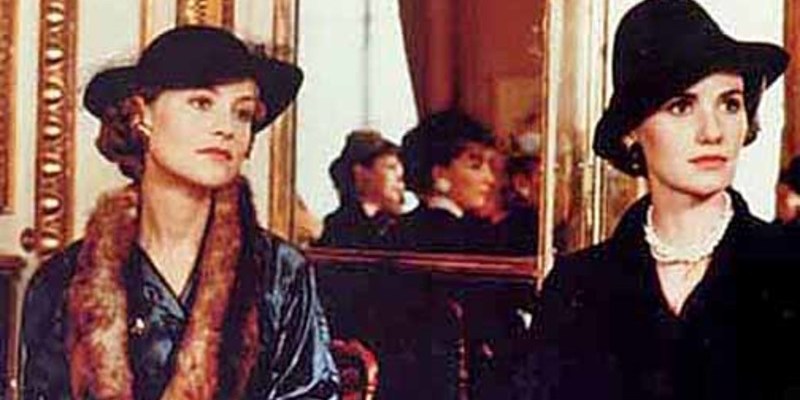 While the lesbianism remains implicit, this is still a beautiful movie about love and obligation. Miou-Miou and Isabelle Huppert are heartbreaking as two women whose deep connection pulls them away from the men in their lives. It's slow and chaste — at least in its queerness — but this delicate film is a tribute to love between women.
167. Bumblefuck, USA
dir. Aaron Douglas Johnston, 2011
Watch It // Also Available on Tubi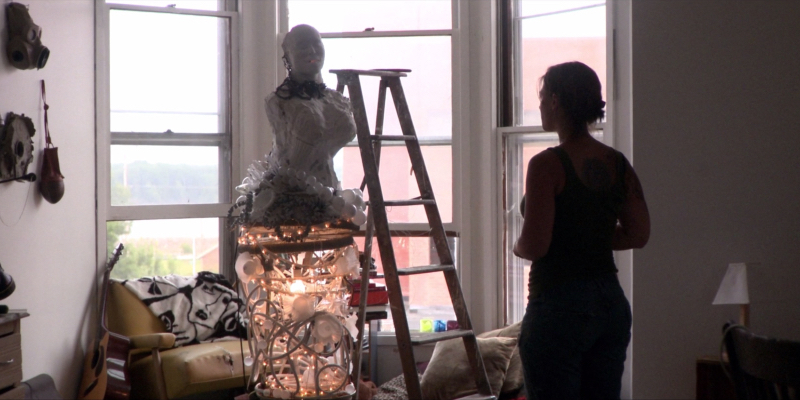 Part mumblecore romance, part documentary, this film combines real interviews with the story of a Dutch woman who visits her gay American friend's small town after he commits suicide. Blaming homophobia for his death, she sets out to learn what it's like to be gay in this place, but ends up falling in love with a woman and learning firsthand. It's a lowkey story with some painful turns, but it captures the confused messiness of newly coming out — or dating someone who's newly coming out.
166. The Secret Diaries of Miss Anne Lister
dir. James Kent, 2010
Watch It
Before Anne Lister's diaries were turned into an HBO show, there was this BBC film adaptation. While less thorough of a portrait than the show, Maxine Peak's performance as Anne makes this version worth watching. Her Anne is a bit more desperate and a bit whinier, but she still maintains that alluring swagger.
165. Pimp
dir. Christine Crooks, 2018
Our Review // Watch It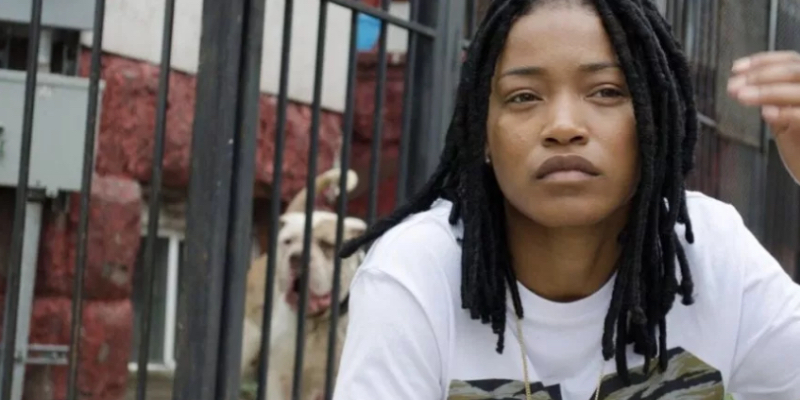 While certainly dabbling in stereotypes — probably due to its white writer/director — Pimp still portrays a lesbian character and lesbian love story rarely shown on screen. Keke Palmer plays Wednesday, a pimp living in the Bronx desperate to prove herself, help her mom who just got out of prison, and be with girl-next-door Niki. The plot takes some wild turns and the performances, while committed, don't exactly feel real, resulting in a lesbian movie that's epic in drama if not the gritty tale it seems to be attempting.
164. Pride
dir. Matthew Warchus, 2014
Our Review // Watch It
This feel-good tale of class solidarity, tells the true story of the organization Gays and Lesbians Support Miners, a group of queer individuals who raised money and provided support during the 1984 British Miner's Strike. The film finds humor and pathos in the culture clash of the rural heterosexual miners and the queer Londoners offering their help. It's a tad simple, and very cis and white, but it's still a delightful and inspiring film.
163. Life Partners
dir. Susanna Fogel, 2014
Our Review // Watch It
A twist on the lesbian in love with her best friend trope, Leighton Meester's Sasha never falls for Gillian Jacobs' Paige — but she is jealous when Paige starts dating Tim played by Adam Brody. This is a sweet exploration of codependent friendships with casually resonant lead performances and a great supporting cast of Gabourey Sidibe, Abby Elliot, Beth Dover and Kate McKinnon.
162. Goldfish Memory
dir. Elizabeth Gill, 2003
Unavailable
Like Love, Actually, but Irish, gay, and riddled with commitment issues this ensemble romantic comedy follows the lives and intersecting relationships of several delightfully messy people. Equally split between gay, lesbian, and straight romances, some storylines work better than others, but all of the actors are charming and the film is smarter about love than most of these kinds of romcoms.
161. My Days of Mercy
dir. Tali Shalom-Ezer, 2017
Watch It
Capital punishment romance is a tough sell, but three stunning performances from Ellen Page, Kate Mara, and Amy Seimetz, and endless chemistry between Page and Mara, make this movie more watchable than its premise. It's certainly emotional, but rarely maudlin, avoiding too much melodrama by focusing on the characters as people. There are moments of humor and even a few stellar sex scenes.
160. Drool
dir. Nancy Kissam, 2009
Watch It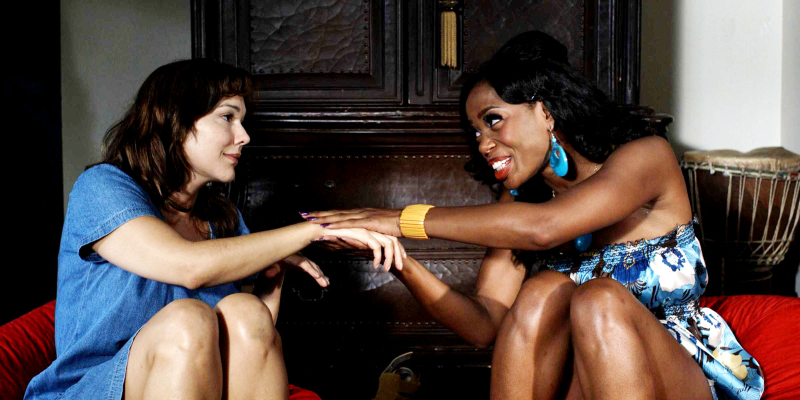 At times delightfully campy, at others rather off-putting, this low-budget comedy stars Girlfriends' Jill Marie Jones and Mulholland Drive's Laura Harring as lovers on the run. Kissam has cited John Waters as one of her key inspirations and that's clear in the boldness of the work and its extremely dark sense of humor. But ultimately the film is rather wholesome as it creates a world where new family structures can arise from abuse.
159. To Faro
dir. Nana Neul, 2008
Unavailable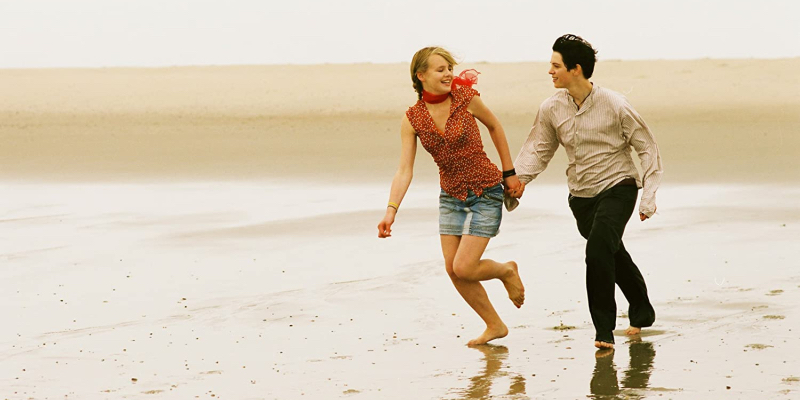 Melanie dreams of going to Portugal to live out all her queer dreams. But instead she's stuck in a small German town at a job she hates. When she meets Jenny and is mistaken for a boy she decides to take on the alter ego of Miguel, a sweet Portuguese boy that quickly wins Jenny's heart. This results in a tender — but at times harrowing — tale of sexual and gender discovery. The twist that Jenny is younger than she first says adds an unnecessary uncomfortable element to the whole movie, but it's still an affecting coming of age drama.
158. The Pirate
dir. Jacques Doillon, 1984
Unavailable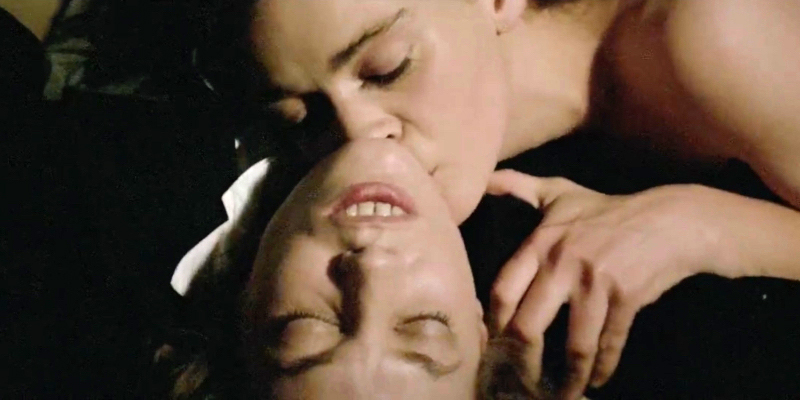 This lesbian movie starts the drama at 100 and then turns it up. It's as French as it is over-the-top as it is gay gay gay. Only the French would cast Jane Birkin in a love triangle with another woman and a man PLAYED BY HER BROTHER. It's a brutal, unpleasant movie, but its magnetism is undeniable
157. Better Than Chocolate
dir. Anne Wheeler, 1999
Our Review // Watch It // Also Available on Vudu
Famous or infamous depending on who you ask, this memorable ensemble comedy about a group of lesbian friends is noteworthy for its silly sex scenes, Ani DiFranco filled soundtrack, and inclusion of a trans woman character. Feminist bookstore, nudity-centric performance art, and sexy body painting are just some of the very lesbian things in this very lesbian movie. It's not great, but it is ours.
156. Les Biches
dir. Claude Chabrol, 1968
Unavailable
Claude Chabrol's interest in queer women seems to begin and end with how hot it is to watch us make out — but, to be fair, he's not wrong. Male gaze abounds in this gender swapped Talented Mr. Ripley, but that doesn't take away from all its pleasures. Chabrol knows how to make a compelling movie and this is certainly compelling — almost as compelling as actresses Stéphane Audran and Jacqueline Sassard. But be warned: the man takes over as the main love interest for both women.
155. Concussion
dir. Stacie Passon, 2013
Our Review // Watch It // Also Available on Netflix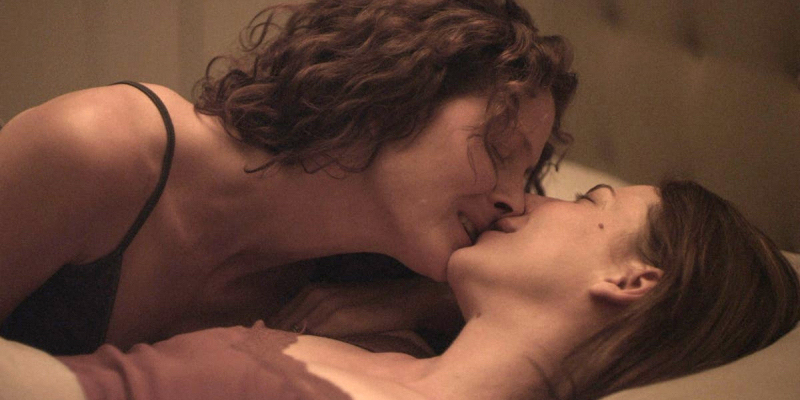 What begins as a gay twist on the classic story of sex-driven mid-life crise, becomes a deeper exploration of ennui and desire. Despite focusing largely on protagonist Abby's foray into sex work, the film seems less concerned with representing that profession realistically and more concerned with how the sex (lots and lots and lots of sex!) impacts Abby as a character. Robin Weigert's performance as Abby anchors the film despite its somewhat silly premise, and Maggie Siff gives a sexy supporting performance as one of Abby's clients. There's more to this movie than just the sex, but there is a lot of sex and it's very well done!
154. You & Me Forever
dir. Kaspar Munk, 2012
Watch It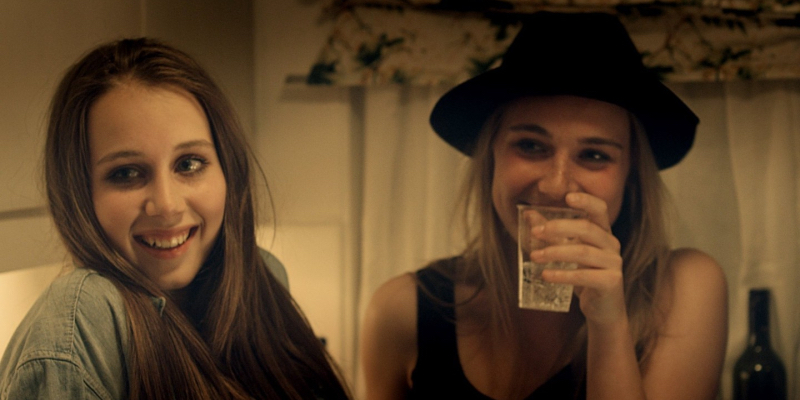 Brutal and filled with heterosexual sex, nevertheless this film is noteworthy for its realistic portrayal of teenage confusion. The protagonist isn't sure why she's so taken with the bisexual new girl in school, but she's quickly at her mercy. The film painfully portrays how susceptible closeted queer people can be to manipulation and the immense cruelty of teenage girls.
153. Farewell, My Queen
dir. Benoit Jacquot, 2012
Watch It
Telling the story of Marie Antoinette's love affair with Yolande Martine Gabrielle de Polastron through the eyes of one of Antoinette's servants, Benoît Jacquot is more concerned with capturing Versailles than the affair itself. There are pleasures to be found in the film's gorgeous costumes and production design, as well as its three main performances from Diane Kruger, Léa Seydoux, and Virginie Ledoyen, even if it never quite has the fire its story demands.
152. Blush
dir. Michal Vinik, 2015
Watch It / Also Available on Tubi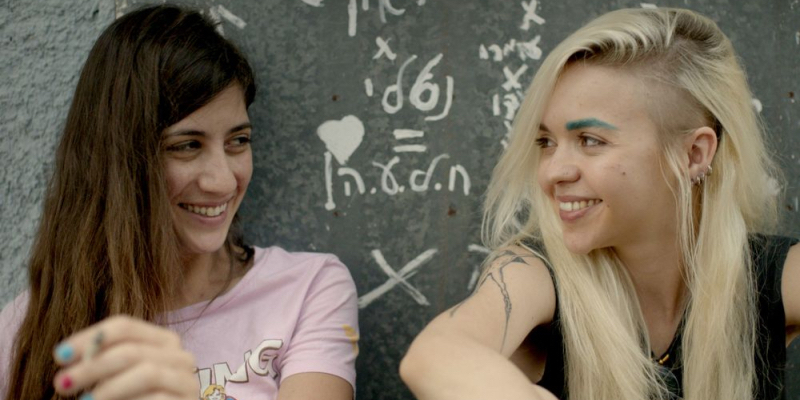 This Israeli coming-of-age film draws parallels between protagonist Naama's burgeoning sexuality and her country's troublesome politics. While she's having the usual queer teen experiences of first love, first heartbreak, and first post-heartbreak head shave, she's also forced to deal with her violent home life and racist father. It's a tale of intolerance across identities that's affecting even as it follows familiar beats.
151. The Killing of Sister George
dir. Robert Aldrich, 1968
Unavailable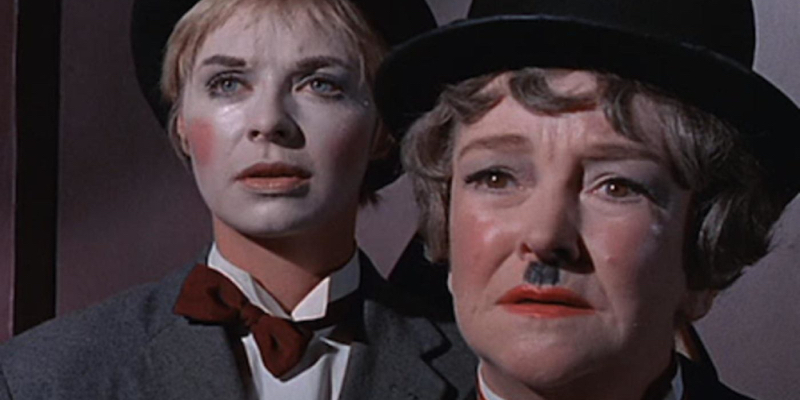 Robert Aldrich's film is a landmark of lesbian cinema, but it's brutal to watch. It perpetuates the trope of the bitter old lesbian with none of the pleasures of similar films. But as a movie it's quite good with a devastating performance from Beryl Reid. It's worth watching for her performance and for its historical importance even if it leaves a sour taste.