[Jump to Movies: 200 | 150 | 100 | 50 | 25 | 10 | All ]
Top 10 Best Lesbian Movies
dir. Leontine Sagan, 1931
Buy on Blue-Ray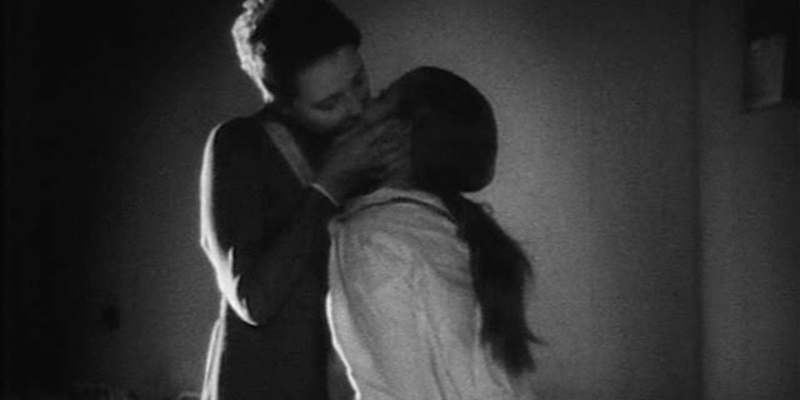 The lesbian movie that started it all. With its boarding school setting, central age difference, and near-suicide ending this first known work of explicit lesbian cinema can be credited with shaping the entire lesbian film canon. But it's more than just a work of history. While its age difference might be too much for some, the film places us squarely in the perspective of new student Manuela. Her love for teacher Fraulein von Bernburg becomes our own adolescent crush as we understand her confused place in gay life. At the dawn of the Holocaust the Nazis tried to burn every copy of this film — they failed. It's a testament to the scope of queer history, a glorious time capsule, and, simply, a stunning work of art.
9. All Over Me
dir. Alex Sichel, 1997
Buy "All Over Me on DVD or VHS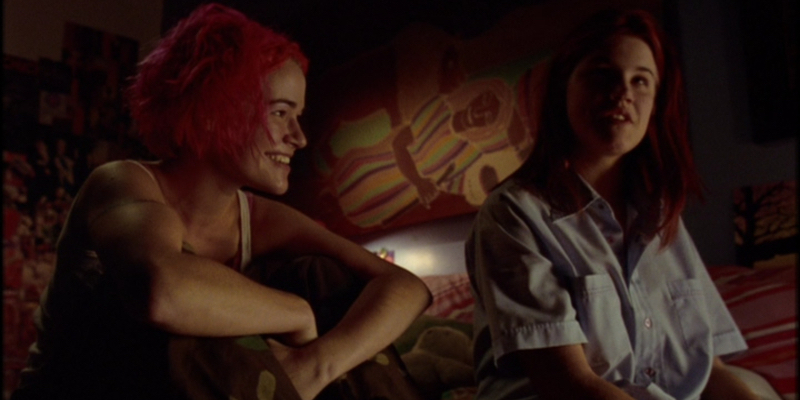 A film doesn't have to be campy to be formally queer. Alex Sichel was given a grant by the Princess Grace Foundation to make a movie about the riot grrrl music scene and instead she made a riot grrrl movie. Even the cinematography and sound design feel dykey. The soundtrack does not disappoint, of course, and this movie has both a painful "in love with my straight(?) friend" storyline and a "first love with a dyke in a band" storyline. And the dyke in the band is played by Leisha Hailey with pink hair! Alex Sichel never got to make another feature, and this film is currently very hard to find, but this was made for dykes and if it's going to finally get the recognition it deserves that has to start with us.
dir. Desiree Akhavan, 2014
Watch It // Also Available on Tubi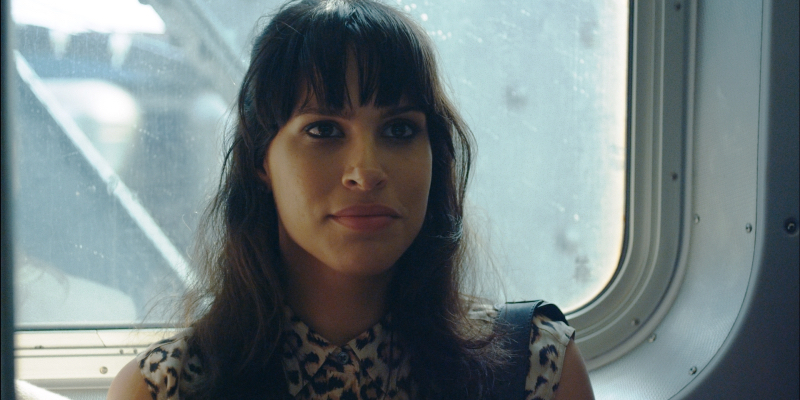 Shirin thought she met the only person in the world as sad and cynical as herself. She thought they were meant to be. Now in the wake of her break up she's spiraling in a flurry of bisexual chaos. Writer/director/star Desiree Akhavan is a once-in-a-generation talent and her humor makes this an easy movie to watch even as Shirin is seeped in melancholy and crisis. Since The Slope, Akhavan has made work that feels deeply grounded in a casual queer perspective. There might be a lot of semi-autobiographical films about people trying to master adulthood, but there's only one Desiree Akhavan and this film is as special as the filmmaker herself.
dir. Lana and Lilly Wachowski, 1996
Watch It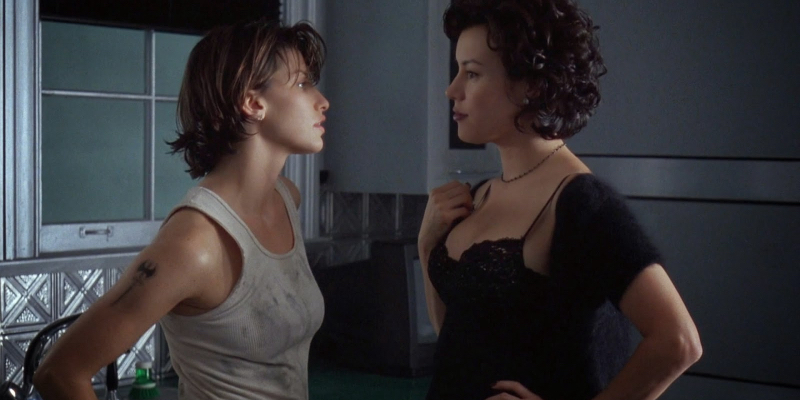 The Wachowskis take a classic film noir story with classic film noir archetypes and queer it in form and content. Gina Gershon plays Corky, the soft butch everyman readymade to get wrapped in things that don't concern her. This, of course, arrives in the form of Jennifer Tilly's femme fatale Violet. There's a deep understanding of the genre that allows them to subvert it — holding onto the excitement and sex appeal, but prioritizing lesbian love and delicious misandry. This is as stylish and exciting as any of the Wachowski's bigger budget fare and it has sex scenes choreographed by Susie Bright. Queer women are still largely absent from genre films, but this stands as one of the most prominent — and masterful — exceptions.
dir. Céline Sciamma, 2019
Watch It // Also Available on Hulu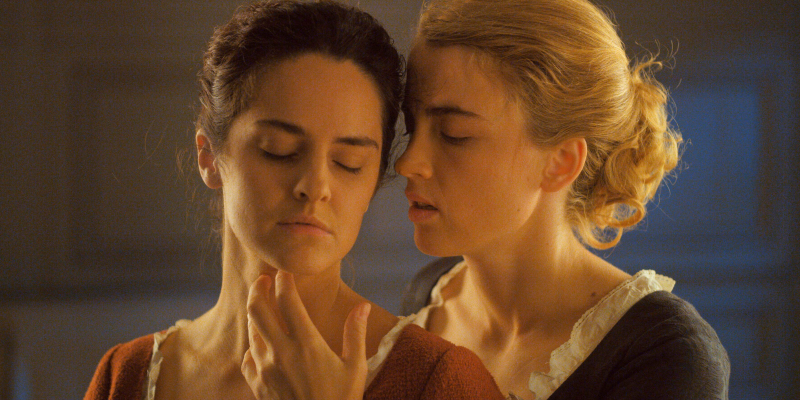 An immediate landmark of lesbian cinema, Céline Sciamma fulfills the promise of her first three features with a gorgeous work of lesbian art that pushes the boundaries of how our gaze appears on screen. This is a movie about love and a movie about creation – specifically about women, specifically about lesbians. Noémie Merlant and Adèle Haenel are exquisite, giving performances that challenge the very notion of audience watching actors. Claire Mathon's cinematography is as beautiful as it is pointed — the stunning images always motivated. There is so much eroticism and love and also a push to view these concepts in a way separate from heteropatriarchal structures. Céline Sciamma wants our cinema to be our cinema and with this monumental work she succeeds.
5. The Watermelon Woman
dir. Cheryl Dunye, 1996
Watch It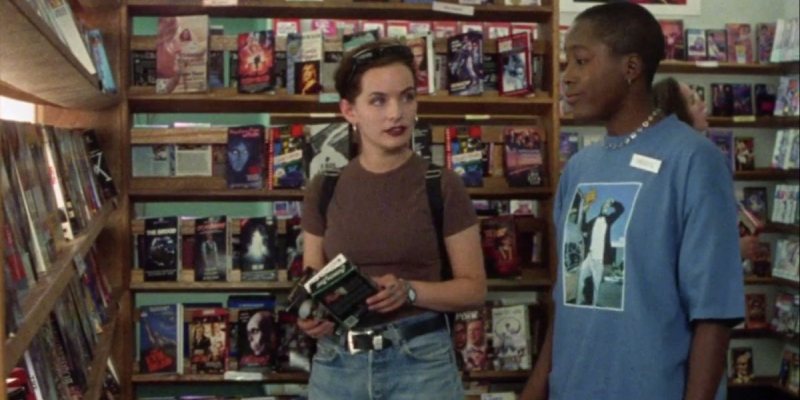 Mockumentary, romcom, buddy comedy, alternate history, Cheryl Dunye's debut feature is a work of Black lesbian cinema highly aware of its place within film history. Dunye is so funny and charming — and sexy with love interest Guinevere Turner — the depth of this singular work of lesbian art is only evident with its final title card. This is a lesbian movie with jokes, with a videostore meetcute, with a hot sex scene, but it's also a declaration of an artist's stubborn autonomy. Dunye isn't content just to mock or pay tribute — she understands that being a filmmaker with several marginalized identities doesn't allow her that casual dismissal or easy celebration. She understands the importance of history and that sometimes you have to create your own history. And she's determined to have fun along the way.
dir. Donna Deitch, 1985
Watch It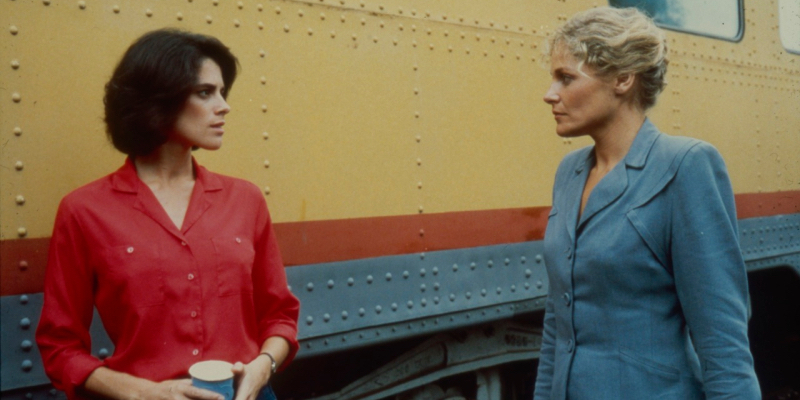 A period piece decades ahead of its time, Donna Deitch's sweeping romance is a classic that earns that word in quality and burns past it with an ever-present spark. Helen Shaver plays Professor Vivian Bell who's staying at a Nevadan ranch while she waits for her divorce to finalize. She has taken the first step towards independence, but isn't sure what's next. The answer? Cay Rivers. Patricia Charbonneau as Cay has so much easy tomboy femme charm, a sexy dedication to self, and wears pants and shorts unlike any other on-screen character. Their romance is fraught, but absent is the melodrama one might expect from a film made in the 80s about the 50s. It's a quieter, more grounded affair — that still finds time for an iconic kiss in the rain. You don't have to believe in love to believe in this lesbian movie — it'll do that for you.
dir. Dee Rees, 2011
Watch It
Dee Rees' debut feature is a stunning cinematic achievement. Her artful direction and poignant, specific writing melts into Bradford Young's remarkable cinematography, the impeccable soundtrack, and a collection of phenomenal actors led by Adepero Oduye. Oduye gives the kind of performance that should be talked about until we stop talking about cinema — finding layers in the realism, lightness in the pain. This is an at times difficult film, but it's far from maudlin. Rees gives us those first moments of love, those first moments of self-discovery and identification — even if they're met with rejection and isolation and difficulties. This is a film explicitly about Black queerness — not a single white person appears on screen — and it's a towering achievement from a Black lesbian filmmaker who's already left her mark and is only just beginning.
dir. Alice Wu, 2004
Watch It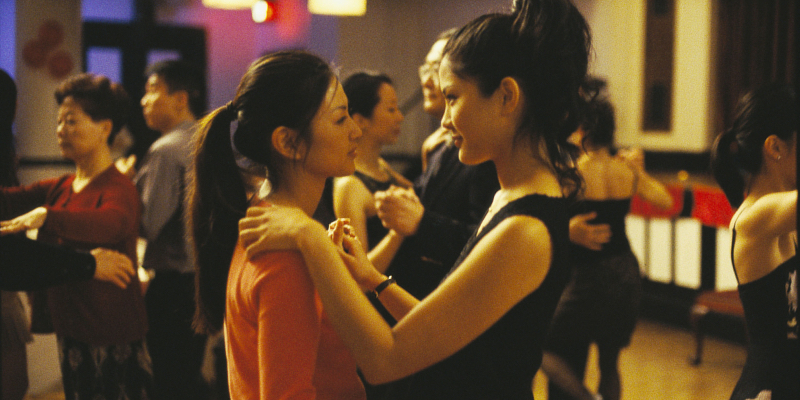 There are plenty of gay romcoms that attempt to fit queerness into the genre, but Saving Face goes beyond what any of its straight counterparts have ever accomplished. Alice Wu's only film for sixteen years is as funny and romantic as the best of the genre, but it's also about family, about identity, about people. Michelle Krusiec plays Wil, a Chinese-American lesbian surgeon forced to house her mysteriously pregnant mother just as she's falling for her boss' daughter played by Lynn Chen. Krusiec and Chen have a timeless chemistry. It's so fun to watch them flirt and fall in love and navigate how their lives could possibly merge. Joan Chen also gives a really special performance as Wil's mom. This movie isn't content to just tell one love story — its ambitions are to show the unpredictable nature of the very concept. It's still all too rare to see films about Asian-Americans — especially queer films — making Wu's film special as a representational milestone and simply as a work of art. Specificity makes for better storytelling and it doesn't get much better than this enchanting film.
dir. Jamie Babbit, 1999
Watch It
Jamie Babbit's campy lesbian classic received bad reviews upon its initial release. The largely straight male critics just didn't understand why someone would make a comedy about a subject matter this serious. But this film isn't for them. It's for us. And we already know all about queer trauma — what we need is queer joy. This is a biting satire that mocks homophobia and the people and institutions that uphold it — all the while grounding its gay characters in relatability and providing an authentic romance. Natasha Lyonne first earned her crown as honorary lesbian with her performance that's simply hilarious and Clea DuVall is a total heartthrob as her love interest. The rest of the cast includes Melanie Lynskey, Michelle Williams, Cathy Moriarty, Mink Stole, and RuPaul — each one of them falling into the movie's specific tone with perfection. Camp is often associated with gay men, but this movie is explicitly lesbian camp. This is a queer movie made by queer people about queer experiences through a queer lens for queer audiences.
It's the best lesbian movie of all time.
Pages: 1 2 3 4 5 6See entire article on one page