[Jump to Movies: 200 | 150 | 100 | 50 | 25 | 10 | All ]
dir. Tony Scott, 1983
Watch It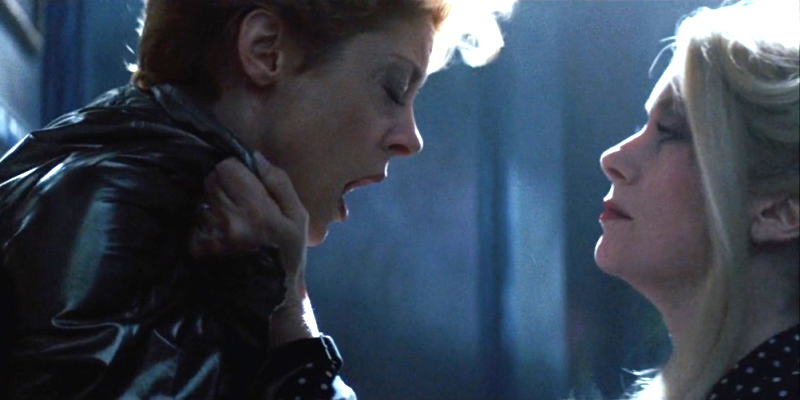 Frenetic editing, heavy symbolism, and vague plotting make for a dreamy whirlwind of bisexual vampirism. Catherine Deneuve, David Bowie, and Susan Sarandon are all at their hottest as they fuck and bite their way to immortality. The sex scene between Deneuve and Sarandon is especially iconic — there's a reason this is what Cameron Post and Coley Taylor watched before having sex.
99. Blue Gate Crossing
dir. Yee Chih-Yen, 2002
Buy on DVD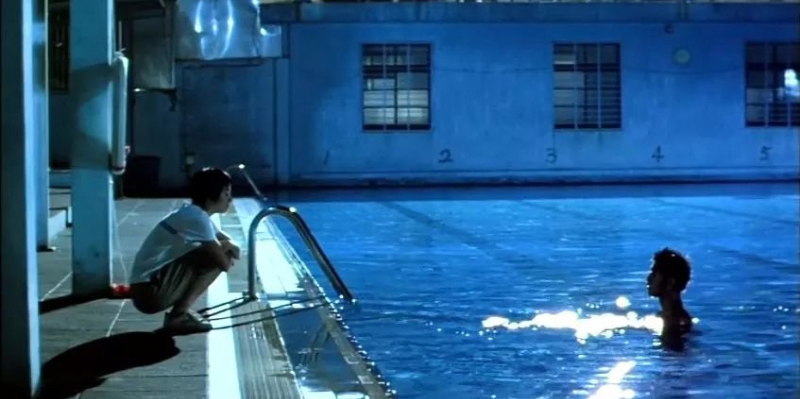 What begins as a gay Cyrano de Bergerac is complicated when Kerou's crush's crush falls for her instead. A love triangle that defers to moments of quiet connection over messy plot dynamics, Yee Chi-Yen's film is a simple yet moving coming-of-age movie about first love and friendship. The movie is subtle and the power of its emotions may not hit you right away — but days later it just might make your heart swell.
98. Novitiate
dir. Margaret Betts, 2017
Watch It
Religion is often framed as the enemy in queer films making Margaret Betts' debut all the more unique. Margaret Qualley plays a young woman who decides to become a nun much to her nonreligious mother's horror. There are clear parallels between this conflict and the conflict many queer people face when coming out. The subtext becomes text and we see how the lines between faith and queerness are not as distinct as we sometimes think. Melissa Leo gives a grand and horrifying performance as the harsh Reverend Mother desperately trying to hold onto her own way of life in the face of Vatican II. Utilizing this specific moment in history, Betts creates a startling film about commitment to self in the face of societal judgement.
dir. Ingrid Jungermann, 2016
Watch It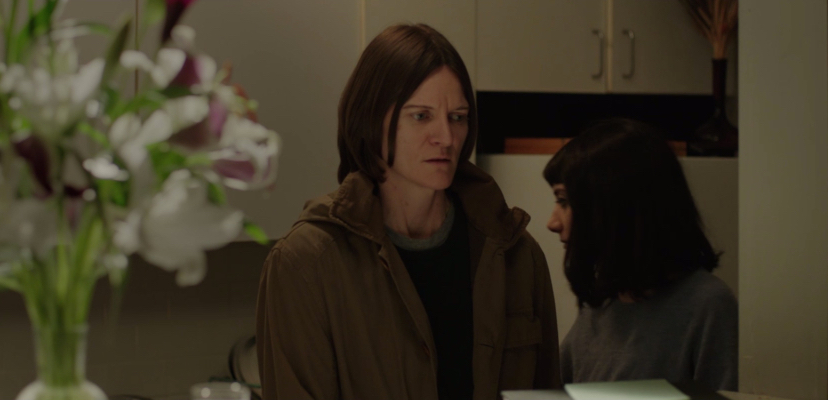 Part romcom/part thriller, Ingrid Jungermann's film is about the scariest subject of all: commitment. With great performances from Jungermann, Sheila Vand, and a stacked supporting cast, the film balances all its conflicting tones. It becomes a solemn meditation on love and vulnerability, but it's hilarious along the way.
96. Wild Nights with Emily
dir. Madeleine Olnek, 2018
Watch It
Shaking off almost two centuries of misrepresentation, Madeleine Olnek reclaims Emily Dickinson clarifying that gay does not equal old maid and homebody does not equal self-serious. Molly Shannon plays Dickinson and along with Olnek's very funny script adds humor and sex appeal where it's long been hidden. The fun of the movie is the entire point. It's a fitting tribute to Dickinson's life and work and a statement about the historical erasure of queer women.
dir. Robert Towne, 1982
Watch It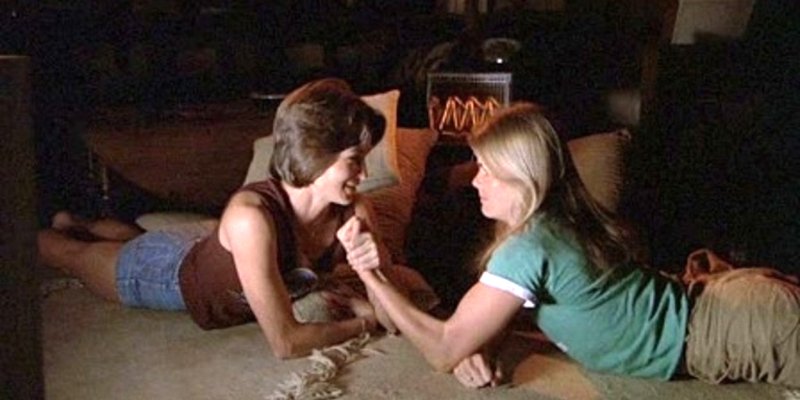 With realistic and intricately captured scenes of athleticism, this queer woman classic is one of the best sports movies period. It's imperfect, with some racist jokes, and it may disappoint anyone in it for the love story, but it's still a noteworthy film about two fiercely competitive women. Come for the sweat on perfectly toned muscles, stay for the specificity of a Cap4Cap romance.
94. Grandma
dir. Paul Weitz, 2015
Watch It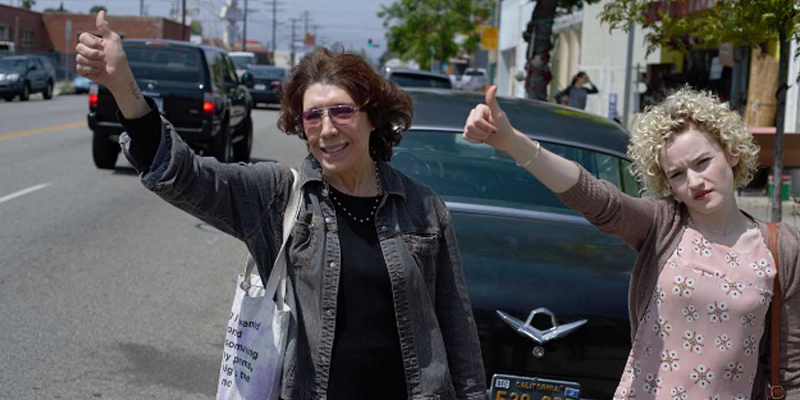 Lily Tomlin was gifted the part she was born to play in Elle, stubborn wisecracking lesbian grandma of pregnant Sage. As they attempt to get Sage an abortion, Elle is forced to reflect on her own life. Tomlin is so funny and so tender, landing every joke with gusto and every emotional beat with depth. The movie also has a stellar supporting cast with Julia Garner as Sage, as well as Laverne Cox, Marcia Gay Harden, John Cho, Judy Greer, and Sam Elliot. It's a sweet film that Tomlin makes into something more.
dir. Alexandra-Therese Keining, 2011
Watch It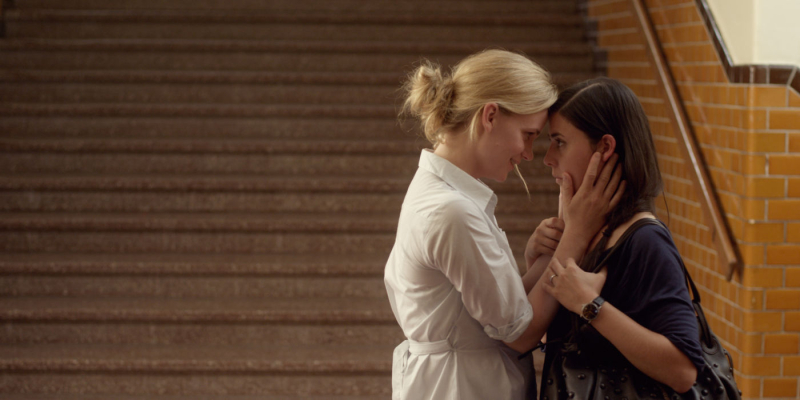 While featuring many lesbian movie clichés, Alexandra-Therese Keining's film stands out due to its writing, its phenomenal lead performances from Ruth Vega Fernandez and Liv Mjönes, and some exceptionally well done sex scenes. The story may be simple, but the chemistry at its core is special.
dir. Pedro Almodóvar, 2021
Our Review // Unavailable
Womanhood has been a front for so many facets of Pedro Almodóvar's own life. But in his latest masterpiece womanhood is a front for even more. Janis (Penélope Cruz once again giving birth, playing queer, and doing career best work for Almodóvar) is a photographer whose great-grandfather was killed by Franco's regime. She gets pregnant and at the hospital meets Ana (Milena Smit), a teenager giving birth at the same time. The years pass and the plot turns with reliably Almodóvarian melodrama. Spoiler: Ana cuts off her hair, dyes it blonde, and becomes super gay. This is a movie about the importance of living in the past — not out of nostalgia, but out of accountability. It's Almodóvar's complicated reverence for his mother, unabashed reverence for lesbians, and reluctant reverence for his own femininity, that result in a story where queer women are the only ones capable of interrupting cycles of generational trauma.
dir. Maria Maggenti, 1995
Buy on DVD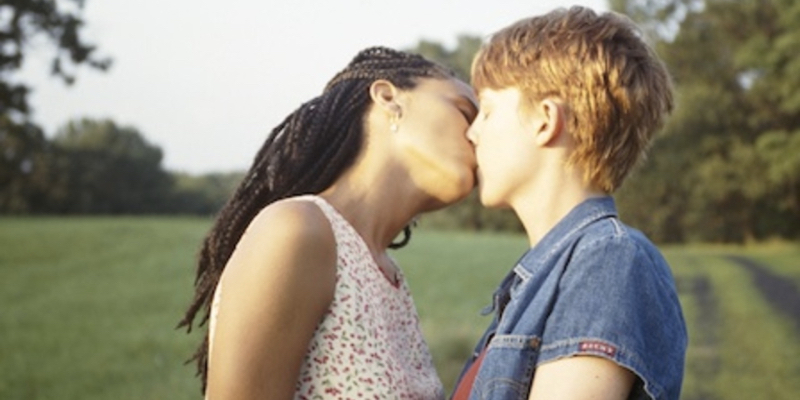 Before she was Tina, Laurel Holloman played heartthrob soft butch Randy Dean in this iconic 90s comedy. Paired with Nicole Ari Parker as Evie Roy, Holloman is earnest and charming and bursting with teenage energy. Randy and Evie are adorable together as they fall in love and field hilarious — and painful — responses from their friends and family. All these years later this movie is still just as cute and fun — and it might even make you like Tina.
dir. Marielle Heller, 2018
Watch It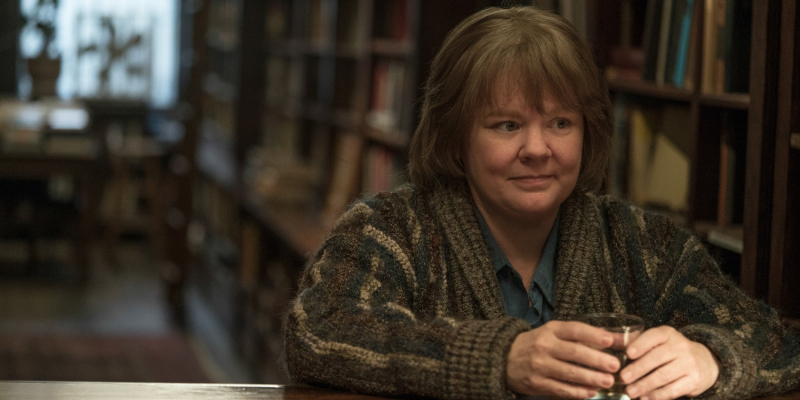 Based on Lee Israel's memoir about her time forging literary letters, Marielle Heller's melancholy film is concerned with the mundane loneliness of queer lives in a way rarely seen. Lee's homosexuality, and her friend and accomplice Jack's homosexuality, are integral to the story but not the focus. Lee and Jack are given the freedom to be deeply flawed, yet still human, and it makes for an emotionally resonant story. Bonus points for properly capturing the importance of a queer woman's cat.
dir. David Leitch, 2017
Watch It
This proper action movie from one of the directors of John Wick provides the queer Charlize Theron kickass thrill ride of our dreams. It's impossible to overstate Charlize Theron's acting or sexiness with Sofia Boutella or the accomplishments of the action choreography. A muddled plot doesn't really matter when the experience is this great.
88. Afternoon Breezes
dir. Hitoshi Yazaki, 1980
Watch It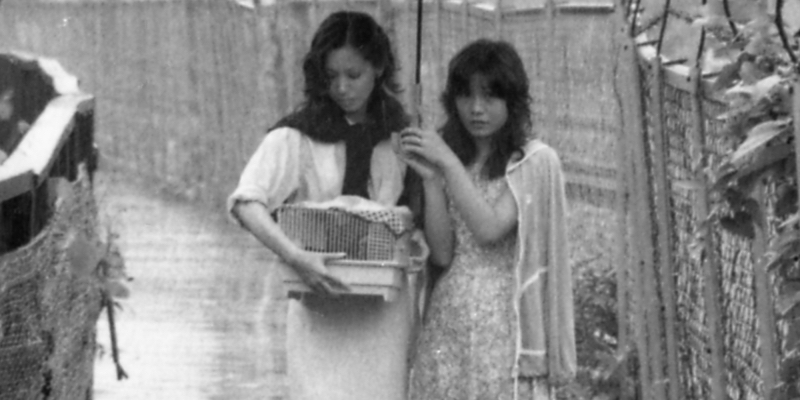 When Natsuko's crush is too busy spending her birthday with her boyfriend to accept Natsuko's gift of a Virgo necklace, Natsuko eats an entire bouquet of roses and then throws it up. That's how this movie begins. But despite its truly jaw-dropping twists and turns, Hitoshi Yazaki's tale of lesbian obsession is at its best in its quiet moments. Setsuko Aya's performance as Natsuko creates humanity where some might find crazy. This is as much a movie about depression as it is about toxic love. Natsuko feels isolated from the straight people around her and from herself — latching onto this ostensibly straight woman is just her way of expressing (or avoiding) that isolation. This is a difficult movie, but there's so much beauty in even its saddest moments.
87. Glen or Glenda?
dir. Shirley Wood, 1953
Watch It
Shirley Wood is usually known by her deadname and is usually known as the supposed "worst director of all time." But for anyone who's trans or is familiar with the trans experience, her debut is a weird and wonderful film about transness made at a time of misinformation. Amidst the formal experimentation, Bela Lugosi playing God, and lots of other weirdness is the story of a woman in love with another woman. It's remarkable that we have a movie about transness from this era made by an actual trans person. It's deserving of celebration, not ridicule.
dir. Brett Haley, 2018
Watch It // Also Available on Hulu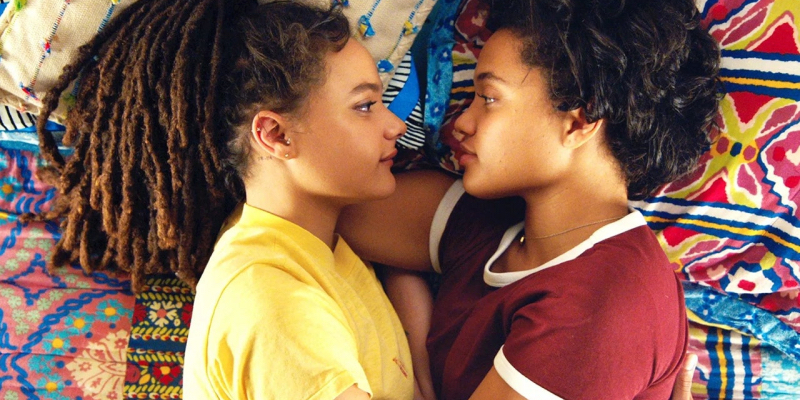 Reversing the usual parent-child dynamic, this indie comedy casts Kiersey Clemons as a studious teen and Nick Offerman as her dad who just wants to jam. The relationship between their characters is lovely and the music they create together is genuinely good. Clemons is such a joy to watch and listen to and her romance with Sasha Lane is one of the best parts of the film. Unfortunately the subplots given to Offerman are less compelling, but that's not enough to take away from the movie's heartwarming charm.
85. The Bitter Tears of Petra von Kant
dir. Rainer Werner Fassbinder, 1972
Watch It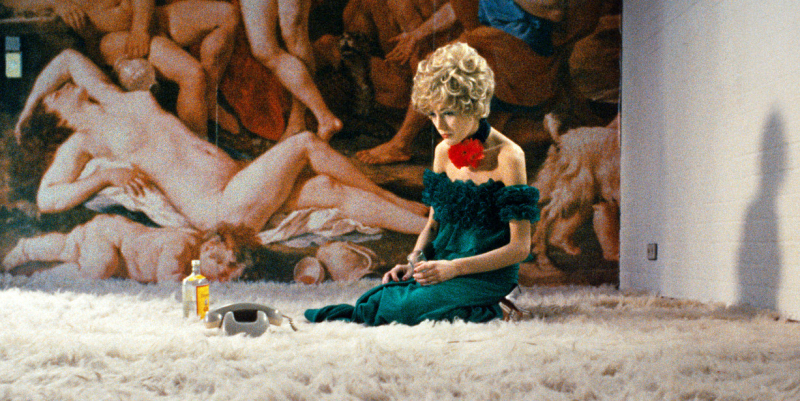 Gay german auteur Rainer Werner Fassbinder was known for his brutality on and off screen and this film is no different. Taking place entirely in the apartment of Petra von Kant, we watch as she treats her assistant Marlene cruelly and falls miserably for model Karin. It's a cruel movie about cruel women, but the camerawork, costume design, and incredible performances from Margit Carstensen, Hanna Schygulla, and Irm Hermann make it worth it.
84. Dope
dir. Rick Famuyiwa, 2015
Watch It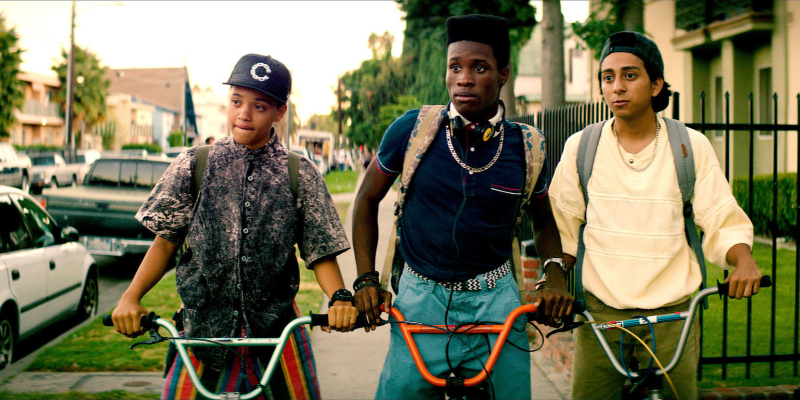 More Kiersey Clemons! Here she plays Diggy, the masc lesbian best friend of Shameik Moore's Malcolm. They're geeks and totally unprepared for the drug-deal-induced hijinks that ensue due to Malcolm's lovesickness over Nakia played by Zoë Kravitz. The script is tight and funny and all of the performances are great. It works as a comedy, a coming-of-age story, and an action movie. Clemons is great as always and her outfits and energy feel authentically queer in a way often absent from mainstream media about teenagers. Also it's highly relatable to almost ruin your life for Zoë Kravitz.
83. La Leyenda Negra
dir. Patrícia Vidal Delgado, 2020
Available on HBO Max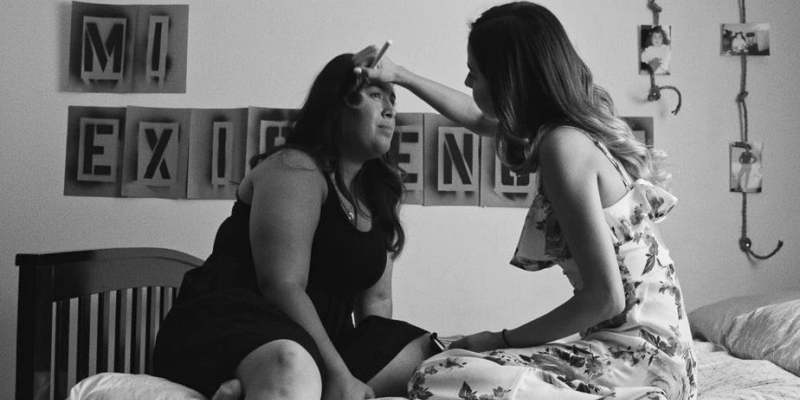 Patrícia Vidal Delgado's gorgeous Black & White debut feature is political cinema at its best. Telling the story of a queer girl whose immigration status is affected by a new Trump administration policy, Delgado understands that the most effective political films don't feel like Political Films — they feel like stories about people. Monica Betancourt gives a phenomenal performance as Aleteia, a teenage girl filled with righteous fury at her circumstances and tender love for her new friend and crush, Rosarito played by Kaileil Lopez. Watching Aleteia and Rosarito find unexpected connection and first queer feelings is a delight. They deserve a world without borders and binaries where they can be free to explore the young love blossoming between them. This is a love story, a friendship story, a cry for change. This is a movie about two queer Latinx teenagers who deserve better.
82. Eva + Candela
dir. Ruth Caudeli, 2018
Watch It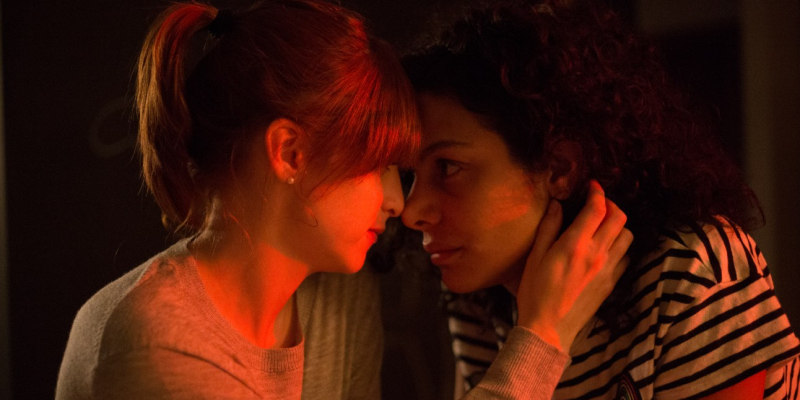 Ruth Caudeli's debut feature is both a devastating breakup film and an announcement of an exciting new talent in queer cinema. Most sad films about queer women are sad due to tragedy or oppression, so it's a relief to watch a film that's sad because sustaining a relationship is just really hard! While falling in love and falling out of love, Alejandra Lara and Silvia Varón are brimming with chemistry. It's painful to watch them fall apart because they make so much sense when they're together.
81. Summertime
dir. Catherine Corsini, 2015
Watch It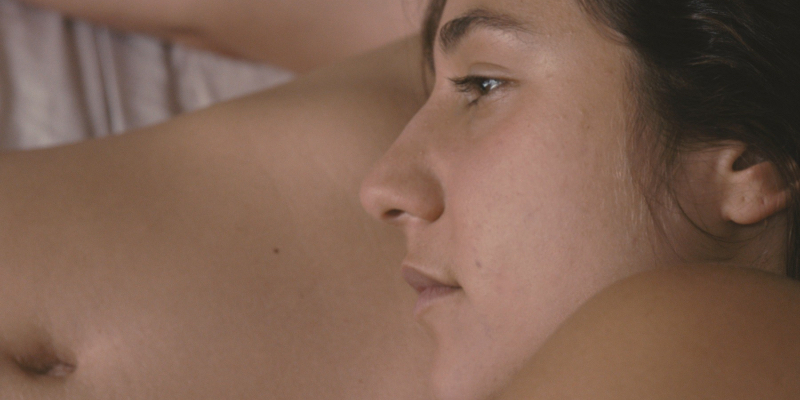 France! Lesbians! Feminism! This properly warm period piece follows Delphine, a sheltered rural queer, who falls in love with older activist Carole in 1971. It's a celebration of first love, collective action, and the people who pave the way towards self-discovery. Izïa Higelin and Cécile de France are so gorgeous and hot together and give heartbreaking performances and the movie is just bursting with romance in every sense of the word.
dir. Stewart Thorndike, 2014
Watch It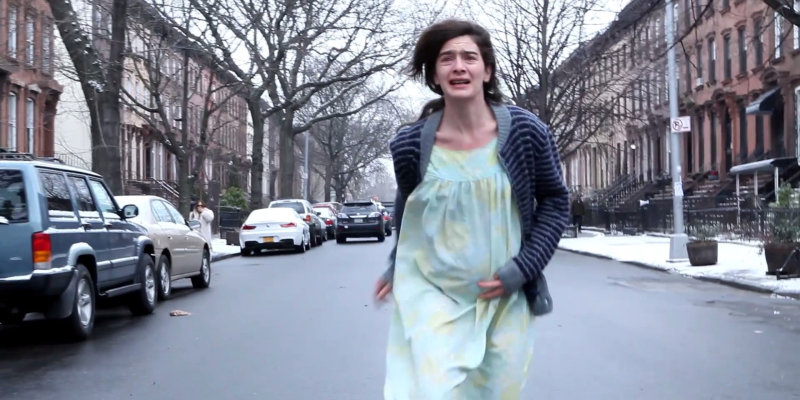 Stewart Thorndike's tight and terrifying horror movie is as much about grief as it is exploring the messiness of placing a queer woman in the plot of Rosemary's Baby. The movie asks a lot of questions without providing answers, but what it does provide is a breathtaking horror experience led by an animalistic performance from Gaby Hoffmann.
79. Wheel of Fortune and Fantasy
dir. Ryûsuke Hamaguchi, 2021
Watch It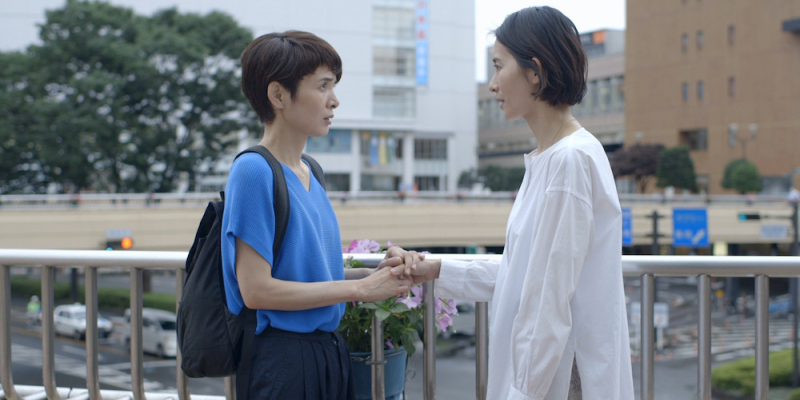 The first "short story" in Ryûsuke Hamaguchi's triptych is called "Magic (or Something Less Assuring)." It's a fitting subtitle for a movie that's technically a series of realist conversations yet somehow crackles with the energy of an epic fairy tale. These are love stories, lust stories, stories of regret. They feel so regular until they feel like so much more. All three sections of the movie are beautiful, but it's the last section — the gay section — that makes the film such a triumph. In a film of unlikely connections, Natsuko (Fusako Urabe) and Aya (Aoba Kawai) form the strangest and most beautiful. We can't predict the lives we'll lead, but we can appreciate the connections we make along the way. This is not a love story between two people — it's a love story with the act of love.
dir. Robert Wise, 1963
Watch It
The first and most loyal adaptation of Shirley Jackson's novel is a remarkable work of understated horror cinema. Julie Harris plays Nell, a bitter and lonely woman who signs up to participate in a study of the paranormal in the wake of her mother's death. One of the other participants is Theo, a gay woman with ESP and endless confidence. Claire Bloom plays her with an easy charm, and her character ends up being a foil to Nell — queerness as a metaphor for freedom. Due to these stellar performances, some excellent wide angle photography, and Robert Wise's low-budget horror roots, this film stands out even amongst decades of imitators.
77. Holy Camp!
dir. Javier Ambrossi, Javier Calvo, 2017
Available on Netflix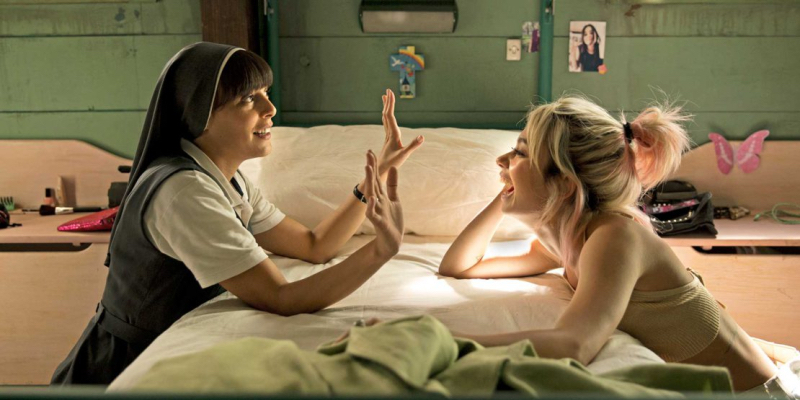 The highest rated musical on this list, Javier Ambrossi and Javier Calvo's truly unique movie lives up to its English title. But it's not the camp that surprises — after all this is a movie where God appears singing Whitney Houston songs — it's the depth. This story of two friends at a Catholic camp takes so many turns and is so filled with queer creativity, you might have no idea what you've just watched when the credits role. But the experience of the film — and oh my is it an experience — all serves an exploration about desire, faith, giving oneself to change, giving oneself to horniness, and what can happen when we open ourselves up to the possibilities life presents. The soundtrack is incredible, the visuals are stunning, and the whole thing is just so horny and Catholic and gay. Sorry, did you miss the part where God literally sings Whitney Houston songs??
76. Codependent Lesbian Space Alien Seeks Same
dir. Madeleine Olnek, 2011
Watch It
Madeleine Olnek's highly relatable comedy about a trio of aliens sent to Earth because they have too many feelings is as funny and weird as that premise suggests. Inspired by low-budget 1950s sci-fi, Olnek's film has a DIY aesthetic that fits with the often silly script. All of its fish-out-of-water jokes ultimately lead to a story about connection. We all feel like aliens sometimes, but if we're lucky we just might find another alien to love.
dir. Michael Cristofer, 1998
Watch It
Telling the story of model Gia Carangi's troubled life, this Angelina Jolie vehicle alternates between delicious and devastating. Jolie is so sexy, but her performance proves she's more than just a sex symbol. As Carangi's life turns toward inescapable hardship, Jolie remains impossible not to watch. Special shoutout to her sex scene with Elizabeth Mitchell that is truly unforgettable.
dir. Ümit Ünal, 2019
Our Review // Unavailable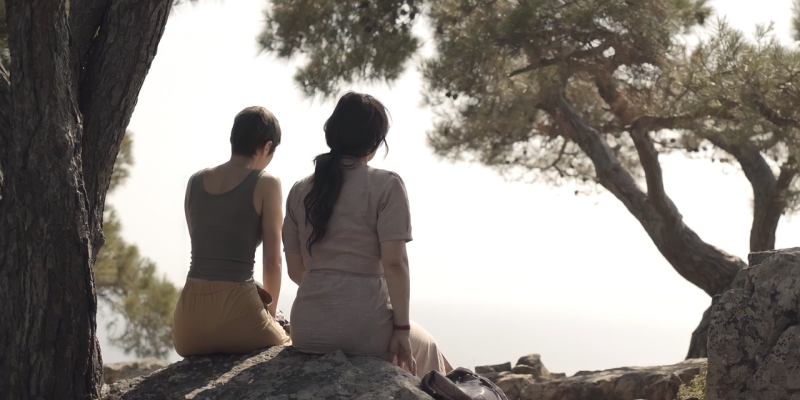 Ümit Ünal's intimate romance tells the story of Eren who returns to her hometown ready to declare her still-burning love for her adolescent girlfriend, Reyhan. But for Reyhan — who holds far less economic privilege — love, especially forbidden love, is something she cannot afford. This conflict is heightened with two phenomenal performances by Selen Uçer as Reyhan and Ece Dizdar as Eren. They embody their characters — and their characters' histories — in full. The twenty years is felt in every line and glance. There's also magic in the setting itself. This beautiful Turkish island — with all the weight it holds for these characters — is a location that's easy to fall in love with. Ünal is patient in his writing and directing. He trusts his actors and his setting and it results in a film that is at once both wholly naturalistic and bursting with fantasy.
dir. Eric Schaeffer, 2014
Watch It
One of the few movies on this list starring a trans woman, Eric Schaeffer's romcom is the sweet — and messy — love story we deserve. Michelle Hendley is an absolute star as Ricky Jones, a small town girl with a YouTube following and a desire for love. It takes a dalliance with the engaged Francesca to reveal the love she has for her male best friend — and what a dalliance it is! Ricky's sex scene with Francesca is hot and tender, and while some of us may have been rooting for the two of them to end up together, the whole thing is so sweet you probably won't mind that she ends up with the friend. And Hendley is just so good — she's such a pleasure to watch on screen.
dir. Amara Cash, 2018
Our Review // Watch It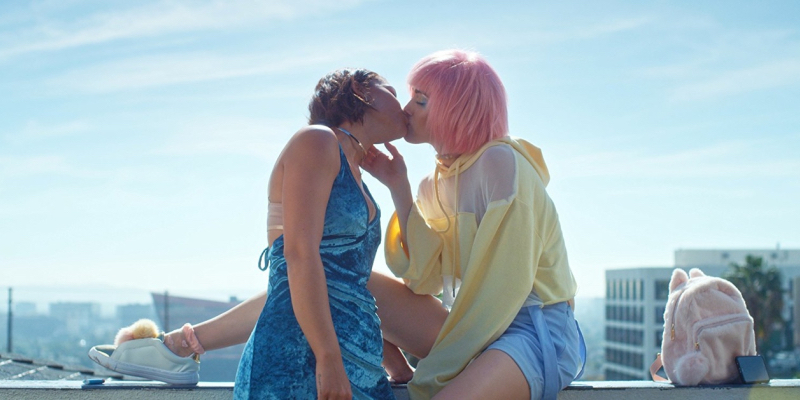 Amara Cash's debut film is a campy, candy-colored, explosion of queerness. A love triangle between aspiring artist Maya, her instagram crush Jasmine, and Jasmine's sugar daddy, leads to a twisted plot, two twisted romances, and a lot of expected — and unexpected — drama. Cash's camera and editing is frenetic capturing Maya's adolescence yearning and building to a new queer aesthetic. The most surprising thing about this movie is its sweetness. There's an innocence to Maya that's easy to root for and a sexiness to Jasmine that's easy to fall for. By pairing the romantic and the taboo, the disturbing and the delicious, Cash creates a truly unique feat of queer filmmaking.
dir. Julia Ducournau, 2021
Our Review // Watch It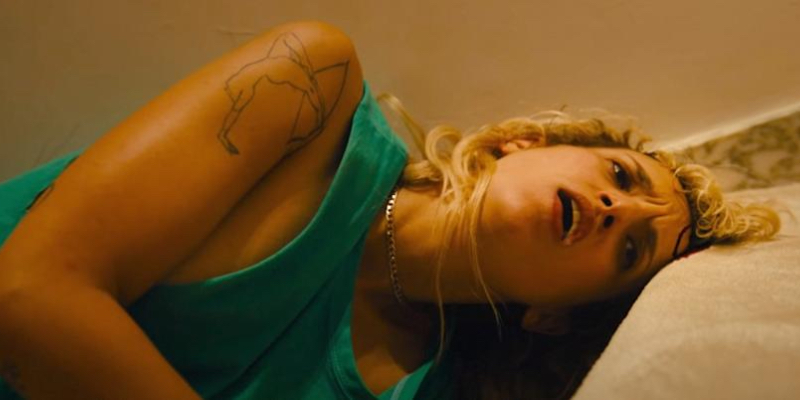 Car fucking, the Macarena, the metal hairpin, the bathroom sink transformation, the roommate slaughter — Julia Ducournau's Titane is a film that invented its own mythology. So many details and moments demanded a place in our collective film consciousness, but Titane's deepest achievements are found in the subtleties. Ducournau knows genre and she uses her shock and awe to seduce us into her twisted — and melancholy — exploration of gender and family. This isn't a movie with answers. It's an exploration. It's a feeling. It's a confounding work of art. It's worth celebrating something so moving, so horrifying, so entertaining, so puzzling. Ducournau is an artist who is so confident in her ideas and in her form. If you're open to it, she'll take you for a ride.
70. Lianna
dir. John Sayles, 1983
Watch It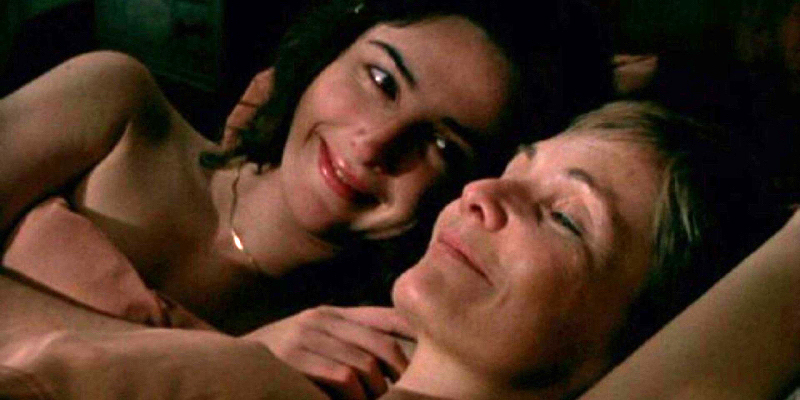 Surprisingly tender and complicated for a lesbian movie written and directed by a straight man, this classic of queer cinema follows the titular character through her first gay love and heartbreak. Rather than framing Lianna's coming out as intrinsically tied to her crush on Professor Ruth, she's forced to reckon with her identity and ultimately do so alone. Linda Griffiths is so lovely to watch on-screen as Lianna navigates her desires and disappointments. It's a sad movie, but within that sadness is a sense of hope — a sense that someday Lianna will find love and do so as an individual.
dir. Darren Aronofsky, 2010
Watch It
Perfectionism, mommy issues, and lesbianism haunt Natalie Portman in Darren Aronofsky's Oscar-winning ballet horror movie. It's frightening and beautiful and, yes, has a sex scene between Natalie Portman and Mila Kunis. Bordering on camp with its heightened style and emotion, this is the rare Hollywood movie about queer women that's allowed to be properly unhinged. The line between beauty and body horror disappears and every second is a thrill.
dir. Joachim Trier, 2017
Watch It // Also Available on Hulu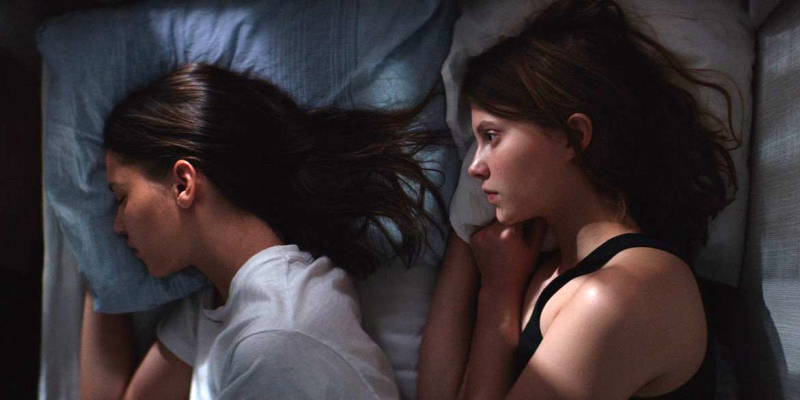 This beautiful coming-of-age thriller actualizes queer shame and repression. As Thelma navigates adjusting to college — and gay feelings — apart from her religious upbringing, she begins to have seizures and visions and potentially telekinetic powers. As the tension builds, the scope of the film widens with more imagery and plot twists. But at its core is simply a girl navigating her identity and trying to find herself separate from her family.
dir. Sebastian Lelio, 2017
Our Review // Watch It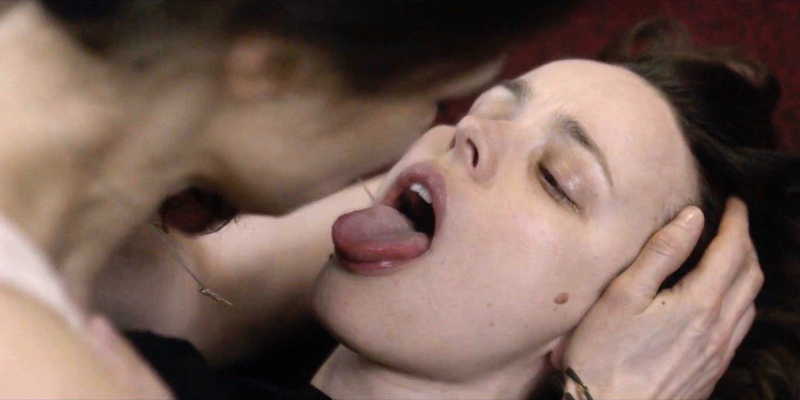 There are a lot of other things to celebrate about this quiet drama about two Jewish women navigating their love within an Orthodox community. But let's be honest. This is the movie where one very famous Rachel spits in another very famous Rachel's mouth. Specifically Rachel Weisz spits into Rachel McAdams' mouth and it's just one part of a very hot sex scene. It's made even hotter by their characters' history, their forbidden desire, their connection, and their need for one another. This is a movie about faith, about the past, about the desire for community, and the desire to escape. The plotting is messy, but so is life.
66. Working Girls
dir. Lizzie Borden, 1986
Available On Criterion
One of two Lizzie Borden masterpieces on this list is the rare film to show sex work as, well, work. Focusing on a day in the life of lesbian Molly, Working Girls reveals the boredom and mundane difficulties of working at a Manhattan brothel. The film doesn't romanticize sex work or sensationalize it — instead it just lets it be like any crappy job. The dynamics between Molly and her boss, her co-workers, and her clients are all compelling as they reveal more about her, the job, and society's relationship to sex work. This is a landmark work of cinema that's finally getting its due and a landmark work of lesbian cinema as well. All of the sex we see may be with men, but Molly's identity isn't tied to her job. Like so many queer people, Molly is doing what she has to do to pay the bills, so she can get home to her girlfriend, so she can someday spend her time on something other than work — any work.
65. Tomboy
dir. Céline Sciamma, 2011
Watch It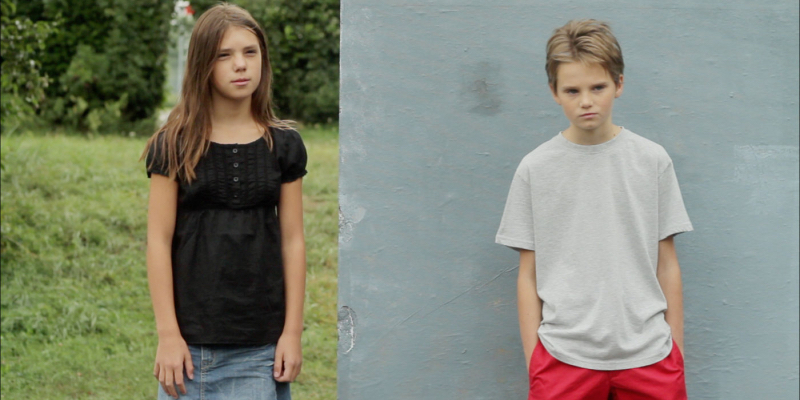 The quietest film of genius lesbian filmmaker Céline Sciamma's already staggering career, Tomboy tells the story of 10-year-old Laure who is mistaken for a boy and begins to go by Mikael. Sciamma doesn't clarify Laure/Mikael's identity, instead living in the soft interiority of her protagonist's exploration. They feel uncomfortable as a girl — or at least as the kind of girl they're expected to be — and they long for the acceptance they are granted as Mikael. Tomboy was not originally included on this list, because it's easy to read a trans male narrative onto Mikael. But just as Sciamma never provides easy answers, the film does not find easy categorization. Its resonance with queer people of many genders made it previously feel like an absence and now a worthy inclusion. Zoé Héran's performance at the center of the film is one of the best by a young performer in recent years. This is a tender and beautiful film about queer childhood — its many hardships and its small moments of joy.
dir. Maysaloun Hamoud, 2016
Watch It // Also Available on Tubi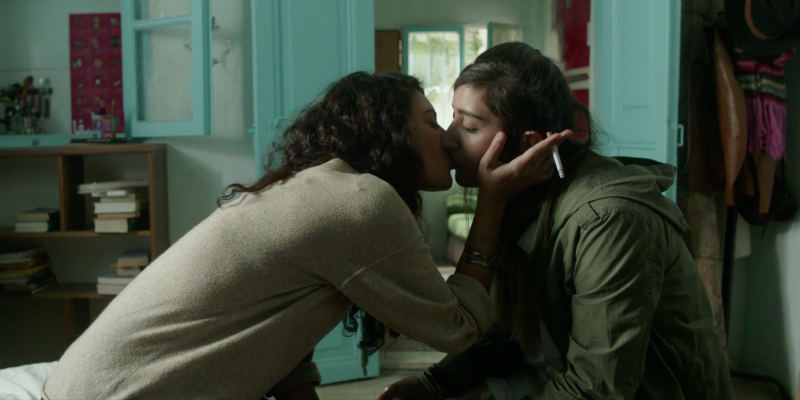 The trio of women at the center of Maysaloun Hamoud's debut film couldn't be more different. Leila is a high femme lawyer hoping to find love with a man who won't control her. Salma is a lesbian DJ with parents desperate to marry her to a man. And Nour is a conservative student engaged to be married. But all three women are stubborn and determined to live lives beyond heteropatriarchy, beyond Israeli-occupation. The film captures the specific pain of managing multiple marginalized identities and provides a path forward – there may be no escape, but we can support each other in the struggle.
dir. Ingmar Bergman, 1966
Watch It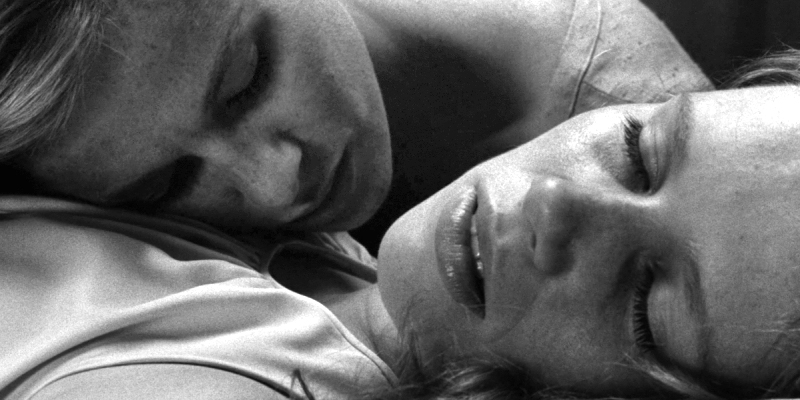 Maybe about two women, maybe about one woman, maybe beyond narrative analysis, Ingmar Bergman's avant-garde masterpiece is sexy, unsettling, and thought-provoking. Bibi Andersson plays Alma, a nurse assigned to the care of Liv Ullmann's Elisabet Vogler, an actress who has suddenly stopped speaking. They seclude themselves at a beach house and their interactions increase in eroticism, violence, and unreality. This is definitely one of the hornier arthouse classics even if the women never consummate their attraction.
62. Tahara
dir. Olivia Peace, 2020
Unavailable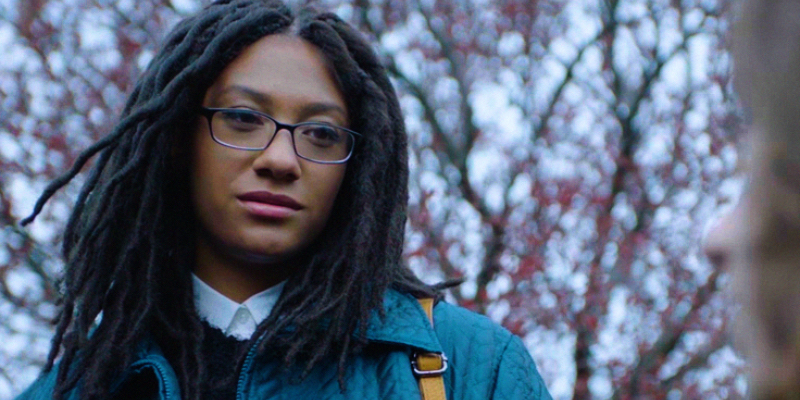 There have been a lot of queer coming-of-age movies about a girl in love with her "straight" best friend, but few capture the depth of that experience like Tahara. With the backdrop of a classmate's suicide and a deliciously awful object of desire, this movie becomes less about the angst of a teenager and more about the search for meaning in a meaningless world. Jess Zeidman's script is hilarious and specific and director Olivia Peace makes bold choice after bold choice each more effective than the last. The film has a claustrophobic Instagram square aspect ratio, heightened animated sequences, and other sharp formal risks that all work to deepen the story. Cinematographer Tehillah De Castro's work is phenomenal in moments both bold and subtle. Madeline Grey DeFreece carries the film with a grounded and charming performance and Rachel Sennott as the crush is a hilarious nightmare. This is a teen comedy, but it's a teen comedy about grief, manipulation, and autonomy. A whiff of horrifying nostalgia gives way to something deeper, something more present.
dir. Olivia Wilde, 2019
Watch It // Also Available on Hulu
"Last week of high school" teen comedies are an entire subgenre, but it's rare that they focus on women and even rarer that they focus on queer women. That's why Olivia Wilde's debut was such an exciting dose of raunchy humor, female friendship, and adolescent romance. Beanie Feldstein and Kaitlyn Dever are both so good and they are supported by a phenomenal ensemble — especially scene stealer Billie Lourd. Dever's character is casually queer in a way that wouldn't have been possible a decade ago and it's so fun to watch her navigate her crushes and mishaps. Laugh-out-loud hilarious and full of heart, this movie will make you long for a teenagehood you never had and rejoice in a film landscape that's finally changing.
60. Pepi, Luci, Bom
dir. Pedro Almodóvar, 1980
Watch It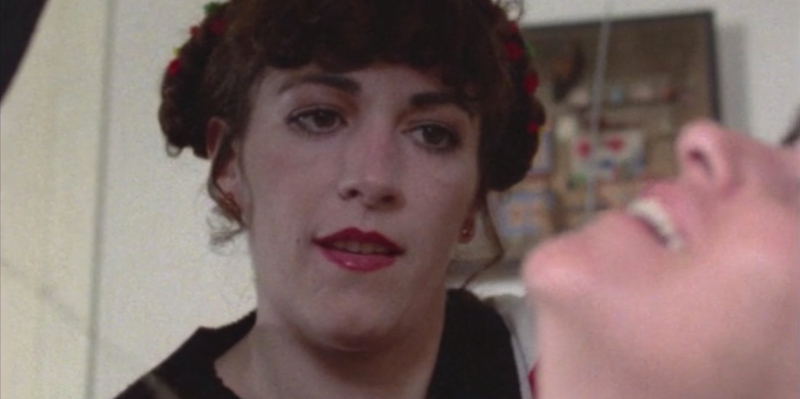 Pedro Almodóvar's first masterpiece is also his film most focused on lesbians. An irreverent comedy that's also a sort of rape/revenge movie, this one certainly isn't for everybody. But if you're open to its tone — and its content — you'll find a laugh-out-loud hilarious, surprisingly emotional movie about women trying their best to survive and have some fun along the way. If you're into movies where a lesbian pees on a cop's wife then this one is for you!
dir. Paul Feig, 2018
Watch It
A neo-noir comedy with a queer twist, this expertly plotted seduction is all about Blake Lively in suits, Blake Lively in suits, and Blake Lively in suits. Anna Kendrick is so funny and compelling as we watch her oscillate between lust and envy, wanting to consume Lively, but settling for a friendship, a kiss, and then an obsession. With every turn the movie deepens, increasing in intrigue, leading to an explosive — if not very gay — finale. Oh also Linda Cardellini plays a lesbian.
dir. Lisa Cholodenko, 1998
Watch It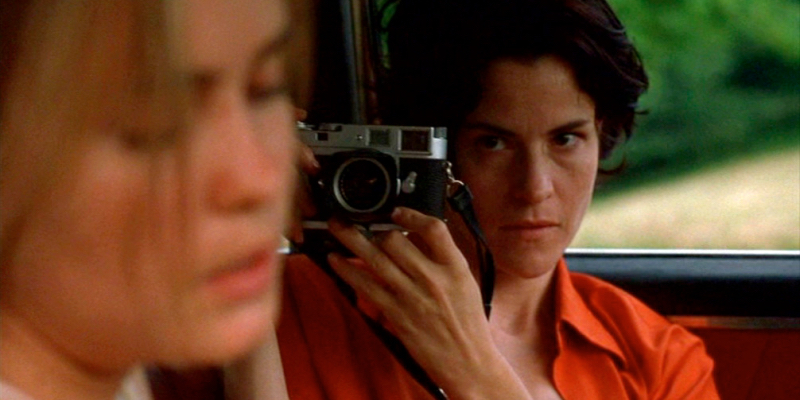 Mirroring the energy of the drug-addicted lesbian photographer at the film's center, Lisa Cholodenko's debut film is sensuous, measured, and simmering with a sense of danger. Ally Sheedy plays Lucy with a toxic allure that barely masks a depth of sadness. We understand why Radha Mitchell's Syd is so drawn to her and like Syd we hope for the best while expecting the worst. This is a movie about lost innocence and the decades that follow.
dir. Lauren Hadaway, 2021
Our Review // Watch It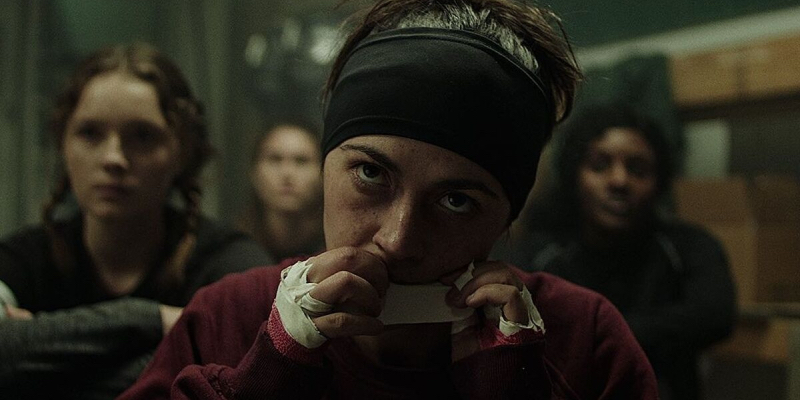 Before writing and directing her masterful debut, Lauren Hadaway worked in sound. Once you know this, it makes sense why her film's rowing instructions get stuck in your head like a pop song. Legs body arms. Arms body legs. It's dialogue as rhythm, thoughts as rhythm, mental illness as rhythm. This film is not about novice rower Alex Dall as much as it is her. The movie's sound design and score — along with accomplished cinematography and editing that knows when to cut and when to hold — place us in her mind and body. We don't need exposition. We want her to win because we are her. We feel her pain because she's in pain. The oft-told suggestion "show, don't tell" only uses half of cinema's tools — Hadaway uses them all. And while none of this technical achievement would work without a performance to match, Hadaway has just that in Isabelle Fuhrman. Together they've created a visceral cinematic experience. Nearly forty years after Personal Best, here's a sweaty queer sports movie that's as twisted and bloody as we are. Queerness is an escape — it's everything else that's the problem.
56. Simone Barbès or Virtue
dir. Marie-Claude Treilhou, 1980
Available On Another Screen
Marie-Claude Treilhou's debut film is split into three sections. The first introduces the titular lead, played by Ingrid Bourgoin, at her job as an usher at a porn theatre. She barbs and commiserates with her coworker as they rip tickets for an eccentric collection of (mostly) men. When her shift is over at midnight, she goes to meet her girlfriend at the lesbian bar where she works. This isn't your average lesbian bar. There's live music and live sword fights and, yes, plenty of astrology talk and dyke drama to go around. And, finally, at the end of the night she has an unexpected car ride with another lonely stranger. This nocturnal journey through the hidden corners of Paris is alternately casual and heightened, an odyssey with no destination but plenty to see along the way. The middle section provides a unique snapshot lost in most 20th century cinema and Simone is a heroine we still rarely see on screen.
55. Signature Move
dir. Jennifer Reeder, 2017
Watch It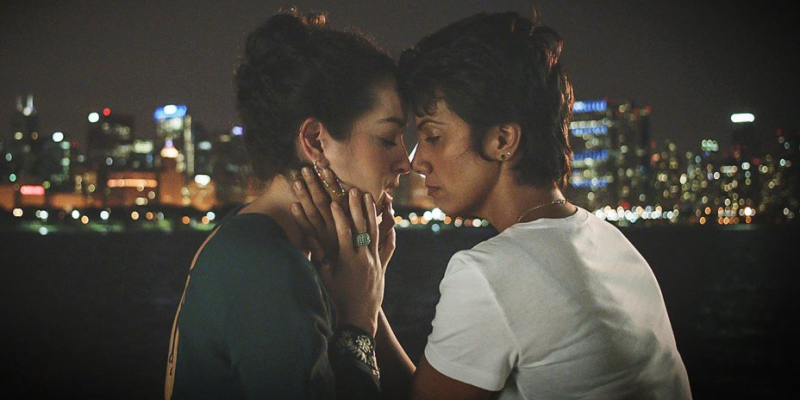 A late in life coming-of-age movie, this captures a very common queer experience — through the very specific lens of a Pakistani-American woman obsessed with Lucha-style Mexican wrestling. Fawzia Mirza stars and co-wrote the script and her natural likeability, impeccable comic timing, and chemistry with Sari Sanchez make this movie endlessly endearing. It's part romcom, part family dramedy, and both threads feel nuanced and real. Also, lesbian wrestling!!
54. Mulholland Drive
dir. David Lynch, 2001
Watch It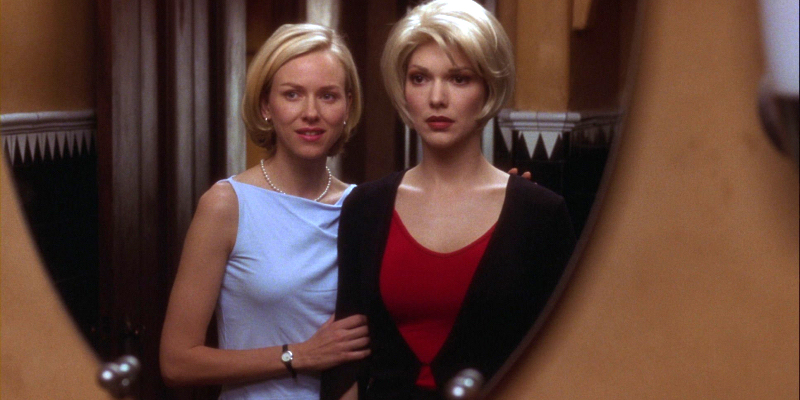 A cinematic masterpiece and one of David Lynch's finest works. Naomi Watts gives an all time great performance as Betty, the wide-eyed actress who moves to Hollywood and falls for the mysterious amnesiac Rita (Laura Harring). Of course, there's more to the story as this is a Lynch film, but more than any other work of his each thread of surreal oddity clicks together to tell this painful love story between two doomed women. It's certainly not devoid of male gaze, but if you're gonna pick a male's gaze you could do worse than Lynch.
dir. F. Gary Gray, 1996
Watch It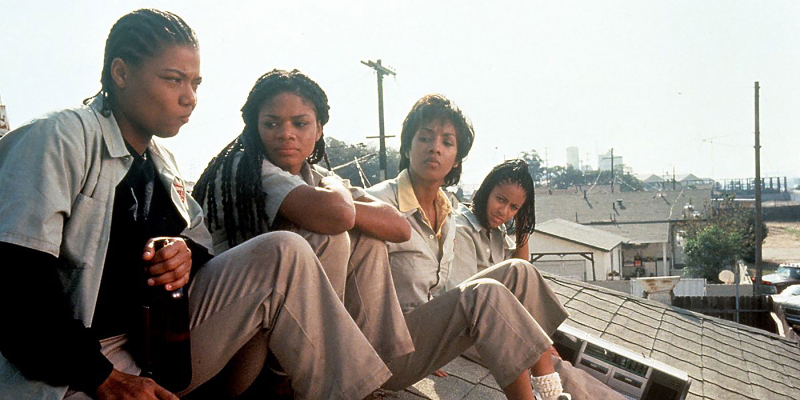 An absolute masterpiece of a heist movie. F. Gary Gray's story of four women who decide to rob a bank is as excellent a drama as it is an action movie. We care so much about the women played by Jada Pinkett Smith, Queen Latifah, Vivica A. Fox, and Kimberly Elise and it makes the suspense all the more suspenseful. Queen Latifah is absolutely iconic as Cleo, the lesbian whose confidence is as dangerous as it is sexy.
dir. Nisha Ganatra, 1999
Watch It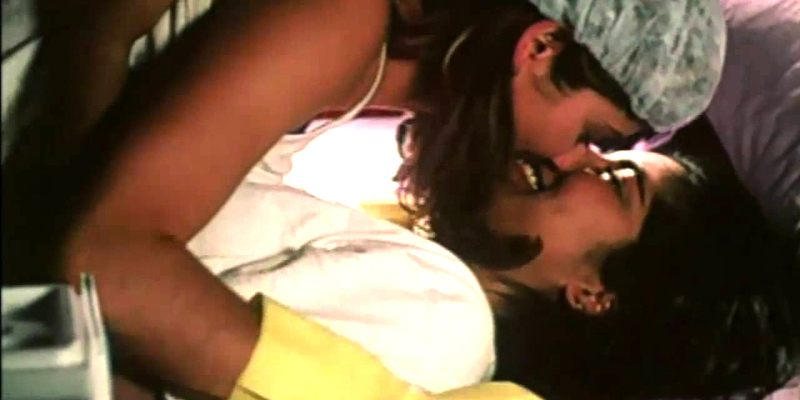 Before Nisha Ganatra was directing several of your television faves, she co-wrote, directed, and starred in this film about queerness and family. The film shows the intimacy and conflict within biological and chosen family structures, searching for new ideas around parenthood. It's funny and sweet and always living in the reality of its well-drawn characters.
dir. Yorgos Lanthimos, 2018
Watch It
This movie about Queen Anne of England is not your average period piece — it's not even your average gay period piece. Yes, it takes place in 1704 and is based on a true story and features all sorts of royal intrigue. But here that royal intrigue revolves around two women trying to finger their way to power. Olivia Colman plays Anne with a hilarious desperation — totally unstable and totally captivating. Rachel Weisz is Anne's second in command — and lover — Lady Sarah, the real source of power in the court. Enter Emma Stone's Abigail, a down-on-her-luck newcomer who quickly realizes the key to Anne's favor. Watching Abigail and Sarah fight over Anne is delicious even as the film — or especially as the film — gets more and more twisted. Yorgos Lanthimos can be counted on for his dark sensibility and that's certainly the case here even with the plot revolving around a queer women love triangle. The movie that sparked a thousand lesbian tweets asking Rachel Weisz to run them over with a truck, you'll at least want her to fire a blank into your heart.
Pages: 1 2 3 4 5 6See entire article on one page