[Jump to Movies: 200 | 150 | 100 | 50 | 25 | 10 | All ]
100. The Journey
dir. Ligy J. Pullappally, 2004
Watch It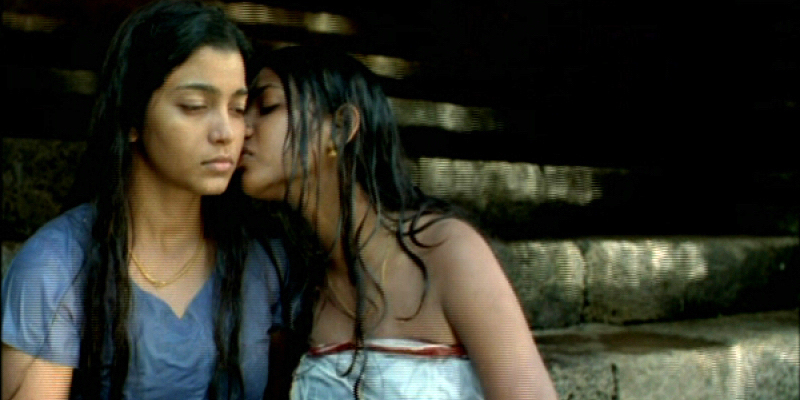 This tale of two women who find friendship as children and forbidden love as adults follows some familiar lesbian movie beats. But Ligy J. Pullappally centers her characters' unique personalities and their environment's complex reaction, ultimately ending up with a film that's authentic and moving and beautiful from beginning to end. Suhasini V. Nair and Shrruiti Menon give very different, equally accomplished performances and their decades long bond is believable in every moment.
99. Heavenly Creatures
dir. Peter Jackson, 1994
Unavailable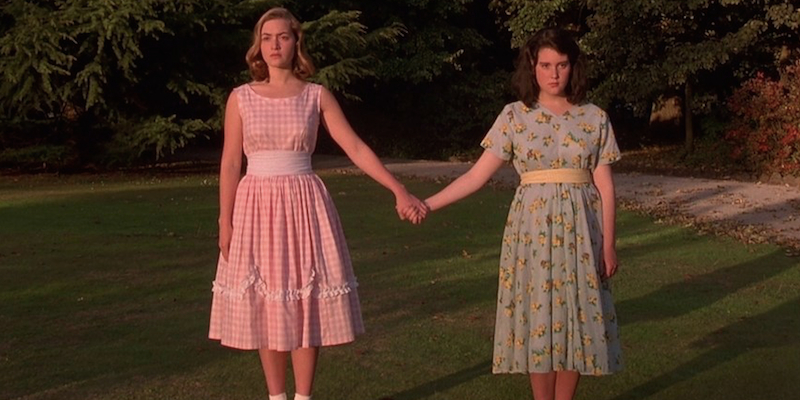 Peter Jackson is probably responsible for the misguided romantic choices and various kinks of hundreds (thousands?) of queer women around the world. Who among us didn't watch this movie about two teenage girls falling in love, inventing their own fantasy world, and deciding to murder one of their mothers and think… hmm maybe? Kate Winslet and Melanie Lynskey play the parts of instigator and instigated so well and it really is bursting with as much imagination as it is toxic queer angst.
98. I Can't Think Straight
dir. Shamim Sarif, 2007
Our Review // Watch It
While certainly hitting all the expected tropes, lesbian filmmaker Shamim Sarif's semi-autobiographical romcom stands out for its cultural specificity, truly stunning leads, and endless charm. Sometimes you just want to watch beautiful women defy their families in the name of love and have gorgeous sex montages.
97. V for Vendetta
dir. James McTeigue, 2005
Watch It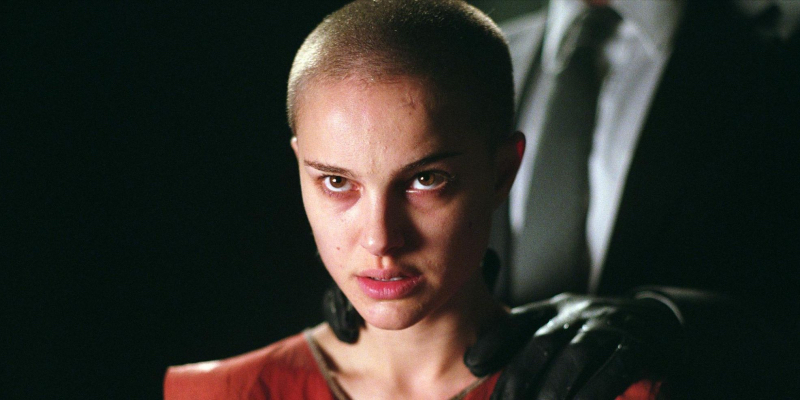 Trust the Wachowskis to center queerness in a big budget action movie adaptation of an Alan Moore graphic novel. While Natalie Portman's Evey and Hugo Weaving's masked V aren't queer — explicitly anyway — in extended flashback we watch how the film's authoritarian government separated Valerie, played by Natasha Wightman, from her lover. It's Valerie's story that inspired V and inspires Evey, and ultimately inspires us, the audience. This lesbian love story is the emotional center of this film about revolution in the face of tyranny. It's a fitting addition to a remarkable body of work from queer trans women sisters Lilly and Lana Wachowski — officially as screenwriters and rumored as co-directors.
96. Kissing Jessica Stein
dir. Charles Herman-Wurmfeld, 2001
Our Review // Watch It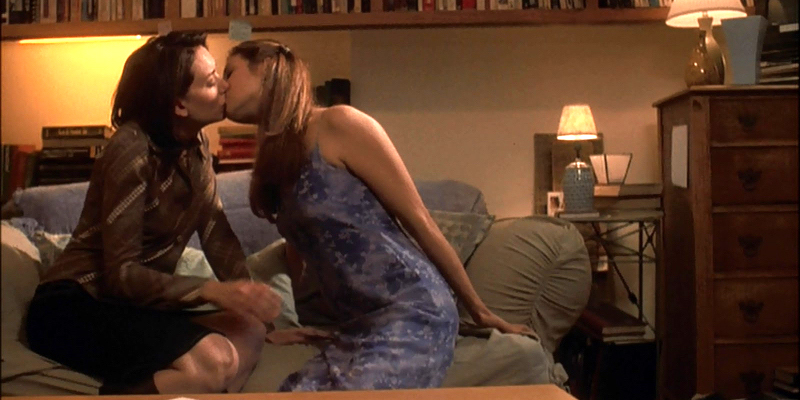 Neurotic Jewish comedy but make it bicurious! This romcom written by and starring Jennifer Westfeldt and Heather Juergensen is a delight from beginning to, well, not quite the end. Yes, the ending is frustrating to most even all these years later, but it doesn't take away from how funny and genuinely moving most of the film remains. The whole movie has a really joyous warmth to it and Tovah Feldshuh gives an especially tender performance as Jessica's mom. The landscape of lesbian cinema has widened in the past two decades making this film's final twist much less egregious — if still disappointing to many.
95. The Hunger
dir. Tony Scott, 1983
Our Review // Watch It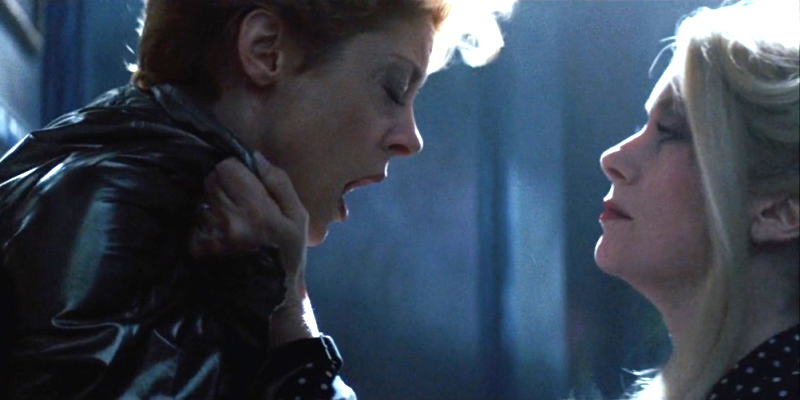 Frenetic editing, heavy symbolism, and vague plotting make for a dreamy whirlwind of bisexual vampirism. Catherine Deneuve, David Bowie, and Susan Sarandon are all at their hottest as they fuck and bite their way to immortality. The sex scene between Deneuve and Sarandon is especially iconic — there's a reason this is what Cameron Post and Coley Taylor watched before having sex.
94. Karmen Geï
dir. Joseph Gai Ramaka, 2001
Available on Kanopy
This reimagining of the opera Carmen is bursting with energy and sexuality. The titular temptress is made pansexual underlining her freedom and offering quite a few delicious moments. The music is incredible, the visuals are stunning, and Djeinaba Diop Gai's central performance is as magnetic as this character deserves. While the film still ends in the expected tragedy, this version more than any other seems to really respect Karmen and her sexual freedom.
93. Go Fish
dir. Rose Troche, 1994
Our Review // Watch It
Low-budget and plotless like so many American indies of the era, Rose Troche's debut film provided a first glimpse of representation for a generation of queer women. Guinevere Turner's baby gay Max is adorable with her backwards hat and confused love life and the supporting cast feels so casually gay. This movie is certainly a time capsule, but it's still funny and relatable decades later.
92. Aimée & Jaguar
dir. Max Farberbock, 1999
Watch It // Also Available on Tubi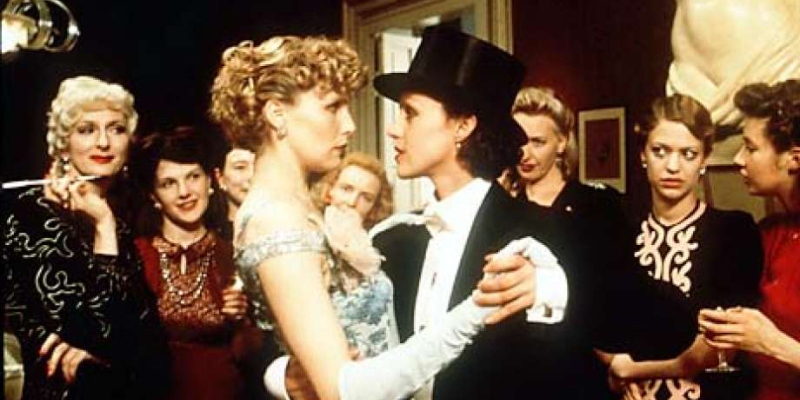 This is very much a classic Holocaust-era period drama both formally and in structure. But there's a certain pleasure to watching that kind of respected, serious film with the focus turned to a lesbian love story. The oppression of queerness is often left out of stories from this era and this is a welcome change. Maria Schrader gives an all-time magnetic performance as Felice, a woman so brave she'd risk being killed by Nazis to escape lesbian bed death.
91. I Shot Andy Warhol
dir. Mary Harron, 1996
Unavailable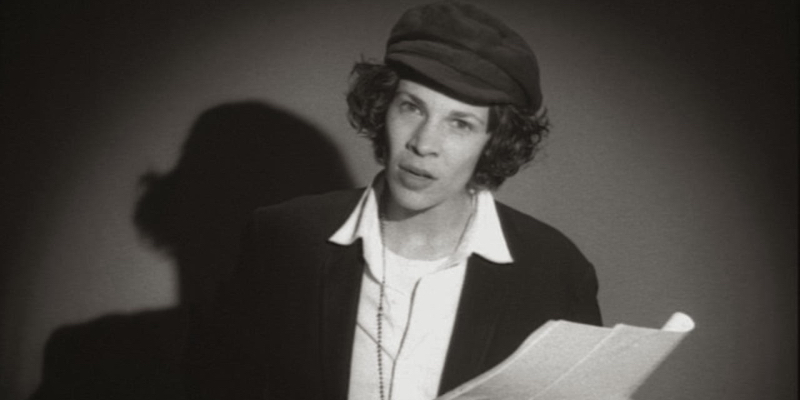 Director Mary Harron and actress Lili Taylor do a phenomenal job capturing Valerie Solanas in all her complications. It's a portrait of a subculture and a period of time and an exploration of what happens when some outsiders are too outside even for the outsiders. It's unfortunate that the movie is less successful in its portrayal of Candy Darling, but overall it's still a stellar film.
90. Blue Gate Crossing
dir. Yee Chih-Yen, 2002
Unavailable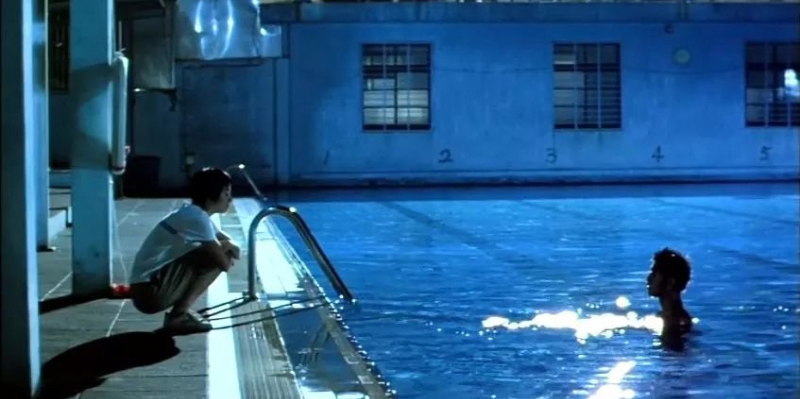 What begins as a gay Cyrano de Bergerac is complicated when Kerou's crush's crush falls for her instead. A love triangle that defers to moments of quiet connection over messy plot dynamics, Yee Chi-Yen's film is a simple yet moving coming-of-age movie about first love and friendship. The movie is subtle and the power of its emotions may not hit you right away — but days later it just might make your heart swell.
89. Novitiate
dir. Margaret Betts, 2017
Watch It
Religion is often framed as the enemy in queer films making Margaret Betts' debut all the more unique. Margaret Qualley plays a young woman who decides to become a nun much to her nonreligious mother's horror. There are clear parallels between this conflict and the conflict many queer people face when coming out. The subtext becomes text and we see how the lines between faith and queerness are not as distinct as we sometimes think. Melissa Leo gives a grand and horrifying performance as the harsh Reverend Mother desperately trying to hold onto her own way of life in the face of Vatican II. Utilizing this specific moment in history, Betts creates a startling film about commitment to self in the face of societal judgement.
88. Annihilation
dir. Alex Garland, 2018
Our Review // Watch It // Also Available on Hulu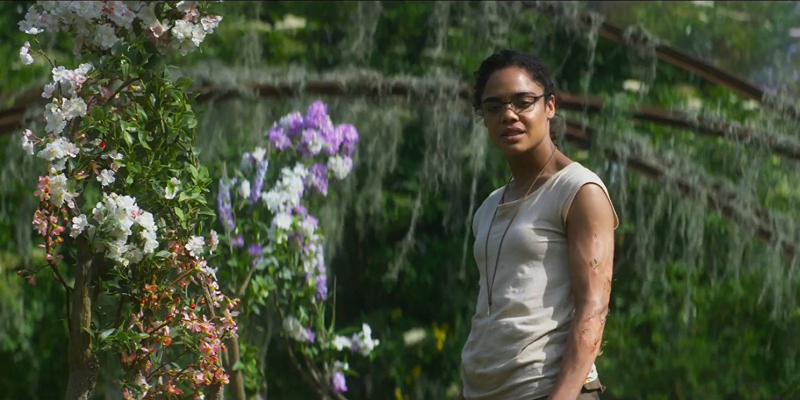 Beautiful and horrifying, depending on the moment, depending on your perspective, Alex Garland's haunting sci-fi film is visceral and thought-provoking. A group of women venture into a mysterious zone called the Shimmer where the laws of science seem not to apply. Natalie Portman, Jennifer Jason Leigh, and Tessa Thompson are joined by Gina Rodriguez as a soft butch with an undercut, and every lesbian's favorite cishet man Oscar Isaac. The film is light on lesbian content — the only romantic relationship focused on is between Portman and Isaac — but science fiction is a genre we're almost always excluded from so this film is noteworthy not only for centering women, but explicitly including a gay woman in the narrative.
87. Women Who Kill
dir. Ingrid Jungermann, 2016
Our Review // Watch It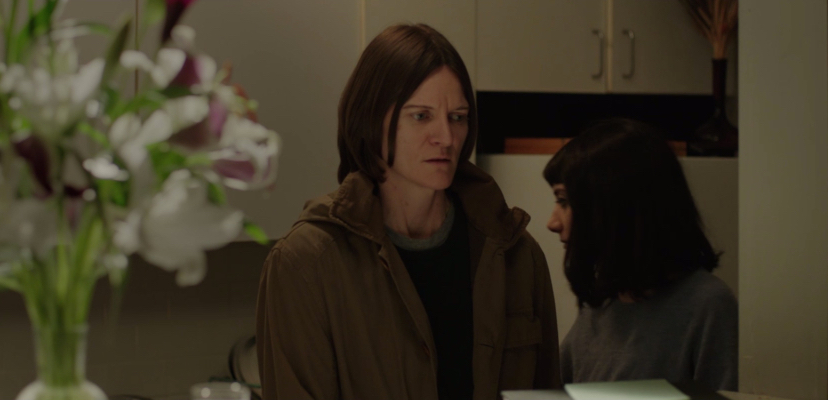 Part romcom/part thriller, Ingrid Jungermann's film is about the scariest subject of all: commitment. With great performances from Jungermann, Sheila Vand, and a stacked supporting cast, the film balances all its conflicting tones. It becomes a solemn meditation on love and vulnerability, but it's hilarious along the way.
86. Battle of the Sexes
dir. Valerie Faris, Jonathan Dayton, 2017
Our Review // Watch It
The only thing gayer than tennis are haircuts, apparently! Emma Stone stars as Billie Jean King as she faces off against has-been chauvinist Bobby Riggs (Steve Carrell) in the tennis match deemed The Battle of the Sexes. Andrea Riseborough plays King's hairdresser and eventual girlfriend, and, yes, there is a VERY sexy haircut scene! Haircuts aside, the movie is a sweet, soft feminist sports movie readymade for inspiration. Oh and Alan Cumming plays King's queer mentor!
85. The Hours
dir. Stephen Daldry, 2002
Watch It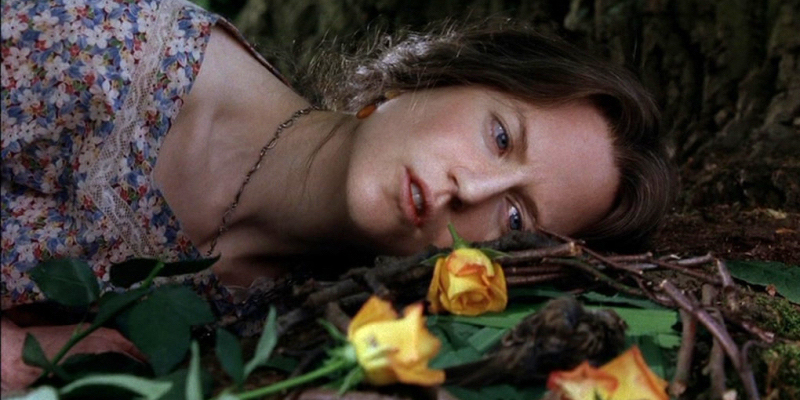 Based on Michael Cunningham's perfect novel, this Oscar-winning adaptation mostly does justice to the trio of intersecting queer stories. Nicole Kidman plays Virginia Woolf and her devastating performance is more than her fake nose. Meryl Streep plays a modern day woman named Clarissa, affectionately referred to as Mrs. Dalloway by her friend who is dying of AIDS-related causes. The middle story is the most explicitly gay. Julianne Moore plays a woman in the 50s desperate to be a better mother, fighting off feelings for her neighbor, and suddenly consumed with the book Mrs. Dalloway. This section feels chaste compared to the book — Moore and Toni Collette lacking a certain chemistry — but overall the movie is still a beautiful meditation on depression, loss, and the desire to live truthfully. Also the score by Philip Glass is incredible.
84. The Summer of Sangaile
dir. Alante Kavaite, 2015
Watch It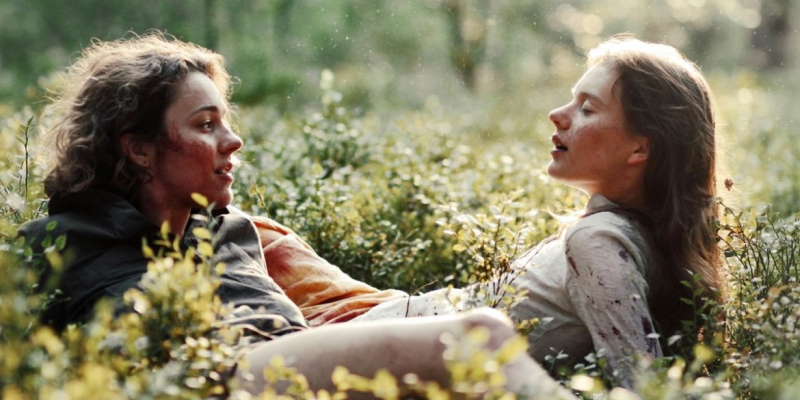 This is a lush and sensual film. The cinematography does not simply capture the beautiful scenery and costumes and actors, but heightens their beauty. This is a film about depression and self-harm and self-destruction, yet the beauty that surrounds them and the beauty of their love is enough to fight off the demons. It's rare that a film that deals this harshly with mental illness doesn't feel the need to lessen its love story. Depression isn't romanticized, it's a hurdle, but it's a hurdle that's possible to clear.
83. Personal Best
dir. Robert Towne, 1982
Watch It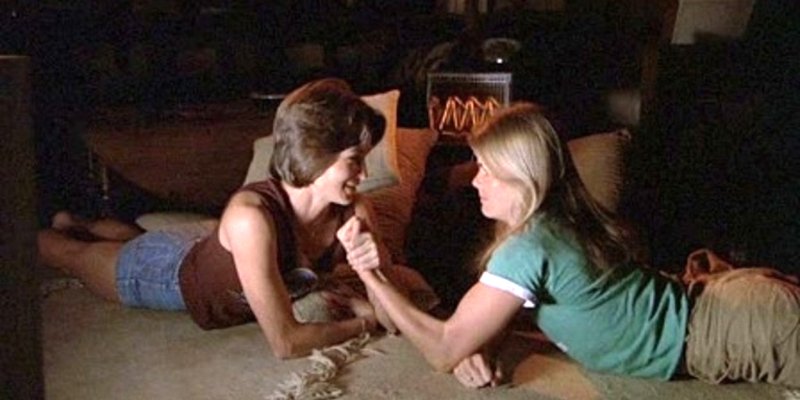 With realistic and intricately captured scenes of athleticism, this queer woman classic is one of the best sports movies period. It's imperfect, with some racist jokes, and it may disappoint anyone in it for the love story, but it's still a noteworthy film about two fiercely competitive women. Come for the sweat on perfectly toned muscles, stay for the specificity of a Cap4Cap romance.
82. Wild Nights with Emily
dir. Madeleine Olnek, 2018
Our Review // Watch It
Shaking off almost two centuries of misrepresentation, Madeleine Olnek reclaims Emily Dickinson clarifying that gay does not equal old maid and homebody does not equal self-serious. Molly Shannon plays Dickinson and along with Olnek's very funny script adds humor and sex appeal where it's long been hidden. The fun of the movie is the entire point. It's a fitting tribute to Dickinson's life and work and a statement about the historical erasure of queer women.
81. Grandma
dir. Paul Weitz, 2015
Watch It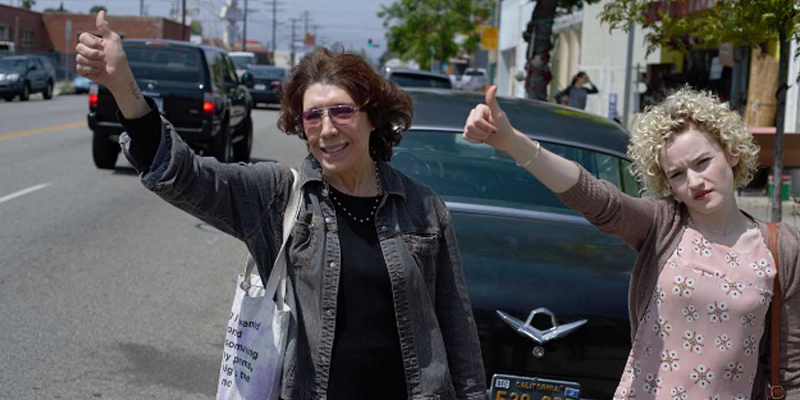 Lily Tomlin was gifted the part she was born to play in Elle, stubborn wisecracking lesbian grandma of pregnant Sage. As they attempt to get Sage an abortion, Elle is forced to reflect on her own life. Tomlin is so funny and so tender, landing every joke with gusto and every emotional beat with depth. The movie also has a stellar supporting cast with Julia Garner as Sage, as well as Laverne Cox, Marcia Gay Harden, John Cho, Judy Greer, and Sam Elliot. It's a sweet film that Tomlin makes into something more.
80. The Incredibly True Adventures of 2 Girls in Love
dir. Maria Maggenti, 1995
Our Review // Unavailable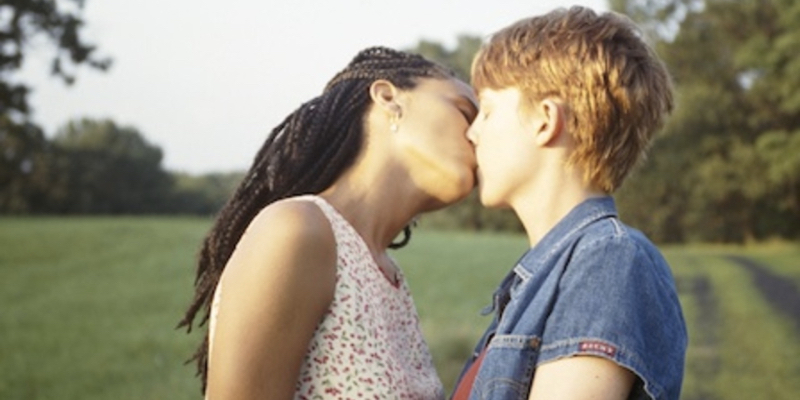 Before she was Tina, Laurel Holloman played heartthrob soft butch Randy Dean in this iconic 90s comedy. Paired with Nicole Ari Parker as Evie Roy, Holloman is earnest and charming and bursting with teenage energy. Randy and Evie are adorable together as they fall in love and field hilarious — and painful — responses from their friends and family. All these years later this movie is still just as cute and fun — and it might even make you like Tina.
79. Kiss Me
dir. Alexandra-Therese Keining, 2011
Our Review // Watch It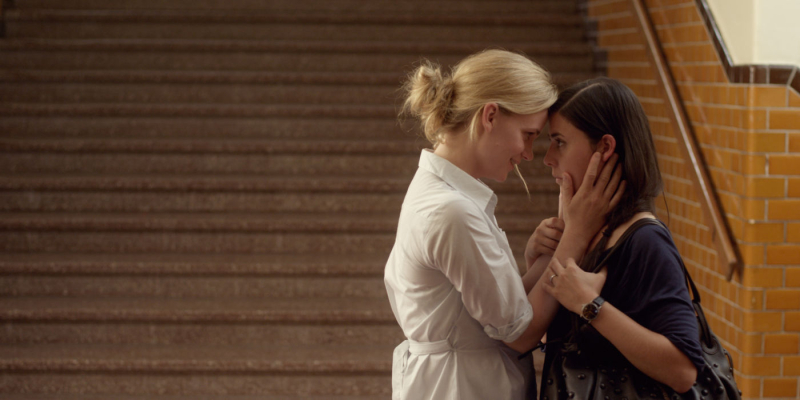 While featuring many lesbian movie clichés, Alexandra-Therese Keining's film stands out due to its writing, its phenomenal lead performances from Ruth Vega Fernandez and Liv Mjönes, and some exceptionally well done sex scenes. The story may be simple, but the chemistry at its core is special.
78. Can You Ever Forgive Me?
dir. Marielle Heller, 2018
Our Review // Watch It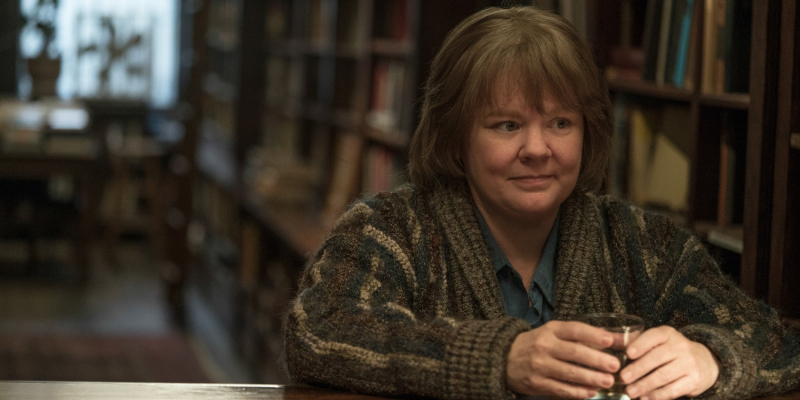 Based on Lee Israel's memoir about her time forging literary letters, Marielle Heller's melancholy film is concerned with the mundane loneliness of queer lives in a way rarely seen. Lee's homosexuality, and her friend and accomplice Jack's homosexuality, are integral to the story but not the focus. Lee and Jack are given the freedom to be deeply flawed, yet still human, and it makes for an emotionally resonant story. Bonus points for properly capturing the importance of a queer woman's cat.
77. Atomic Blonde
dir. David Leitch, 2017
Our Review // Watch It
This proper action movie from one of the directors of John Wick provides the queer Charlize Theron kickass thrill ride of our dreams. It's impossible to overstate Charlize Theron's acting or sexiness with Sofia Boutella or the accomplishments of the action choreography. A muddled plot doesn't really matter when the experience is this great.
76. Hearts Beat Loud
dir. Brett Haley, 2018
Our Review // Watch It // Also Available on Hulu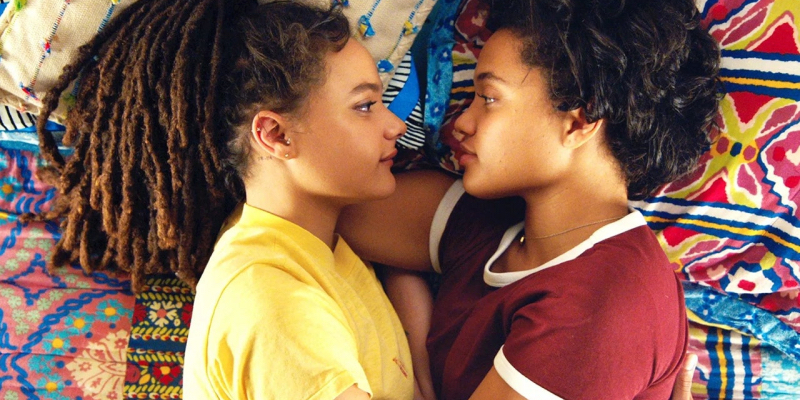 Reversing the usual parent-child dynamic, this indie comedy casts Kiersey Clemons as a studious teen and Nick Offerman as her dad who just wants to jam. The relationship between their characters is lovely and the music they create together is genuinely good. Clemons is such a joy to watch and listen to and her romance with Sasha Lane is one of the best parts of the film. Unfortunately the subplots given to Offerman are less compelling, but that's not enough to take away from the movie's heartwarming charm.
75. The Bitter Tears of Petra von Kant
dir. Rainer Werner Fassbinder, 1972
Watch It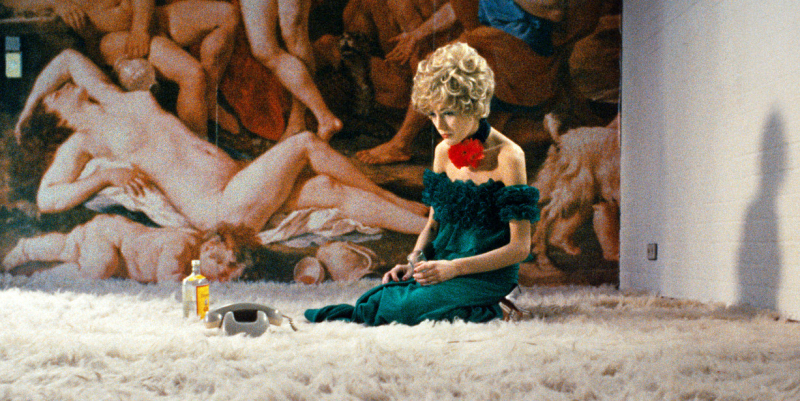 Gay german auteur Rainer Werner Fassbinder was known for his brutality on and off screen and this film is no different. Taking place entirely in the apartment of Petra von Kant, we watch as she treats her assistant Marlene cruelly and falls miserably for model Karin. It's a cruel movie about cruel women, but the camerawork, costume design, and incredible performances from Margit Carstensen, Hanna Schygulla, and Irm Hermann make it worth it.
74. Dope
dir. Rick Famuyiwa, 2015
Watch It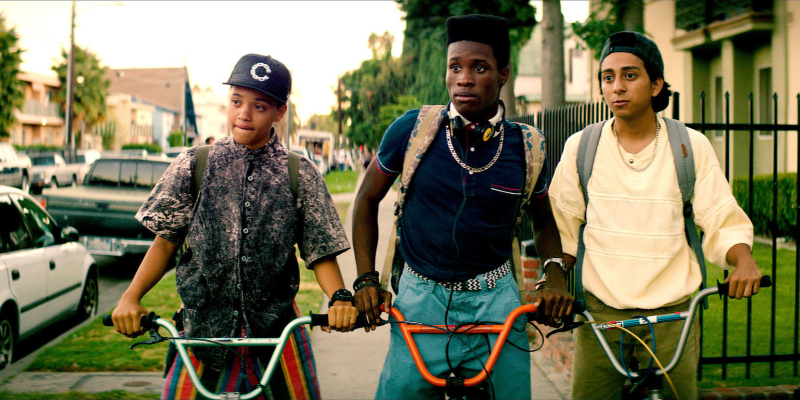 More Kiersey Clemons! Here she plays Diggy, the masc lesbian best friend of Shameik Moore's Malcolm. They're geeks and totally unprepared for the drug-deal-induced hijinks that ensue due to Malcolm's lovesickness over Nakia played by Zoë Kravitz. The script is tight and funny and all of the performances are great. It works as a comedy, a coming-of-age story, and an action movie. Clemons is great as always and her outfits and energy feel authentically queer in a way often absent from mainstream media about teenagers. Also it's highly relatable to almost ruin your life for Zoë Kravitz.
73. The Girl with the Dragon Tattoo
dir. David Fincher, 2011
Our Review // Watch It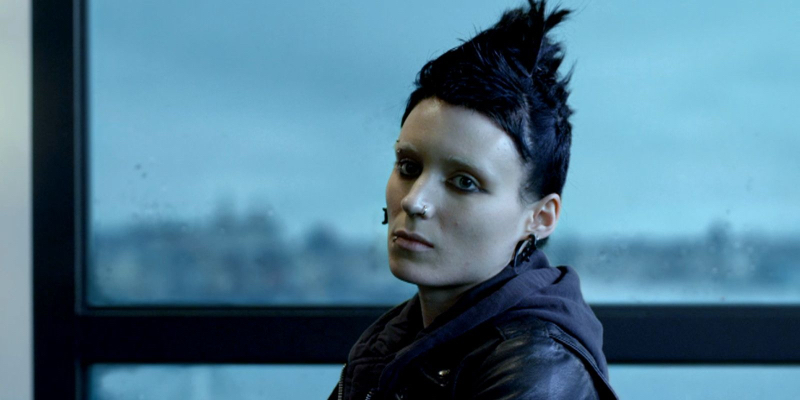 Many questioned the necessity for another adaptation of the popular Swedish crime novel, but David Fincher delivered a film that was more polished, more narratively sound, and perfectly attuned to his attention to detail. And can we really have too much Lisbeth Salander? Rooney Mara's take on the highly competent, ever vengeful, deeply dreamy bisexual hacker is far more vulnerable — possibly weaker, possibly just more human, depending on your affection for the original.
72. The Girl with the Dragon Tattoo
dir. Niels Arden Oplev, 2009
Watch It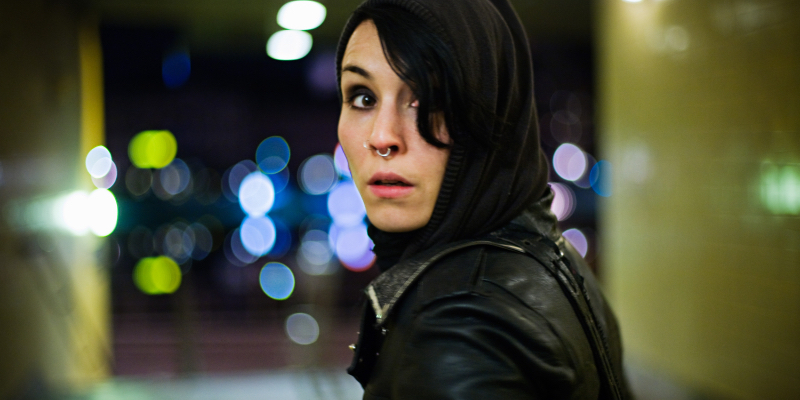 If there's one reason the Swedish adaptation remains the favorite among most queer women it's Noomi Rapace. The movie itself may not be as formally accomplished as Fincher's redo, but Rapace makes Lisbeth Salander instantly iconic. She's gritty and fierce in a way so many badass Hollywood heroines are not. There's nothing pretty about her take on Salander and that makes her all the more alluring.
71. Bit
dir. Brad Michael Elmore, 2019
Our Review // Watch It
The one and only movie about a trans lesbian joining a lesbian separatist vampire girl gang lives up to its premise. Nicole Maines is incredible as Laurel, charming in moments of awkward romance, and commanding in moments of action. Trans lesbians are still largely absent from the canon of lesbian cinema and this exception is delicious in how casually Laurel is included. Her transness is acknowledged and affects her character and the story, but it doesn't define her. She also gets an adorable meetcute — that ends with teeth in her neck.
70. Eva + Candela
dir. Ruth Caudeli, 2018
Watch It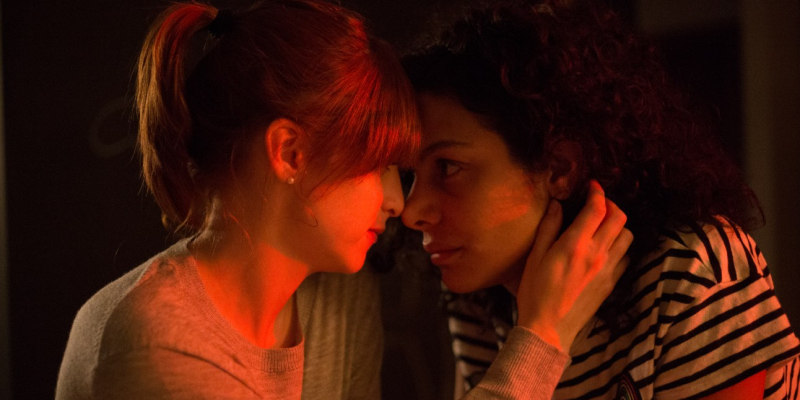 Ruth Caudeli's debut feature is both a devastating breakup film and an announcement of an exciting new talent in queer cinema. Most sad films about queer women are sad due to tragedy or oppression, so it's a relief to watch a film that's sad because sustaining a relationship is just really hard! While falling in love and falling out of love, Alejandra Lara and Silvia Varón are brimming with chemistry. It's painful to watch them fall apart because they make so much sense when they're together.
69. Summertime
dir. Catherine Corsini, 2015
Watch It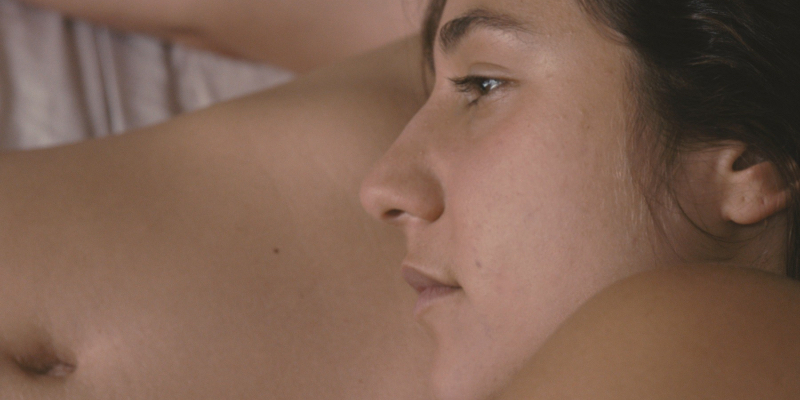 France! Lesbians! Feminism! This properly warm period piece follows Delphine, a sheltered rural queer, who falls in love with older activist Carole in 1971. It's a celebration of first love, collective action, and the people who pave the way towards self-discovery. Izïa Higelin and Cécile de France are so gorgeous and hot together and give heartbreaking performances and the movie is just bursting with romance in every sense of the word.
68. Lyle
dir. Stewart Thorndike, 2014
Our Review // Watch It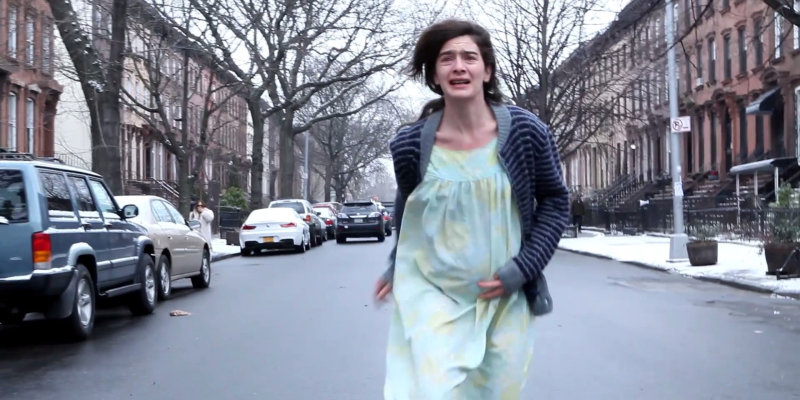 Stewart Thorndike's tight and terrifying horror movie is as much about grief as it is exploring the messiness of placing a queer woman in the plot of Rosemary's Baby. The movie asks a lot of questions without providing answers, but what it does provide is a breathtaking horror experience led by an animalistic performance from Gaby Hoffmann.
67. The Haunting
dir. Robert Wise, 1963
Our Review // Watch It
The first and most loyal adaptation of Shirley Jackson's novel is a remarkable work of understated horror cinema. Julie Harris plays Nell, a bitter and lonely woman who signs up to participate in a study of the paranormal in the wake of her mother's death. One of the other participants is Theo, a gay woman with ESP and endless confidence. Claire Bloom plays her with an easy charm, and her character ends up being a foil to Nell — queerness as a metaphor for freedom. Due to these stellar performances, some excellent wide angle photography, and Robert Wise's low-budget horror roots, this film stands out even amongst decades of imitators.
66. Lianna
dir. John Sayles, 1983
Watch It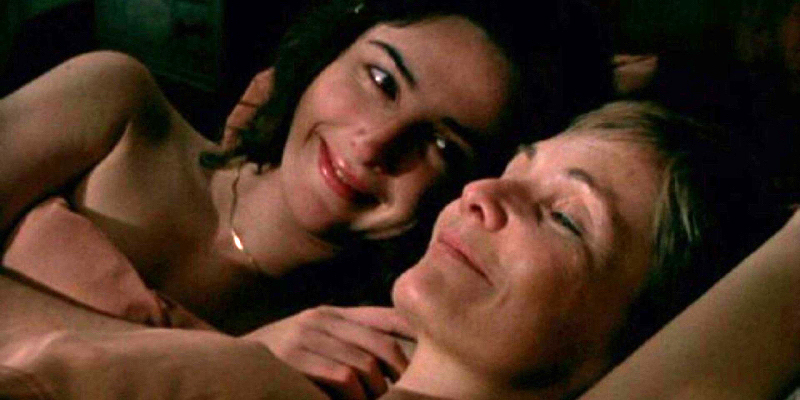 Surprisingly tender and complicated for a lesbian movie written and directed by a straight man, this classic of queer cinema follows the titular character through her first gay love and heartbreak. Rather than framing Lianna's coming out as intrinsically tied to her crush on Professor Ruth, she's forced to reckon with her identity and ultimately do so alone. Linda Griffiths is so lovely to watch on-screen as Lianna navigates her desires and disappointments. It's a sad movie, but within that sadness is a sense of hope — a sense that someday Lianna will find love and do so as an individual.
65. Glen or Glenda?
dir. Shirley Wood, 1953
Watch It
Shirley Wood is usually known by her deadname and is usually known as the supposed "worst director of all time." But for anyone who's trans or is familiar with the trans experience, her debut is a weird and wonderful film about transness made at a time of misinformation. Amidst the formal experimentation, Bela Lugosi playing God, and lots of other weirdness is the story of a woman in love with another woman. It's remarkable that we have a movie about transness from this era made by an actual trans person. It's deserving of celebration, not ridicule.
64. Codependent Lesbian Space Alien Seeks Same
dir. Madeleine Olnek, 2011
Watch It
Madeleine Olnek's highly relatable comedy about a trio of aliens sent to Earth because they have too many feelings is as funny and weird as that premise suggests. Inspired by low-budget 1950s sci-fi, Olnek's film has a DIY aesthetic that fits with the often silly script. All of its fish-out-of-water jokes ultimately lead to a story about connection. We all feel like aliens sometimes, but if we're lucky we just might find another alien to love.
63. In Between
dir. Maysaloun Hamoud, 2016
Our Review // Watch It // Also Available on Tubi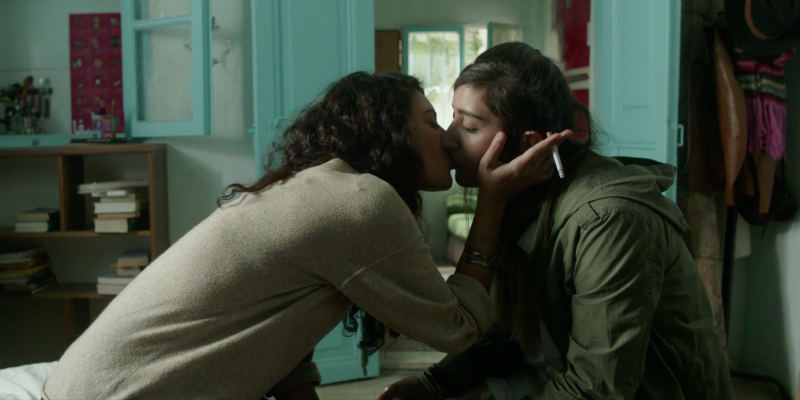 The trio of women at the center of Maysaloun Hamoud's debut film couldn't be more different. Leila is a high femme lawyer hoping to find love with a man who won't control her. Salma is a lesbian DJ with parents desperate to marry her to a man. And Nour is a conservative student engaged to be married. But all three women are stubborn and determined to live lives beyond heteropatriarchy, beyond Israeli-occupation. The film captures the specific pain of managing multiple marginalized identities and provides a path forward – there may be no escape, but we can support each other in the struggle.
62. Gia
dir. Michael Cristofer, 1998
Watch It
Telling the story of model Gia Carangi's troubled life, this Angelina Jolie vehicle alternates between delicious and devastating. Jolie is so sexy, but her performance proves she's more than just a sex symbol. As Carangi's life turns toward inescapable hardship, Jolie remains impossible not to watch. Special shoutout to her sex scene with Elizabeth Mitchell that is truly unforgettable.
61. Black Swan
dir. Darren Aronofsky, 2010
Our Review // Watch It
Perfectionism, mommy issues, and lesbianism haunt Natalie Portman in Darren Aronofsky's Oscar-winning ballet horror movie. It's frightening and beautiful and, yes, has a sex scene between Natalie Portman and Mila Kunis. Bordering on camp with its heightened style and emotion, this is the rare Hollywood movie about queer women that's allowed to be properly unhinged. The line between beauty and body horror disappears and every second is a thrill.
60. Thelma
dir. Joachim Trier, 2017
Our Review // Watch It // Also Available on Hulu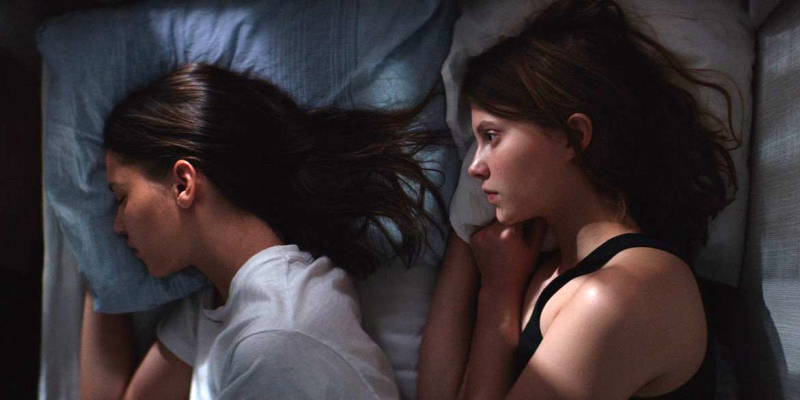 This beautiful coming-of-age thriller actualizes queer shame and repression. As Thelma navigates adjusting to college — and gay feelings — apart from her religious upbringing, she begins to have seizures and visions and potentially telekinetic powers. As the tension builds, the scope of the film widens with more imagery and plot twists. But at its core is simply a girl navigating her identity and trying to find herself separate from her family.
59. Boy Meets Girl
dir. Eric Schaeffer, 2014
Our Review // Watch It
One of the few movies on this list starring a trans woman, Eric Schaeffer's romcom is the sweet — and messy — love story we deserve. Michelle Hendley is an absolute star as Ricky Jones, a small town girl with a YouTube following and a desire for love. It takes a dalliance with the engaged Francesca to reveal the love she has for her male best friend — and what a dalliance it is! Ricky's sex scene with Francesca is hot and tender, and while some of us may have been rooting for the two of them to end up together, the whole thing is so sweet you probably won't mind that she ends up with the friend. And Hendley is just so good — she's such a pleasure to watch on screen.
58. Persona
dir. Ingmar Bergman, 1966
Our Review // Watch It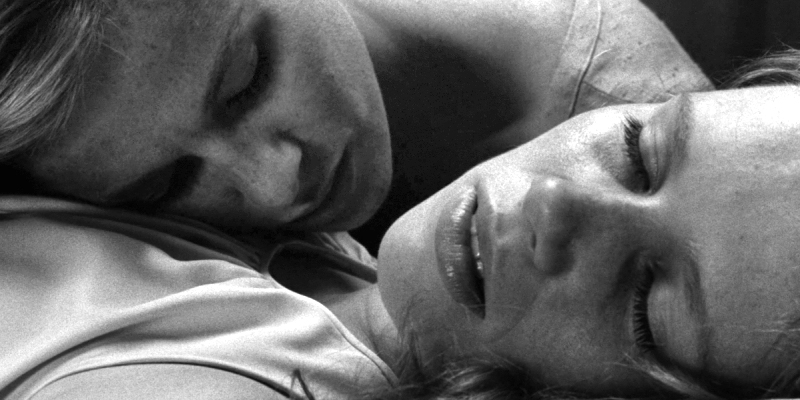 Maybe about two women, maybe about one woman, maybe beyond narrative analysis, Ingmar Bergman's avant-garde masterpiece is sexy, unsettling, and thought-provoking. Bibi Andersson plays Alma, a nurse assigned to the care of Liv Ullmann's Elisabet Vogler, an actress who has suddenly stopped speaking. They seclude themselves at a beach house and their interactions increase in eroticism, violence, and unreality. This is definitely one of the hornier arthouse classics even if the women never consummate their attraction.
57. Signature Move
dir. Jennifer Reeder, 2017
Watch It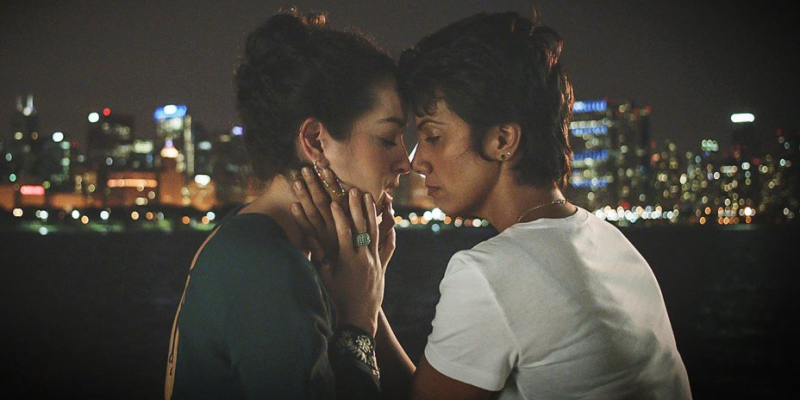 A late in life coming-of-age movie, this captures a very common queer experience — through the very specific lens of a Pakistani-American woman obsessed with Lucha-style Mexican wrestling. Fawzia Mirza stars and co-wrote the script and her natural likeability, impeccable comic timing, and chemistry with Sari Sanchez make this movie endlessly endearing. It's part romcom, part family dramedy, and both threads feel nuanced and real. Also, lesbian wrestling!!
56. Daddy Issues
dir. Amara Cash, 2018
Our Review // Watch It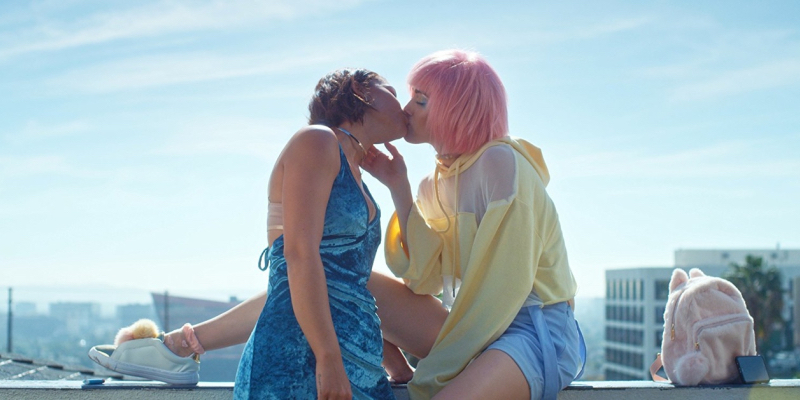 Amara Cash's debut film is a campy, candy-colored, explosion of queerness. A love triangle between aspiring artist Maya, her instagram crush Jasmine, and Jasmine's sugar daddy, leads to a twisted plot, two twisted romances, and a lot of expected — and unexpected — drama. Cash's camera and editing is frenetic capturing Maya's adolescence yearning and building to a new queer aesthetic. The most surprising thing about this movie is its sweetness. There's an innocence to Maya that's easy to root for and a sexiness to Jasmine that's easy to fall for. By pairing the romantic and the taboo, the disturbing and the delicious, Cash creates a truly unique feat of queer filmmaking.
55. High Art
dir. Lisa Cholodenko, 1998
Watch It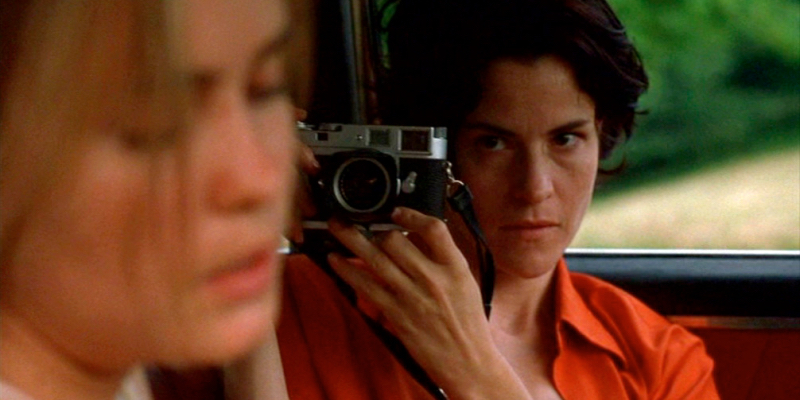 Mirroring the energy of the drug-addicted lesbian photographer at the film's center, Lisa Cholodenko's debut film is sensuous, measured, and simmering with a sense of danger. Ally Sheedy plays Lucy with a toxic allure that barely masks a depth of sadness. We understand why Radha Mitchell's Syd is so drawn to her and like Syd we hope for the best while expecting the worst. This is a movie about lost innocence and the decades that follow.
54. Mulholland Drive
dir. David Lynch, 2001
Watch It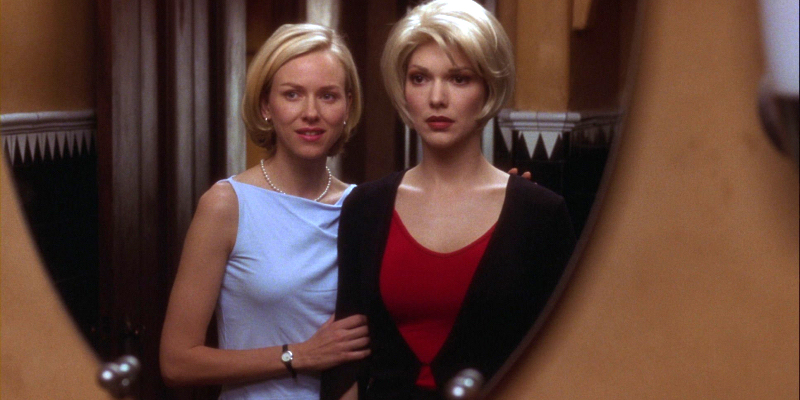 A cinematic masterpiece and one of David Lynch's finest works. Naomi Watts gives an all time great performance as Betty, the wide-eyed actress who moves to Hollywood and falls for the mysterious amnesiac Rita (Laura Harring). Of course, there's more to the story as this is a Lynch film, but more than any other work of his each thread of surreal oddity clicks together to tell this painful love story between two doomed women. It's certainly not devoid of male gaze, but if you're gonna pick a male's gaze you could do worse than Lynch.
53. Disobedience
dir. Sebastian Lelio, 2017
Our Review // Watch It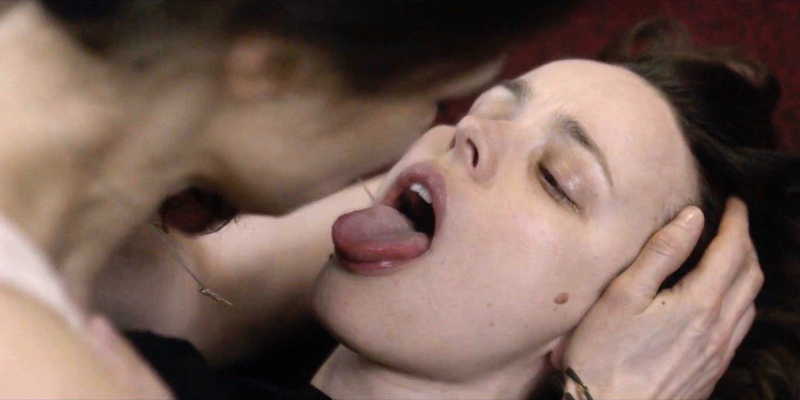 There are a lot of other things to celebrate about this quiet drama about two Jewish women navigating their love within an Orthodox community. But let's be honest. This is the movie where one very famous Rachel spits in another very famous Rachel's mouth. Specifically Rachel Weisz spits into Rachel McAdams' mouth and it's just one part of a very hot sex scene. It's made even hotter by their characters' history, their forbidden desire, their connection, and their need for one another. This is a movie about faith, about the past, about the desire for community, and the desire to escape. The plotting is messy, but so is life.
52. Set It Off
dir. F. Gary Gray, 1996
Our Review // Watch It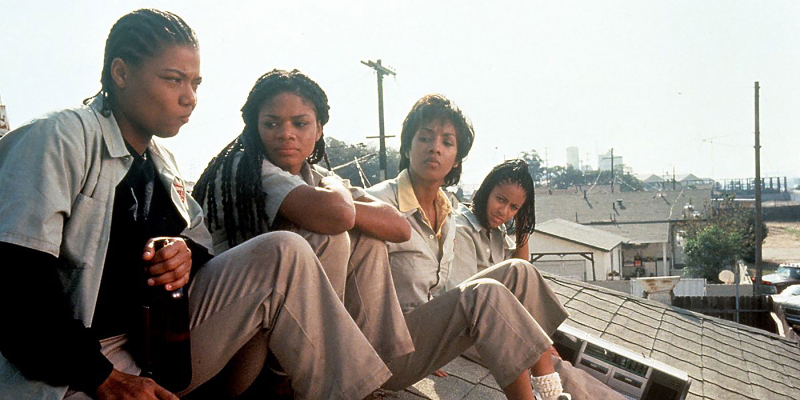 An absolute masterpiece of a heist movie. F. Gary Gray's story of four women who decide to rob a bank is as excellent a drama as it is an action movie. We care so much about the women played by Jada Pinkett Smith, Queen Latifah, Vivica A. Fox, and Kimberly Elise and it makes the suspense all the more suspenseful. Queen Latifah is absolutely iconic as Cleo, the lesbian whose confidence is as dangerous as it is sexy.
51. The Children's Hour
dir. William Wyler, 1961
Our Review // Watch It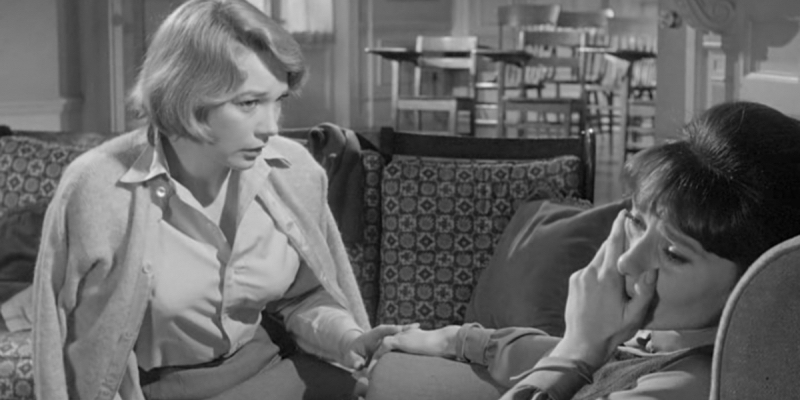 This classic of lesbian cinema has a bad reputation due to its influentially tragic ending. But just because the movie is bleak doesn't mean it isn't still deserving of praise, reexamination, and even enjoyment. Lillian Hellman's play is a tragedy in the American theatre tradition and that results in this kind of ending. But before that we get her beautiful writing, complex characters, and dynamic relationships. We get Shirley MacLaine with her pageboy haircut and Audrey Hepburn as her object of desire. This is a masterpiece that paved the way for so many future masterpieces — for better or worse.