[Jump to Movies: 200 | 150 | 100 | 50 | 25 | 10 | All ]
150. Stud Life
dir. Campbell X, 2012
Unavailable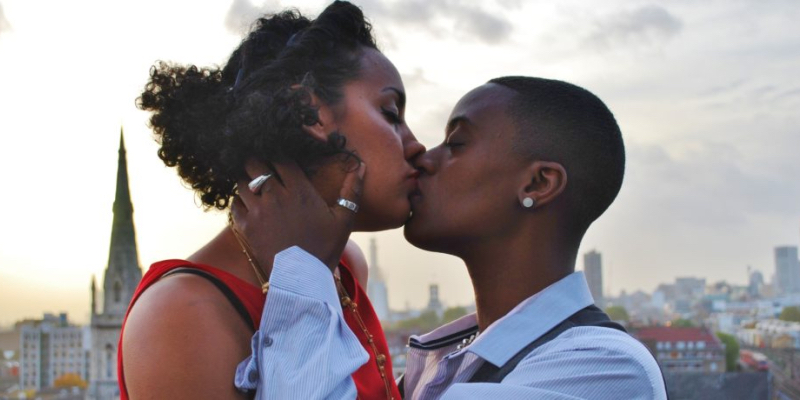 This low-budget slice of queer London life centers on a black stud named JJ who vlogs about her experiences. Her best friend is a white gay man and the film focuses on that friendship and JJ's new relationship with humor and sharp accuracy. There's some casual transphobia and whorephobia, but it feels true to the messy characters trying to figure out how to navigate their community. Overall this is a really stellar film that feels grounded in a specificity we rarely see on screen.
149. The Four-Faced Liar
dir. Jacob Chase, 2010
Our Review // Watch It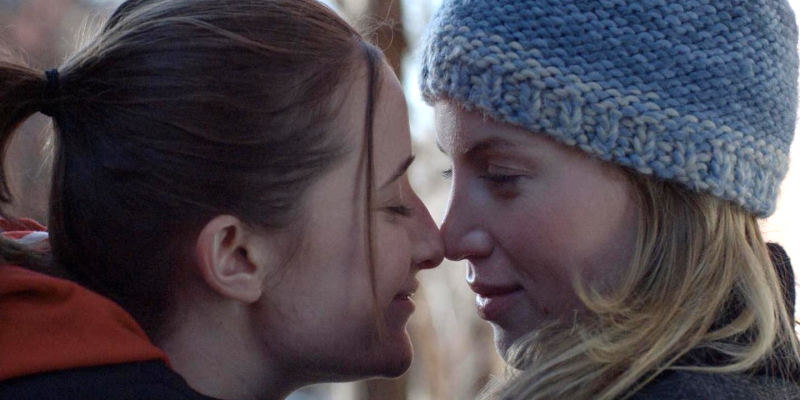 Written by and co-starring The L Word: Generation Q showrunner Marja-Lewis Ryan, this is a lowkey dramedy about a group of early twenty-somethings stumbling their way through love. Ryan plays a lesbian who acts just like her straight male bestie and falls for a "straight" girl. As all of their relationships are challenged and reconfigured, the film questions what it is the characters really want and whether they'll ever find it.
148. When Night is Falling
dir. Patricia Rozema, 1995
Watch It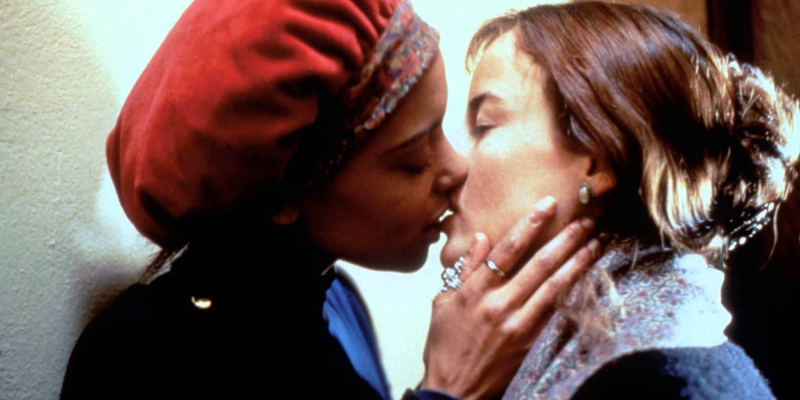 Silly melodrama and lesbian movie tropes are simply a mask for a queer poetic vision in this love it or hate it drama from Patricia Rozema. Pascale Bussières' uptight Christian college professor and Rachel Crawford's sexually forward circus performer are magic together finding just the right chemistry for the movie's specific tone. With endless creative flourishes, Rozema set out to make a film about queer desire and either you'll want to mock it or live in it — or maybe both.
147. Portrait of a Serial Monogamist
dir. Christina Zeidler, John Mitchell, 2015
Our Review // Watch It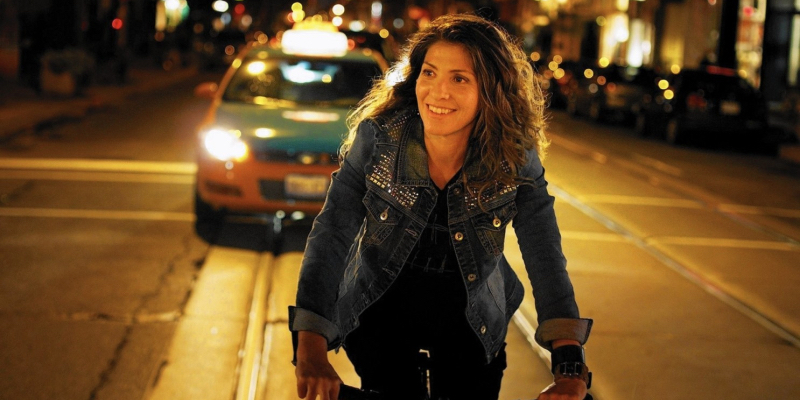 This anti-romcom follows the titular serial monogamist (and break-up expert) as she attempts to remain single, while longing for her ex and a barista crush. It's light-hearted, Jewish, and Canadian. The film is as noteworthy for its relatable plotline as it is for its portrayal of the Toronto queer scene.
146. Antonia's Line
dir. Marleen Gorris, 1995
Watch It // Also Available on Tubi
Light on lesbianism but big on feminism, this decades long tale of the fiercely independent Antonia finds room in its utopic female vision for queerness. Antonia's daughter casually has a love affair with her daughter's teacher and the teacher being a woman is never a concern. There's even a short sex scene between the two of them. This Oscar winner for Best Foreign Language film is a tribute to women who chose to be more than expectations — more than simply the wives of men.
145. My Mother Likes Women
dir. Daniela Fejerman, Ines Paris, 2002
Unavailable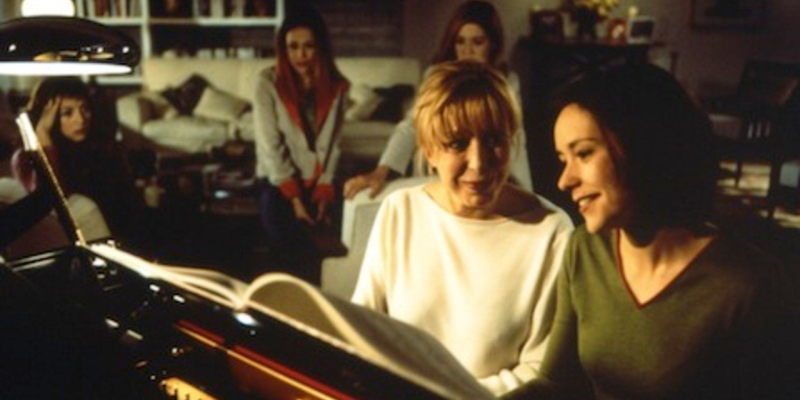 Finding a balance between pathos and farce, this movie about three sisters and their newly out mother is a messy delight. Leonor Watling is impossible not to love as the anxious Elvira and while the film is more centered on her than her mother's queer relationship, it's still a funny and moving film about figuring out one's identity. It's also pretty clear that Elvira herself is bisexual — no matter what her creepy male therapist says.
144. BFFs
dir. Andrew Putschoegl, 2014
Our Review // Unavailable
With a warm and funny writing from leads Andrea Grano and Tara Karsian, this romcom about two straight best friends who go on a couples retreat only to discover they may have feelings for each other is an absolute delight. The premise lends itself to a lot of great comedy and the movie asks interesting questions about intimacy, sexuality, and friendship.
143. Rent
dir. Chris Columbus, 2005
Watch It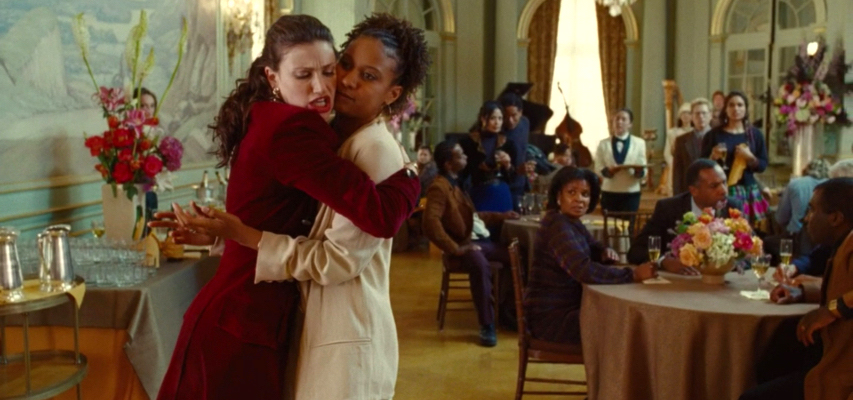 Even fans of the musical would likely agree — or especially agree — that this adaptation doesn't quite have the same magic as the show. But it does still have Idina Menzel as bisexual dreamboat/nightmare Maureen and isn't that enough?? Rent means so much to so many queers and while the movie may have disappointed it still deserves recognition for capturing part of that legacy.
142. Frida
dir. Julie Taymor, 2002
Watch It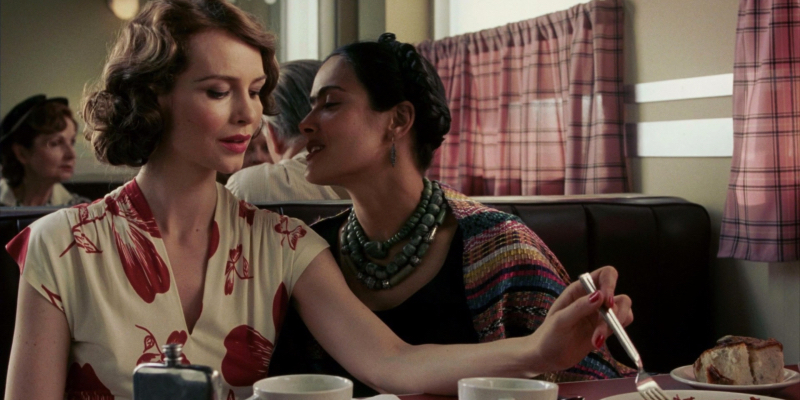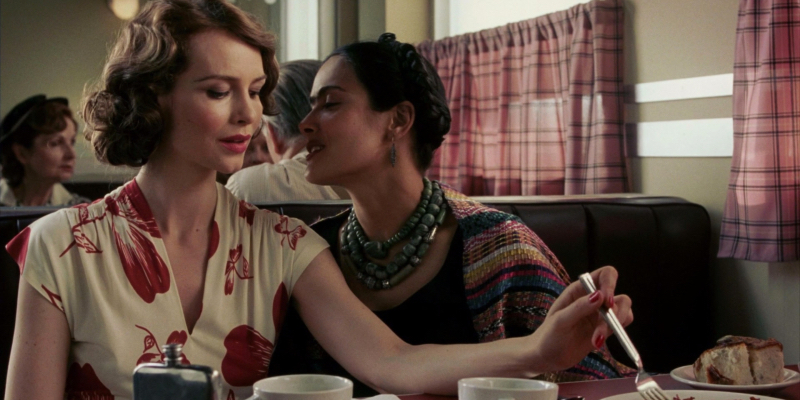 While the script is paint-by-numbers Hollywood biopic, this telling of Frida Kahlo's life is elevated by Julie Taymor's visual inventiveness and Salma Hayek's moving performance. The film largely focuses on Kahlo's relationship with Diego Rivera, but it's also explicit about her bisexuality with multiple moments of her lusting after or being with women. It doesn't quite reflect Kahlo's own unique creativity, but for this genre of movie it's a success.
141. Who's Afraid of Vagina Woolf?
dir. Anna Margarita Albelo, 2013
Watch It
Anna Margarita Albelo's unique comic sensibility is on full display in this funny, charming movie based on a fictionalized version of herself. Low-budget and a bit all over the place, Albelo's film works due to her committed performance, an endless formal inventiveness, and its unashamedly lesbian world. Also Guinevere Turner and Janina Gavankar co-star and Albelo spends much of the movie dressed in a vagina costume. What else do you need to know?
140. The Truth About Jane
dir. Lee Rose, 2000
Watch It // Also Available on Tubi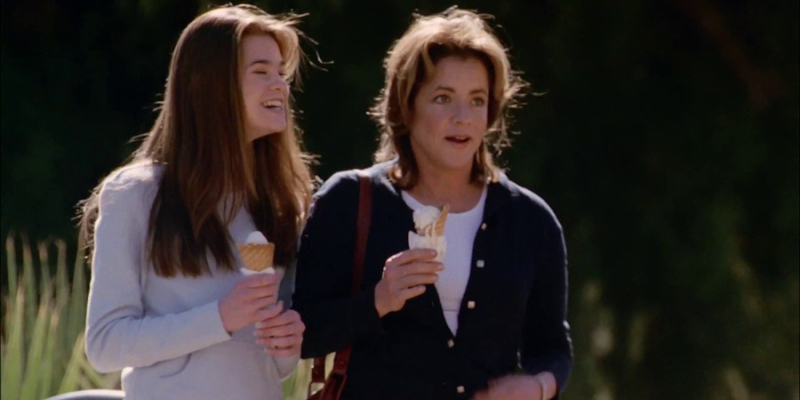 Corny and wholesome — but still affecting — this coming-of-age movie follows Jane as she falls in love for the first time and comes out to her family and school. At its best when focusing on Jane's relationships with queer mentors played by RuPaul and Kelly Rowan, it's a simple but sweet tearjerker. Her tenuous relationship with her mother played by Stockard Channing is painfully relatable even as it alternates between realistic and heavy-handed.
139. Stranger Inside
dir. Cheryl Dunye, 2001
Unavailable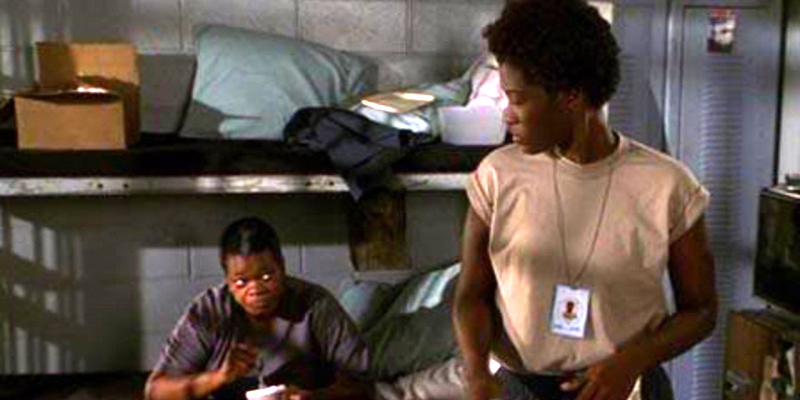 While more conventional in form and structure than much of Cheryl Dunye's work, there's still a lot to admire about this straight forward drama. Yolonda Ross is great as Treasure, an 18-year-old who meets her mother for the first time in prison. Dunye spent four years researching women's prisons before making this project and that work is clear in the world that she builds for her characters.
138. Knife + Heart
dir. Yann Gonzalez, 2018
Watch It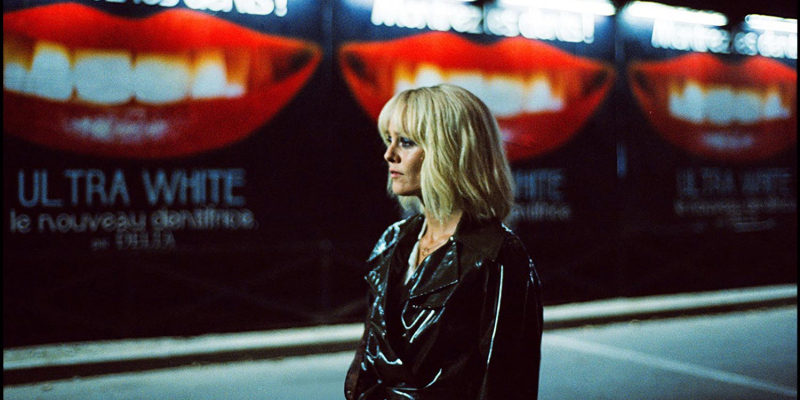 This explicitly queer take on Giallo is as bold and stylish as the genre demands. The heartsick lesbian at its center is flawed in ways that some may find interesting and others simply cruel — either way Vanessa Paradiso's performance is compelling to watch. It's a messy movie in plot and theme, but it's certainly not boring. And it has a dildo knife used as a murder weapon so that's something.
137. Drifting Flowers
dir. Chou Zero, 2008
Watch It
Lesbian filmmaker Chou Zero's trio of intersecting queer tales are about love, friendship, and identity. As much about gender as it is about sexuality, the film is at its best when focusing on the character Diego played by Chao Yi-lan. In the present Diego is a masc heartthrob, but in the past we see her struggle to define her identity beyond the expectations of woman. It's a moving film that saves its best section for last.
136. Itty Bitty Titty Committee
dir. Jamie Babbit, 2007
Unavailable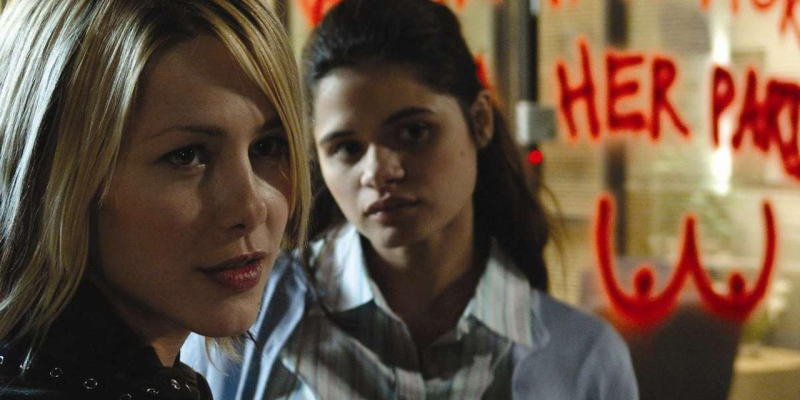 It might be goofy, dated, and a bit all over the place, but there's still a lot to enjoy in Jamie Babbit's lesbian movie about a newcomer to a feminist action group. Melonie Diaz plays Anna, a goody two shoes who falls hard for cool girl Sadie and in the process gets radicalized. It's a fun movie with a great ensemble cast and it's truly just so gay.
135. Red Doors
dir. Georgia Lee, 2005
Unavailable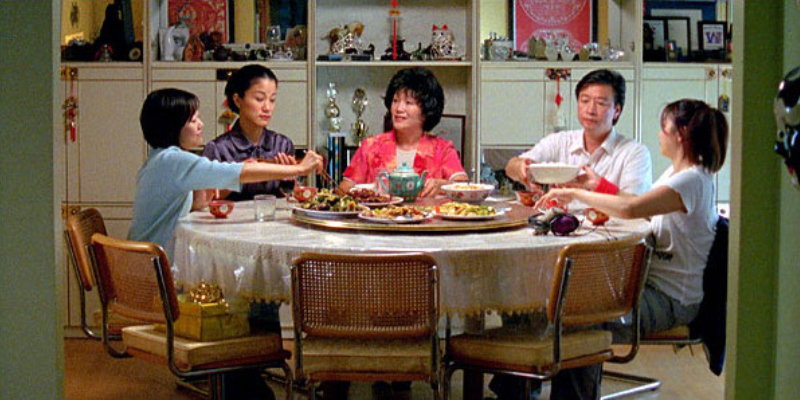 This dramedy about a dysfunctional Chinese-American family is an absolute delight. Elaine Kao plays Julie Wong, the family's middle daughter, a gay medical student who falls for a famous actress. Their romance provides the film's sweetest storyline. It's a touching film about family and the constant struggle to live life from a place of truth.
134. Reaching for the Moon
dir. Bruno Barreto, 2013
Our Review // Watch It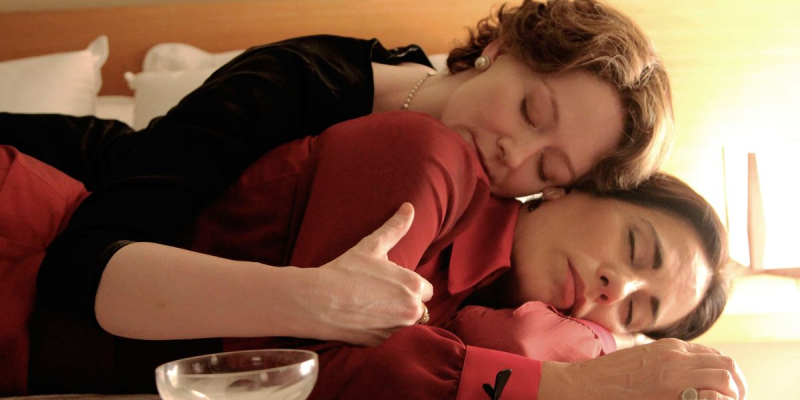 Elizabeth Bishop and Lota de Macedo Soares' relationship was far from peaceful and this movie shows it in all its messy glory. Miranda Otto and Glória Pires play the headstrong women and they're both magnetic to watch in their brief moments of joy and in their frequent states of conflict. It's a film about depression, substance abuse, and the creative process — and how all three affect romantic relationships.
133. Yes or No?
dir. Sarasawadee Wongsompetch, 2010
Available on Netflix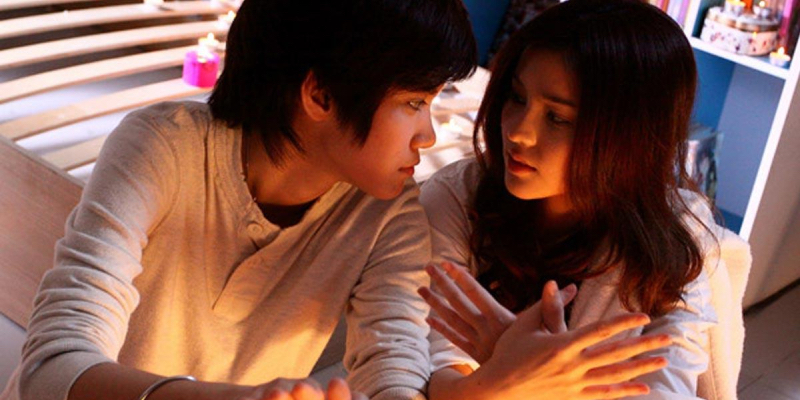 With a cheesy score and endless adolescent feelings, this popular Thai film about a "normal" girl and her "tomboy" college roommate will make you feel 18 again. This movie may send a terrible message to baby butches in love with their lowkey homophobic seemingly straight girl roommates, but it's simply too adorable to resist.
132. Cracks
dir. Jordan Scott, 2009
Watch It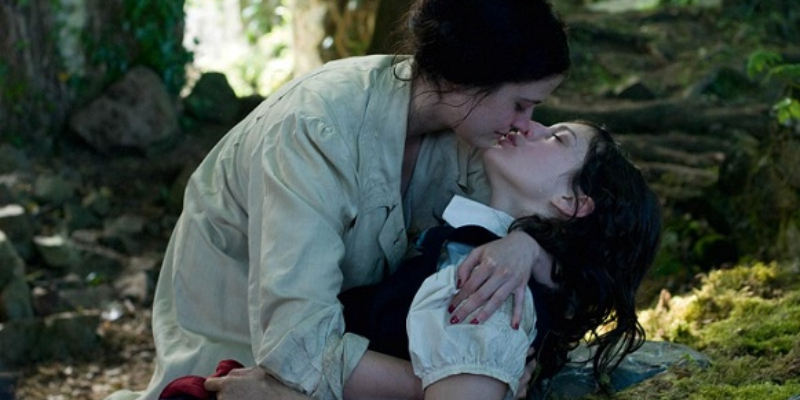 Taking its place in the lineage of lesbian films about boarding schools, Jordan Scott's striking debut feature lands on the side of brutality over eroticism. While Eva Green is arresting as always as the initially charming, eventually horrifying Miss G., the reality of her abuse is allowed to play out. It's a frightening and effective film with an incredibly talented young cast that includes Juno Temple, Imogen Poots, and María Valverde.
131. Love and Other Catastrophes
dir. Emma-Kate Croghan, 1996
Unavailable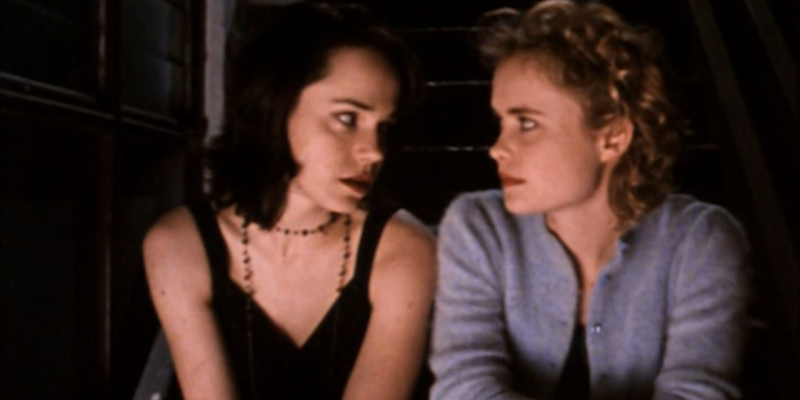 If Whit Stillman was an Australian lesbian this is the movie he'd have made. But he didn't have to because Emma-Kate Croghan made it instead! Snappy dialogue and fun performances make for a fun movie that will either endear you or repulse you depending on your tolerance for film students discussing intellectual topics as they navigate their messy love lives. It helps when those film students aren't all straight and aren't all men that's for sure!
130. The Chinese Botanist's Daughter
dir. Dai Sijie, 2006
Unavailable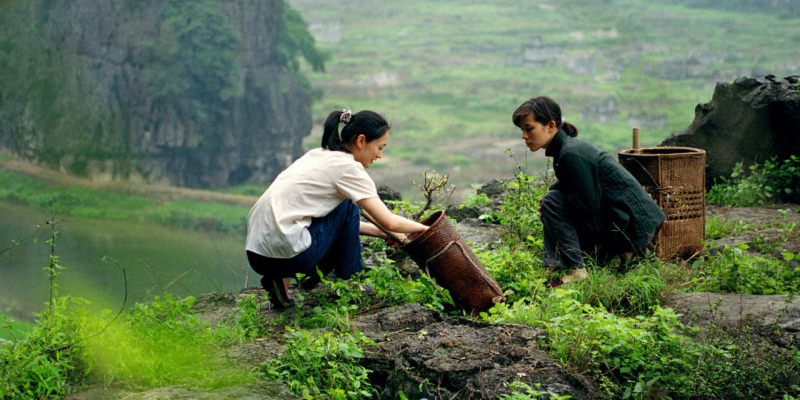 Lush and tragic, this is male gaze lesbian melodrama at its finest. The men are abusive, the scenery is gorgeous, and the women are madly in love. Mylène Jampanoï and Xiaoran Li succeed at deepening their simply written character and provide a couple that's easy to root for even as the plot maddens.
129. Violette
dir. Martin Provost, 2013
Watch It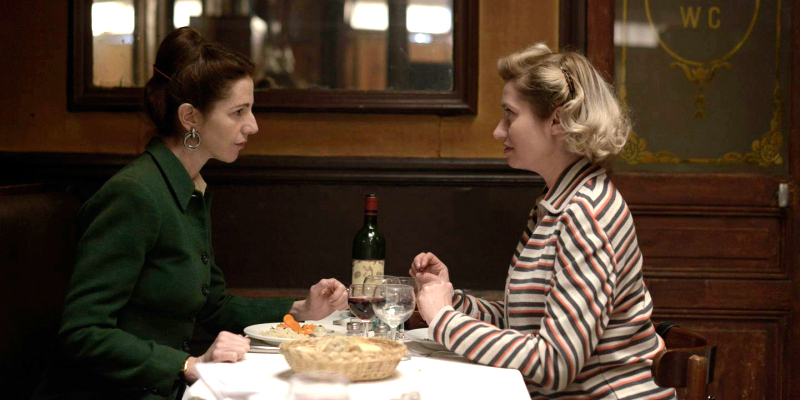 An accomplished and thoughtful biopic led by a remarkable performance from Emmanuelle Devos, this retelling of the life of Violette Leduc is an excellent introduction to one of the great queer women writers in history. The film largely focuses on Leduc's personal and professional relationship with Simone de Beauvoir as the two women rise in literary esteem. It's a rather chaste film considering Leduc's work but it's still an interesting look at a troubled yet accomplished artist.
128. The World Unseen
dir. Shamim Sarif, 2007
Watch It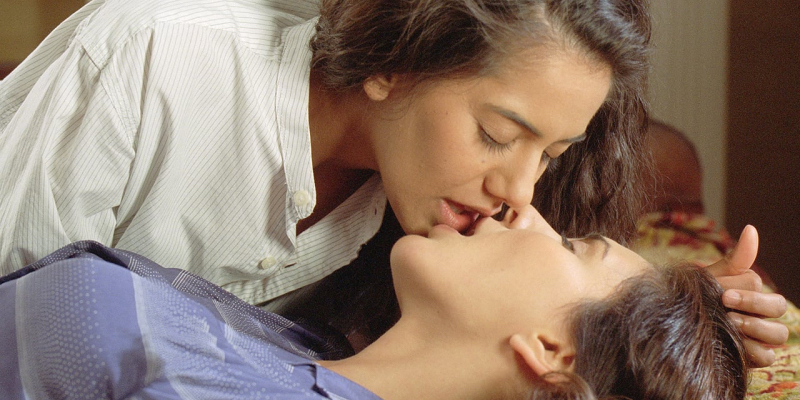 Shamim Sarif's period melodrama based on her own novel is a corny love story — in all the best ways. Set in apartheid era South Africa, Sarif places her lovers in the context of several relationships banned by the racist and homophobic state. Lisa Ray and Sheetal Sheth have so much chemistry and Sheth is especially great as she gallavants around in pants giving speeches about feminism. Its message of acceptance is not particularly deep or radical, but Sarif knows exactly the kind of film she's trying to make and she does so excellently.
127. AWOL
dir. Deb Shoval, 2016
Our Review // Watch It // Also Available on Hulu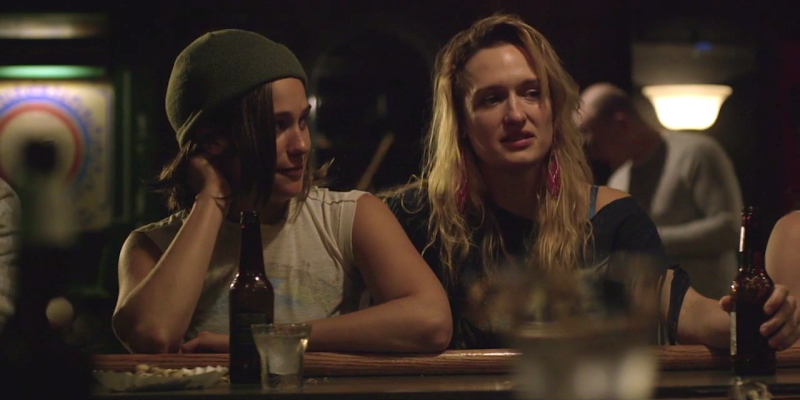 Lola Kirke and Breeda Wool give beautiful performances in this melancholy tale of first love in rural America. As the two women try to find a future together, they're faced with the limitations of their circumstance. It's an at times heartbreaking, at times sexy, and always lived in debut from director Deb Shoval.
126. Replay
dir. Catherine Corsini, 2001
Unavailable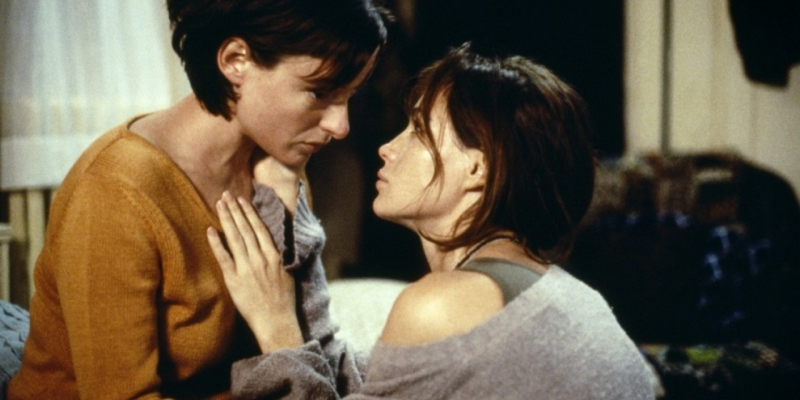 Catherine Corsini would go on to make the far more romantic Summertime, but first she made this twisted tale of obsessive love. Nathalie and Louise are childhood friends unwilling to admit their feelings for each other. Louise is especially taken and over the course of decades alternates between full commitment and spiteful abandonment. This is a painful movie about jealousy and the cost of internalized shame.
125. Therese and Isabelle
dir. Radley Metzger, 1968
Unavailable
A landmark of lesbian cinema caught between Violette Leduc's poetic truth and director Radley Metzger's male gaze, this is an imperfect yet worthy work. This boarding school tale of young love avoids most of the tropes associated with similar stories, trading in plot for extended sex scenes, lush narration, and a visual representation of haunting memory. The second half of the film is especially stunning, for its time, yes, but for our time as well.
124. The Kids Are All Right
dir. Lisa Cholodenko, 2010
Our Review // Watch It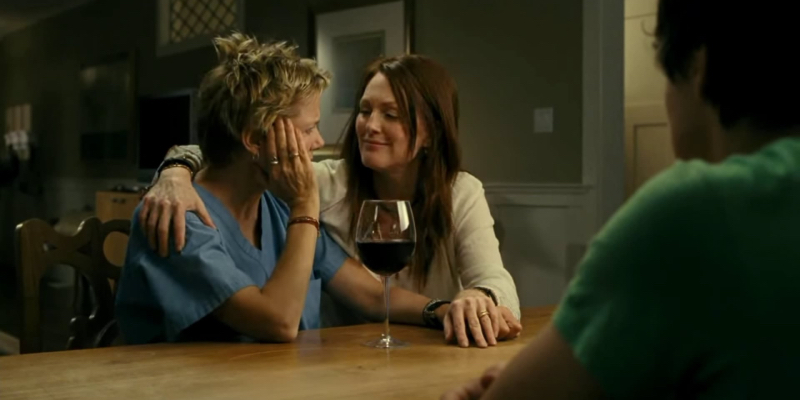 Not the most beloved by the lesbian community, this Oscar-nominated movie from lesbian filmmaker Lisa Cholodenko might be due for reevaluation. While some were put off by one of the film's married lesbians having an affair with a man, the messiness of the affair and the family dynamic all contributes to the film's themes about marriage and queer families. It's a funny movie with great performances from Julianne Moore, Annette Benning, Mark Ruffalo, Mia Wasikowska, and Josh Hutcherson. It might not be the most groundbreaking film, but ten years later its missteps feel a lot less worrisome.
123. The Fish Child
dir. Lucia Puenzo, 2009
Our Review // Watch It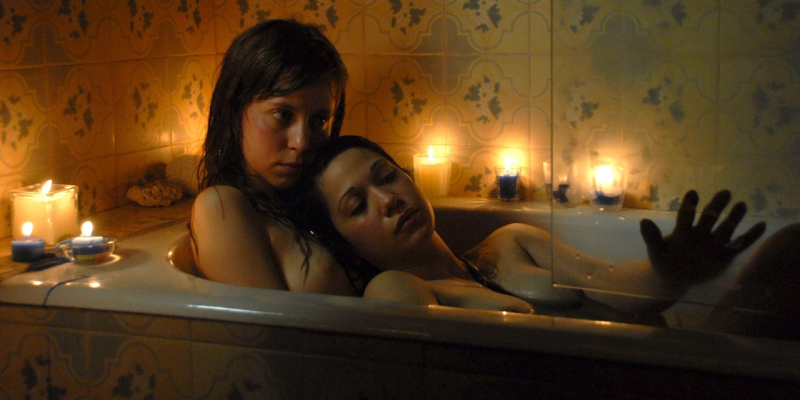 Based on her own novel, Lucia Puenzo's film is a painful love story about two young queer women separated by race and class. Lala is from a wealthy family and has been having an affair with Ailin, her family's maid. Their desire to escape pushes them to crime and Lala must face the naïveté of her fantasies while Ailin tries simply to survive. Inés Efron and Mariela Vitale are fantastic and fantastic together and make the film work even when the plot takes some difficult to believe turns.
122. The Feels
dir. Jenée LaMarque, 2017
Our Review // Watch It // Available on Netflix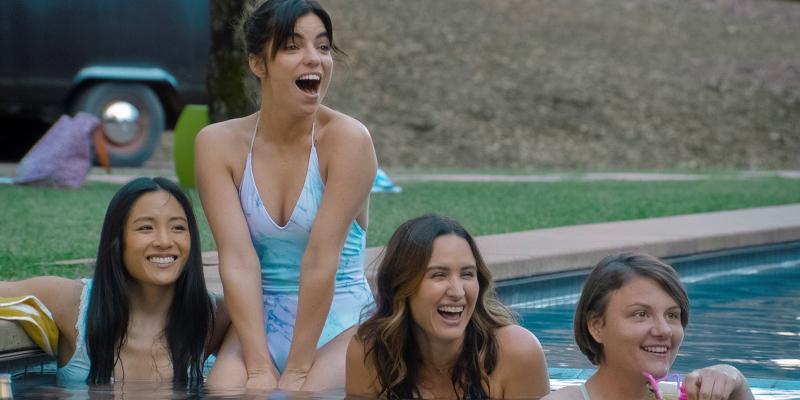 Constance Wu playing a lesbian is probably enough of a pitch to get you to watch this breezy Netflix comedy — and it should be! She's great as always and she has a nice chemistry with co-star Angela Trimbur. The movie is sweet and affirming as it acknowledges how different our bodies function and the necessity for communication during sex. Ever Mainard gives a standout comic performance and provides some much needed butch energy to this gay bachelorette party comedy.
121. Jules of Light and Dark
dir. Daniel Laabs, 2018
Our Review // Watch It // Also Available on Vimeo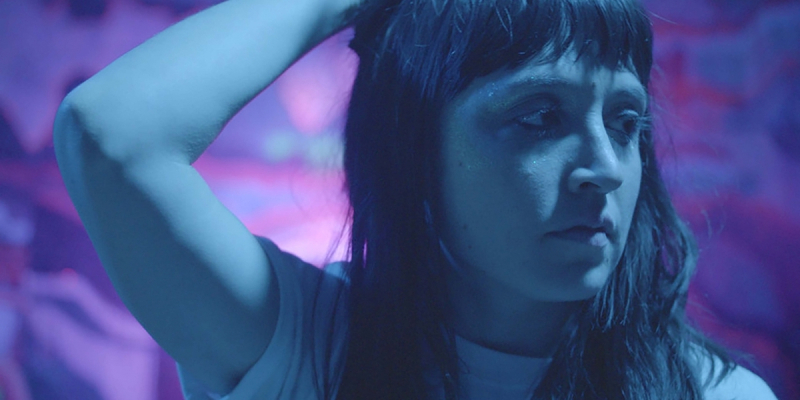 Winner of the Grand Jury prize for Outstanding American Feature at Outfest 2019, Daniel Laabs' debut feature is about two lost individuals forming an unlikely connection. Tallie Medel is phenomenal as Maya, a heartsick lesbian struggling in the aftermath of a car accident. She befriends Freddy, a lonely gay man with an estranged daughter, played by Robert Longstreet and the film cuts back and forth between their two storylines. While a bit underwritten and at times as lost as its characters, the film ultimately works because of its central performances and Laabs' impressive visual style.
120. Unveiled
dir. Angelina Maccarone, 2005
Unavailable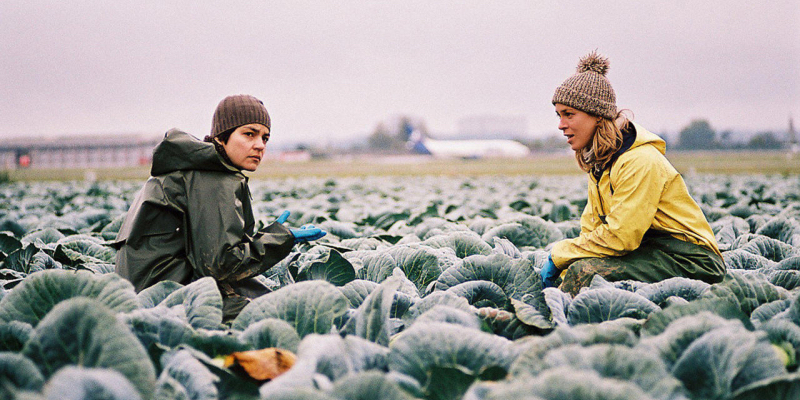 Jasmin Tabatabai gives a phenomenal performance in this story of an Iranian lesbian pretending to be a man and seeking asylum in Germany. It's a difficult and heartbreaking film, but writer/director Angelina Maccarone resists easy dramatic choices in favor of a melancholy complexity.
119. My Summer of Love
dir. Pawel Pawlikowski, 2004
Watch It
What begins is a quiet and tender queer coming-of-age love story takes a darker turn, as characters get increasingly untrustworthy and violent. It's beautifully shot and has moving performances from Natalie Press and Emily Blunt, in her breakout role. It may not be the happiest queer film, but it's not without hope, and the journey is worth it.
118. If These Walls Could Talk 2
dir. Jane Anderson, Martha Coolidge, Anne Heche, 2000
Unavailable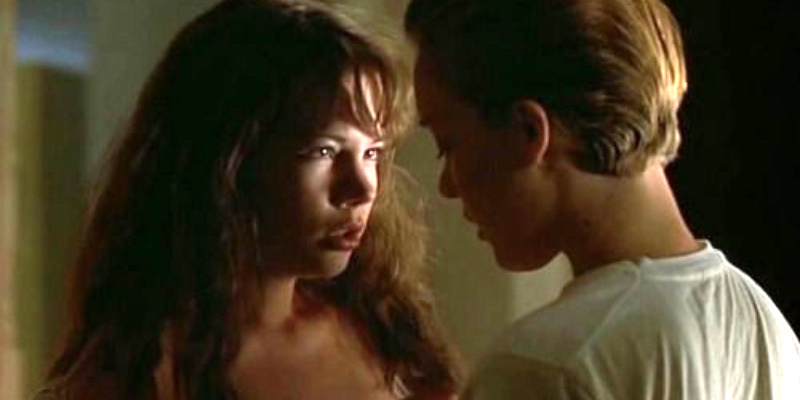 The three stories that make up this iconic HBO film certainly vary in quality. Jane Anderson's 1961-set tale of a lesbian in mourning is simple and heartbreaking, while Anne Heche's present day portrayal of Ellen Degeneres and Sharon Stone having a baby is cringeworthy at best. But it's the middle section set in 1972 that makes the film what it is. Martha Coolidge's love story between Michelle Williams and a very butch Chloë Sevigny is fun and sexy and explores questions of class and gender identity within lesbian circles. It also has an incredible supporting cast that includes Natasha Lyonne and Nia Long. The whole film can be watched by completists, but it's this section that deserves true praise.
117. The Duke of Burgundy
dir. Peter Strickland, 2014
Our Review // Watch It // Also Available on Hulu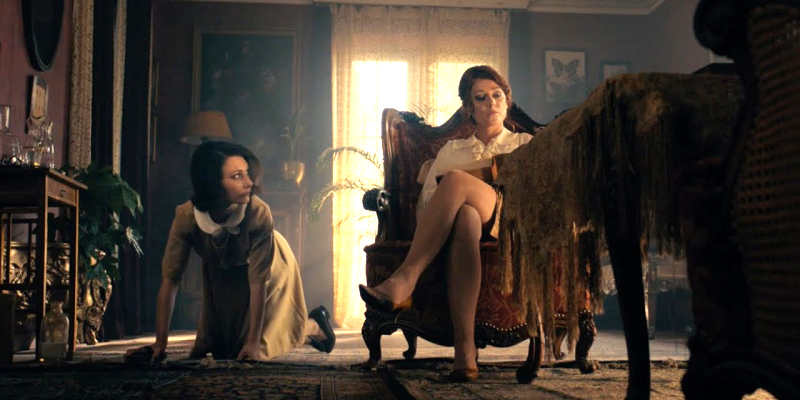 This is one of the very few non-porn films about queer women BDSM and that alone makes it noteworthy. But it's also a gorgeous and strange film with alluring performances from Sidse Babett Knudsen and Chiara D'Anna. While it's at times formally unmotivated and certainly not devoid of male gaze, it's still a fascinating film showing an underrepresented aspect of many lesbian lives.
116. First Girl I Loved
dir. Kerem Sanga, 2016
Our Review // Watch It // Also Available on Hulu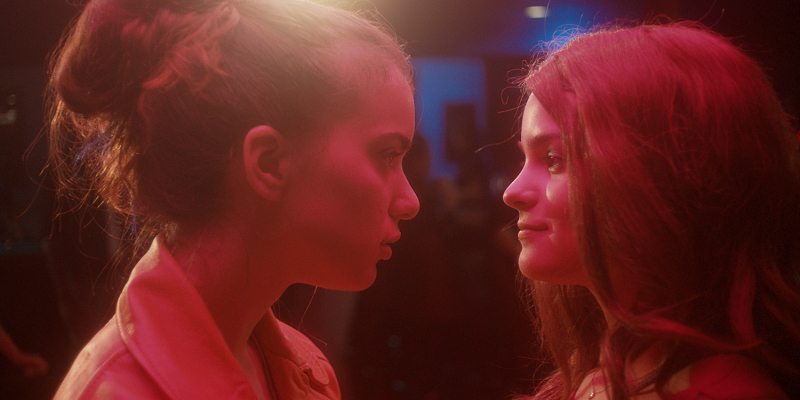 This coming-of-age drama is as much about consent as it is about queer discovery. Dylan Gelula plays Anne who begins to explore her first lesbian relationship in the aftermath of assault. The film opens itself up to the messiness of the interactions it displays and highlights how our culture's broken ideas around sex, gender, power, and identity lead to so much pain. It's a heartfelt, heartbreaking film that still finds time for sweetness. (And it has a great cameo from Cameron Esposito at the end.)
115. Spider Lilies
dir. Chou Zero, 2007
Unavailable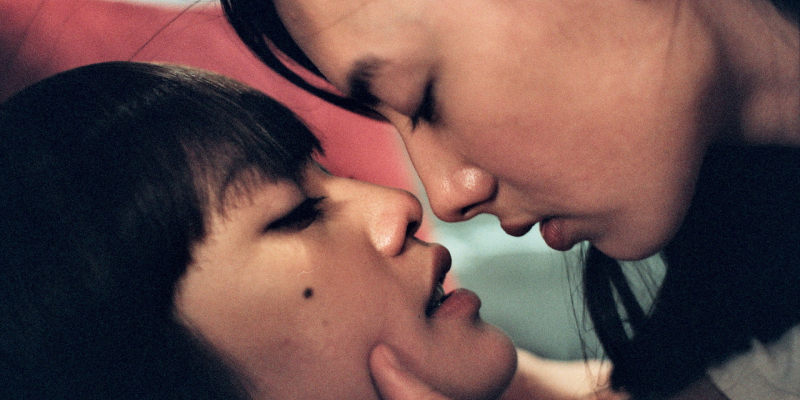 Winner of Best First Feature at the 2007 Berlin Film Festival, lesbian filmmaker Chou Zero's romantic drama is a striking film. Years after a sudden tragedy, a cam girl and a tattoo artist — and former childhood sweethearts — navigate their conflicting boundaries and familial obligations as they try to reconnect. Chou's style is poetic and dreamlike always turning back to her heroines' interior lives.
114. The Runaways
dir. Floria Sigismondi, 2010
Our Review // Watch It // Also Available on Netflix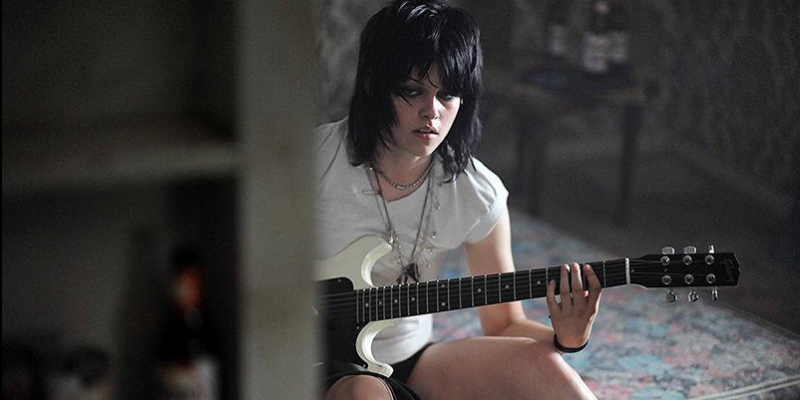 Elevated by stellar performances from Kristen Stewart and Dakota Fanning and artful direction from Floria Sigismondi, this conventional music biopic tells the rise and fall of all-girl rock band The Runaways. It may fall into some of the genre's silly tropes (watching Michael Shannon come up with "Cherry Bomb" on the spot is… an experience), but overall it's a sexually fluid celebration of rock music and a cautionary tale of music industry misogyny.
113. Walk on the Wild Side
dir. Edward Dmytryk, 1962
Our Review // Unavailable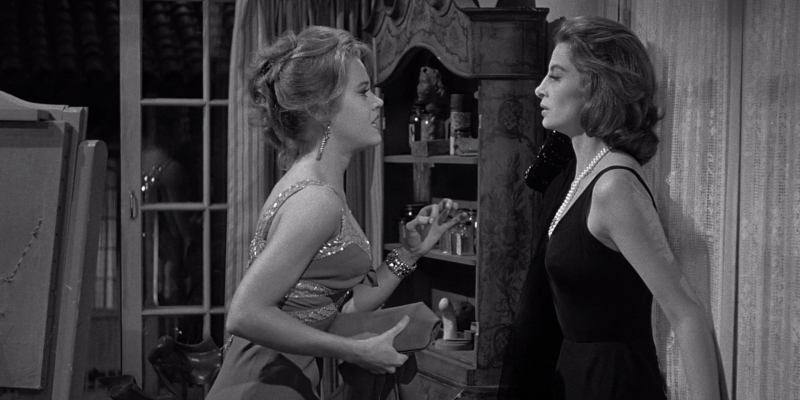 Barbara Stanwyck has a hot gay energy in most of her work, but only in this film did she actually play a lesbian. Unfortunately, the character is cruel and controlling in a sad way, not a sexy way. But this film that often feels like Tennessee Williams-lite isn't lacking in pleasures. Jane Fonda's scrappy sex worker Kitty Twist more than makes up for the story's more maudlin elements. And even if she isn't given the opportunity to embrace her sex appeal, Stanwyck humanizes the trope with the deep pain of an unhappy woman dissatisfied with her life's circumstances.
112. Blue is the Warmest Color
dir. Abdellatif Kechiche, 2013
Our Review // Watch It // Also Available on Netflix
This Palme d'or winner is certainly one of the more divisive lesbian movies. Some despise its extended sex scenes drenched with male gaze while others admire its genuine sensuality and emotion. Reports of on-set abuse only make matters more complicated. Still, it's impossible to ignore the beautiful performances from Adèle Exarchopoulos and Léa Seydoux, and easy to appreciate its portrayal of first love. For many, this is a movie that no longer belongs to its male writer/director, but to its lead actresses and to their own past selves who in 2013 saw something familiar.
111. Monster
dir. Patty Jenkins, 2013
Watch It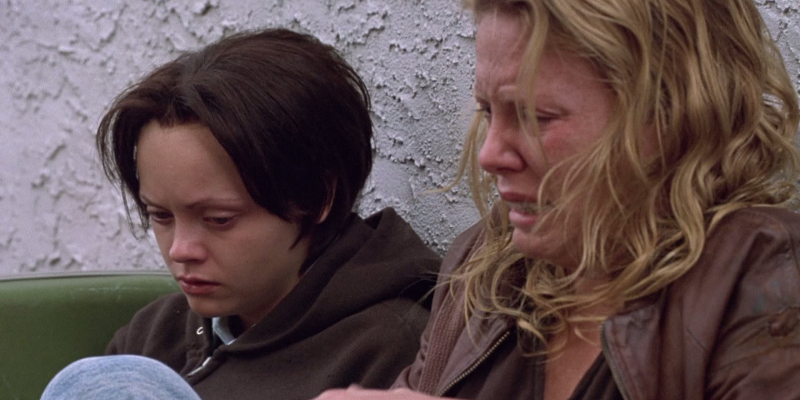 Bleak and devastating, Patty Jenkins' portrayal of Aileen Wuornos does right by Wuornos' life of trauma. Charlize Theron went beyond the prosthetic makeup in her truly remarkable — and Oscar-winning — performance as Wuornos. Her chemistry with Christina Ricci provides a much needed levity — until it makes what happens even more painful. The film doesn't judge Wuornos or romanticize her, but simply portrays the life-altering effects of abuse.
110. Margarita with a Straw
dir. Shonali Bose, 2014
Our Review // Watch It // Also Available on Hulu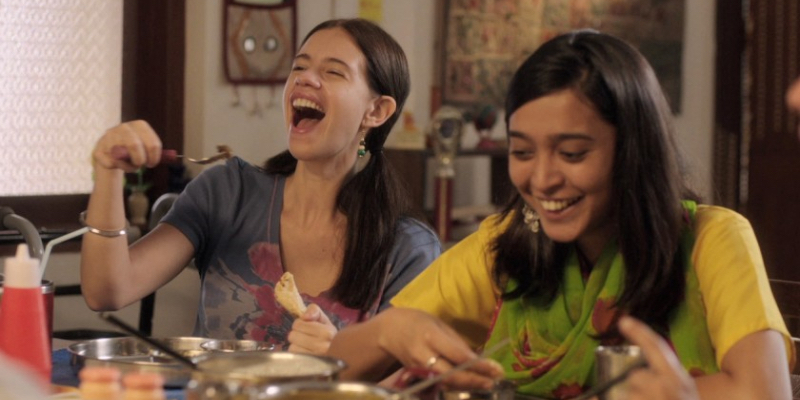 Queer disabled representation is almost non-existent in media which makes this film's triumphs all the more exciting, and its failures all the more frustrating. It allows its lead character the freedom to make mistakes, to explore her sexuality in all its messiness, and go beyond the narratives usually forced on disabled characters by abled filmmakers. Unfortunately the writers and directors are abled and even more unfortunately so are the lead actresses. One has to wonder if some of the film's missteps, such as sexualizing a caretaking situation and having the blind character touch faces, as well as some of its more saccharine moments, would've been avoided if disabled people were actually involved in the making of the film. The movie is funny and sexy and sweet, but when it comes to disabled representation we still have so much further to go.
109. Another Way
dir. Karoly Makk, Janos Xantus, 1982
Unavailable
Jadwiga Jankowska-Cieslak won the Best Actress award at Cannes for this remarkable film that's hurt only by its maudlin insistence. Jankowska-Cieslak plays a political journalist in Hungary just after the revolution who begins a relationship with a less radical — and married — writer. They fight to live truthfully, love truthfully, and write truthfully, but the consequences of these transgressions are bleak. It's a pointed, worthwhile film as long as you prepare yourself for the misery.
108. Laurel Canyon
dir. Lisa Cholodenko, 2002
Watch It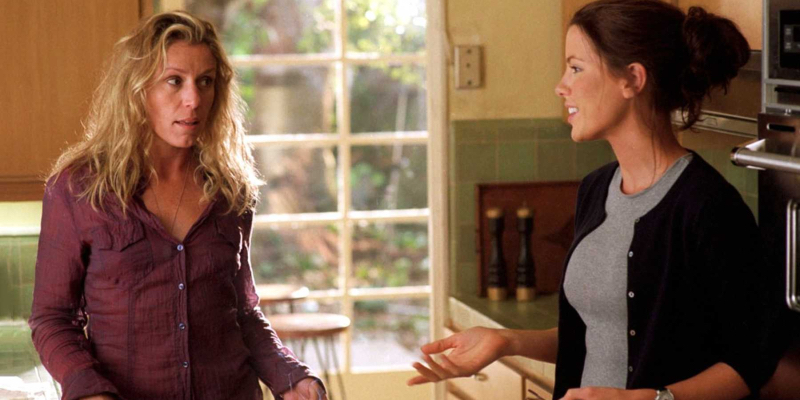 While light on queer content, Lisa Cholodenko's film about a free-spirited record producer and her straight-laced son is an understated and effective drama. Frances McDormand and Christian Bale are great as mother and son and Kate Beckinsale is dreamy as the son's fiancée who just might have more interest in his mom and her boyfriend than her husband to be.
107. Caramel
dir. Nadine Labaki, 2007
Watch It
Nadine Labaki's debut directorial work is a romantic comedy about a group of women working in a waxing salon in Beirut. All of the women have different struggles with love — including Rima who is very shy and very gay. It's a beautiful, funny movie that casually values female emotion in a way we rarely see.
106. Fire
dir. Deepa Mehta, 1996
Unavailable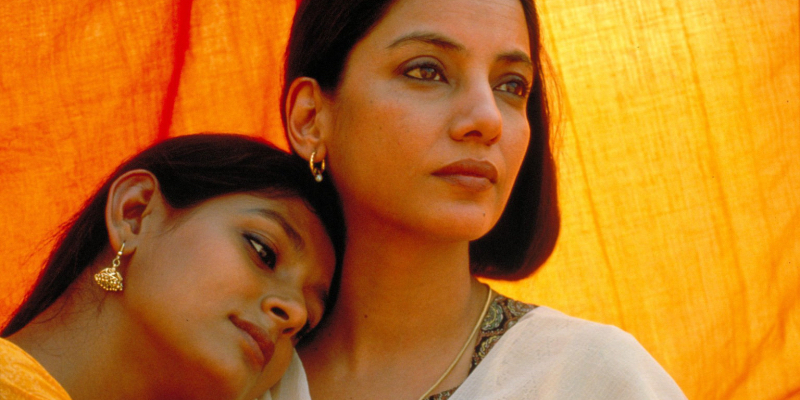 Deepa Mehta's gorgeous film is about two women who refuse to simply be the wives of terrible men. Radha and Sita find love and desire in each other and remain true to that desire in the face of hardship. Their love feels real and their sexuality consuming due to Mehta's artful gaze and the performances of Shabana Azmi and Nandita Das.
105. Vampyros Lesbos
dir. Jesus Franco, 1971
Our Review // Watch It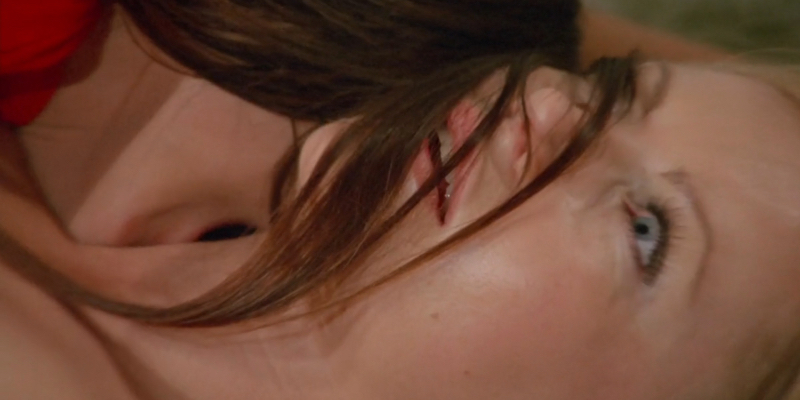 The most well-known and most accomplished of 1970s lesbian vampire sexploitation, Franco's appropriately named film is a bonkers explosion of guilty pleasure male gaze. The leftover-from-the-60s score and imagery that ranges from boats to scorpions makes for a silly and captivating viewing experience. Soledad Miranda is impossible to resist as a performer and a vampire.
104. Adam
dir. Rhys Ernst, 2019
Watch It // Also Available on Hulu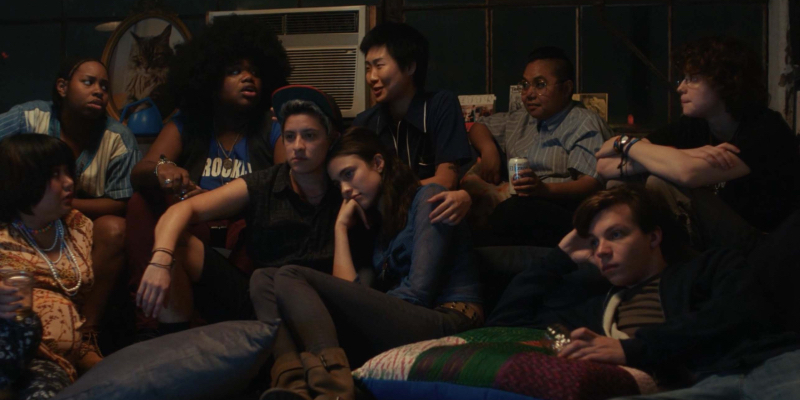 While it stirred controversy before it was even released, award-winning trans filmmaker Rhys Ernst's debut feature is surprisingly low-key and deeply queer. Based on The L Word writer Ariel Schrag's even more controversial book, this 2006-set coming-of-age tale takes an approach to queer storytelling that's certainly original. Many films on this list focus on a queer protagonist navigating a cishet world, but this is the rare film with a cishet protagonist navigating a queer world. The film largely focuses on trans men — including a stand-out performance from Leo Sheng — but it is filled with queer women. It's as much about bisexuality as it is about transness as several queer women question what it means to date transmasculine individuals as lesbian-identified people in a binary community. It's a thought-provoking work of art that deserves to be seen before it's judged. It's also the only film on this list to feature a butch trans woman — played with a sexy bravado by newcomer Dana Levinson.
103. The Secrets
dir. Avi Nesher, 2007
Watch It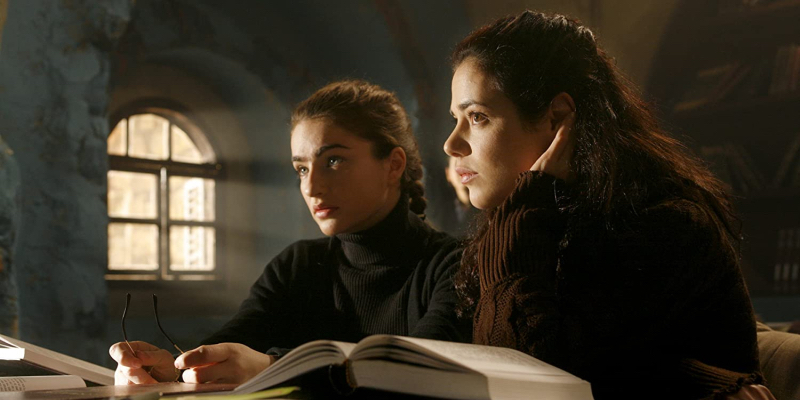 This story of two young women discovering queerness at a Jewish seminary is complicated by their encounter with a mysterious older woman eager to atone for her sins. Naomi and Michelle are both headstrong and brilliant even if Naomi is studious and conservative and Michelle is a rule-breaking, reluctant student. They quickly go from enemies to friends to lovers to co-conspirators as they assist this French stranger in her atonement. It's a complicated film about faith and love and commitment to principles all in the face of patriarchy.
102. Young & Wild
dir. Marialy Rivas, 2012
Watch It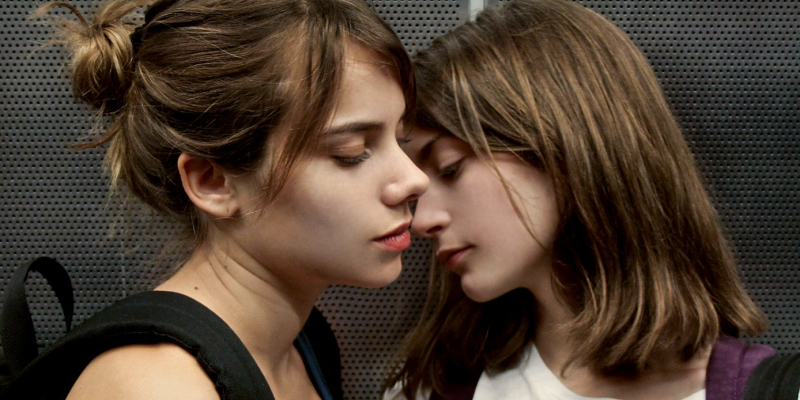 This sexually explicit coming-of-age movie follows Daniela, a painfully horny teen living in an evangelical household in Chile. She writes about her escapades (and her family) on her popular blog, but her feelings are more complex than her blog might lead on. Her guilt increases as sex turns into bisexuality turns into infidelity. With a range of specific sex scenes and well-drawn relationships, the film is a painful and inspiring tale of desire.
101. Lost and Delirious
dir. Léa Pool, 2001
Our Review // Watch It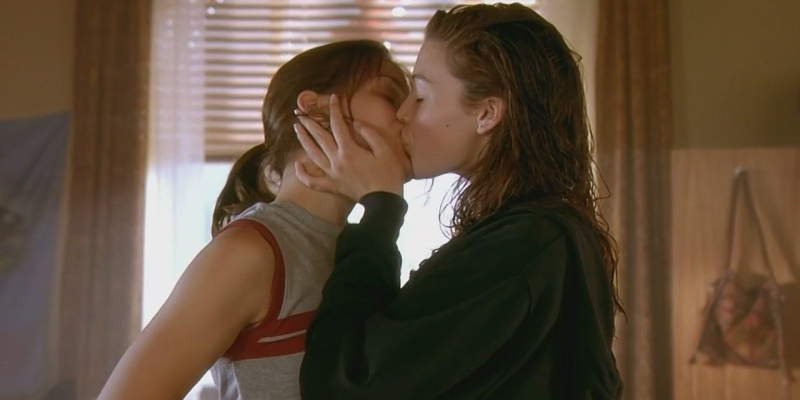 Loved by some, hated by others, Léa Pool's boarding school dyke drama is as heightened as its angsty teens. Piper Perabo plays soft butch heartthrob Paulie Oster who is desperate to sonnet and fence her way into Jessica Paré's heart. The dialogue is corny and the symbolism is heavy handed, but the story is told through the eyes of Mischa Barton's younger new student and with that brings a level of naïveté to the whole approach. If you love falcons and feelings this movie might just be for you.