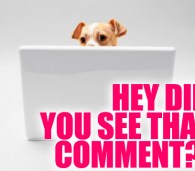 This week, Taylor brought us a sweet techno fix about time travel and black holes on earth, and Crystal had two Audiostraddle fixes because there was SO MUCH news!
We celebrated famous people who have two mums for mother's day, and Jess celebrated with Jill Bennett and Cathy DeBuono at the "We Have To Stop Now" season two premiere. Obama nominated Elena Kagan to the Supreme Court, and Autostraddle Regal Legal Kegel [JK I mean Beagle] Jessica came back to tell us about the state of gay marriage in Minnesota.
In the land of music, Jess interviewed Kaki King, and we talked about Detroit Femcee Invincible. John Moon of Achtung Baby! provided you with a helpful list of 5 fantastic LOST episodes, Brandy and Becky gave you their 15 Best Fashion Blogs & Magazines, and we gave you a tiny tiny taste of the 2010 Autostraddle Hot 100. Last but certainly not least, we talked about our undying love for effeminate men. Jog on, joggers.
---
On Google Tweaks (Out), Sweet Indie Gaming Deal, Horror Architecture:
The Word Of God Award to nosidam: "WORLD OF GOO!
That is all."
On Kristin Chenoweth Stands Up for Gay Actors, Calls Out Homophobic Newsweek Article:
The Speaking In Tongues Award to Ruby : "Gay-men, sista!
That's like amen, but gayer."
On Audiostraddle BiWeekly: Adam Lambert Does Acapella, Ke$ha Doesn't Care:
The '1.3 Billion People Can't Be Wrong' Award to Ric : "In China, the phrase "Oh my Lady Gaga" has replaced the "Oh my God" (omg) as a way to express "shock, hilarity or emphasize a point." We've been doing this for a while now but it's never caught the National fever pandemic rates currently experienced in China. Hurrah!"
On Celebs with Two Moms: A Lesbian Mother's Day Extravaganza!:
The All In The Family Award to Kellie: "Um…..yeah. My mom's reaction to my coming out was way too vitriolic and um…..explicit for me to not suspect a little repressed homo in her. An example quote: "sure women are way prettier than men and everyone notices them, and sure, men are really disgusting, but that doesn't mean you should date women." Um mom, yes it does."
On Fifth-Grader with Two Moms Falls, Gets Injured, and Nobody Makes a Sound:
The Award For Lack Of Context to Elle: "Oh my god, an emu. I'm an emu."
AWARD to merryweather: "I am sick of having my jaw drop at stories like Jenna's. Now I want to make custom healing stickies for her that say "Band-Aids don't discriminate, b*tch!""
On The 2010 Autostraddle Hot 100 Preview:
The Melt In Your Mouth, Not Your Hand Award to Carmen: "It's like when I was a kid in a toy store. I was "OOOH I WANT THIS!!!" and then I saw something else, like the ninja turtles or whatever and went "OOOOOOH NOOO… THIS IS WHAT I WANT!"ad infinitum.
(I think after hours of indecision I'd leave the toy store with the Julia box set ifyouknowwhatimean… maybeishouldntsaythatsincesheisarealpersonwhoreadsautostraddle… sorry.)"
On Real L Word Cast Interviews: Laughing, Loving, Awkward:
The Diseased! Award to Dina, Maryann, and LEah: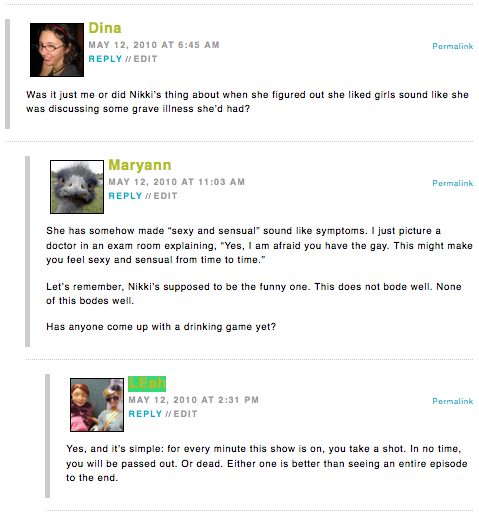 On Audiostraddle Weekly: Lady Sovereign Comes Out For Reals & Ask Chris Pureka Your Questions:
The Really Really Really Wanna Zigazig Ha Award to Stace: "So we've got Arty Spice and Pretensions Spice. Who else is going to be in The Spice Women?"
On Catholic School Rejects Son of Lesbian Moms, Clearly We're Too Cool For School Y'all:
The Award for Successful Treatments for ADHD to birobot: "I love that, right in the middle of the Joy Behar clip, an announcement for 3-D Playboy pops up, right on cue when my brain has finally had enough and just wants something more pleasing to come along."
On Let Us Now Praise Effeminate Men:
The Girl Power Award to Cafwen: "Amen. "Effeminate" comes from the root feminine so why should there be any negative connotations to it unless society sees women as somehow lesser in the first place?? Thanks for an awesome read."
On Rose Rollins' New Show "Chase" Plus Full L Word Cast Updates:
The bcw Award for bcw to bcw: no word on Dana Fairbanks i see. i'm sure she's doing fine. i heard she was gonna play the wind in the next twilight movie.