Meet Jessica, a real live lawyer! She's about to blow your mind with facts and explanations like it's her job because, incidentally, it is! Jessica works for a legal publishing company where she writes and edits articles that explain legal developments to people who didn't go to law school. You might remember her from the Prop 8 Trial, when she basically schooled us and we liked it. Aren't you glad she gave up on her initial dream of becoming the world's first dancing astronaut?
See Jessica's other stories for Autostraddle:
Prop 8 Gay Marriage Trial, Explained: Lez Legal Eagle Answers Your Lawfully Ignorant Questions
Prop 8 Gay Marriage Trial Explained Pt. 2: Equal Protection & Why They Do Those Things They Do
---
+
Not everyone can live in the socially progressive haven of Iowa. The vast majority of Americans are stuck in states where marriage equality is only coming in the next few years if the Supreme Court issues a nationwide mandate. (And most of the world is taking its time, too).
If you think about it for very long at all, this is likely to become really depressing and overwhelming. For as much progress as the LGBT movement has made in the past several decades, we're still years away from equal protections under the law — more than half of the states in this country have intentionally written discrimination into their state constitutions. (Isn't it great to feel so well-liked?)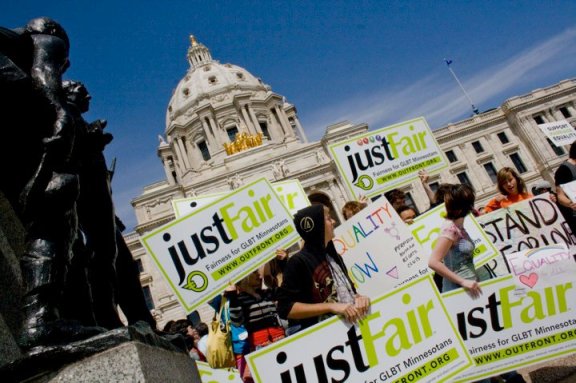 But in the light of this frustration, it's especially important to remember that no matter where your government may be on the road to equality, there are steps you can take to advance the cause. And with that in mind, consider the work of Project 515, a Minnesota organization working to ensure that same-sex couples and their families have equal protections under the state laws.
The Context: Minnesota Marriage Equality Is Going Nowhere Fast
Here in Minnesota, we are among the states moving too slowly toward marriage equality. We have a governor who is possessed of presidential delusions for 2012. He's busy ratcheting up his conservative credentials and has all but promised to veto anything that smells like Democrat – so there's no point in even trying to secure legislative support to overturn Minnesota's Defense of Marriage Act until he's out of office.
And unlike our sensible neighbors to the south, equality isn't coming through our courts. Back in 1971, the Minnesota Supreme Court held that state law limited marriage to opposite-sex couples. Should someone attempt to pursue litigation through the courts, there's a very real possibility that we'd just end up with a reaffirmation of the prior holding – which would ultimately impede our efforts. Accordingly, our local advocacy organizations have taken a strong stance against litigation as a means of reaching equality. (Note: Not everyone agrees with this stance).
Moving Forward When The State Is Stuck
Given the current situation, we only have a few options. We can postpone the ultimate goal of equality while we work to improve the political climate. We can build relationships with current senators and representatives to ensure that they vote with us once we have a better governor, and we can work to elect people who support marriage equality. And certainly, we are doing this. But this is a slow process; some bigoted governors stick around for a long time.
Alternatively, we can get creative. Clearly marriage is more than a label; it comes with legal rights and privileges. If we can't have marriage right now, can we have some of these rights and privileges?
The Rights and Privileges of Marriage
Before you can demand rights, you must understand the rights. In Minnesota, at least 515 state statutes provide rights and assign responsibilities to couples based on marriage.
Some of these seem sort of trivial. I could be with my girlfriend for the next 60 years, and I will never be concerned about my inability to legally slaughter poultry for her without getting a foodhandlers' license. Obviously we're both vegetarians.
But most of them matter.
These laws affect health care, professional obligations, inheritance rights and a wide range of other benefits. They protect families by providing default rules for difficult situations. And yet, as long as same-sex couples are unable to marry, these protections do not extend to their families.
Project 515: Equal Rights For Same-Sex Couples and Their Families
Equipped with this information, Project 515 is working to change the particular laws that create inequalities for committed same-sex couples in Minnesota. Clearly, it's impossible to tackle 515 laws at once. Instead, the organization has selected specific priorities for the 2010 legislative session.
They're working to ensure that domestic partners (two people who are of the same sex who have "assumed responsibilities for each other's basic common welfare, financial obligation and well-being" and live together and aren't married to other people and aren't related) can have some of the most important rights that married people have.
"In the eyes of the law, Great Uncle Jeremiah who you've never met takes priority over your partner of 40 years."
For example, if you're married, your spouse gets to choose what happens to your remains after you die. If you're not – that decision goes to your next of kin. In the eyes of the law, Great Uncle Jeremiah who you've never met takes priority over your partner of 40 years. Under the combined Final Wishes and Wrongful Death bill, which is currently en route to the governor's desk, your partner would come first.
Generally married couples can't be required to testify against each other in a courtroom (under the assumption that the threat of having your spouse testify against you is unlikely to improve your communication skills). The Equal Access to Justice bill would, among other things, extend similar protections to domestic partners.
A few weeks ago, President Obama directed Kathleen Sebelius to issue new rules granting hospital visitation rights for LGBT families. Rulemaking takes time, so it is not yet clear what these rules will entail – but it is likely that the Equal Access to Health Records Bill would extend these protections even further for people in Minnesota.
These are just a few of the provisions that Project 515 is working to address this legislative session. Unfortunately, even if the organization is completely successful and can pass all of its intended legislation this year, we'll still be a long way from legal equality. But the little victories matter in very real, practical ways. These laws affect the daily lives of gay and lesbian couples in Minnesota, and the lack of legal protections often become most apparent during already terrible times.
We can't all live in Iowa…but we also can't all live in Minnesota. (Sad for the rest of you, cause Minnesota's awesome). Although the work of Project 515 is clearly focused on Minnesota, though, it still matters for people outside of the state. The organization has established another path for protecting same-sex couples and their families — and this approach can be used no matter where your state might fall with regard to LGBT rights.
Marriage is important. There is no question that gradually changing the individual laws is no substitute for simply having access to all of the rights and privileges of marriage. But until that day arrives, targeting particular laws can help to protect relationships that the government won't recognize.